Create your own party invitations, birthday swag, buffet table cards, gift bags and more
Add a personal touch to any party theme and it will instantly feel more special. No matter what kind of party you're throwing, what your theme is, or the size of your budget.
More articles you might like:
Small details go a long way towards personalizing your party theme. Whether you create everything from scratch, or simply upgrade basic party supplies with a few personalized elements.
For example, on a budget you could add personalized labels to gift bags from the dollar store. Or use waterproof labels to turn generic two-liter sodas into themed drinks.
Avery products and our free Avery Design and Print Online (ADPO) software make it easy. Start creating custom projects right away with hundreds of predesigned templates you can personalize.
Or start with a blank template for a specific Avery product. Blank Avery templates are great for uploading your own designs or using ADPO tools to create designs from scratch.
Here are 5 quick ways you can use free Avery templates and software to personalize any party theme.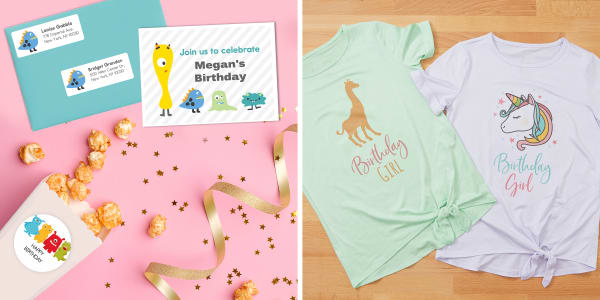 In the birthday template gallery, you'll find tons of designs for personalizing party invitations. Printable fabric transfers make it easy to create personalized swag for your party theme.
1) Invitations: Introduce your party theme early!
Create personalized invitations, address labels and envelope seals that match your party theme. Browse our template gallery page to view free predesigned Avery templates by occasion.
Then use the left side menu to view themes by product. Here are some of our favorite supplies for creating personalized party invitations:
Template galleries are a great place to find one theme to apply to everything, or find similar design themes to mix and match together.
Print personalized cards, address labels and seals yourself, or let us print for you. Custom printing is ideal for large projects or projects with photographs and/or saturated images that require a lot of ink.
Our WePrint® service uses professional printers that can handle difficult print jobs with precision. And orders ship in as few as three business days.
2) Party ideas for DIY birthday/guest of honor swag
Printable fabric transfers are fantastic for creating personalized swag. Whether it's a themed tee for the birthday kid, shower gifts for bridesmaids or a guest of honor gift.
Here are some ideas for gift items you can personalize to match your party theme:
T-shirts
Tote bags
Bandanas
Pencil pouches
Makeup bags
Canvas device covers
It's important to choose the right type of Avery fabric transfer for the material that you're working with.
Light fabric transfers are best for white or light-colored 100% cotton or poly/cotton blend fabrics.
Stretchable fabric transfers are best for white or light-colored stretchable synthetic or synthetic blend fabrics.
Dark fabric transfers are best for black or dark-colored 100% cotton fabric.
Avery fabric transfers for light and stretchable fabrics are transparent. The printed transfer is applied to the fabric "face down." The printed transfer should look like it's backward for proper application.
Avery Design and Print Online automatically flips templates for light and stretchable transfers when the print file is created.
Dark fabric transfers have a solid backing and are applied "face up." The designs are not flipped when printed.
Get crafty with labels or print your own tent cards and place cards to dress up party food.
3) Personalized cupcake toppers and buffet cards
Add a little oomph to your party food and snacks with themed labels and cards. Printable tent cards and place cards are great for making personalized table settings and buffet cards with dietary info.
Personalized cupcake toppers that match your party theme are super easy to make with 2 inch round labels and coffee stir sticks. Just place a stir stick between two labels and you're done!
To design personalized labels, choose a predesigned template to modify, or a blank template to start design from scratch:
You can find templates for any printable Avery product by entering the product number in the Avery template finder.
Or go click the "Templates for this Product" link on the Avery.com product page.
From butterflies and sunflowers to baseballs and dinosaurs, you can add and edit images from the Avery Gallery to any template. Then add a name or custom message with text, or modify existing text.
Pro Tip: If you're having trouble finding a template, check out our helpful Template Support page. You can also call our awesome Customer Care team for help at (800) 942-8379.
4) Create themed drinks with waterproof labels
Waterproof and water-resistant labels are made from a film, not paper, so you can put them on bottles and cans that will get wet. Even if they're kept on ice or stored in the fridge/freezer.
Here are some of the best packages of Avery labels to use for adding your party theme to different sizes/types of bottles:
You can find more sizes, or choose a custom size by shopping blank labels by the sheet.
When you shop blank labels by the sheet, you can choose from a wide variety of materials. This includes waterproof UltraDuty film labels which are designed for extreme industrial use.
Because they're so tough, UltraDuty labels are perfect for creating themed drink labels. Especially if your drinks may be submerged in water (for example sitting in an ice chest with melted ice).
Need help finding the right size label? Check out our helpful article for choosing the correct label size for your project.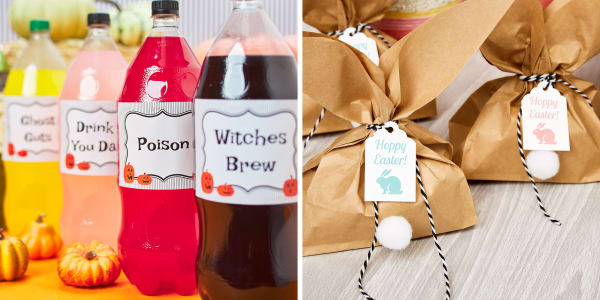 Design and print your own labels and tags to add themed details to drinks, party favors and goody bags.
5) Goody bags and party favors
Customized tags and labels instantly add personality to any goody bag. Quickly customize a predesigned Avery template with text or colors to match your party theme. Print, apply and you're done!
Round 2-inch labels are the perfect all-purpose label for goody bags. Shop 2 inch round labels by the sheet to choose from a wide variety of materials including, clear, metallic and bright vibrant colors!
Pro Tip: Use pastel colors on clear round labels for a delicate, semi-transparent look. It's fresh, pretty, and perfect for spring projects.
Printable tags are perfect for personalizing goody bags, baskets, and party favors where labels would be hard to stick. For example:
Easter baskets
Fabric goody bags
Tote bags
Wine and champagne bottles
Pro Tip: You can find more size and shape options with our custom-printed tags!
Personalize your party theme with custom cards, tags and labels
Printable cards, tags, and labels are a quick way to add personalized details to any party theme. Free Avery Design and Print Online software and Avery templates make it easy.
Start with custom invitations that match your party theme using printable cards and address labels. Create personalized party swag using fabric transfers for light, dark and stretchable fabrics.
Waterproof labels and tent cards are perfect for adding your party theme to the food and drinks table. Printable tags are a quick way to make any goody bag or party favor feel more special and personal.
Round 2-inch labels are super versatile for personalizing your party theme. You can use them to create custom envelope seals and goody bag decorations or even craft personalized cupcake toppers.
Explore more DIY ideas for special occasions and holidays right here on the Avery blog. Or follow us on Pinterest for tons of ideas for using cards, labels and tags at home, at the office or for your business.