Custom Tent Cards & Place Cards by Avery WePrint®
Order custom place cards & tent cards for weddings, corporate events, parties & any occasion. Easily customize your place cards using our free online templates & order in minutes.
Dimensions
2" x 3-1/2" (HxW)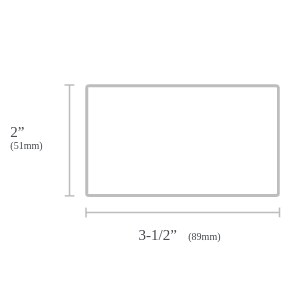 2-1/2" x 8-1/2" (HxW)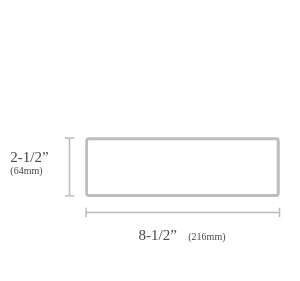 3-1/2" x 11" (HxW)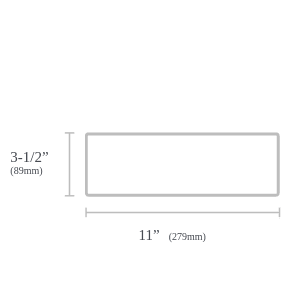 Card Stock
| Material | Weight (lb / gsm) | Thickness (pts / mm) | Brightness |
| --- | --- | --- | --- |
| Matte White | 100 / 270 | 12 / 0.305 | 98 |
Please note: Due to the coating on WePrint products, they cannot be run through personal inkjet or laser printers.
Can I print on WePrint labels when I receive them? Can I order them blank and then print on them?
Due to the coating on WePrint products, they cannot be run through personal inkjet or laser printers.
Secondary printing is currently only available on our White UltraDuty Film, White Film and Chrome Film roll labels with the Thermal Transfer Printable (Glossy) option on select thermal transfer printers.The rest of our label stock does not feature a top coat and should not be run through a secondary printer. If you need a custom application or have questions about secondary printing, please contact our Consumer Care Center.
How do I upload and design my artwork or choose my label size?
You can either upload your own design or use the free Avery Design & Print software to personalize one of our professional templates. If you have your own artwork, it can be uploaded to our design software. See our Artwork Guidelines on how to upload designs.
Unsure of the exact size label you need for your item? Follow our step-by-step measuring guide to find the proper fit. For card products, view the WePrint card size comparison chart
If you have questions concerning artwork, please call our Consumer Care Center at (800) 942-8379 or email us at solutions@avery.com for more assistance.
Are WePrint labels safe to use on food products?
WePrint labels include FDA-compliant* adhesives that are safe for indirect food contact. They are suitable for food and beverage labeling applications where the label is separated from the food by a functional barrier such as glass. For more information read this compliance regulation definition. Please note: This regulation does not mention temperature restrictions, however, Avery recommends that its adhesives should be kept at room temperature or below to be considered food safe. Adhesives exposed to conditions hotter than room temperature may require further migration testing to determine if they are suitable for the application.
If you have any concerns about your application, please call our Consumer Care Center at (800) 942-8379.
* FDA Compliance: Title 21, Section 175.105 of the Code of Federal Regulations (21 CFR 175.105)
What are the shipping methods and delivery times I can select from?
Shipping Methods are: (for US residents only)
Economy: 5-9 business days via USPS
Standard: 5-7 business days via UPS
Priority: 4-5 business days via UPS
Rush: 3-4 business days via UPS
My order has not arrived yet. How can I check the status?
To check on the status of your order, it's simple:
Go to www.avery.com.
Log on to your My Account.
Select My Orders.
You'll see the current status of your pending order(s) here, as well as the history of your previous orders. Your shipment's tracking number can be found here as well, once your order has shipped.
Do I have to create an account to order product?
Yes, and it's very easy. There are three ways you can create an account.
When you click My Account at the top of the page
When you save a project you will be prompted to create an account
When you check out
Once you create your account, simply log in the next time you visit or place an order.
What's the difference between waterproof & water-resistant labels?
Water-resistant labels are good for products that may get splashed, rinsed, or wiped off but will not be submerged in water.
Waterproof labels work better on products that will get submerged in ice or water, or are exposed to extreme temperatures or outdoor environments.
What is your guarantee?
We want you to be completely satisfied with your order. That's why we stand behind our 100% Satisfaction Guaranteed policy.
If you are not satisfied with the products and/or printing contact our Consumer Care Center within 30 days of receiving your order and we'll do our best to make it right. Please be aware that some items may be subject to a restocking fee. No hassles, no hurdles. 100% satisfaction guaranteed—that's our promise to you.

See all reviews
Excellent quality of card stock which I used to make custom gift cards. Image was very clear and precise; color was great.
I received an email from them with a layout problem. They corrected it, printed it and shipped before I had a chance to respond! The cards were perfect, just how I had hoped they would turn out.
Cards came as I specified and on time.
The quality of the finished product from Avery WePrint was awesome, the design tool was easy to use and the customer service rep was very helpful with my questions about production/shipping deadlines. Will definitely use again!!
It was easy to layout the items on the postcard and being able to review the product before buying was a big plus. The item arrived on time and the price was right.
Ready to let us print for you?
Custom Tent & Place Cards by Avery WePrint
Avery WePrint Tent & Place Cards are specifically made for life's most precious moments, from weddings to Sweet Sixteens and everything in between. Offered in classic matte white or elegant glossy white in a variety of versatile sizes.
You can use our beautiful free place card templates or upload your own design to create chic and dazzling place, table and tent cards for baby and bridal showers, weddings, birthdays, graduations and retirement parties. And with a low minimum order quantity with no setup fees, you'll enjoy some sweet savings along with your special day.
* Flat rate shipping offer applies to economy shipping only. Free shipping offer applies only to orders with a merchandise total of $50.00 or greater (after discounts, before shipping, and tax). Offer applies only to economy shipping and to orders shipped within the continental United States and Puerto Rico. Offer subject to change.