Make your own personalized gifts for employees
DIY employee gift ideas are a great way to show your appreciation for the team. In fact, showing your appreciation, actually has many many benefits for the workplace. For example, helping to reduce stress and sick days. Not to mention increased productivity and "gratitude spillover" that leads to increased trust and collaboration. In fact, Business News Daily outlines why gratitude may be the best employee retention strategy.
Without a doubt, DIY gifts show that you care better than premade gift sets off the shelf. For this reason, we've rounded up 7 unique employee appreciation gifts that you can make yourself.
More articles you might like:
Tips for saving money on employee gifts
Use travel and sample sizes
Travel and sample sizes are one way save money on supplies for employee gifts. Indeed, you can group small items into gift sets and gift baskets for more impactful employee gift ideas. If you're on a budget but would still like to include a couple high-end luxury products, travel and sample sizes are particularly useful. Of course, not everything has to be name brand. Dollar stores can also be great resources for small items to fill out your gift idea.
Buy small items in bulk
Buy small items in bulk when you can. For example, small necessities that people tend to forget or misplace. Not only are they items folks will actually use, but they feel extra thoughtful. Phone chargers, USB drives, gum, travel-sized tissues, hand sanitizer, and lotion are classics that people always need. Buying in bulk for these types of items can help you save money when putting together employee gift ideas.
Package with DIY labels
Use free printables to create themed packaging, for example, making your own personalized gift tags. More than likely your employee gift ideas will be a mix of small inexpensive items, travel and sample items, and items you've bought in bulk. The packaging is where you can really pull it all together. DIY labels, cards, and tags are perfect for personalizing employee gift sets and baskets in a cohesive way.
How to use free Avery printables for gift labels, cards, and tags
Even if you don't have access to a professional graphic designer, you can create labels that look professional and polished with free printable Avery templates. Firstly, our online design software Avery Design and Print Online (ADPO) is totally free. Secondly, we offer thousands of free printable templates that you can customize using ADPO.
Elevate any employee gift idea by adding your own text, images or company logo to our festive holiday templates. You can also customize predesigned label, card, and tag designs using ADPO font, shapes, and color tools as well as graphics and images from our image gallery.
Get started designing now
Start by browsing the employee gift ideas below. Then click the button for the printable you want to customize. When you're done customizing you can print yourself on the Avery product listed, or choose the "let us print for you" option. Our WePrint® service offers professional custom printing on digital printers and orders ship in as few as three business days.
Free printables for employee gift ideas
1) Conference kit employee gift idea
Conference calls have become a huge part of corporate culture. Especially now that so many offices include remote workers and employees on hybrid schedules. For that reason alone, a conference call kit is a thoughtful employee gift idea for any team.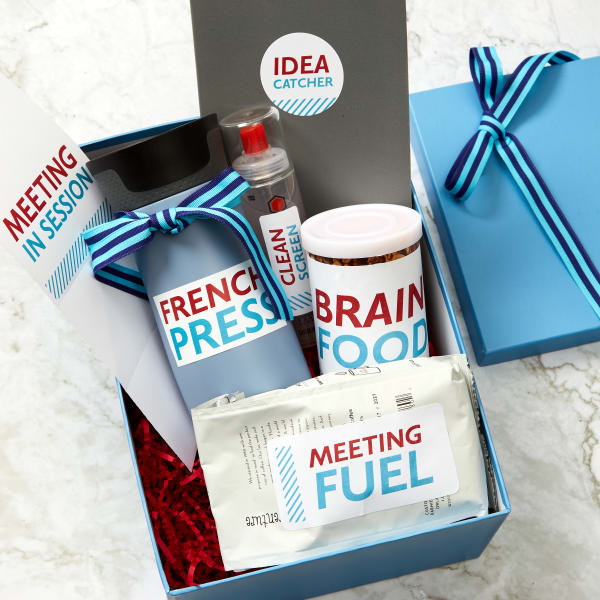 2) Spa gift for employee appreciation
While conference calls have recently jumped to the forefront of company culture, spa gifts are a timeless classic. Everyone could use a little relaxation and pampering. Year after year, spa employee gift ideas are very popular so adding personalized details is key.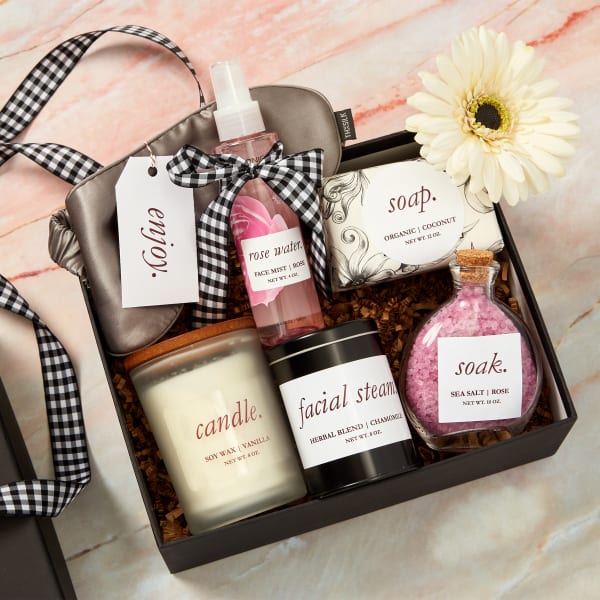 3) Business travel kit gift idea
Employee gift ideas that make travel easier are always appreciated. They're not only useful for your employees when they're traveling for business but also for pleasure. No matter where you're going, little comforts make a big difference! Some great examples for a travel kit include gum, a portable charger, hydrating face mist, and hand sanitizer.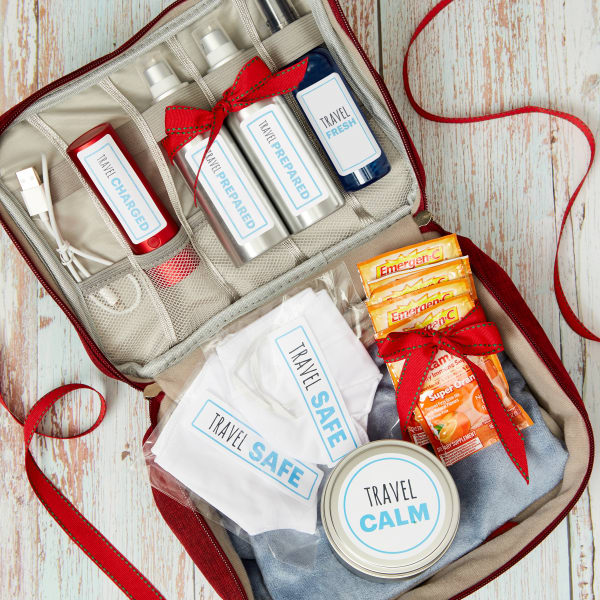 4) Employee self-care gift idea
Self-care gift ideas are a fantastic way to show your employees that you care about them. In fact, wellness gifts for employees have recently skyrocketed to the top of the list for employee gift ideas, for both in-office and remote workers. Not only does a wellness gift show appreciation, but also empathy.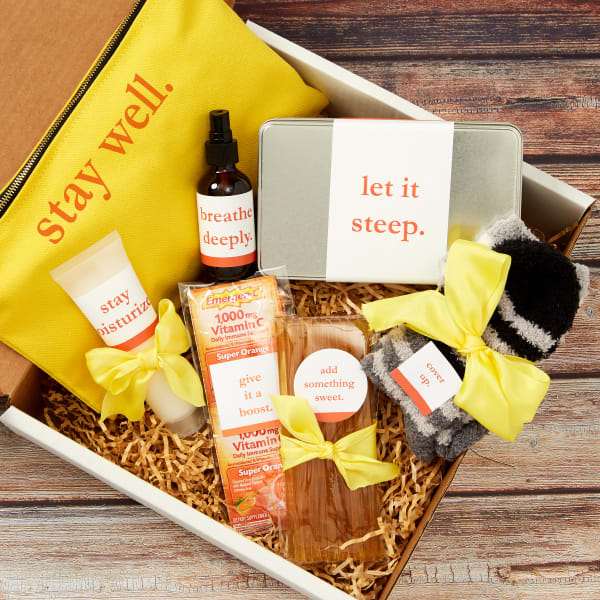 5) Gift idea for remote employees
Utilizing technology like video chat and messaging apps, encouraging team-building activities, and showing appreciation are all ways to keep your team engaged. So brainstorming employee gift ideas that help remote workers feel appreciated is essential. In fact, according to a recent Gallup study, highly engaged teams have higher profitability, quality, and overall well-being as well as less absenteeism.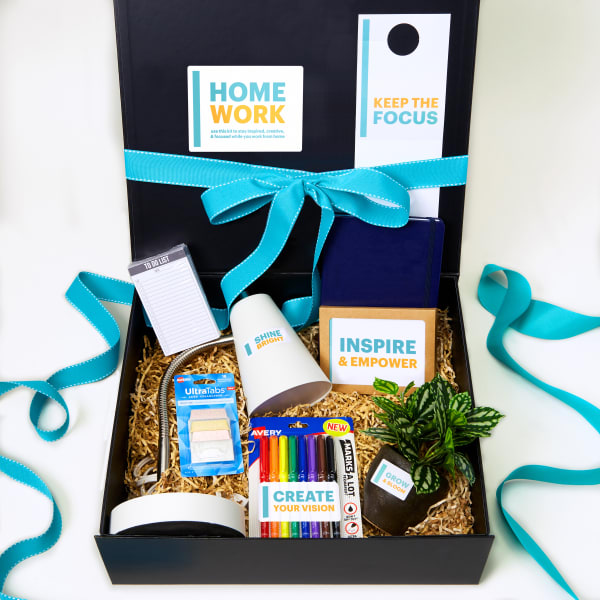 6) Personalized appreciation cards
Custom note cards are the perfect way to add a personalized greeting to any employee gift idea. Add a hand-written message inside to make your holiday cards stand out even more.
Once you've created personalized cards, add elevated address labels for a finishing touch that feels luxurious. You can even create matching address labels with our holiday label gallery filled with designs on a variety of label sizes.
PRO TIP: Use the Mail Merge feature in ADPO to quickly and easily fill your address labels. In short, you simply import your addresses from a spreadsheet and our software automatically applies them to individual labels. Check out our helpful Mail Merge video for full walkthrough.
7) Customized boxes for employee gifts
Make your employee gift idea memorable with a special unboxing experience. There are two easy ways to elevate the boxes for shipping or packaging gifts. Firstly, you can decorate the box flaps with wrapping paper and custom labels to make them look special. This is a great method if you're shipping on a budget.
Secondly, you can skip right to mailer boxes (i.e. those shipping boxes used for fancy subscription boxes). They're fantastic for assembling your employee gift ideas because they're made from corrugated cardboard. That means that they're tough enough to be shipped on their own and come in a variety of styles.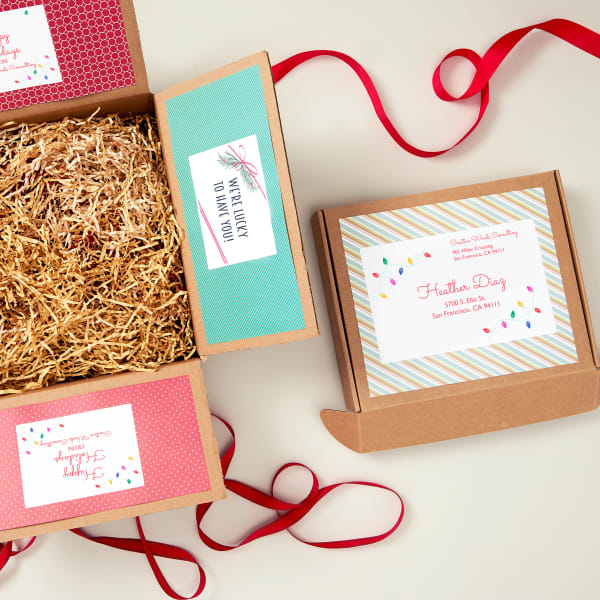 Printing Avery labels, cards, and tags
Once you have customized your designs, it's time to print. If you're printing your projects yourself, there are three basic things you need to know. Firstly, double check that the printer you have and the labels, cards, or tags you want to print are compatible. You can read more about choosing the right printer, but in a nutshell you should always use only laser products with laser printers and inkjet products with inkjet printers. Unless the printable products are clearly marked laser/inkjet, which means that they are compatible with both.
Secondly, always print a test sheet on regular paper. This allows you to review your design and also check that the alignment is correct. Thirdly, change your printer setting to "labels" or "cardstock" so that the printer "knows" that the sheets will be thicker than regular paper. For more printing help, check out our printing tips video, or troubleshoot printing issues using the Avery Help Center.
You can also have us print them for you through our WePrint service. With WePrint your labels are printed on industry-leading digital printers and ship in as few as three business days. Custom printing is a great option for projects with saturated color images or high quantities.
Bring your employee gift ideas to life with free printables
Showing appreciation for your employees has many benefits. Including helping to make people feel connected, which helps them stay engaged with the team. Ultimately, taking the time to put together thoughtful gifts for employees is an investment in your labor force. Not only is showing gratitude linked to better employee retention rates, but keeping employees engaged can boost profitability, quality, and well-while reducing absenteeism.
Our 7 employee gift ideas each include a variety of free printables so that you can create personalized employee gifts that stand out from the crowd. However, showing your appreciation doesn't have to break the bank. There are several ways to save money on employee gifts, including using travel and sample sizes, buying small items in bulk, and packaging items with DIY labels.
Certainly, DIY packaging gives you more freedom to create personalized employee gifts. Customized boxes and personalized appreciation cards go a long way to making the recipients of your gifts feel special.
Of course, Avery printable labels, cards, and tags can all be customized for free using Avery Design and Print Online software and free predesigned templates. Once you've customized the designs of your choice, you can print yourself on standard laser or inkjet printers, or have us print for you.
What is your strategy for implementing employee appreciation gifts? Share in the comments, or join the conversation and get more ideas on LinkedIn and Facebook.