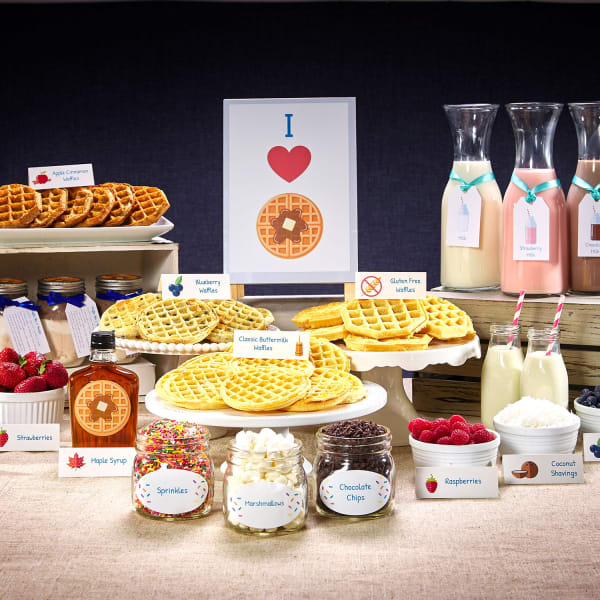 Let's do brunch! Throwing a brunch party is a delicious way to start the day, whether for a bridal shower or Mother's Day celebration, or for breakfast to close out your kid's slumber party. And what's on the menu? Waffles! From invites and party favors to stickers and decorations, here are all the fixins you need to host a scrumptious waffle bar party of your own.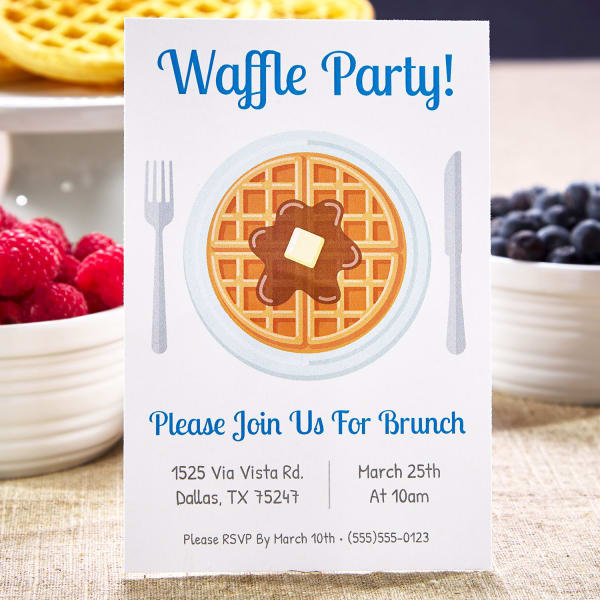 Create invitations on two-side printable postcards. They're ready to mail on their own or tuck into an envelope.
Invite your brunch squad
It's hard to resist an invitation like this! Grab this adorable design template and fill in the details for the party with Avery Design & Print. Our free software makes it easy to personalize right from your desktop. Print out your invites on postcards and pop them in the mail, or tuck them into envelopes, seal and send.
Stock up the waffle bar
First things first—let's start with the waffles. Think about any dietary restrictions or preferences your guests have so you know what options to provide, such as vegan, Belgian Liège or good ol' buttermilk waffles. Use tent cards to call out offerings so there's no waffling when it comes to choosing their favorite kind.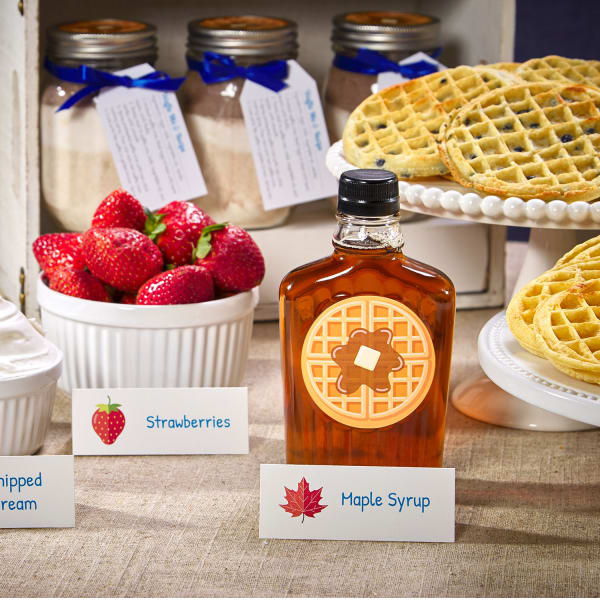 You can't have a waffle bar without waffle stickers! Whip up a batch on 2-1/2" round labels.
Make it sweet or savory
Whether you top it, fold it or stack it, the waffle gives everyone a chance to build their unique culinary masterpiece. That's where an assortment of toppings come into play.
Syrups, jams, honey and spreads are destined to ooze into those square waffle pockets. Labels make it easy to identify the right kind of syrup (such as sugar-free, agave or regular), no matter where the bottles end up on the table.
Some savory toppings to consider include chicken, pesto sauce, cheese, seeds, nuts and nut butters. Customized tent cards make it easy for guests to identify the selection.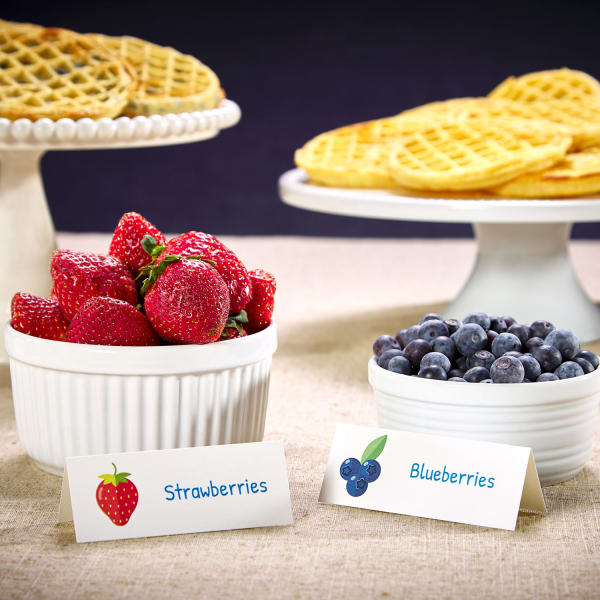 Pictures on tent cards help identify the food as well as spruce up the table spread.
Decorate with mouth-watering food icons
Make your tent cards stand out by adding fun graphics such as food icons. You can add your own designs, or choose from a variety of images and artwork on Avery Design & Print. You'll find berries, bananas, apples and more under the "Food and Beverage" category in the Avery Gallery.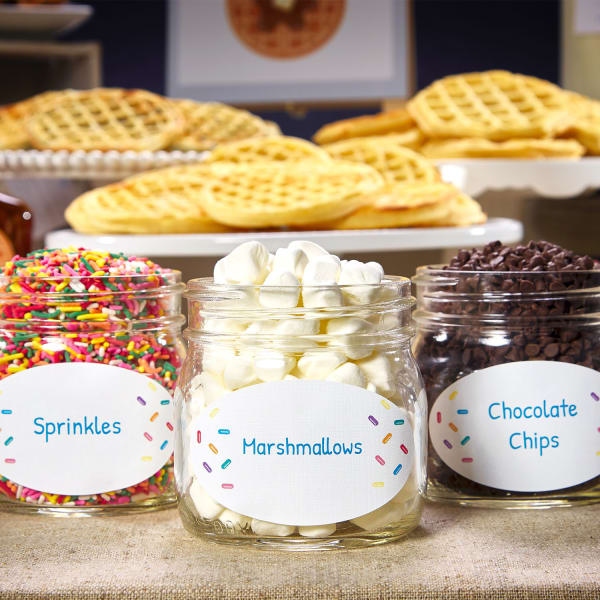 Healthy or indulgent? We won't judge! Label jars full of toppings with oval labels or choose from a variety of other shapes.
Sprinkle on the sweet stuff
Fruits, nuts and granola are great healthy options to load onto waffles. But for those with a sweet tooth, it's hard to say no to sprinkles, marshmallows, chocolate chips, whipped cream or cream cheese frosting, not to mention warm caramel or chocolate syrup. Offer these options in Mason jars or Ball® glass jars using labels featuring this playful sprinkles design or any design of your choice.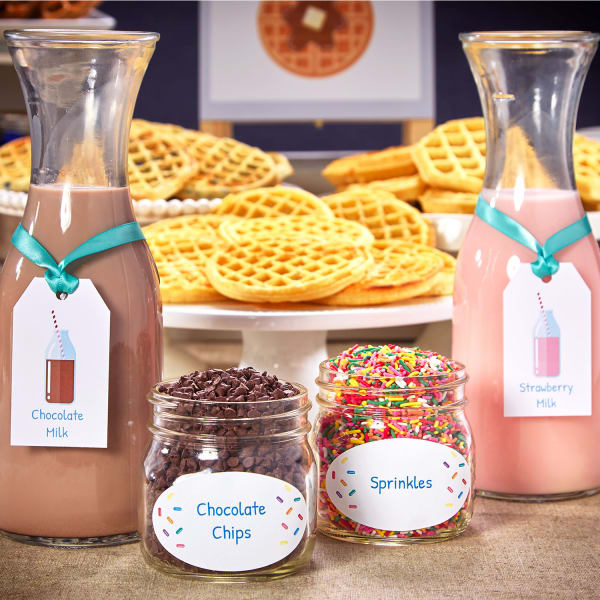 Set up a self-serve refreshment bar with printable tags on bottles.
Create a refreshment bar
Thirst-quenching refreshments are a must-have with any meal. It's easy to set up a milk bar, juice bar, hot chocolate or coffee bar next to your waffle spread. Printable hang tags with cute designs tied on with ribbon add a fun touch to drinking glasses, bottles and jars.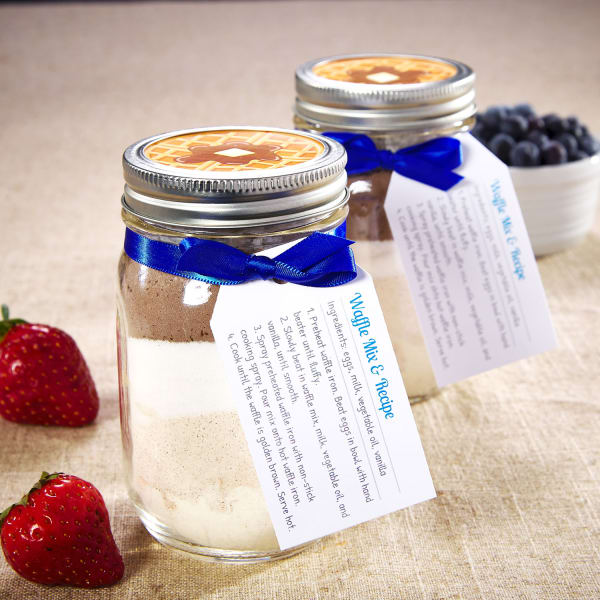 Waffle mix in a jar makes a great party favor, as well as a gift for your child's teacher, neighbor or co-worker to show your appreciation.
Give a thoughtful party favor or gift
Before your guests head out the door, give them a yummy parting gift—waffle mix in a jar, for a taste that's homemade. Pour the dry ingredients into glass jars, print the recipe onto printable tags and top the lids off with adorable waffle stickers.
Rise and shine with DIY food parties! With Avery Design & Print, you'll find a variety of templates to celebrate all your favorite foodie occasions from doughnuts to ice cream and more. Just customize and print—or use Avery WePrint™, our professional printing service, and leave the printing to us.
Products featured in this article:
Invitations
White Postcards (5889)
Waffle Labels
2-1/2" Round Labels (22808)
Tent Cards
Place Cards (16109)
Jar Labels
Oval Labels (22829)
Milk Bottle Tags and Recipe Tags
Printable Tags with Strings (22802)