How to make a recipe card in 3 simple steps
To make a recipe card you will need printable cards, editing software, and a printer if you're going to print them yourself. Of course, if you don't have a printer (or don't want to print at home) professional printing services such as Avery WePrint® can take care of that part for you. In short, these are the three steps for making recipe cards that we'll cover more in-depth in this article:
What are recipe cards and why you should save them?
In summary, a recipe card is a card that records the ingredients and instructions for cooking a particular dish. But, recipe cards can be so much more than simply recorded information. After all, the kitchen is called "the heart of the home" for a reason. Not only do we have to eat daily for physical nourishment, but family recipes often provide emotional nourishment too. As often as not, our favorite recipes are the ones passed down from generation to generation. Besides, there's nothing like the way familiar smells bring vivid memories rushing back!
As a matter of fact, recipes are such an important part of family culture, we've written about them before. As a graduation gift for kids heading off to college, and family activities that pass down recipes to a new generation. However, in this article, we're going to stick to recipe cards and cover everything you need to know to make your own. Additionally, for good measure, we're including some free recipe card templates you can personalize and print.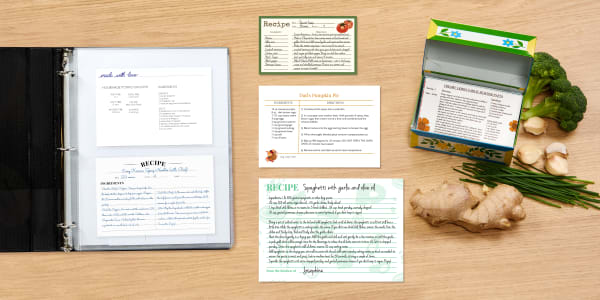 1) Choosing the best cards for recipes
When it comes to making your own recipe cards, there are two questions we get all the time: "What is the best recipe card size?" and "What kind of paper is used for recipe cards?" The truth is that picking out what kind of cards you want to use for your recipes is not just a matter of personal taste. In reality, it depends on how you plan on storing and organizing them as well as how you want to print them.
The best size for recipe cards
First, you'll need to consider how you want to store and organize your recipe cards because that will determine the best size for you. For example, do you have a vintage recipe card box passed down in your family? If so, you'll need to use 3″ x 5″ index cards because anything bigger simply won't fit.
However, storing recipe cards in binders is much more common nowadays. On one hand, you can store your recipe binders with photo-sized sheet protectors that fit two 4″ x 6″ recipe cards perfectly. In fact, this is the most common method for organizing recipes today. On the other hand, you can use "oversized" 5″ x 7″ recipe cards which store nicely in A5 "mini" binders with sheet protectors that each fit one card.
The best paper for recipe cards
Next, you should consider the material the cards are made of so you know that they'll be sturdy and work with your printer. Of course, recipe cards are better when they're made of cardstock which is much thicker than regular paper. Additionally, it's important to make sure you get printable cards that work for your specific printer. For example, laser-printable cards for a laser printer and inkjet-printable cards for an inkjet printer.
Why? Because laser and inkjet printers are very different. Laser printers use heat to set the ink, and inkjet printers spray ink which then must be absorbed and dry in order to set. We go into a lot more detail about matching printers to printable materials in this article about printers and labels. However, the bottom line is that you want to make sure your printable product matches your printer or you may run into smearing ink that never "sets" or damaged cards.
Pro Tip:  You can filter Avery products by "Laser" or "Inkjet" printer types to find ones that match your printers. Additionally, some Avery products are labeled "Laser/Inkjet" which means they have been specially engineered to work in both types of printer. 
2) Designing your cards and filling them in
Whether you choose traditional, modern, or oversized recipe cards, Avery Design and Print Online (ADPO) is the best way to personalize them. Particularly because it's a free cloud-based software for designing labels, cards, and tags that don't require download or installation. To find an Avery design template you can search by product, or browse a collection of our favorite recipe card templates further down in this article.
Step-by-step instructions for designing recipe cards in ADPO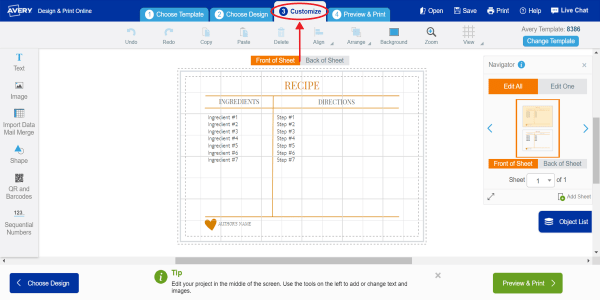 Open the template of your choice
In this article, the "Customize" button for each design will quickly open the "Customize" screen for that template. Or, find Avery templates in more ways.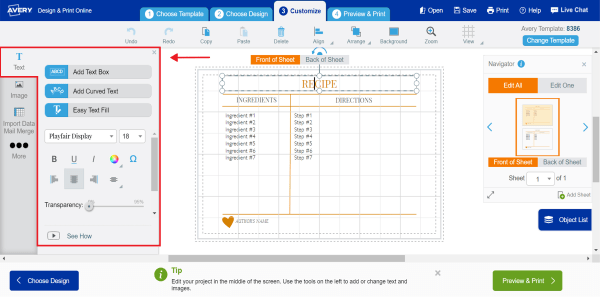 Click on the text you want to change
This will open a side menu with various tools for adding and editing text. For instance, font, size, color, and alignment.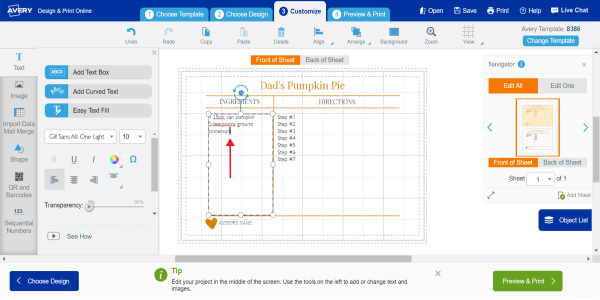 Edit your text as desired
Click the text box, select the placeholder text, then type your own.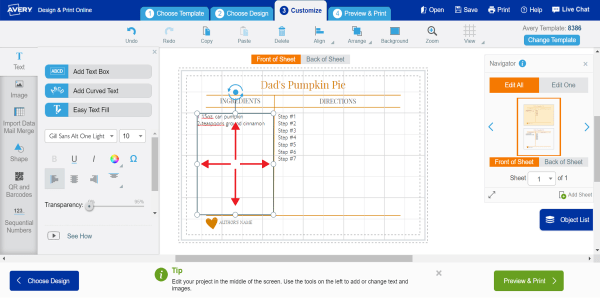 Change text box sizes if needed
To resize a text box, click the border and drag it to give yourself more room to add information.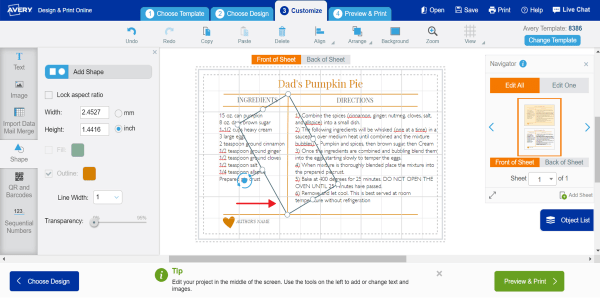 Click on other design elements to move
Click on any design element and drag to reposition as desired.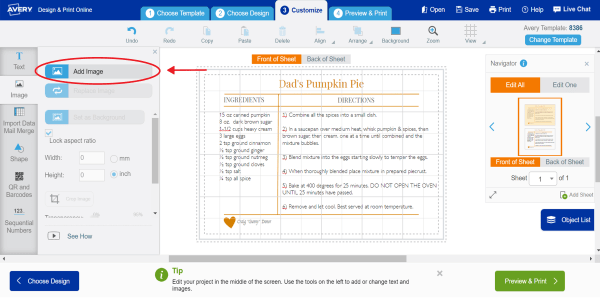 Personalize with graphics if desired
Select Image in the left menu to add and edit images. You can upload your own images, or add graphics from the Avery Gallery.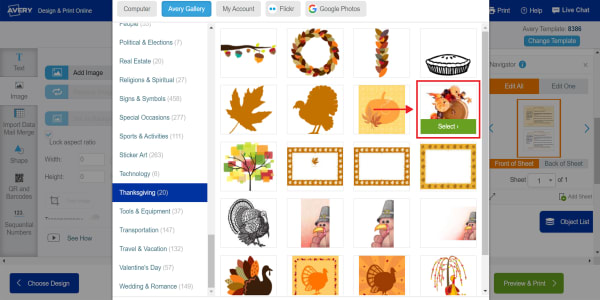 Choosing image source
Once you click "Add Image," you can upload from your computer, an online source, or Avery Gallery, which you can browse by categories.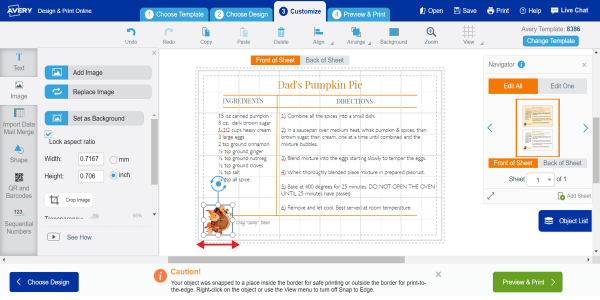 Place your image
Click on the image to move it wherever you like. Drag the border to resize as desired.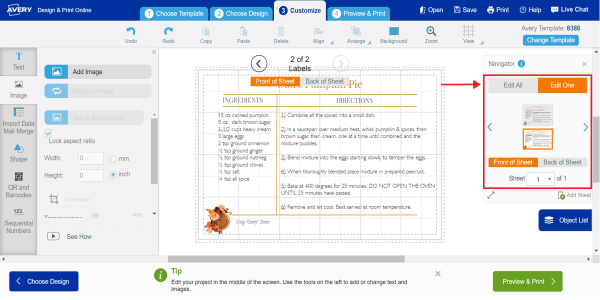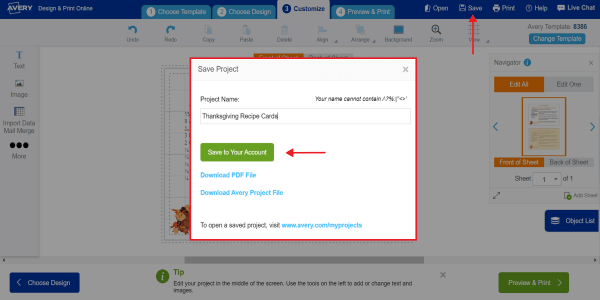 Save your project
Click the Save icon in the upper right of the blue top menu bar. Create a name for your project and save it to your Avery account for access at any time.
Expert tips for using Avery online software
Besides personalized predesigned templates, there are a couple of other very cool things you can do with Avery online software. First and foremost, when you're logged in to your free Avery account you can save your projects for reprinting and later access. In fact, when you're logged in, you can access saved projects from any smart device with an internet connection.
Another benefit is that you can apply your saved designs to other projects. So once you find a design you like, you can reuse it on other Avery products. Moreover, you can also share your saved designs via email. This is especially wonderful for sharing recipes with family and loved ones!
Vintage 3″ x 5″ recipe card templates
Modern 4″ x 6″ recipe card templates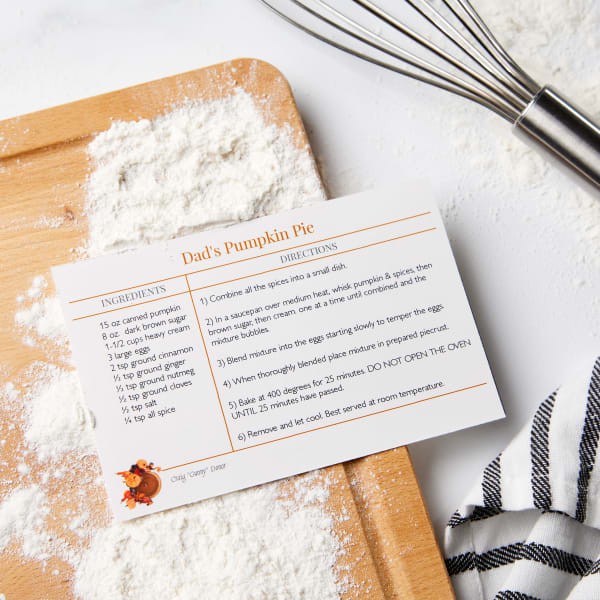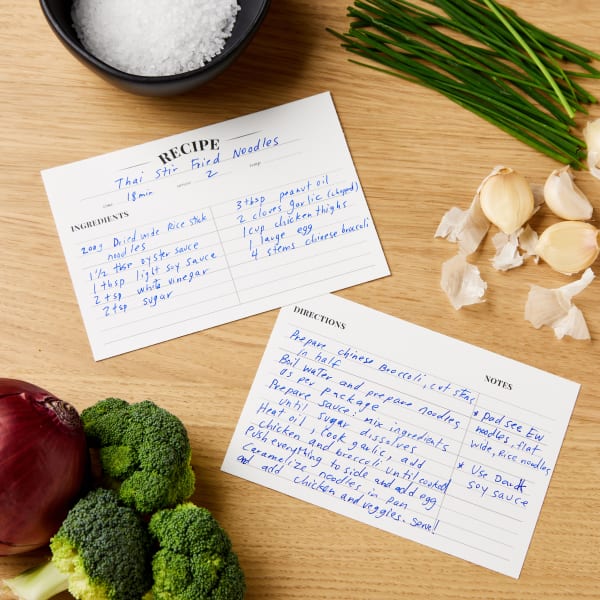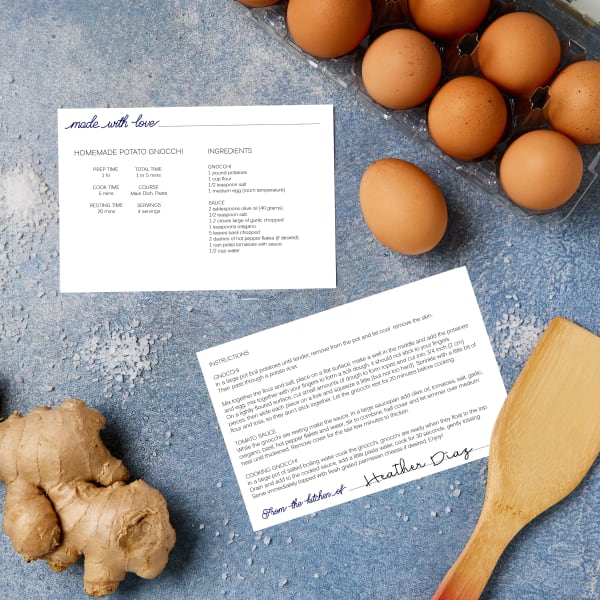 Oversized 5″ x 7″ recipe card templates
3) Tips for printing recipe cards at home
Above all, start by making sure the product that you're printing on matches the type of printer you have. Generally, many printing issues are solved by this one key step. Another key point when printing is to always print a test sheet using plain paper first. This will allow you to check the alignment of your design. What's more, if you're printing double-sided recipe cards, you can mark the corner of your test paper to confirm which way the paper feeds into the printer.
Finally, check your printer settings. First, make sure that the scale setting is set to 100% so that your recipe card design prints at the exact intended size and alignment for the card sheets. Then, set your paper type to "cardstock," "heavyweight," or "specialty." Basically, this "tells" your printer that the sheets are thicker than regular paper, which will cause it to adjust the feed to accommodate them.
How to print double-sided recipe cards
Once you have your recipe card PDF open and are ready to print, there are a few different steps to print on two sides. To begin with, click the print icon and choose the printer as usual. Secondly, print the front and the back of the card separately. To do this, change the pages to "Custom" and choose to print page one, which is the front. Then, review your settings and print the front of your cards on a plain piece of paper to practice which way to feed the card sheets.
After you have confirmed that the front of your card sheet prints correctly, click the print icon again. This time, change the pages to "Custom" and choose to print page two, which is the back. Then re-feed the test sheet to print the back side. Finally, when you're happy with both sides of your recipe cards, follow the same process using card sheets instead of test paper. If you're printing multiple card sheets, print all of the front sides and then all of the back sides.
Printing cards with our professional service
As mentioned above, we also have a professional printing service that can print your recipe cards for you. In most cases, if you're just printing a few recipe cards it's much easier to print them at home. However, if you don't have a printer, want to use designs with saturated colors or photos, or are printing a large number of cards, then custom printing is a fantastic option. The turnaround is relatively quick with most orders shipping in about three business days.
Making recipe cards with Avery cards & tools
There are three basic steps for making a recipe card. First, choose printable cards in one of the three most common sizes for recipes which are traditional (3″ x 5″), modern (4″ x 6″), and oversized (5″ x 7″). Make sure that the cards you are printing on match the type of printer that you have (i.e. laser cards for laser printers, etc.).
Next, design your recipe cards and fill in the information. Avery Design and Print Online is free cloud-based software that allows you to save, share, and reuse your designs. And, of course, edit and personalize free Avery templates.
Finally, print your recipe cards. For the most part, printing recipe cards at home on your standard desktop printer is quick and easy to do. Even so, there may be times when you'd rather have the printing done for you, and that's when Avery WePrint services come in handy.
All things considered, making your own recipe cards is fun, easy, and a great way to get organized in the kitchen. Not to mention preserving your family's food culture. Check out our Pinterest board with more organization ideas for your home and share your recipe card projects (and more) on Instagram using #averyproducts.