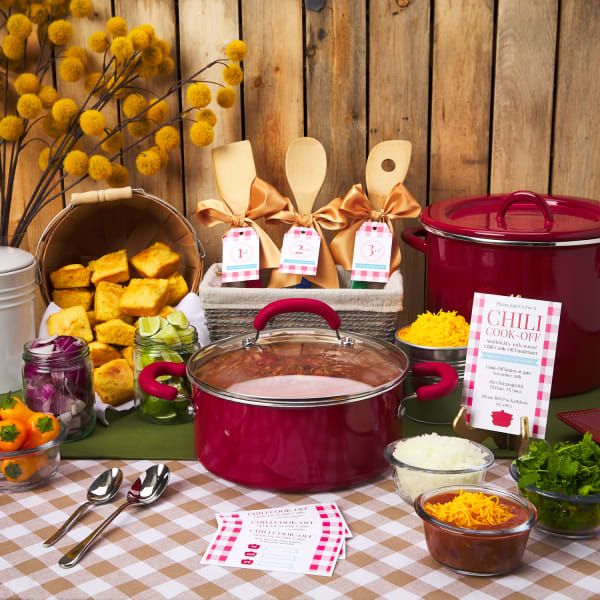 Chili is more than just a dish, it's a tradition. Secret recipes are passed down from generation to generation. The "correct" special ingredients are hot topics of debate and a victory at a cook-off will be brought up during family dinners for decades.
However, much like chili, planning a chili cook-off can seem simple on the surface but there are many necessary moving parts underneath to make it feel just right. Make sure your homemade chili showdown goes off without a hitch with these simple chili cook-off ideas.
Chili Cook-Off Invites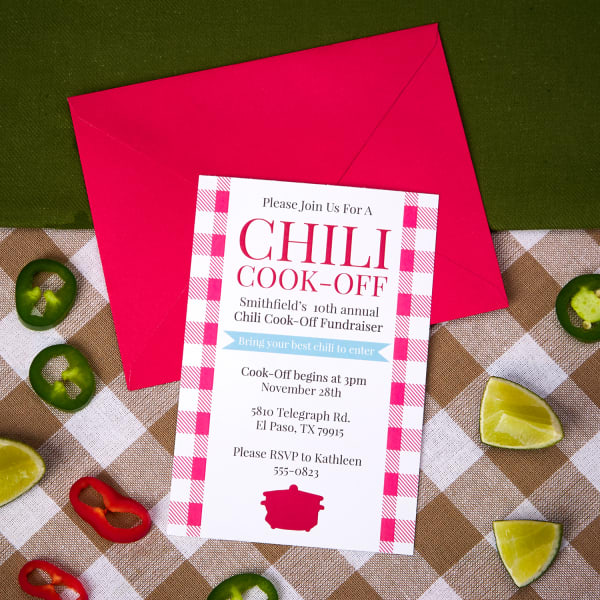 Kick off your cook-off with homemade invites printed on postcards (8386)
Promote your chili cook-off with themed invites. Make sure to include the details of the event so that your guests know what to expect and what to bring.
Here are some things to consider when throwing a chili cook-off:
Do you have enough outlets and power strips for everyone's slow cookers?
Do you have an area where people can drop off their chili anonymously?
Do you have enough side dishes or should people bring some of their own?
Click here for the chili cook-off invitation template.
Chili Cook-Off Prizes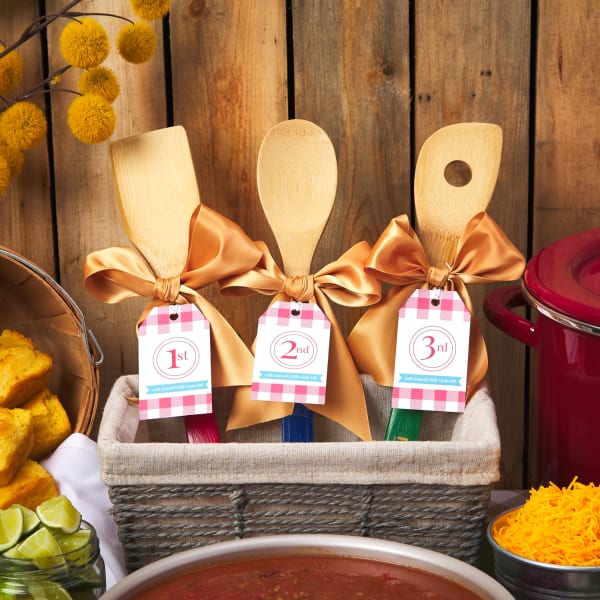 Whip up trophies with homespun charm using spatulas and tags (22802)
As your guests start arriving, build up anticipation by having your prizes proudly displayed where everyone can see. Along with your prizes, make sure to add in some other chili cook-off decorations like baskets, chili peppers and gingham tablecloths to create the right setting for the event.
There are many companies that can provide chili cook-off trophy medals and statuettes of chili pots but a homemade prize can also be just as satisfying to win. Kitchen utensils, cooking supplies and gift card bundles make for lovely prizes, especially with a personalized tag. We even have glossy gold foil labels available in custom sizes so that you can print your own metallic trophy plates.
Click here for the chili cook-off prize tag template.
Chili Cook-Off Rules and Tasting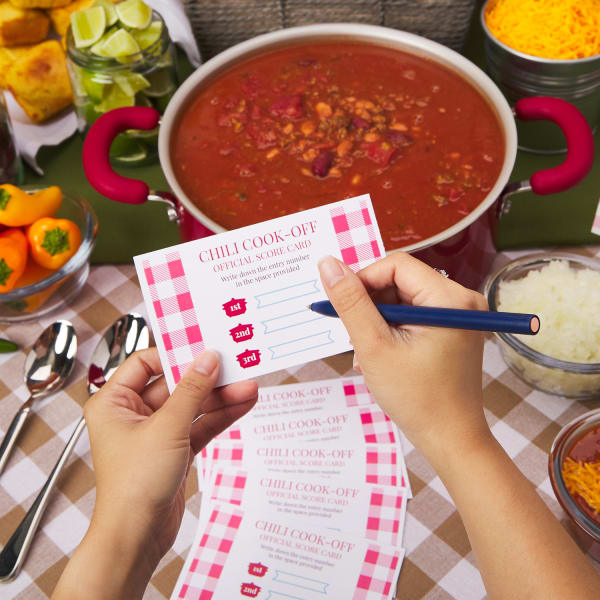 Create your own custom ballots with index cards (5388)
Now for the most important part of a chili cook-off: The Tasting. It's easy for people to go overboard during the tasting process so try to provide small, disposable cups and spoons to keep everyone on a reasonable pace. Small palate cleansers like tortilla chips, pretzels and crackers can also be good sampling tools as well.
If your contestants have names for their chili you can have custom tent cards printed ahead of time or you can write each name on the day of the cook-off onto blank labels. Professional chili cook-offs will judge chili based on strict requirements (such as how finely vegetables are chopped and the use of beans) but the first rule of your cook-off should be to have fun.
Click here for the chili cook-off voting ballot template.
The Chili Voting Process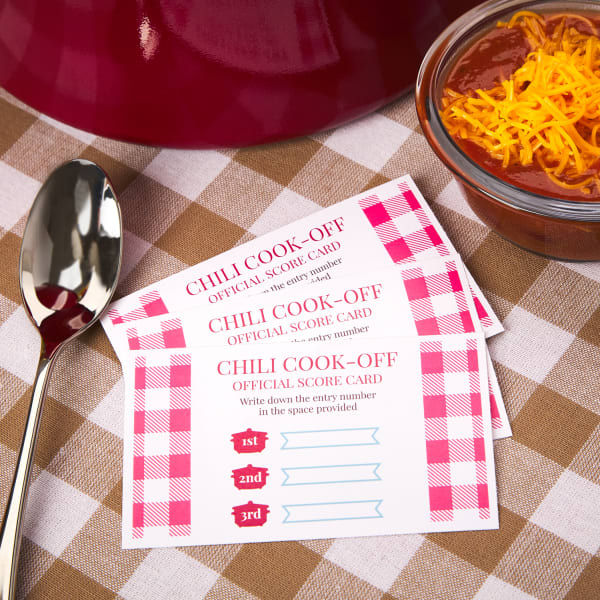 Cards (5388) are much more durable than paper and will last longer throughout the day
Card ballots are time-tested, intuitive, simple and perfect for food competitions. Once all of the votes are in, you can replace the tasting cups with bowls for people to really start chowing down. As everyone gets settled with larger meals you can begin the process of counting the results and discovering the chili champion.
Announcing the Winner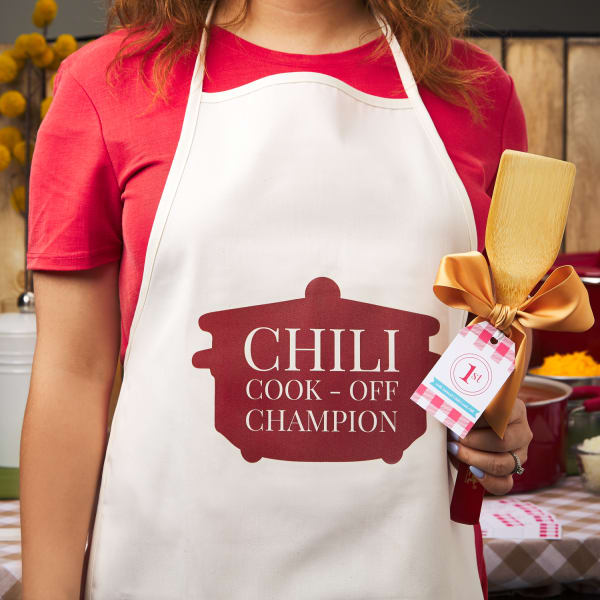 Apply your own iron-on apron designs with fabric transfers (8938)
After you've finished tallying the votes, it's time to make the big announcement. Start with the 3rd place winner and work your way up to the grand prize winner. Give each winner their prize and reward the chili cook-off champion with a customized apron touting their victory.
Click here for the chili cook-off champion iron-on apron template.
Products used in this article:
4″ x 6″ Postcards (8386)
2″ x 3-1/2″ Printable Tags with Strings (22802)
3″ x 5″ Index Cards (5388)