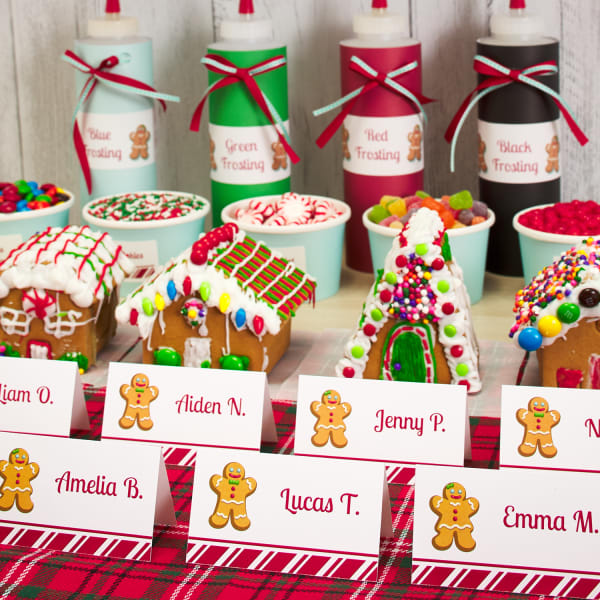 Invite your kid's friends over for a festive gingerbread house decorating party this holiday. A gingerbread house decorating party is a fantastic way to celebrate the season and showcase everyone's creative side. Make sure your party is a sweet success with these adorable templates and ideas.
Gingerbread House Decoration Party Invites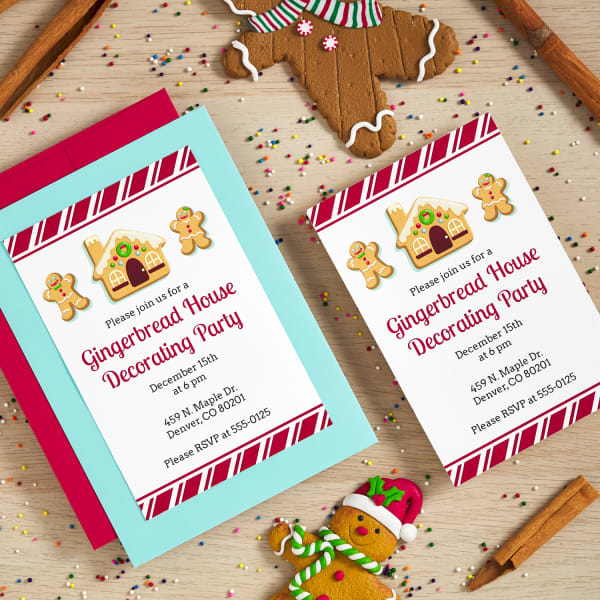 Craft invites with colorful paper and printable postcards (5889)
Get everyone warmed up for the festivities with homemade invitations. The holidays are always a busy time so it's a smart idea to get on everybody's calendars in advance. Also, these delightful gingerbread house templates are certain to brighten their day. With Avery printable postcards and free design tool, it is easy to customize and print your party invitations at home.
Click here for the gingerbread house invitation postcard template.
Gingerbread Recipe Preparation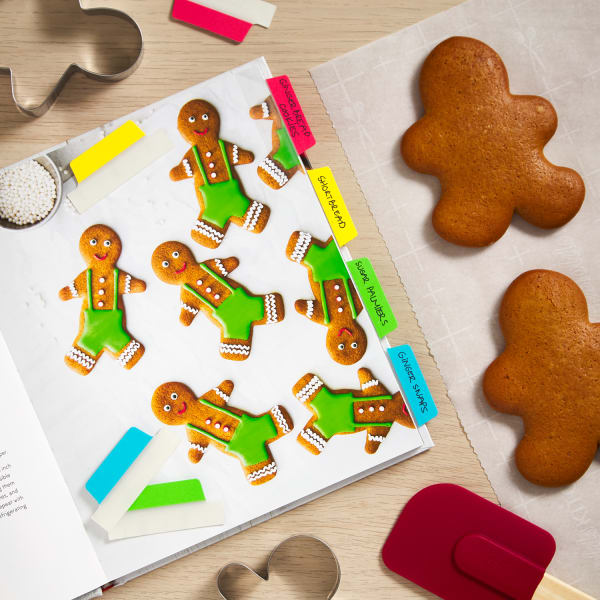 Keep track of your holiday recipes with Ultra Tabs® (74866)
Once you receive everyone's RSVPs, start planning how much gingerbread dough and royal icing you will need to whip up. Ultra Tabs keep your recipe books organized and make favorite recipes easier to find. A test run the day before is a great way to make sure that your icing is the right consistency and sets properly without crumbling. Also, most gingerbread dough recipes will last in the fridge for a day in advance.
Homemade Gingerbread House Crafting Stations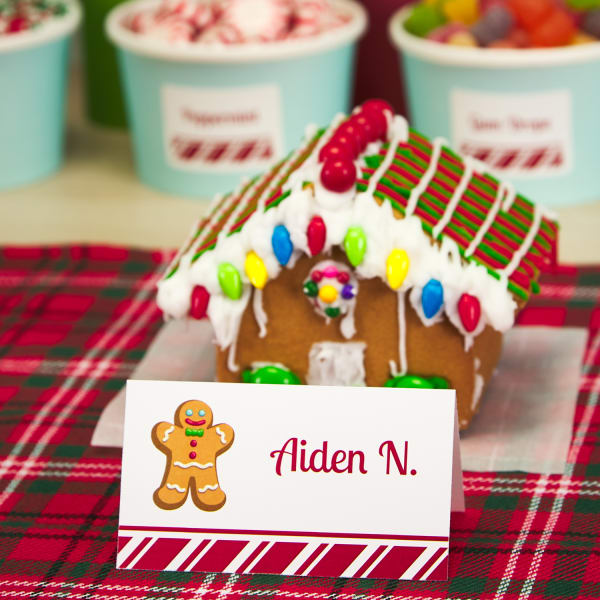 Prepare personalized crafting stations with tent cards (5302)
Make sure everything's as neat and tidy as possible by setting up special decorating stations for each guest. Each decorating station should have a sturdy base for the gingerbread house, such as a baking sheet or cardboard, to act as the foundation. These delightful gingerbread man tent cards are a great way to guide everyone to the right spots.
Click here for the gingerbread man tent card template.
Gingerbread Man Aprons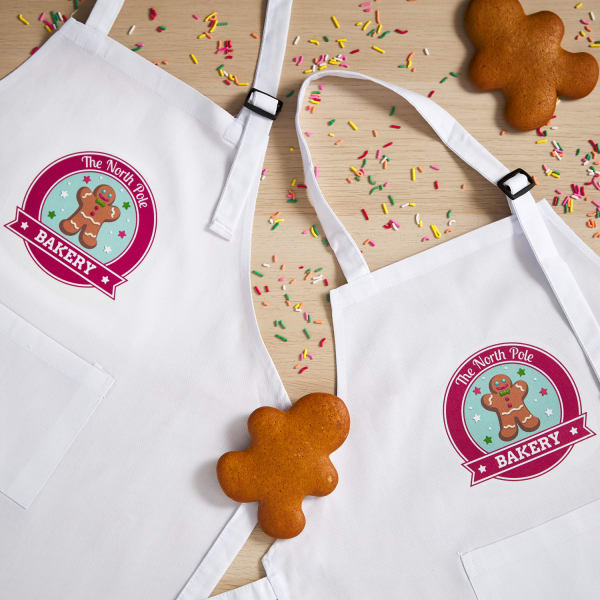 Make custom aprons with fabric transfers (3275)
A wonderful treat for your guests are customized aprons with holiday designs. Both cute and practical, homemade aprons make for great party gifts while also helping the kids keep clean while creating their gingerbread masterpieces. Find out more about how to use iron-on transfers with our article on ideas and tips for fabric transfers.
Click here for the "North Pole Bakery" fabric transfer template.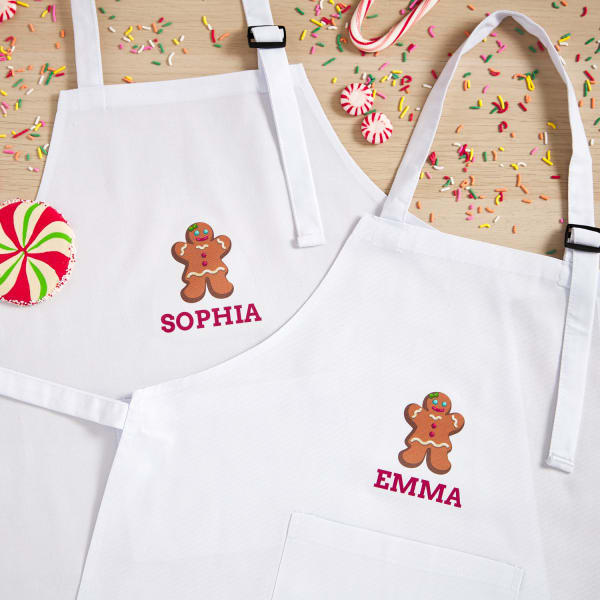 You can even instantly create personalized apron designs for each of your guests with the mail merge feature in Design & Print. Just upload a spreadsheet of names and it will add each name automatically. Learn more with our article on how to mail merge in Design & Print.
Click here for the gingerbread man fabric transfer template.
Gingerbread House Icing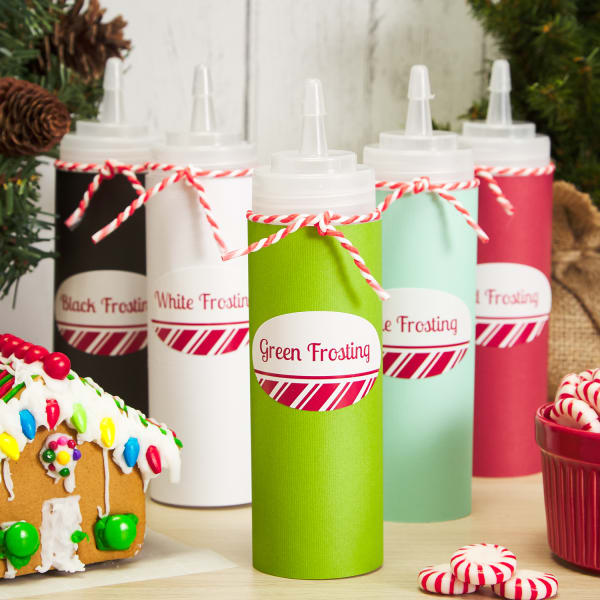 Label bottles of icing with oval labels (94051)
Royal icing is the glue that will keep everything together so it's important to have multiple, clearly marked containers available. Squeeze bottles are a clean, accurate and intuitive way for kids to build their gingerbread homes. Although piping bags are fun to use, they will require more patience to prepare and use.
Click here for the icing bottle label template.
Best Gingerbread House Decorations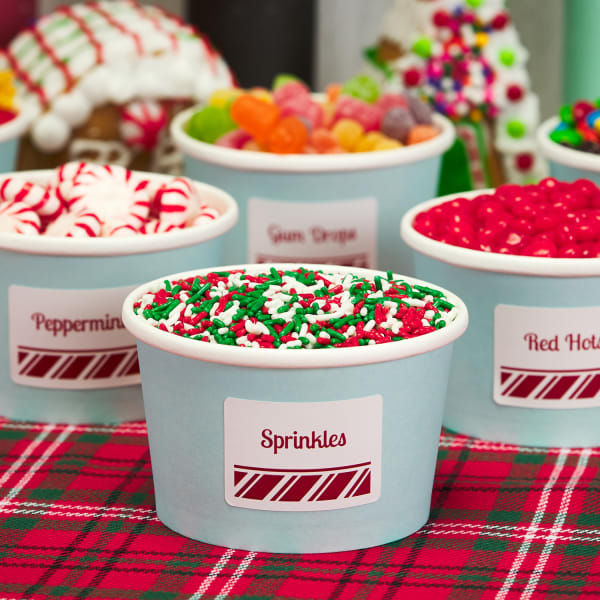 Add holiday cheer to toppings with small rectangle labels (94226)
The classic gingerbread house decorations are still some of the best: Gumdrops, spice drops, peppermint candies and sprinkles. With Design & Print you can quickly create labels that match your theme to clearly label each of the topping containers. Adding labels to each topping container is extremely useful, especially for kids that might have food allergies. These decorations will also likely end up being snacks while building so make sure to choose candies that will be fun to munch on during the building process.
Click here for the topping cup label template.
Gingerbread House Templates for Party Favors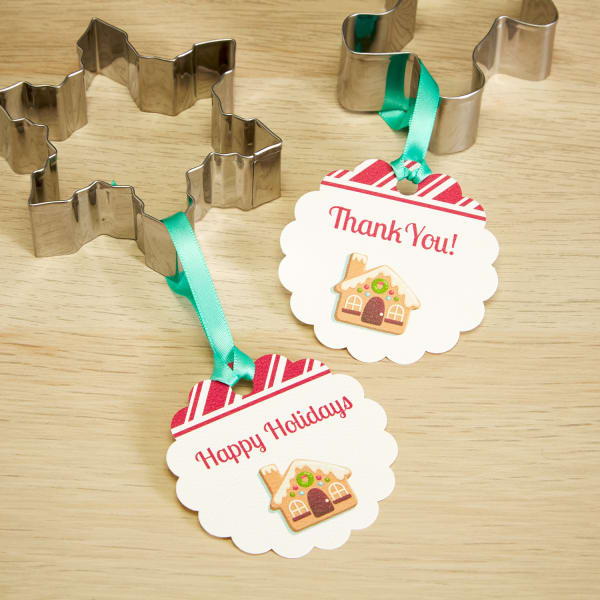 Spice up party favors with scallop tags (80503)
As the party winds down, thank everyone for joining with a cute keepsake to remember the event by. Cookie cutters are both adorable and affordable and make for useful gifts during the holidays. Customize our gingerbread house tag template to use with any party favor.
Click here for the gingerbread house scallop tag template.
Looking for a specific type of label for your project? Order blank labels by the sheet in just the right shape, material and quantity that you need. If you're looking for extra help during the holidays, try out our WePrint printing service and have our expert team print your labels, cards and more for you.
Products used in this article:
4″ x 6″ Postcards (5889)
2-1/2″ x 1″ Ultra Tabs Repositionable Margin Tabs (74866)
2″ x 3-1/2″ Tent Cards (5302)
8-1/2″ x 11″ Light Fabric Transfers (3275)
1-1/2″ x 2-1/2″ Glossy Oval Labels (22804 / 94051)
1-1/4″ x 1-3/4″ Removable Labels (22828 / 94226)
2-1/2″ Scallop Tags (80503)
Share your ideas with #AveryProducts
Share photos, shop trends and get inspired.

View Full Gallery