In today's world, companies tend to focus all of their marketing efforts on digital content. Whether by email, social media campaigns, or paid search ads, the majority of marketing budgets are spent in the digital arena. And, while the value of digital content can't be overlooked, for large and small businesses alike, printed marketing materials are still an extremely valuable and budget-friendly way to get the word out about their products and services. If you're getting ready to open your business or you are just in need of a marketing revamp, we've put together 5 ways to market your business using inexpensive printed marketing materials.
Printed marketing materials
Printed materials are an easy way to market your business and communicate your brand messaging to customers on items that can be taken home or shared with other potential customers. Types of printed marketing materials include things such as loyalty cards, grand opening announcements, farmers' market handouts, direct-mail postcards, and even custom stickers and product labels. Any printed item that promotes your business or product is considered printed marketing material.
To provide some inspiration and ideas, we've put together inexpensive custom marketing materials or DIY products that you can create and order online.
What to remember:
Keep it simple. Don't clutter the front of custom marketing materials with too much text. A headline and secondary line should suffice. Put more detailed information on the back or inside.
Use persuasive imagery. Make your marketing materials stand out to your target audience with interesting and relatable hi-res imagery.
Add a call to action. Tell customers what you want them to do, whether it's to call you for information, visit your website or follow you on social media. Include your address, phone, website, email, and social media handles as needed.
Review materials. On a regular basis, check that everything on your marketing materials is current and up to date.
1. Rack Cards & Brochures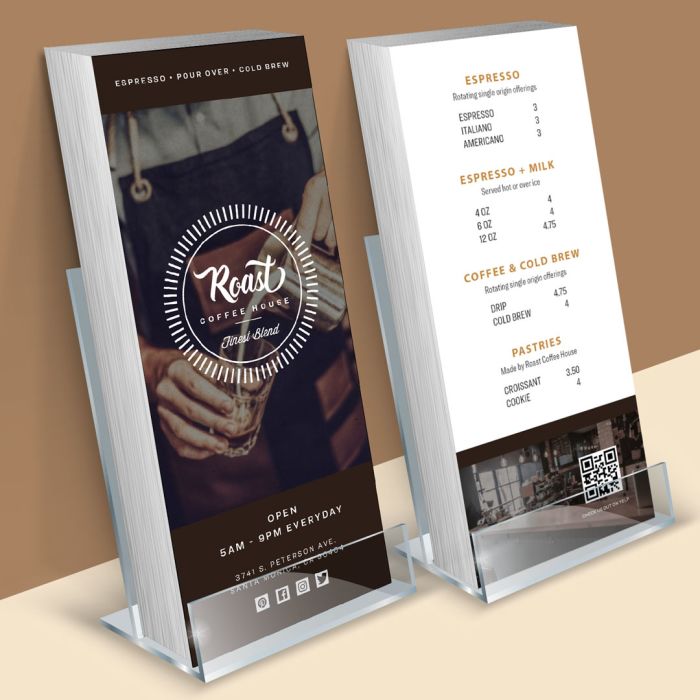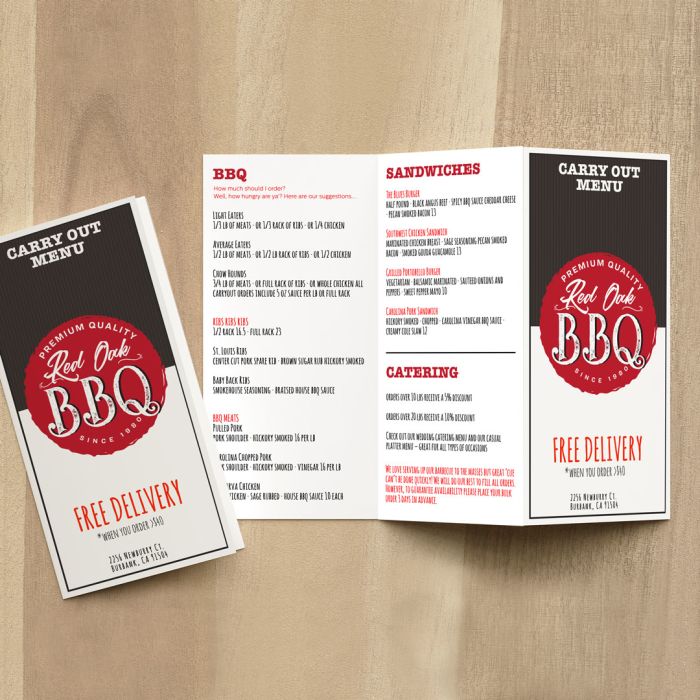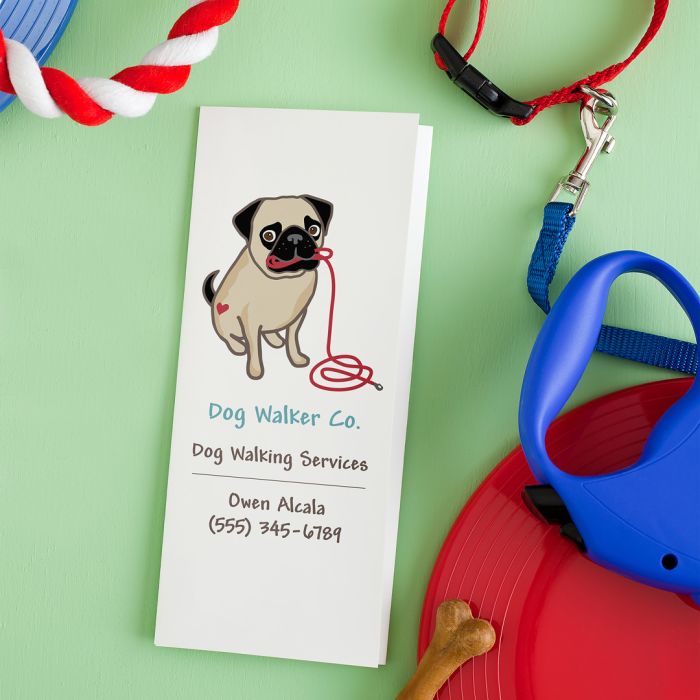 Rack cards and brochures are the perfect on-the-go marketing tool. Whether you're displaying price lists, new products, menus, coupons, event calendars, or other promotions, rack cards are the perfect customer takeaway.
They're ideal for placing at checkout counters or hostess stands, in lobbies of hotels and offices, on trade shows and farmers' markets tables, and in other locations where there's lots of foot traffic. You can also use rack cards and brochures in shipments or packaging or as direct-mail cards for potential customers in your area.
To display your business or products in the best light, try custom printed rack cards. When professionally printed, your rack cards will deliver a premium look and feel, showcasing your company in its best light. With Avery WePrint professionally printed rack cards you can choose from three finishes, all made from sturdy cardstock that will hold up without folding or bending when packed in boxes or tucked in purses and shopping bags.
Rack Card Materials from Avery WePrint
| Material | Weight (lb / gsm) | Thickness (pts / mm) | Brightness |
| --- | --- | --- | --- |
| Matte White | 120 / 324 | 14.5 / 0.368 | 98 |
| Glossy White | 120 / 325 | 12.4 / 0.314 | 94 |
| Pearlized | 115 / 311 | 15.6 / 0.396 | N/A |
If you want an on-demand option so that you can print marketing materials yourself try our printable tri-fold brochures. These paper brochures are perfect when you have lots of information or graphics to include or need a one in pinch. The brochures are scored for an easy, consistent fold, and include mailing seals for a professional finishing touch. They're perfect when you need a brochure at moment's notice or want to custom marketing materials for a specific client or event.
2. Postcards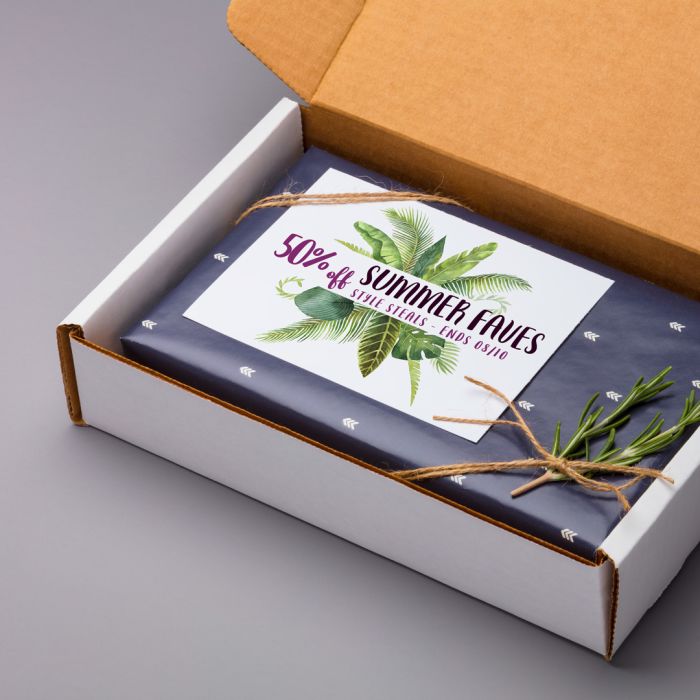 Printed postcards are useful in a variety of ways. From direct-mail pieces and invitations to coupons and special offers you hand out to customers, they're an eye-catching way to stand out to your local consumers.
If you're just reopening your store or changing your hours or service methods, direct-mail postcards to your current customer list and potential customers are an inexpensive way to get the word out. Selling at a farmers' market or giving out samples at a trade show or fair, include a postcard with a coupon or special offer for attendings.
You can easily create custom postcards that are perfect for gift certificates, invitations to reopening events, or new product announcements. For an extra premium look, order your postcards with scalloped corners or flourish edges to catch the eyes of customers.
Custom Printed Postcard Materials from Avery WePrint
| Material | Weight (lb / gsm) | Thickness (pts / mm) | Brightness |
| --- | --- | --- | --- |
| Matte White | 100 / 270 | 12 / 0.305 | 98 |
| Glossy White | 100 / 270 | 9.8 / 0.249 | 94 |
| Pearlized | 115 / 311 | 15.6 / 0.396 | N/A |
To print marketing materials yourself, there are a variety of printable postcards available. These are great for last-minute handouts or when you only need a few. From matte and glossy white to ivory and neon colors, you can find printable postcard options you can create on the fly.
3. Business Cards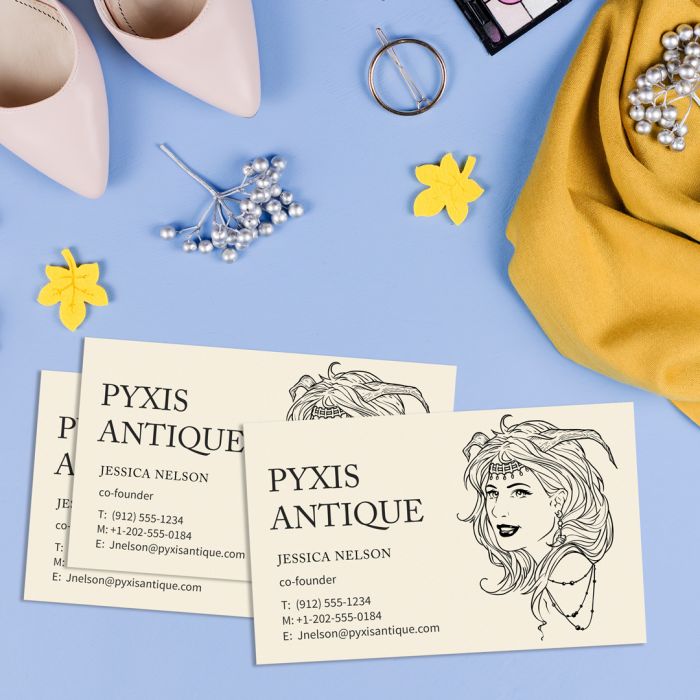 Business cards have evolved into a useful marketing tool that is more than just a networking card to hand out at events. Small businesses now use printed business cards for many things including coupons, display cards for jewelry and accessories, and small card enclosures that can be tucked inside a shipment or gift bag.
While some would say business cards in their original form aren't necessary in today's digital world where you can quickly add a number to your phone, custom business cards still offer a high level of professionalism. Not to mention the extra hassle of adding an email or mailing address to a phone at a market or event. Plus, once your number has been added to someone's phone, it's easily forgotten, whereas a printed business card is tangible and something to hold on to.
Whether you need your business cards to carry with you for networking, for coupons to use in customer shipments, or as display cards for small items at the checkout counter, they are numerous options available.
You can order custom printed business cards for all your specific needs that provide full-color, hi-res graphics and text. To really up your professionalism, while keeping your cards neat and secure, try business card books that come in packs of 25 cards bound in clear cover books. Or for on-demand business cards, try printable business cards that you can print yourself when you need just a few cards. No matter what you want to use them for, there's a variety of options to fit your budget and needs.
4. Loyalty Cards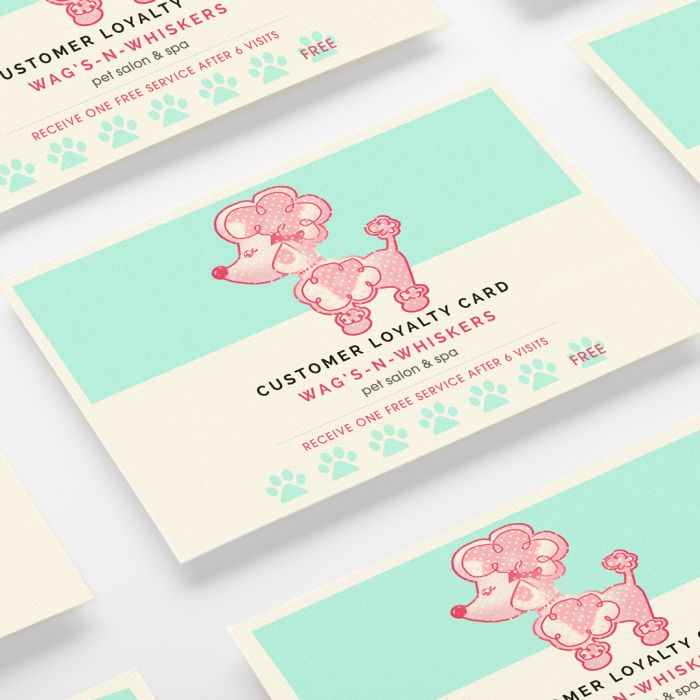 Nearly every business has some sort of rewards program to offer customers, and it's pretty much expected by consumers now. It's also a valuable way for business owners to collect data from customers. However, for small businesses, creating an online rewards program can be expensive and time-consuming. Their value, though, cannot be denied.
If you operate a retail business like a pet store or gift shop, offering punch cards are an inexpensive solution. Whenever a customer returns to your store they get a unique sticker, stamp, signature, or hole-punch on their card. Once they reach a set number, they get a reward, whether it be free food, a discount on the next purchase, or a gift card.
Along with being less expensive than reward software programs, physical loyalty cards double as marketing materials for others to see when customers pull them out of their wallets instead of just swiping their phones. They can also be displayed on checkout counters or on farmers' market tables where customers can easily access them. Just remember to have a signup sheet so you can get your customers' emails or mailing addresses. Once your business grows and you move to more digital marketing, this data will be extremely important in growing your outreach.
To create your own rewards cards you can simply order custom-printed business cards or print your own. Check out these free templates to help you easily customize and create your own rewards cards in no time.
5. Custom Stickers & Product Labels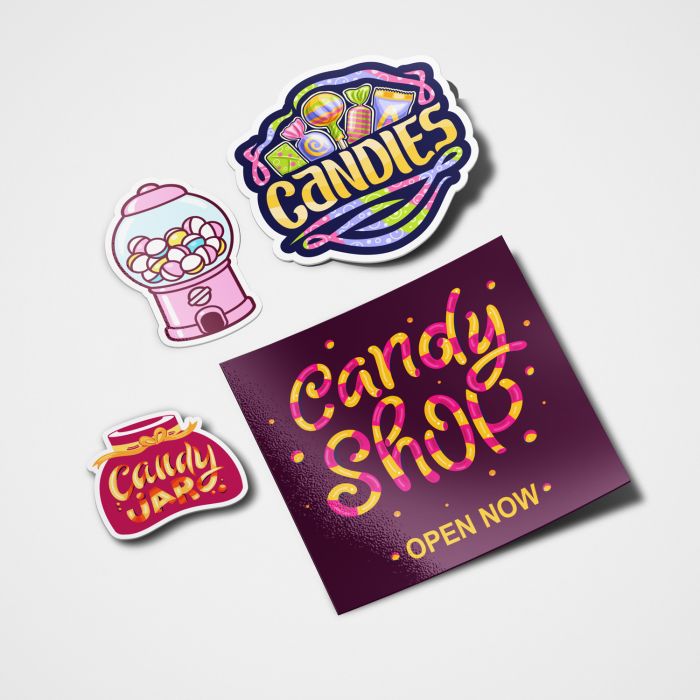 Do you offer delivery or operate an e-commerce shop? For an easy, fun marketing idea that your customers will love, try personalizing your product labels or giving away custom stickers to promote your business.
Simply printing your customer's name on their product label can make them feel extra special. It also helps you keep your orders organized. This is a great marketing tool for restaurants and other foodservice businesses and is easy to do. By using printable blank labels by the sheet you can have your label template ready to go and just type in the customers' names and print.
Are you too busy to print individual names on every label? Try our custom safety seals. When creating your labels, simply add a section of white space on your label face that will allow you to handwrite customers' names directly on the label. Just by adding your customer's name to the packaging, you can ensure they've received the right order but it shows you care.
Custom stickers are another fun way to market your business. You can create unique stickers that customers will love to receive as well as share with others. From laptops and luggage to water bottles and cars custom stickers are gaining in popularity and can be seen everywhere. They're also a gentle reminder of your business every time the stickers are seen.
Marketing matters
No matter what type of business you run, there are always inexpensive ways to get the word out. When combined with your digital marketing efforts, printed marketing materials are a great way to make sure new and current customers remember your name.
Try free Avery templates to customize any of the products in the article above. You can choose a professionally designed template that you can personalize to fit your needs. Or upload your own artwork and order or print your labels. If you want to design from scratch, check out these simple graphic design software programs to get started.
Do you have any creative marketing ideas that have helped your business compete? Let our small business readers know below.
Check out Social Media Marketing Tips for Your Business to help with your digital marketing efforts. Not online, read Tips for Selling On Your Own Website to get started.