Custom Business Cards
Order premium business cards online in minutes. Buy standard business cards or square business cards in a variety of finishes. You can easily make business cards with our free templates & get fast turnaround & no extra charges.
250 Cards Starting at
$27.50
($0.11/card)
Find the perfect business card for your company or event
Dimensions
2" x 3-1/2" (HxW) Rectangle Business Cards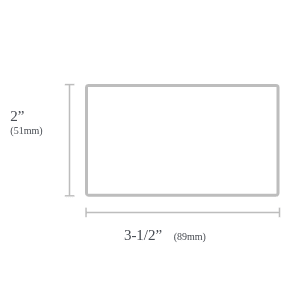 2"1/2"(HxW) Square Business Card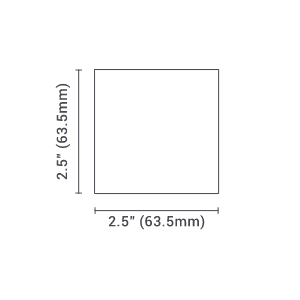 Card Stock
| Material | Weight (lb / gsm) | Thickness (pts / mm) | Brightness |
| --- | --- | --- | --- |
| Matte White | 120 / 324 | 14.5 / 0.368 | 98 |
| Glossy White | 120 / 325 | 12 / 0.305 | 96 |
Please note: Due to the coating on WePrint products, they cannot be run through personal inkjet or laser printers.
What size and how thick is a business card?
The standard business card size is 3.5 × 2 inches so they are easy to fit in a wallet. The thickness of business cards depends on the paper you pick and the finish. Paper thickness is measured in point (or PT), and the weight of the card is measured in grams per square meter (GSM).
Avery matte white cards weigh 324 GSM and have 14.5pts thickness. Our glossy white cards are 325 gsm and 12 pts thick, and our pearlized business cards are 311 gms and 15.6 pts thick.
What do I include on a business card?
Keep your business card design simple if you want to elevate your brand or information.
Logo
Name or company name
Phone number
Email address
Website
With Avery custom business card printing services, you can design your cards for free or use our professional business card designs for free as well. Just fill out and customize the template and you're ready to order.
How soon can I get my custom business cards delivered?
At Avery WePrint, we will ship your custom business cards from our printing plant in as few as 2 business days once you approve your proofs. The delivery of your order depends on the selected delivery type chosen when ordering.
Delivery Options:
Rush = arrives 2-3 business days after order is placed
Priority = arrives 3-4 business days after order is placed
Standard & Economy = arrives 5-7 business days after order is placed
Please note that delivery times vary between regions, and delivery to some areas may be slightly longer than to others. We do offer Free Shipping on all orders over $50* (USD). *$50 subtotal and after promo codes (if applicable)
What is the best business card shape and layout?
Choosing the best business card shape and layout is all up to you.
Standard horizontal business cards are great for providing more information on your card. Landscape layouts are also great for photos, text, graphics, or QR codes.
Vertical business card layouts and square business cards are perfect for companies that want something unique that will stand out from the rest. They are perfect for colorful and image- or graphic-rich card designs. Find 6 Ways to Use Square Business Cards for some unique ideas.
What is the difference between types of business card papers and finishes?
Avery matte business cards offer a low-sheen finish that can be easily written on.
Our glossy finish adds a shiny, photo-quality to your cards. The glossy finish makes images and colors more vibrant. It also helps protect cards from abrasions and smudges.
Avery pearlized business cards offer a beautiful pearlescent finish that is perfect for luxury products and businesses.
What makes business cards stand out?
Make your business card more memorable by using a unique shape, color scheme, or font. Be creative but stay on-brand. Avery offers custom business card printing services that let you choose from a variety of special paper stocks, finishes, and shapes.Check out Refresh Your Business Cards with the Hottest Trends for some more ideas.
What is the best font for business cards?
Avery recommends using fonts that are 7pt or bigger to ensure they can be easily read. Smaller fonts don't print well if they're too small. Also, consider using Sans Serif fonts for smaller lines of text. Sans serif fonts, like Helvetica, don't have the small features on the ends of strokes.
Also, don't mix too many fonts in one design. Use two fonts at most on your business card design for a more professional look. Read How to Pick the Right Font to get some more insight on using fonts on labels and cards.
What is the recommended file size images and photos?
When uploading photography (or non-vector artwork), make sure images are no less than 96 DPI. Ideally, 300 DPI is recommended because you don't want images to look pixelated.
If your business card design is a mix of both photos and graphics, make sure that the images you choose are above the recommended pixel sizes. With our automatic proofing, you can make sure your design is ready to print. Make sure to check other elements as well and make sure you aren't too close to the bleed zone.<

See all reviews
Ordered business cards. Love Avery design tool. The cards turned out wonderful. I had them print and they look amazing. Price was competitive too.
Easy to design exactly the card I wanted, easier to order and arrived in less time than expected. Great quality cards! Love this experience.
The website was very easy to navigate using my own business card art, delivery of finished product was quick, and quality is perfect. Thanks.
I received an email from them with a layout problem. They corrected it, printed it and shipped before I had a chance to respond! The cards were perfect, just how I had hoped they would turn out.
Business cards looked professional - good quality material and crisp color printing!
---
Ready to let us print for you?
---
Order custom business cards professionally printed from Avery
Our premium custom business cards are specially designed for busy professionals who want to exude the confidence, smart style and professionalism. Our cards are available in rectangle and square shapes with a classic matte white or glossy white finish. The hardy cardstock provides an excellent canvas for your design. Check out our free business card templates that you can easily personalize your way.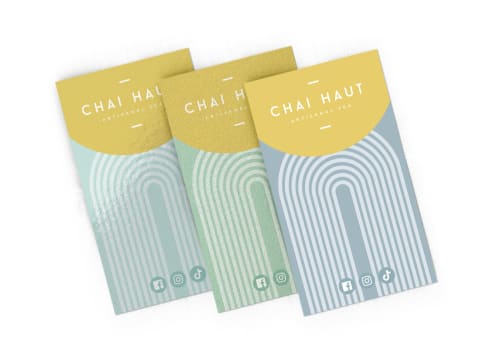 ---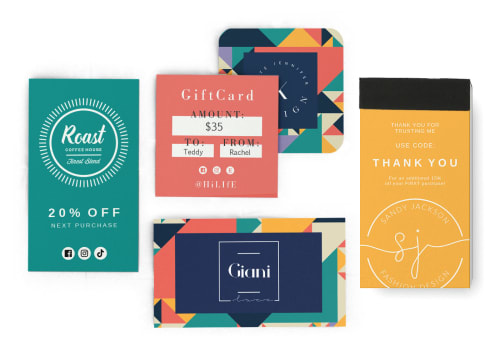 Variety of business card shapes and styles
Our custom rectangle and square cards are great for making more than just business cards. With our easy to use templates you can make beautiful save-the-date cards and RSVP cards for weddings, or create jewelry display cards for earrings, necklaces and more. Check out 6 Ways to Use Square Business Cards for some amazing ideas. If you want to create a unique diamond or square card, read How to Rotate Text & Graphics to get the exact design you're looking for.
---
Print your own cards
If you want to print your cards yourself, Avery offers a full line of blank business cards you can print on your inkjet or laser printer. Simple customize your cards with our free design software and print them as you need them from your desktop printer. Choose from a variety of materials and sizes, including our popular SureFeed® Clean-Edge® Business Cards with no fuzz or ink smearing.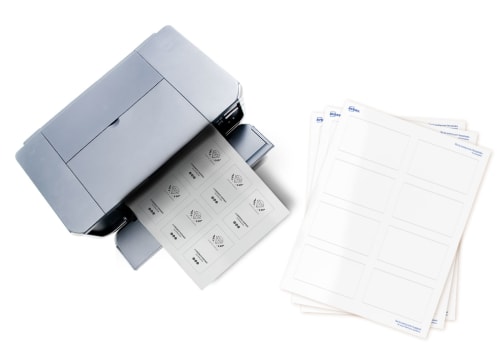 ---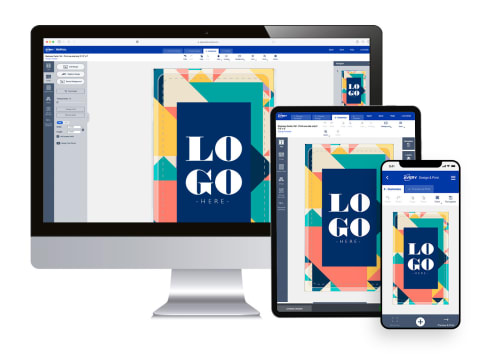 Easily personalize business cards online
Whether you have your cards professionally printed by Avery WePrint or you print them yourself, you can easily personalize the cards with our free templates and design tools. Don't forget to viist our template design gallery to find the perfect template for you specific use. Whatever your design vision may be, you'll make an impressive first impression on all your colleagues, business partners and clients with the superb print quality of our custom business card printing.
---
Friendly, reliable customer service
You can easily find help with any questions or concerns about your custom business card printing or the order process. Our customer care team is eager to help by phone at (800) 942-8379 or via online chat. Our support team is based in California and can help you each step to create the perfect cards. Rest assured that from start to finish, your order is always backed by our 100% satisfaction guarantee. Let us help you make a big impression on your clients or colleagues with your custom business cards.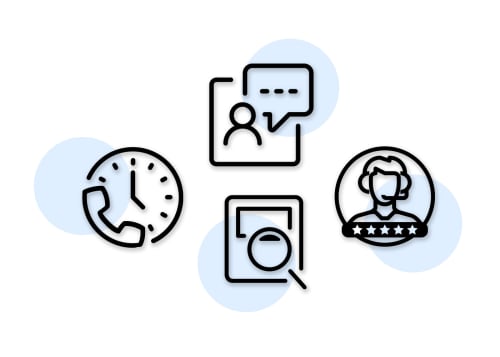 * Flat rate shipping offer applies to economy shipping only. Free shipping offer applies only to orders with a merchandise total of $50.00 or greater (after discounts, before shipping, and tax). Offer applies only to economy shipping and to orders shipped within the continental United States and Puerto Rico. Offer subject to change.