Easily promote your products, services & special offers
Rack cards are great to use for your marketing efforts, product display cards, event announcements, or even invitations. They hold a large amount of information in a small amount of space, they're easy to display, hand out, or mail, and they have an agreeable price point when they're professionally printed. So we've put together eight simple ways to use rack cards for marketing your business.
Although rack cards may be simple enough in nature, don't underestimate these 3 ½ x 8 ½ envelope-size cards. They're perfect for mailing and displaying, they're simple to customize, and they're easy on the wallet.
While this article focuses on 8 ways to use rack cards, many of the ideas can also be used with Avery printable brochures if you prefer to print yourself. What's the difference between rack cards and brochures? Dingo Creative offers a simple explanation to see what's best for your company.
1. Restaurant Menu Cards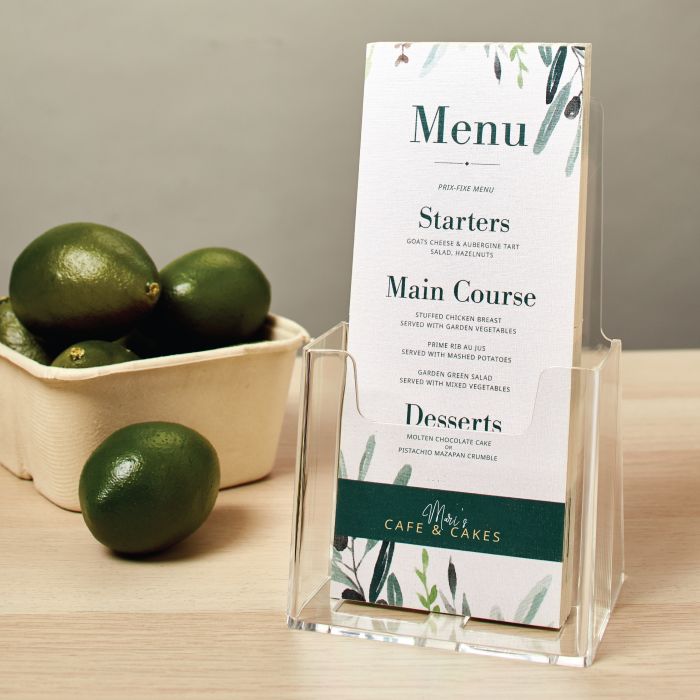 Instead of large menus or folded brochures that can be expensive to outsource to a graphic designer, use rack cards that you can easily design yourself and order online.
Feature your hours of operation, phone number, and website on the front so that consumers know where to call when making a reservation. On the back of the card, you can list menu or catering details for easy ordering by phone.
2. Rack Cards for Promotions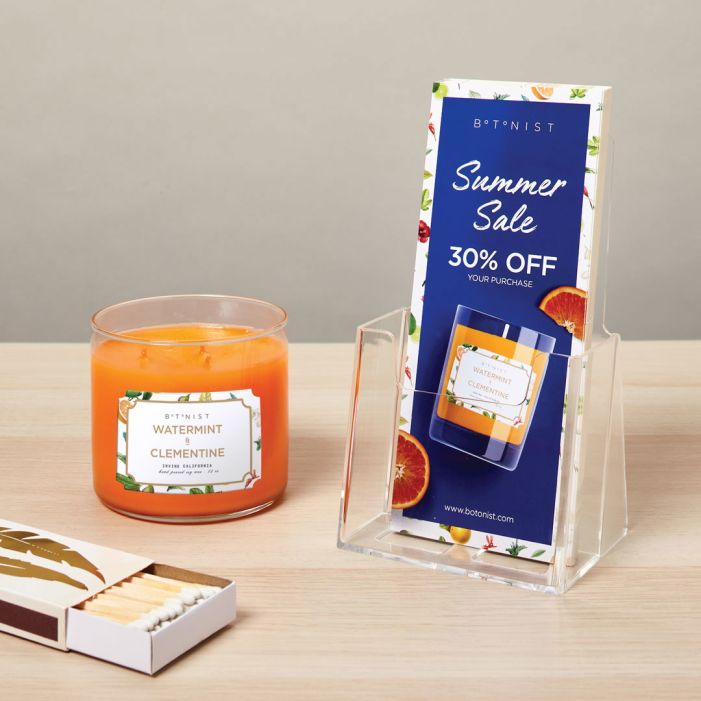 Use a rack card dispenser near your cash register or outside the front door of your retail store for consumers who are on the go or browsing as they walk by. The right incentive might bring them in the door now or in the near future.
Try a percentage off, or deals like Buy One Get One Free, Free Item with Purchase, or Free Delivery. Be sure to include your logo, website, contact information, and social handles on the front so that consumers can share the promotion with others and spread the offers with their friends.
3. Table Number Rack Cards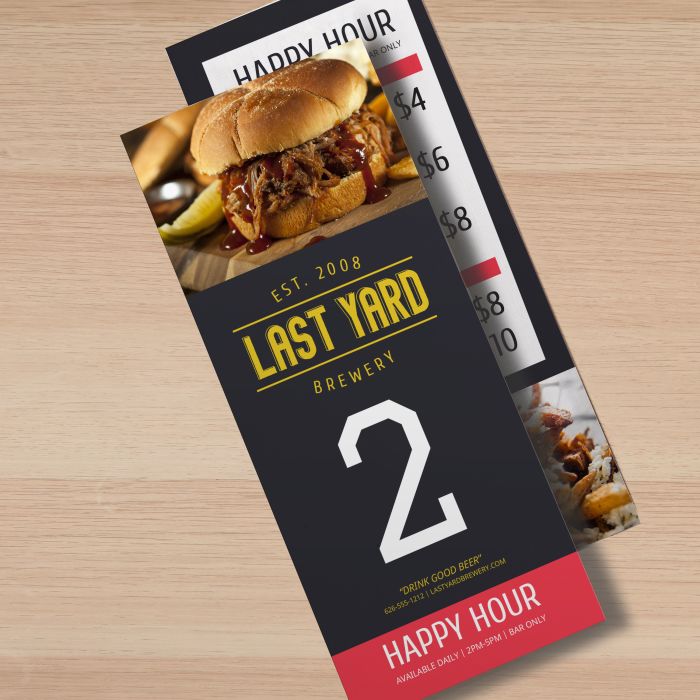 Use rack cards at your restaurant, bar, or next big event to display table numbers for easy seating. These are great to minimize the chaos that comes with complicated table arrangements at large venues.
Display the table number prominently on the front. Ideas for the back of the cards include highlighting drink specials or featured desserts, or a quick story about the restaurant or a local charity to create some conversation at the table.
4. Product Pricing Display Cards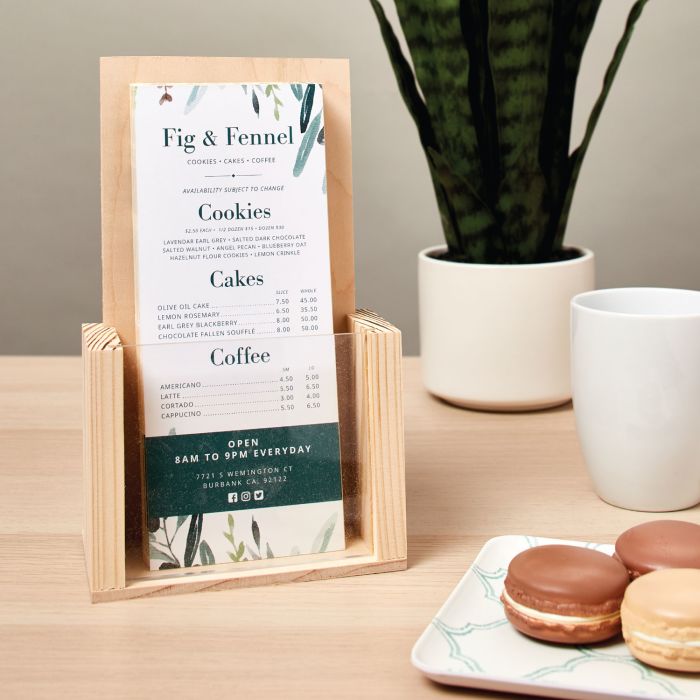 If you own a business such as a salon, spa, or bakery, you may find the need to communicate your services and products with a price list in a portable manner that can fit neatly in tight spaces. Rack cards are great for fitting on display racks near product display cases, in hotel lobbies, on retail shelves, and at reception desks.
The cards are perfect for showcasing images, pricing, and descriptions of products you want to feature. You can also easily switch them out daily, monthly or seasonally to keep your messaging fresh.
5. Gift Certificates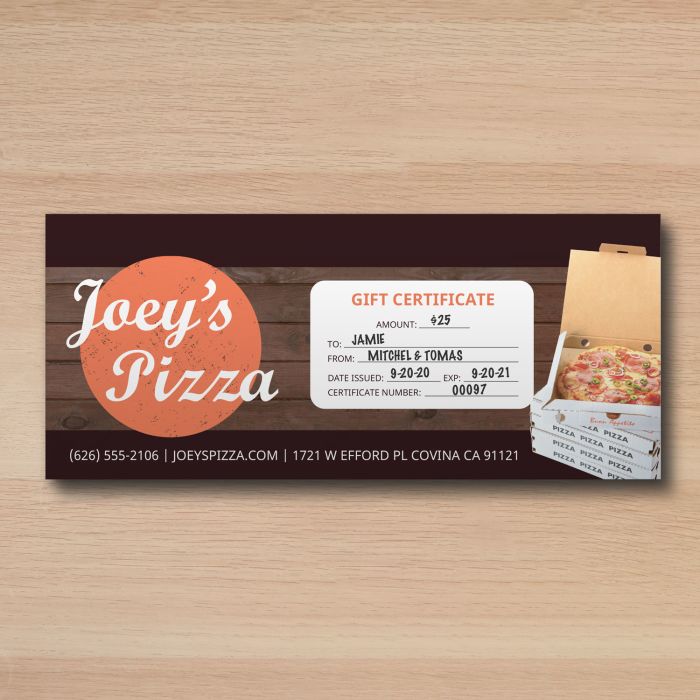 Gift Cards are a great way to drive additional sales with new and existing customers. They're great to display near checkout to spur sales but they also fit nicely in a letter-size envelope making it easy for mailing and gifting purposes.
Order your rack cards in a landscape format and leave the "To" and "From" areas blank along with a form fill area for the amount. This allows flexibility for the customer to choose which amount they would like to contribute to their gift. Be sure to add your logo and contact information to let the recipients know where they can redeem their gift cards.
6. Invitations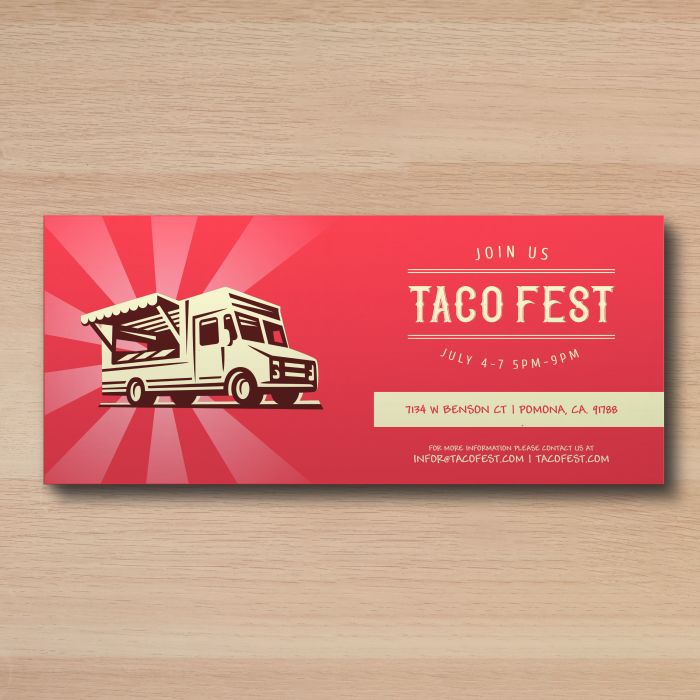 Invite community members to your grand opening, special event, or charity organization using rack cards. The letter-size format allows for easy mailing.
Showcase your event with a bold design theme on the front and include your venue, time, and location. Use the back for more event details, contact information, and a map to the business or event.
Need to get a headcount? Include an RSVP card using a business card and stamped envelope, or a mailable postcard for an easy response back.
7. Real Estate Cards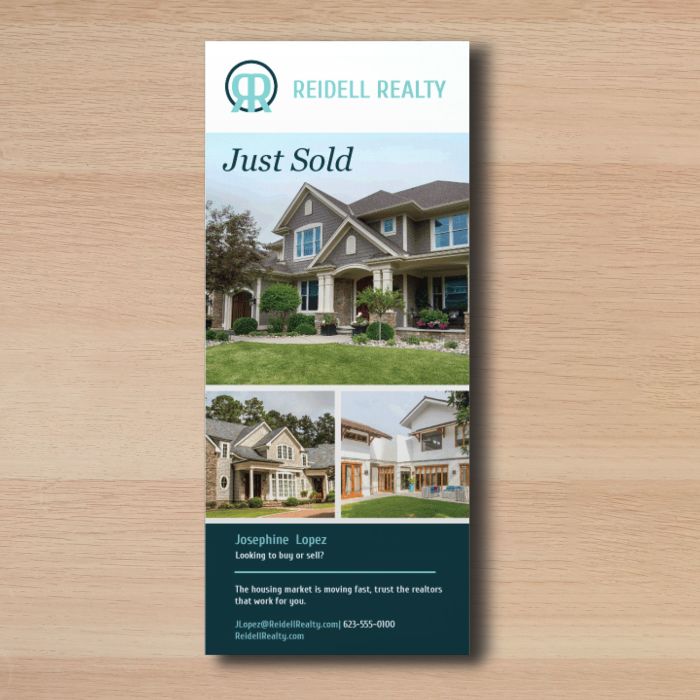 Rack cards are great grab-and-go pieces that can attract home buyers or sellers in your area. Sit on the windowsills of open houses, leasing offices, furniture shops, or home improvement stores. Use them as a unique direct-mail flyer to attract even more attention.
Showcase your recently sold houses or open listings on the front and list your services or local market statistics on the back. As always, include your contact information and social media handles that might be important.
8. Thank-You Cards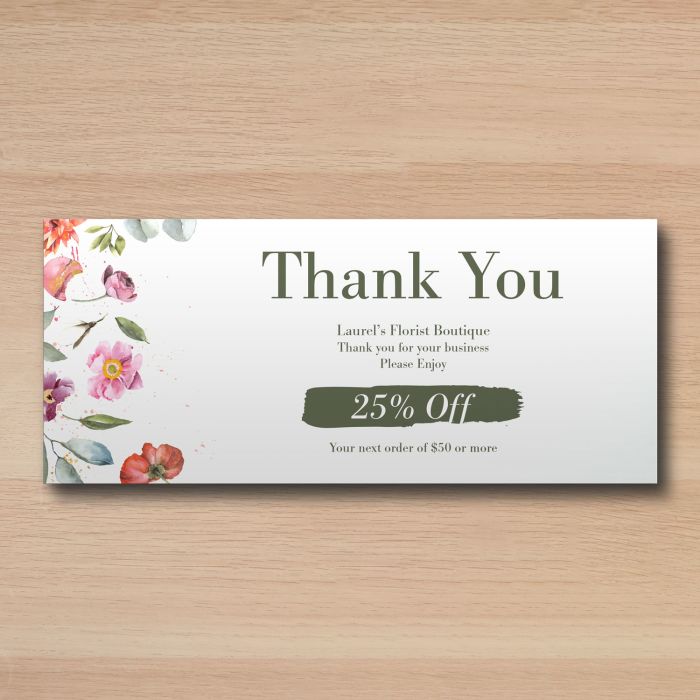 Do you sell online? If so, add a special thank-you message to customer shipments using a rack card. Or send it in an envelope a few days later after they've had time to enjoy your purchase, letting them know you're available if they need anything.
Design your card with your thank-you message on the front. On the back, you can leave space for a handwritten message or add a special offer to prompt them to purchase again. For an added bonus, include a fun die-cut sticker with your logo to showcase your brand for others to see. Check out 10 Ways to Promote Your Business with Stickers for even more ideas.
Brochures you can print yourself
Not ready for professionally printed rack cards? Try printable tri-fold brochures. You can print them on-demand as needed. They're great for menus, newsletters, business announcements, and more. Ideal for brochures, flyers, newsletters, announcements, menus, wedding programs, and more. They're made from heavyweight paper, can be printed on both sides, and include mailing seals.
Easily customize your rack cards or printable brochures using the free templates and designs from Avery.
Do you have a unique way to use rack cards for your business? Share with our readers in the comments below.