Other articles you might like:
When looking to create your own product labels, you want to make sure you find label design software that's easy to use and fits your budget. We've outlined five of the top product label design software programs and what makes them so popular with business owners and graphic designers. Whether you're printing your labels yourself or having them professionally printed, there is a label software program that's right for you.
Refer to our easy comparison chart below, followed by full descriptions of each label design program to find the right label design software for your labeling project.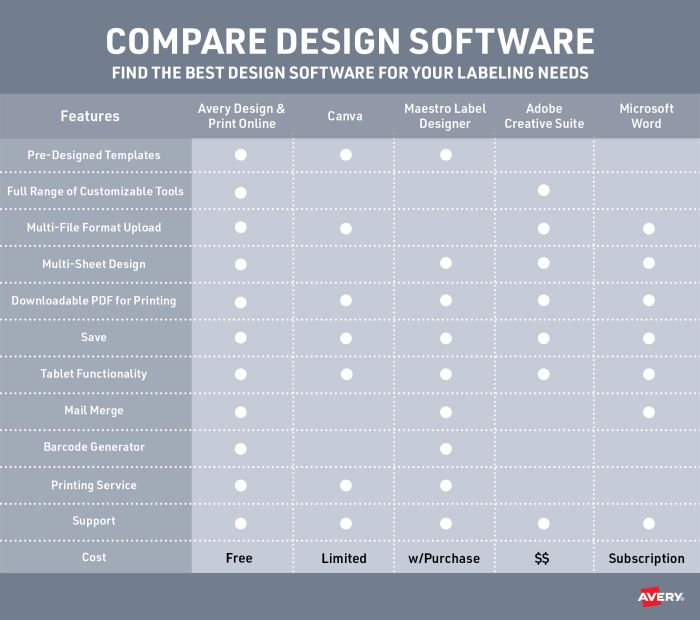 Things to look for in label design software
If you're a beginning designer, look for product label software that offers pre-designed label templates or blank templates. This allows you to easily customize a professional design or upload your own artwork with branding or information. The best label design and printing software services offer large numbers of free templates for creating your product labels with no hidden fees or subscriptions.
All of the design software below offers you blank templates that let you create your labels from scratch depending on your level of design experience. You can also upload your own artwork or pictures to the majority of platforms and then personalize your label with special fonts, shapes, and icons.
If you will need barcodes or QR codes on your product labels, make sure the design software you choose offers a barcode generator.
Any of the options below will offer you a great way to make labels for your products. Try them all out, see what the different perks and benefits are, and choose what works best for your business.
1. Avery Design & Print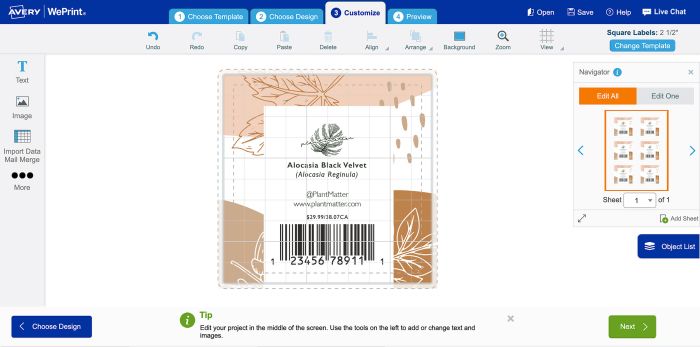 This free software is from the inventor of self-adhesive labels and was created specifically for designing labels. From premium, professionally printed metallic product labels to something as simple as personalized address labels for your office, Avery label design software makes it easy. It's simple, free, and great for beginners to advanced.
The best part of using the free Avery design software is that when used with Avery labels, you know you're getting the best money can buy. And even better, you have the option to print your own labels using Avery blank labels, or order custom printed online labels on rolls or sheets. You can order multiple designs on roll labels, and you can also apply your same design across numerous products like postcards, business cards, hang tags, tickets, and more.
Access all your designs and order history from anywhere 24/7. Upload your own graphics and images or choose from thousands of free professionally designed templates that you can personalize the way you want. You can insert text, images, barcodes, QR codes, serial numbers, and sequential numbering. You can also easily import data to create variable product labels or do a mail merge for address labels. And you can also choose to make all your labels the same or each one different quite easily.
Simply create an account, select your product, and then choose between blank or pre-designed templates, all for free. Personalize your design and save it to your Avery account or computer. Then print your labels or order them professionally printed by Avery WePrint.
2. Canva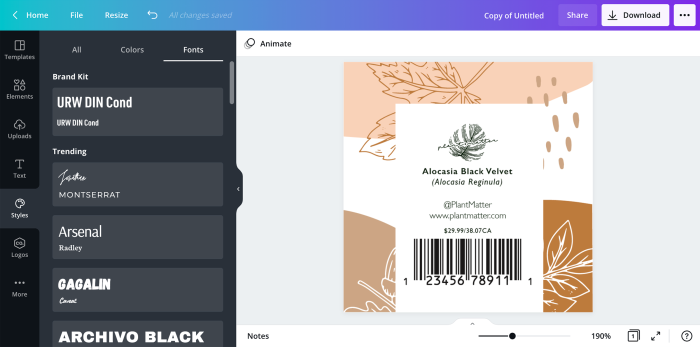 An extremely popular design platform, Canva offers tons of free templates for everything from personal, business, marketing, and education. Along with creating designs for labels, you can find things like templates for logos, flyers, business cards, and infographics.
You can customize the templates your way using personal images, charts, icons, fonts, colors, and more. The software is easy to use for beginners. It's free to design but there is also a premium version that gives you access to some of the special templates and tools.
To start, simply choose a pre-designed template or blank canvas. Drag and drop any desired elements onto your design and download the file for printing. The best part of Canva is once you've designed your labels you can easily upload your artwork to Avery Design & Print or another label printing service to order professionally printed labels when you've grown beyond DIY printing.
3. Maestro Label Designer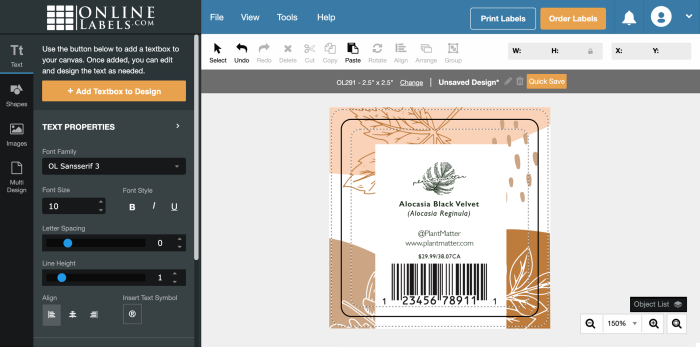 Maestro Label Designer is online label design software created by Online Labels specifically for their products. An activation code is required for each use for printing without watermarks. You receive an activation code with each purchase of $9.95 or more.
The design tool is available 24/7. It offers blank and pre-designed templates where you can add text, images, and more. You can upload your own graphics and use typefaces you have installed on your computer. It also offers a nutrition and barcode generator and other useful tools.
Simply choose label configuration or pick a pre-designed template. Add text, photos, and more. Download your design and print from your preferred PDF viewer or you can have them print your labels for you.
4. Microsoft Word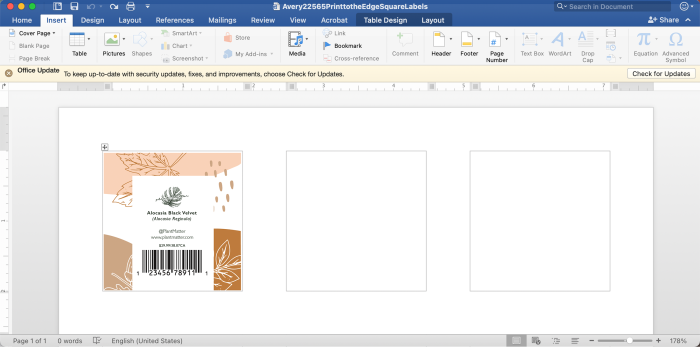 You can find a variety of popular label templates in Microsoft Word in the online templates directory. A subscription to Microsoft is required but the templates are free. The word-processing software is popular for design since it's pre-installed on many computers and many users are familiar with it. It's a bit limited with the number of templates and products but it can be a great way to start out if you like working in Word.
You can insert various elements, shapes, and clipart. However, it can be a bit time-consuming as you have to copy your design across your entire sheet. You can select a blank template from the Microsoft menu, download a template from a third-party site, or lay it out yourself. You can print directly from Word or upload your design to your label printing service of choice.
If you have a Microsoft account, you can access hundreds of free label templates. Premium templates are also available with a subscription to Microsoft 365.
5. Adobe Creative Suite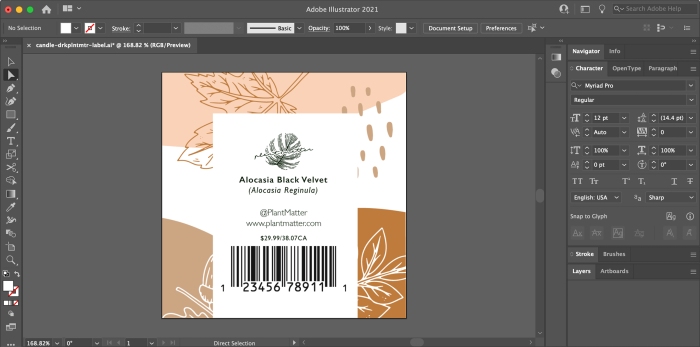 If you're an experienced designer, then Adobe Creative Cloud could be the best product label design software for you. Whether you use Photoshop, Illustrator, or InDesign, Adobe offers layout, photo editing, and vector creation. In fact, it's likely if you hire a graphic designer, they'll be using one of these design platforms to create your labels.
While you can create amazingly detailed product labels using these tools, they do carry a large price tag. And if you aren't already an expert at using the tools, the hours you need to master the tools may not be worth the investment.
With Adobe Suite, you can upload a blank label template or make your own. Add photos, different shapes, text, and more to create your product labels. Print your labels directly from your Adobe program of choice, or use a professional printer like Avery WePrint to order your custom labels.
No matter what design method you choose, it's never been easier to create beautiful product labels and marketing materials without ever leaving your home or office.