Ways to use marketing postcards to reach more customers
Other articles you might like:
With disposable income shrinking and prices rising, businesses are struggling to keep store sales steady and revenue coming in. To help you take a bite out of a revenue slump, our team at Avery has come up with some easy postcard printing ideas and marketing postcards that you can put together quickly and inexpensively.
Try using them for direct-mail campaigns, as handouts at farmers' markets, craft fairs, and boutiques, and as packing cards in shipments or carryout bags. They are extremely versatile and great for a variety of uses.
Creating your postcards
To make it easy for you, Avery offers both custom postcard printing and blank printable postcards. No matter what postcard printing option you choose, postcards are another great way to market your business.If you're looking for a larger card, rack cards are another great marketing tool.
If you don't want to spend time or money on a graphic designer you can use the free online design tools from Avery. You can personalize your cards with your own artwork or use one of our free professional designs and customize it your way. And you can carry the theme of your sale or promotion across a suite of blank or professionally printed labels, cards, and tags to give your event a coordinated look and feel.
Also, check out online software like Canva or BeFunky to create your own artwork. Or Crowdspring our crowdsourced graphic design partner. Then you can simply upload your custom artwork into the Avery software and order your cards or print them yourself. This will allow you to focus instead on your implementing your offer so that your marketing postcards will be more successful.
Now onto the many ways you can use postcard marketing for your business.
Direct-mail marketing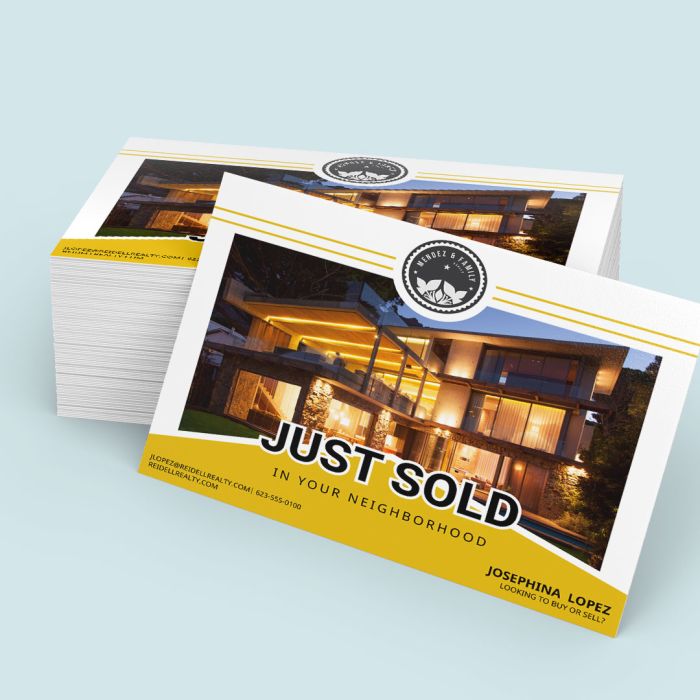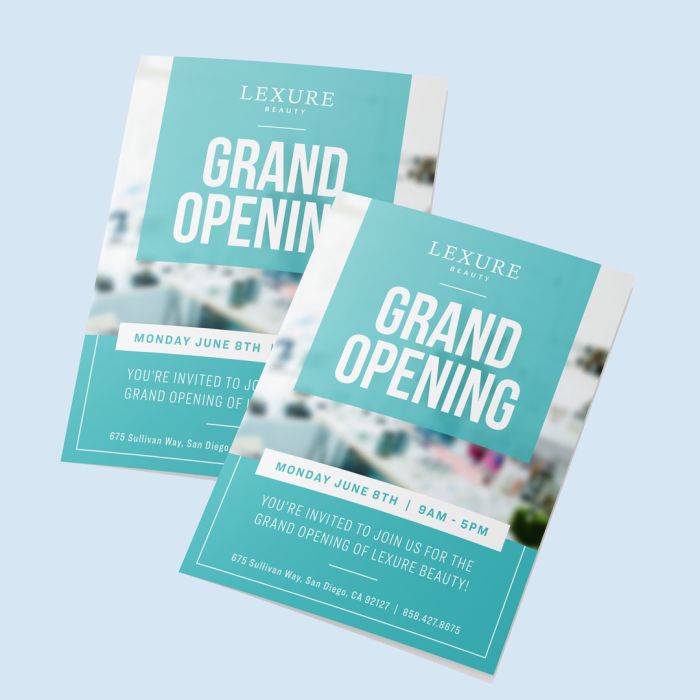 Have you noticed how little clutter jams your mailbox these days? Now is the perfect time to take advantage of the snail-mail slowdown with some direct-mail advertising in your local market. An eye-catching offer on beautifully printed postcards is a great way to stand out to your local customers.
Marketing postcards for real estate are probably the best example of marketing cards that work. People love seeing housing prices and what sells in the area. By sending a stunning card featuring their latest sales, real estate agents are able to keep their name top of mind in the local community when people are ready to buy or sell.
Not a real estate agent? Think about your business and how you can relate to the community. Did the local little league team just win the championship? Send out a congratulatory card that includes your business on the back with a QR code or contact information. Or send out a card advertising your booth at the local farmer's market or a grand opening announcement for your new business with a special offer so you can track the success of the cards.
Handouts, display cards & palm cards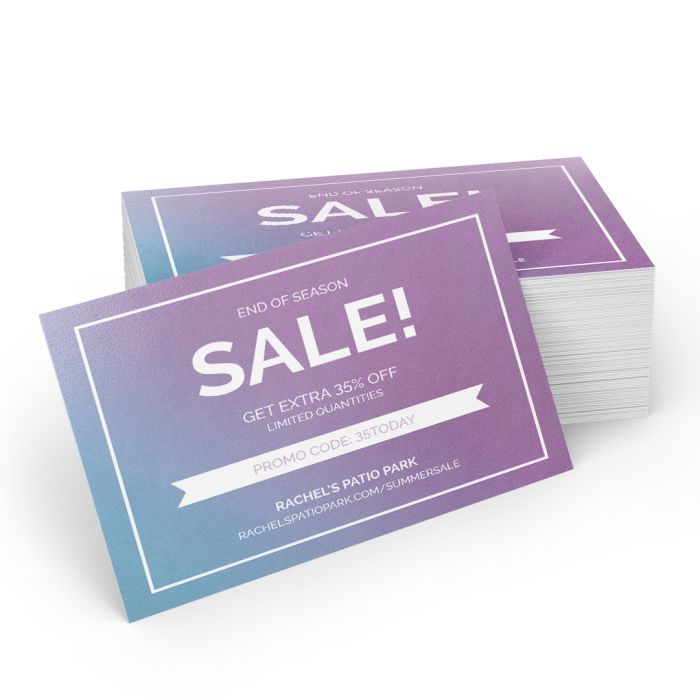 If direct-mail advertising isn't the right fit for your business, promo cards are another great way to generate traffic.
Use postcards as handouts at festivals, swap meets, and craft fairs where your target demographic hangs out. Or partner with a non-competing business where you can help promote each other's products by displaying cards at POS or tucking in shopping bags.
Marketing postcards also make great palm cards and poll cards for political candidates in local communities.
If you manage a political campaign or are running yourself, they're easy to customize. Simply upload the candidate's image and talking points into an Avery template and order. Distribute to volunteers for passing out in the local neighborhoods and community events to get the word out before upcoming elections.
Packing cards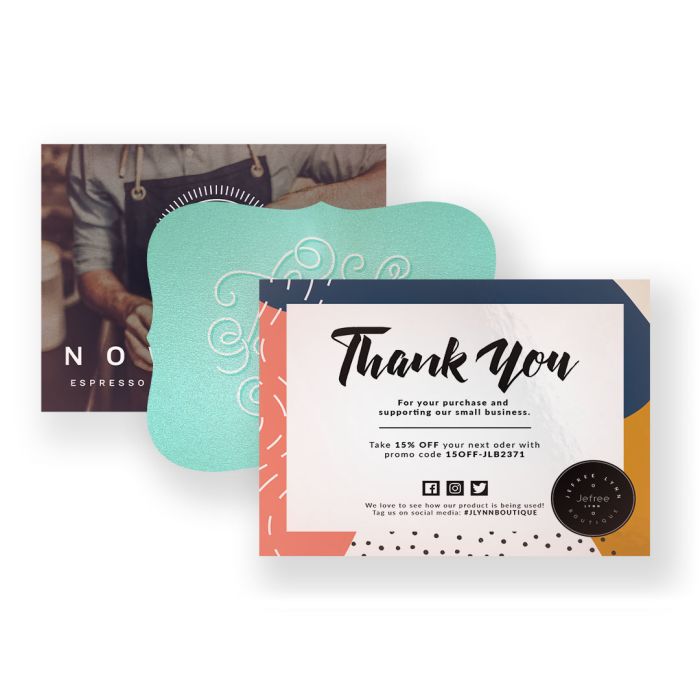 It's common practice now to add special offers and thank-you cards in shipments, food deliveries, and carryout bags.
Whether you add a handwritten note just to say thank you for their business or you give out a special coupon code for a return visit, it's a good way to entice another sale. Using a special one-time use code can also help you track the effectiveness of the cards. And customers always appreciate a little something extra.
Be patient with results
Don't expect immediate returns with direct mail, handouts, or packing cards. Postcards for real estate and palm cards are more for "brand recognition" so people remember your business or name.
If you're offering a special deal to get customers to buy from you, include a limited-time offer to get them to buy now. Also, always ask new customers how they heard about your business to help track.
When you're ready to order your cards, make sure they're from a reliable company with quality products and services. When you order postcards from Avery, your satisfaction is always guaranteed.
If you want a professional look with a fast turnaround, our custom printing service delivers. You get premium, sturdy postcards printed on industry-leading digital presses. Or if you want to print your cards yourself, simply follow the instructions on your packaging.
If you need assistance, our Customer Care team is ready to help with your custom postcard printing or printable cards. Call them at 800-942-8379.