How to organize your home office to keep it clean and be more productive
Home office organization is key to staying productive. That's true whether you're on a hybrid office schedule, homeschooling your kids, starting a hobby business, or handling regular life. For example, filing taxes, paying bills, and organizing household expenses.
We'll certainly take a deeper dive into it, but how to organize your home office really boils down to 5 simple rules:
Categorize and color-code
Give everything a place
Create areas for specific tasks
Create a system for paper
Leave room to grow
We're also sharing the best Avery labels and office supplies for getting organized. Plus, we'll show you how to use our free tools to make any office organization project a success.
Why is home office organization important?
The most basic reason to get your office in order is to make it easier to find what you need when you need it. However, there are a lot more reasons to get organized, and most of them can help your life run smoother.
As mentioned earlier, home office organization can lead to increased work productivity and efficiency. Having a neat and organized area to work in can help free your mind and improve your focus. And since you know where everything is, you'll be able to work faster and more effectively.
Getting organized also makes it easier to clean. Clutter makes it difficult to carry out basic cleaning tasks, so taking the time to arrange things where they need to go will help keep your work area spick-and-span.
With a tidy, more enjoyable environment to work in, you'll find yourself spending more time in your office with an increase of motivation to get things done. With any luck, this motivation will spread to more than just work.
Free Avery tools to create your own home office labels and tags
Now that you know why you should get organized, let's go over how to do it. Avery has all the tools and materials you need to get your home office in order. Here are some of the basics to help get your home office organization started.
Firstly, Avery offers a variety of office essentials to keep your work organized, including binders, dividers, writing instruments and even planner accessories. You'll also find a wide selection of labels and tags to help you identify what everything is and where they need to go.
You can create your own custom binder covers, divider tabs, labels, tags, and more using Avery Design & Print Online. Our free design software lets you easily personalize your items with no download required and you can save your projects to access later. When you're done, you can print it yourself or have us print it for you.
How to Find Avery templates
Easily create custom products using your own text and graphics, or use our large library of professionally designed templates, artwork, and fonts. To find the correct template, just enter your Avery product number into our template finder, use our helpful template support page or call our Customer Care team at (800) 942-8379 for assistance.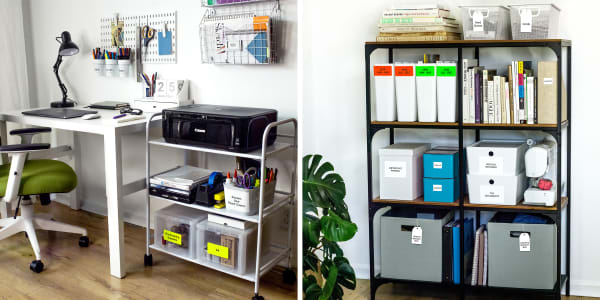 1) Categorize and color-code
Once you're ready to organize your home office, the first thing you need to do is sort through everything. Keep or archive anything you need to work and get rid of everything else. Consider donating items that are still in good condition to a school, library or other charity.
Next, sort everything in your keep pile into categories, grouping like items with like. Create groups for paperwork, notetaking, computer equipment, etc. If you're working from home, try to separate your work stuff from home stuff to better avoid misplacing items after use.
Assign colors to each category for storage. You can use color-coding labels or personalized labels with different colored ink for quick and easy referencing.
2) Give everything a place
After you've finished sorting, begin filling your drawers, shelves, bins, baskets, desk organizers, etc. Remember to keep grouped items together and make sure all your essentials are within reach or can be easily accessed from your work area.
Once everything is where they need to go, label your storage containers clearly. Not only does this make it easier for you to find what you need quickly, it also makes it easier to put everything back so you stay organized. Plus, you can see when you need refills of any office supplies.
In order to get the best labeling results for your home office organization, it's important to use the right label for your needs. Here's a quick look at some of your labeling options:
Best materials for labeling home office storage
3) Create areas for specific tasks
The next step in home office organization is to designate different areas for different tasks. For example, complete everyday work tasks at your desk, and dedicate a different area to seasonal tasks or tasks that require equipment that's a pain to put away.
Get your desk in order with our quick and easy tips on desk organization and make sure everything you need on a daily basis is easily accessible. As for other areas, here are some work station ideas you can create in your home office:
Mailing center: Streamline your shipping and mailing by gathering envelopes, packages, packing materials, a paper shredder, address labels, stamps, and everything else you need in one area.
Printing center: Set up a printing station that includes your printer, cables, printer paper, labels for your printer, ink, etc.
Hobby station: Dedicate an area in your office that allows you to work on your hobby. Create a crafting area, sewing area, gaming area, or even a cozy little reading area. During the holidays, or if you do a lot of gifting, you might consider making a gift wrap station in your home office.
No matter what areas you create, have fun designating each section of your office with décor elements like partitions, furniture, area rugs, or accent walls. You can even create your own custom wall decals to indicate different areas in the room.
4) Create a system for paper
Paperwork is one of those things that can get out of hand really fast. Make sure you stay on top of things with an organized system for sorting, filing, archiving, tossing, etc. You can also get ahead by checking out the best office supplies to help you stay organized.
Separate your work documents from home documents, grouping like documents together. File tax information and receipts together, while medical documents/records and school documents for your kids get their own folders. Consider creating a grab 'n' go emergency binder for important family documents like birth certificates, insurance, etc.
Manage incoming mail or other paperwork by creating a convenient inbox/outbox for your mailing center using removable labels by the sheet. This will allow you to easily sort bills, prioritize mailed documents, shred junk mail and send out outgoing mail in a timely matter.
5) Leave room to grow
One of the biggest mistakes people make when organizing is filling up storage space to bursting from the start. Anything new you bring into the mix won't have anywhere to go and can quickly turn into clutter. This just brings you right back where you started.
Set your home office organization up for success by keeping a few empty bins or containers aside for future items. Make sure there's extra space in various storage areas like filing cabinets, drawers, and bookshelves.
You can keep a cohesive look by printing more labels or tags. Reprint your saved projects on Avery Design & Print Online any time and from any smart device.
Start your home office organization project today
Getting your home office in order can really boost your productivity and cut down on clutter and stress in your everyday life, so why wait? Use our simple organization rules and start your office organization plans today.
Check out more of our home organization tips here on the Avery blog, or follow us on Pinterest and Instagram for more inspiration ideas.