Start organizing dorm stuff early to give your student a calm, confident start
Like most things in life, dorm organization is so much easier when you take a beat to think ahead and prepare in advance. Accordingly, it's important to start helping your college-bound student prepare for dorm life well ahead of the fall.
In fact, a few weeks before high school graduation is the best time to start! We've gathered up a list of 7 dorm organization tips you can use as an easy starting point.
More articles you might like: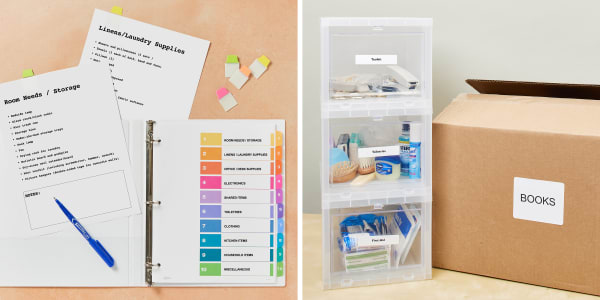 1) Start your supply list before graduation
We might have surprised you with our suggestion to start planning dorm organization before high school graduation. But, there are two great reasons you should start planning early. Firstly, it will help stretch your back-to-school budget. Secondly, it will allow your grad to enjoy their last summer before college.
To explain further, if you know what your student will need ahead of time you can request supplies as graduation gifts. You can even set up a graduation registry, which is totally a thing! This can be a huge budget saver. Especially when it comes to expensive items like electronics and dorm appliances.
Aside from budget, just the sheer amount of stuff your kid will need can be overwhelming. We love this comprehensive college checklist because they've organized it by categories. Planning early gives you plenty of time to shop and organize dorm supplies by category to make it more manageable.
2) Gather basic dorm organization supplies
First, shop and/or gather storage containers that you can simply pack and move into the dorm. For instance, plastic stackable bins. Rolling under-bed storage and plastic storage towers with drawers also spring to mind.
Then, stock up on cardboard boxes, packing tape and labels. Printable labels by the sheet are great for making personalized storage container labels and ID labels for personal supplies. Shipping labels, and small 4″ x 6″ sheets of hand-writable and color-coding labels are ideal for organizing dorm boxes.
In contrast, don't worry about packing materials like bubble wrap or newspaper. Save money and space by the using linens, pillows and clothes you'll need to pack anyways. Instead, put that money towards more dorm storage. For example, cube storage, hanging closet storage, and over-the-door organizers.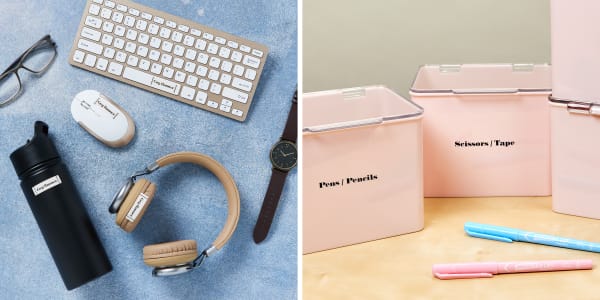 3) Label dorm supplies before packing
Labeling supplies is one of the easiest dorm organization tasks you and your student can do at home. Whether it's clothing, school supplies, or personal items, labeling before your grad ever sets foot on campus has two benefits. One, it keeps like items together. Two, labels squash roommate squabbles.
Yes, labeling your kid's stuff can actually help them get along better with their new dorm roommate! Firstly, labeled items are easier to identify, so it's less likely that roommates grab them on accident.
Secondly, labeling your items sets clear boundaries. Imagine the inevitable, "Hey, you borrowed my thing and I'd rather you don't do that," conversation. It will be much easier for your student if which items belong to whom is clear.
Circling back to keeping like items together, the benefits are again, twofold. Keeping like items together makes it easier to organize when moving in. It also makes it easier to round up personal belongings when moving out.
4) Pack items with dorm organization in mind
After you've labeled your student's items, the next step at home is packing items as though you were storing them. That is to say, don't just stuff boxes and containers randomly, sort and organize items before you pack them.
This saves a ton of time (and headaches) when it comes time to actually unpack on moving day. Moving in will already be a busy, tiring day. Don't add pressure by expecting to fully organize everything in the dorm room on the spot.
In fact, packing strategically can even be a bit of a shortcut. Most importantly, don't take any empty bins or storage drawers. Any permanent storage container (plastic bins, rolling drawer carts, stacking drawers, etc.) can double as packing. Label, fill and organize those types of storage containers at home before you ever leave.
Pro Tip: Looking for labels that won't ruin plastic storage? Our Surface Safe™ ID labels are designed to stick securely and remove cleanly from both smooth and textured hard plastics.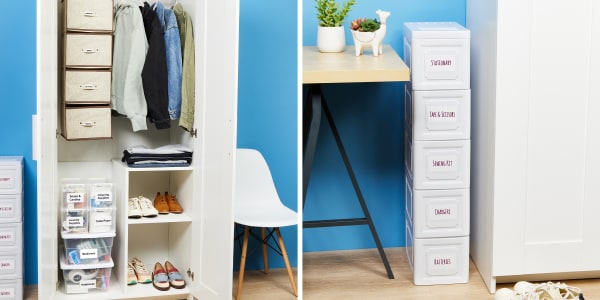 5) How to organize a college dorm closet
Since it can be hard to plan for exact closet dimensions before arriving, pack modular space-saving items. That way you can make use of every inch of space on move-in day. Particularly vertical space and extra space above and below.
For instance, vertical closet storage like hanging closet drawers and space-saver hangers. Or, collapsible cube storage for high shelf storage and stackable bins for storage at the bottom of the closet.
When filling the dorm closet, start by only hanging necessary clothing. Organize casual clothes in drawers, cubbies or bins and store seasonal clothes in under-bed storage until needed.
Then, fill any leftover closet space with linens, towels, accessories, toiletries, household supplies or anything else that will fit. Once there's "a place for everything, and everything in it's place," label where everything goes.
6) How to organize dorm books
Of course, a bookshelf is ideal for organizing dorm books. That is, if there's room for one. If not, a desk hutch is a fantastic option because it makes use of extra vertical space above the desk. If you can't get a full desk hutch, even a desk riser or tabletop shelf with bookends will help.
On the subject of bookends, they really do come in handy for keeping books organized on shelves. However, decorative ones can take up a bit of space. Look for "invisible," "hidden," or "slim" bookends instead.
Best binder for loose-leaf textbooks
Loose-leaf, or binder-ready, textbooks are a popular alternative to traditional textbooks when it comes to budgeting for the school year. But how to choose the best one? Firstly, binders for loose-leaf textbooks have to be durable to stand up to college life.
Secondly, you need to make sure you're buying binders that will fit all the pages. The average textbook is 200 to 400 pages so a durable or 2" binder with 500-sheet capacity will cover most textbooks.
7) Plan for making the most of unusual spaces
Much like organizing a dorm closet, there are some spaces you just won't be able to size up until you get there. And, it's important that you do so because there are hidden storage opportunities everywhere! Here are some examples of extra storage spaces hidden in plain sight.
Vertical storage
Without a doubt, the back of the door is our top pick. Get an over-the-door rack or shoe organizer and the possibilities are endless. Next up: a desk hutch, previously mentioned for organizing dorm books. Even if you already have a bookshelf, a desk hutch makes use of empty space above the desk and can be used to store school supplies, electronics, accessories, or even snacks.
Hanging file storage and removable hooks are also great options for turning wall space into storage. An odd one you might not think of is a magazine holder for storing and sorting files, folders, and assignments. School papers can quickly turn into out of control paper clutter that can make it hard to focus.
Underneath furniture
Under-bed storage is perhaps the most obvious, but also be on the lookout for other storage options that fit underneath things. For example, ottomans or storage trunks that double as seating and plastic bins, caddies, baskets, and rolling bins.
Nooks and crannies
First, look closely at closets and cabinets for any extra room for hanging storage options like drawers or baskets. Then look for spaces between furniture where slim storage can fit. Or, push furniture together when possible to create more space on one side.
Early and thoughtful dorm organization sets the stage for success
At the end of the day, all of our tips for dorm organization have a few common threads:
Plan ahead for organizing dorm supplies and start planning early.
If you can organize absolutely anything before move-in day, do it!
Label storage and personal items to create boundaries with roommates.
Come prepared with flexible storage options to optimize every inch of space.
Looking for more ways to get a jump on summer planning? Check out our inspiring Fourth of July ideas on Pinterest and show off your summer projects on Instagram with #averyproducts.