5th grade school supplies from a teacher with 35+ years of experience
I am an elementary-grade teacher in a public school in Rosemead, California, and have been teaching for over 35 years. I love working with the little ones, kindergarteners especially are the best! Running a close second is 5th grade, but I have taught all grades at one time or another. My list for 5th grade school supplies really starts to show the difference between big kids and "littles."
For example, I am currently teaching 5th, and the most urgent need for these 'mini-adults' is to learn organizational skills. Managing their time, due dates, assignments, and work is crucial to future success in their choice of profession and daily life.
We find that the best 5th grade school supplies that help our students get organized are the ones most easy and simple to use.
Of course, we would like to also see school supplies be attractive and up to date with the current young people's entertainment interests and fashion trends too. That encourages and motivates our students to actually want to use them to organize their work.
Below are nine 5th grade school supplies for organizing that I recommend for our students' back-to-school list.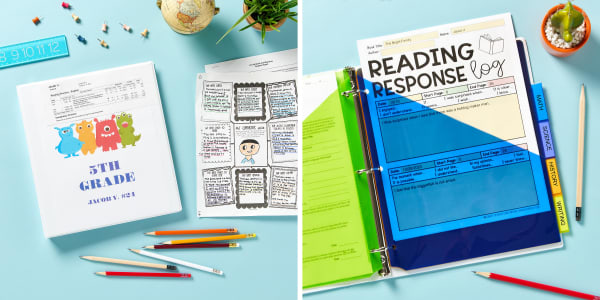 1) Binder (1 1/2 inch) for organizing and storing work
Nearly every school supply list will include a binder because they're crucial for organizing and storing work. We recommend 1 1/2 binders for our 5th graders because we find that the size works best with limited storage space in elementary school desks.
Binders with outside clear pockets on the front/back covers, as well as on the spine allow for customization and extra storage for notes-home to parents. I love free templates for binder covers and spines so that students can express themselves and decorate their binders.
Avery Tip: Browse our free binder cover sheet templates and binder spine templates that perfectly fit our 1-1/2 inch view binders.
2) Durable plastic dividers for organizing binders
Dividers are key for organizing your students' binder. For our back-to-school supplies, we recommend durable plastic dividers with bigger tabs and pockets. They organize contents simply for both regular and hole-punched hand-outs, notes, and worksheets.
Aside from pockets, tab labels you can print and/or write on make dividers easier to use. Especially dividers with tab labels you can apply all at once.
3) One-subject spiral notebooks for classwork and notes
In our school, the 5th grade school supply list includes one-subject spiral bound notebooks for classwork and note-taking. The main features we recommend for students include: 1) three-hole punch, 2) wide-ruled and 3) 80-100 pages.
In our experience, we 5th grade teachers, have found one-subject notebooks help students organize by subject better than squeezing more subjects into a larger notebook.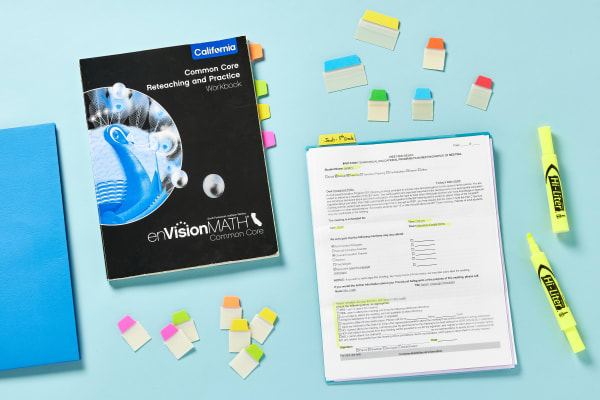 4) Repositionable tabs for keeping track of details
Repositionable index tabs are super useful school supplies for keeping track of details students will need to come back to later. For example, note-taking, highlighting, organizing reading content, comprehension details, pages for reading assignments and vocabulary work.
5) Highlighters for note-taking
Our school supply list includes yellow highlighters in either narrow or wide chisel tips. However, other highlighter colors that are easy to see through are also allowed. Capped or retractable are both allowed for our 5th grade school supplies.
Highlighters are great for helping students organize information. Note-taking, of course, but also reading and arithmetic correction.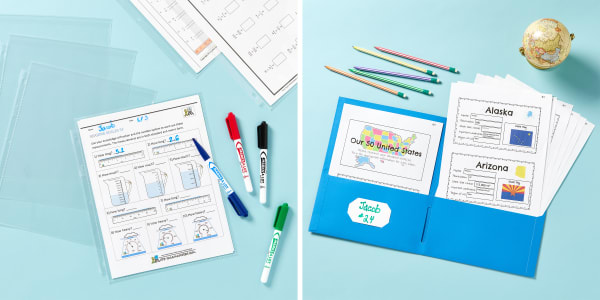 6) Sticky note pads for group work
Most people think of sticky notes primarily for note-taking. We include them on our 5th grade school supply list for organizing group work and as individual response tickets for content work (in addition to regular note-taking). 3 x 3 inch and 2 x 2 inch square sizes are the best sizes for these purposes.
7) Heavy-duty sheet protectors that double up on uses!
We have heavy-duty sheet protectors on our back-to-school supply list for two uses. Firstly, they are excellent for my 5th graders to use for storing worksheets, drawings, notes and reference pages.
Secondly they can also be used as make-shift individual dry-erase whiteboards. In my classroom we insert plain white paper (or cardstock) to make personal "whiteboards" for every student.
8) Dry-erase markers for personal whiteboards
Dry-erase markers are a useful addition to back-to-school shopping lists. They are not always required, but it is helpful if students have their own. Personal dry-erase whiteboards (even if they are paper and sheet protectors) are very handy for teachers to check individual participation in group work and to check for understanding in lessons.
9) Folders for various reports
We have several types of folders on our school supplies list for 5th graders, each with its own use:
Basic two-pocket folders (with vertically or horizontally positioned pockets) are used for storing work and writing
Pocket folders with fasteners are used for individual and group formal reports
Durable paper report folders with fasteners and printable and/or write on labels, are used for report writing (no pockets necessary)
Optional: Hand-held hole punch and mini stapler
A hand-held hole-punch and mini-stapler are on my school supply list, but not required. They are ideal tools for keeping work together.
5th grade school supplies are about managing time, due dates, assignments and work
5th graders are starting to learn organization skills and it is important to supply them with the tools they need for organizing work and materials. There are other items on our back-to-school supplies list, but I hope the recommendations from my fellow 5th grade teachers and I help your student get more organized.