Fostering organization skills for 23 years
My name is Connie Jameson and I have been an elementary teacher for 1st through 3rd grade for 23 years. As a teacher, I certainly know that developing organization skills is key for students' success. When a student has good organization skills and access to helpful back-to-school supplies, learning becomes less challenging.
Indeed, students can focus on learning when they don't have to waste time looking for their materials or assignments. That is why the supplies I use in my classroom help students organize their work and also learn to organize on their own. Organization is a skill that will set them up for academic success all the way through college, and is an important life skill in general.
This is my list of back-to-school supplies that help me teach basic organization techniques for students and how I use them in my classroom:
1 inch binder, organization home base
Every year I provide each student with a 1 inch binder for organizing school materials instead of a folder. Binders are more durable than paper folders, even the laminated ones. Within that binder are more back-to-school supplies, including an agenda, a sheet protector, a divider with pockets and a pencil pouch.
Agenda
My students use an agenda to write down their daily assignments and organize their tasks, which is a useful habit to start early. Using an agenda allows students to practice time management skills for classwork and homework. It's one of my favorite back-to-school because it is also a form of communication between home and school. For example, I ask parents to each sign their child's agenda when homework is completed.
Sheet protectors
I use sheet protectors two ways in my classroom. The first use is for organizing within the main binder. Students place weekly spelling lists in their sheet protectors so they can refer to them for homework.
The second use is to create individual "whiteboards" for students. As a public school, we cannot afford individual whiteboards for our students. So, our teachers get creative and add sheet protectors to our back-to-school list of supplies instead. Then we insert cardstock inside the sheet protectors to use as a whiteboard.
Dividers with pockets
Dividers with pockets are great back-to-school supplies because they do double duty in the main binder. Firstly, students use them to store worksheets and also to separate homework by subjects. Secondly, when students practice separating homework by subjects they are really learning to sort and organize their learning materials.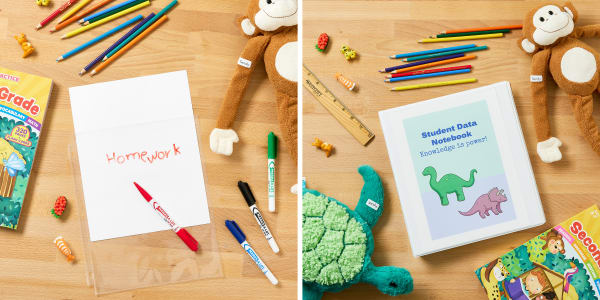 Highlighter and dry erase markers
As part of their back-to-school supplies, I give every student their own highlighter to keep in their binder. They use it to highlight important information or vocabulary words for comprehension or letters for spelling patterns.
Colorful dry erase markers are provided to use with the sheet protectors as a "whiteboard." When I'm working with students using their "whiteboards," I also use the different colors of dry erase markers to organize the students into groups without them realizing it.
Pencil pouch
A pencil pouch for inside the binder organizes back-to-school supplies for writing and keeps everything contained in one place. That way students have the supplies to do their homework wherever they are.
If students are unable to complete their homework at home, we have them take their binder out to recess. Besides using the binder to store and organize all their materials, students can also use it like a clipboard or a portable desk to do homework on in the playground.
½ inch binder for student data
In their main 1 inch binder students organize classwork and homework on a daily basis. Additionally, my classes also use ½ inch binders as student data notebooks. Students keep their school goals, tests and diagnostic results in that notebook.
Using their student data notebook, I teach them to keep track and analyze their scores using bar graphs. Organizing data for analysis is a pretty sophisticated skill. However, the student data notebook is a simple introduction to data organization for young elementary students.
Tracking progress helps students improve over time. Students learn to reflect on the work they have done, and think critically about how they can achieve better results. It also helps build confidence by showing them the direct results of putting in more effort or taking extra steps to improve.
Teaching organization skills early sets students up for success
Getting organized for school is both a way to help students learn and a lesson in and of itself. In the "here and now" back-to-school supplies that help students get organized allow them focus on their studies. Practicing good organization habits early helps set students up for success throughout their academic journey.
Organization skills include everything from physically organizing supplies, to time management, planning and organizing thoughts and ideas. When I teach my students how to get organized for school, I am really teaching them how to get organized for life.