How to organize the whole family for a relaxing summer
Summer break sounds idyllic on paper. But, when you have a family to look after, the kids being out of school is anything but a break! Summer organizing on the fly can even be stressful. Packing for travel plans, keeping the kids entertained, and juggling their summer activities can be a lot.
Luckily, there are plenty of things you can do to prepare for the summer season so that you can relax and actually enjoy it. In fact, we've got 9 summer organizing tips to help you do just that.
More articles you might like: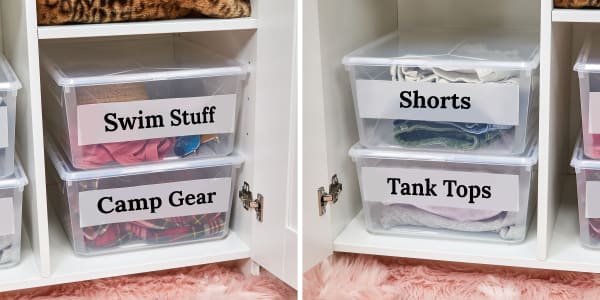 1) Summer organizing tip for kids' closets
Seasonal closet organization helps combat clothes clutter year around, but summer organizing has a couple extra benefits for mom. First and foremost, we can't ignore that summer is the perfect time to pack away winter items. In fact, we've got some great tips for organizing kids closets year-round that cover the topic.
Secondly, the end of the school year is a great time to take inventory of "school clothes." Some items may be the right size and condition to pack away for the fall, others can be relegated for summer activities. Doing so means you don't have to worry about school clothes getting destroyed during outdoor adventures or messy art projects.
Organize your kids' summer clothes in clear bins with labels by activity or occasion. Not only does this method make it easy for kids to find the right clothes (without having to ask you), but you'll also find it much easier to quickly pack for summer trips.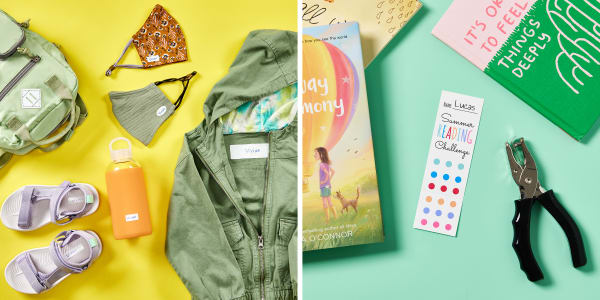 2) Ready for anything with an "adventure bag"
An "adventure bag" is simply any backpack, satchel, purse, or belt bag that you can stock with essentials for spur-of-the-moment fun. The best part is that making one doesn't have to be a summer organizing task just for you. Get the kids involved by having them contribute to the list, gather items scavenger-hunt style, and pick out their own bag or backpack.
Start your adventure bag list with small travel necessities. After the small stuff, move on to tech. Next, focus on beat-the-heat necessities. Specifically, a reusable water bottle, sunblock, sunglasses, a spare swimsuit, sandals, and a hat and/or hair ties.
Then gather items for low-stakes emergencies, such as extra face masks, adhesive bandages, and non-perishable snacks. Finally, end with overnight items including a toothbrush, basic toiletries, underwear, a light layer, and a hat and/or hair ties.
3) Plan a summer reading challenge for kids
A big part of summer organizing for parents is managing to keep kids entertained when they're not in school. A summer reading challenge is great because you can organize it into several enriching summer activities.
First, have each kid make a list of topics or genres that interest them. If you need a starting point, this summer reading resource from the American Library Association (ALA) is a great resource. Then, plan a library trip to explore topics, check out books, and add to lists. Boom, one fun and enriching activity down!
Next, have your kids design their own bookmarks to track progress. Our free online software and Avery printable tickets make it easy. Let the kids pick out a design to personalize, or design their own bookmark from scratch using the in-software tools. Then print on your regular laser or inkjet printer.
Or, you can make the bookmarks a quick project instead. Just use our ready-to-print summer reading challenge template and most popular printable ticket product:
Finally, get creative with a reward system for your summer reading challenge. Rewards don't have to be physical. They can be anything from extra device time to choosing the movie or board game for a family game night.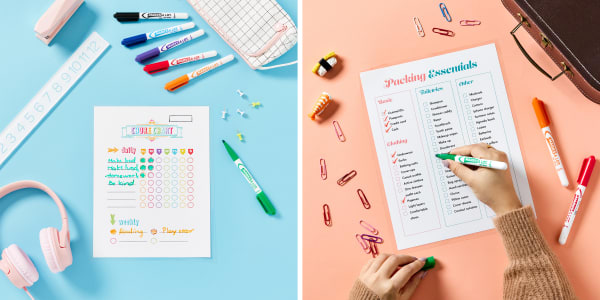 4) Create summer chore charts for kids
In contrast to "adventure bags" and reading lists, sometimes summer organizing means tackling less fun projects. In particular, organizing kids to clean up after themselves at home.
Even if you already have a solid family cleaning schedule in place, it's worth updating your kids' chore charts for summer. First of all, summer is a great time for some deep cleaning projects.
Furthermore, there are some chores that increase in the summer or need to be added to the household list. For example, cleaning the pool, extra watering for plants, or more lunchtime dishes to wash.
5) Summer organizing hack for packing lists
Make a reusable list of essentials that you will need no matter where you're headed. It's a total game changer, trust us. Once you've compiled a list of essentials that you can reuse, all you really have to do is think about specific clothing that you'll need for the destination.
It's a good idea to make one packing list for each family member and update it at the start of each summer. You can laminate them or stick them in sheet protectors and store in a binder. Whatever works for you.
When it's time to pack, hand out the list and some dry-erase markers and send the family off to gather the items on their list. Even if you have to pack the luggage yourself, or find some of the items it's better than leaving it all to mom or dad!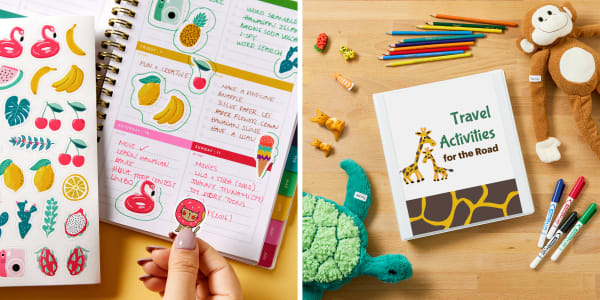 6) Using your planner for summer organizing
Pre-summer organizing in your planner is awesome to help you prepare for school letting out and how that will change schedules and routines. Not to mention how using all your fun summer planner stickers will put you in a sunshine state of mind.
Let's start with planner layout. Traditionally summer in North America is considered June to August, or from Memorial Day (in May) to Labor Day (in September). However, in reality it's probably more practical to block summer in your planner according to your kids' summer break.
Once you've marked your summer season, get all your trips on the calendar. Next, fill in summer camps, activities, and classes. Then define summer goals and projects. Once you've filled in that info, add some summer lists. For example, summer shopping for swimsuits, sunblock, etc. and at-home family activities for when the kids say, "I'm bored."
7) Kids' travel activities binder for road trips
Creating a travel activities binder is a quick and easy organizing task that will pay dividends all summer long. It's a low-tech inexpensive way to ensure that no matter where you go you have something to entertain the kids. Beach, park, museum, picnic, road trip, you name it and the binder is battery-free and ready to go.
Begin with a new durable binder or simply reuse one from the school year. We recommend a binder that's one to two inches wide so that it's easy to tuck in the pockets on the back of the seats in your car. Simply add coloring and activity pages to the binder.
You can use heavy-duty sheet protectors to protect and store multiple pages. Or, store pages individually and use dry-erase markers to make them reusable. Add a binder pencil pouch with a variety of markers, pencils, crayons, and other supplies.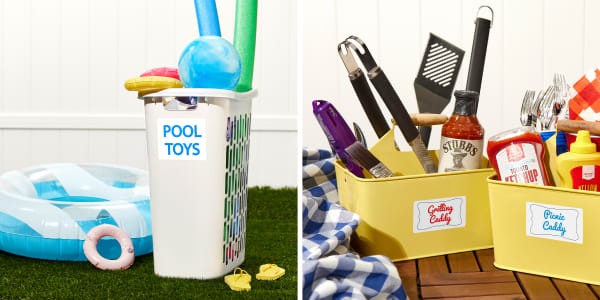 8) Organizing hack for wet and/or sandy gear
Organizing outdoor summer equipment that gets wet or sandy can be super tricky. On one hand solid plastic storage bins and anything wicker or cloth are breeding grounds for mold. On the other hand, metal will rust.
Regular old plastic laundry baskets are the answer and it couldn't be simpler. The key is that they're plastic and ventilated. Which makes them perfect for storing pool toys or using as a "catch all" by the backdoor for wet or sandy gear.
9) Picnic and grilling caddy for dining outdoors
Of course, barbecues and picnics are iconic summer activities. Save yourself some time this summer by organizing all the supplies you need for outdoor dining ahead of time. DIY grilling and picnic caddies are so easy to assemble.
Fill one caddy with grilling tools and the other with non-perishable condiments and utensils. Our waterproof labels can be wiped down with common household cleaners, so your caddies can be used and cleaned all summer long.
Getting organized early for summer means more chill vibes for you
To sum up, summer should be fun, not a mad dash to get ready for summer activities. Fortunately, there are few main organization areas you can hit in advance of the summer.
Closets: Downsize closets and organize summer clothes so they're easy to find and pack.
Travel: Pack "adventure bags" and create reusable checklists for packing essentials.
Kids activities: Organize a reading challenge and create a travel binder to keep kids entertained on the road.
Time management: Plan for organizing schedules with your personal planner and chore charts for the kids.
Supply storage: Organize wet/outdoor gear with a simple laundry basket hack and make your own grilling and picnic caddies for outdoor dining supplies.
Looking for more ways to get a head start on summer? Check out our DIY Fourth of July ideas on Pinterest and share your summer projects on Instagram with #averyproducts.