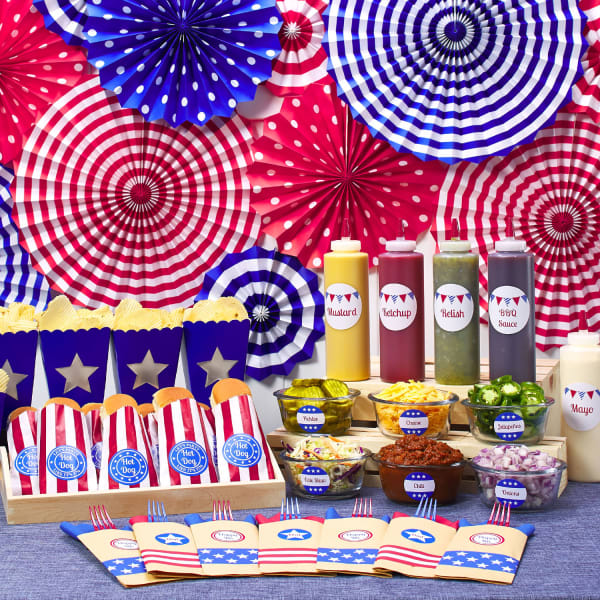 Nothing's more American than a summertime barbecue. The savory aroma of smoke immediately brings back memories of fireworks, sunshine and family fun. Dazzle everyone this Fourth of July with this gorgeous hot dog bar using a few customizable labels and cards. Our patriotic template patterns and versatile labels make it easy to keep your party organized while leaving your personal touch.
Fun Fourth of July party invitations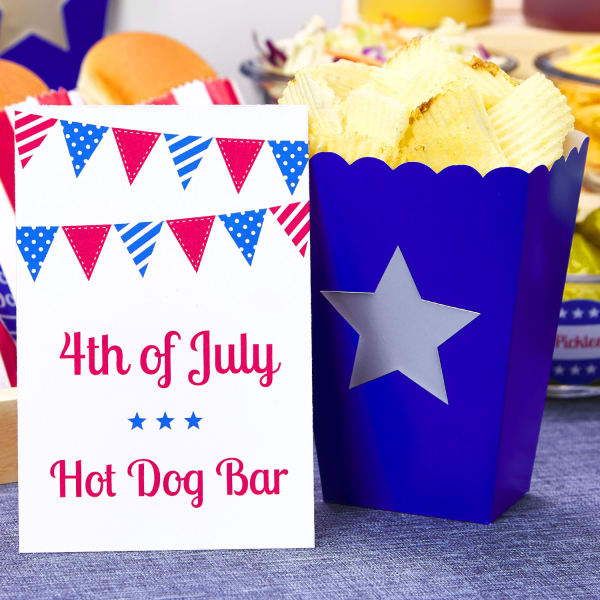 Create colorful invitations with
matte white postcards (8387)
Start your party off right with these festive 4th of July invites. Whether you're grilling in your backyard or at the park, these cards are a delightful way to make sure everyone knows exactly when and where they should be. You can even customize the other side with a map, a checklist of toppings or some fun hot dog recipes.
Organizing your barbecue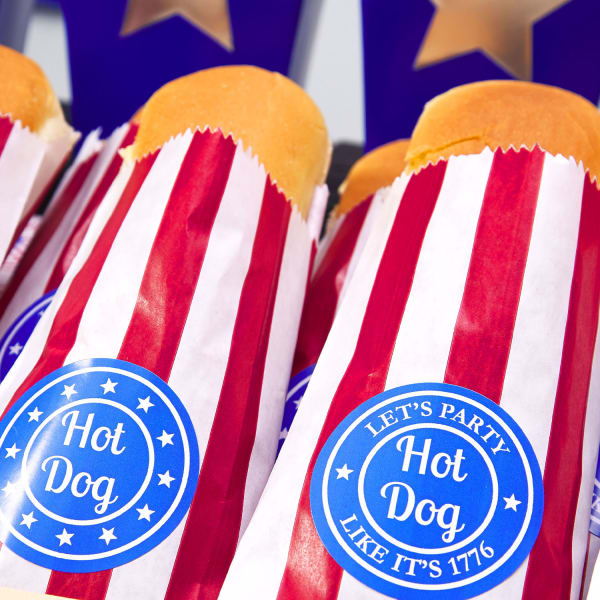 Give your food a charming touch with
2″ glossy round labels (22807)
Barbecues can get messy very quickly, so it's a good idea to keep everything neatly laid out and within reach. These hot dog bag labels are a fantastic way to add some patriotic flair while clearly marking your food for guests. For example, you can use these stickers to mark hot dogs that have vegan sausages, dogs with gluten-free buns or ones that are extra spicy.
Arranging your hot dog toppings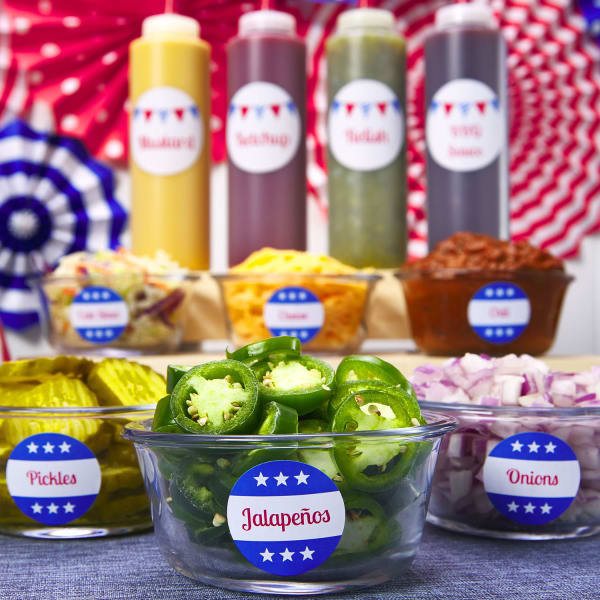 Organize your toppings with customizable
1.5″ round labels (8293)
With the advent of food trucks, hot dog toppings have become more and more adventurous. While classic toppings like onions and chili are easy to recognize, your guests might need a little help identifying mango habanero salsa or jalapeño cream cheese. Keep your toppings organized, and maintain an all-American theme, with these cute topping labels.
Finding the best hot dog condiment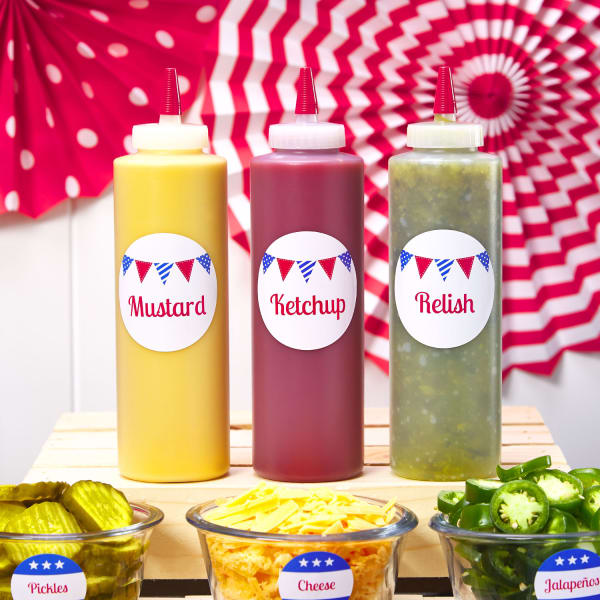 Add a pop of color to your condiments with
2.5″ round labels (22830)
Mustard? Ketchup? Maybe even mayo? We've all had that conversation with our friends and family about which sauce is the best. End the debate once and for all with clear squeeze bottles marked with our condiment label designs. As the party winds down you can compare the bottles to finally prove that mustard is the best hot dog topping.
Neat and tidy cutlery sets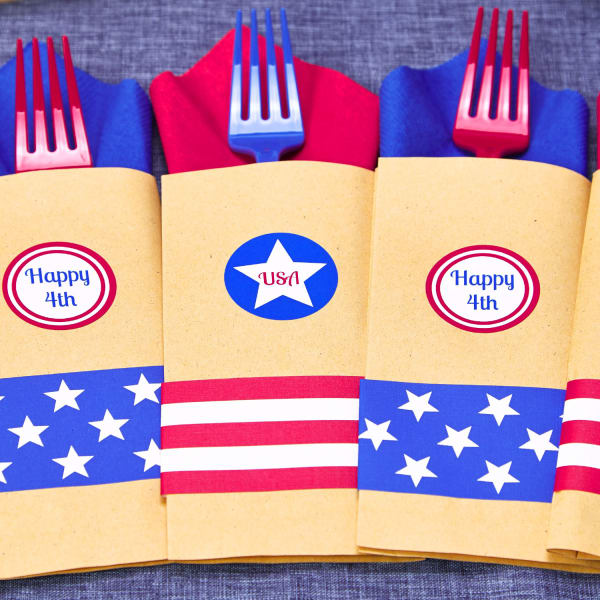 Customize your place settings with flair using
1.5″ round labels (8293)
and
wraparound labels (22838)
Make sure your guests have all of the tools they need with these prepackaged cutlery pouches. All you need are kraft paper bags, wraparound labels and round labels to instantly fold together these brilliant sets. These patriotic stripes and blue-bordered stars can also be applied to any of our other products so feel free to let your imagination run wild.
Star-spangled snacks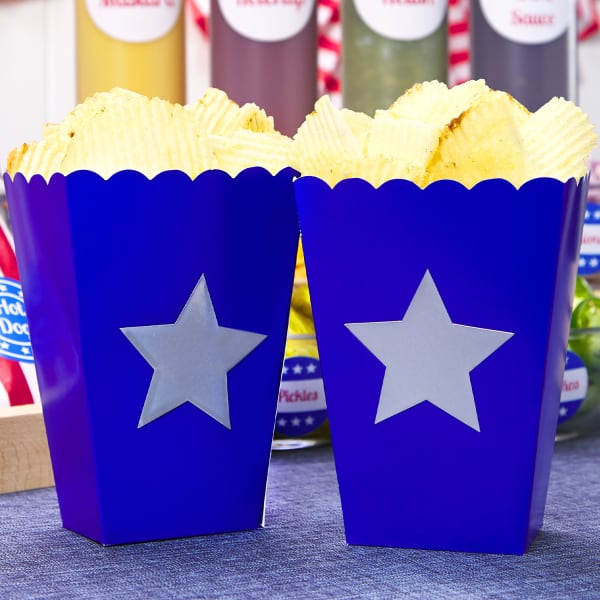 Add a silver lining to your decorations with these foil star stickers
Sometimes, even without a design, blank labels are all you need to make an impression. These star labels can be ordered in over 20 different material types including glossy silver foil, kraft brown paper and glossy white paper. Stick these onto chip bags, plastic cups or anything else with a blue background for an instantly American look.
Sensational Fourth of July desserts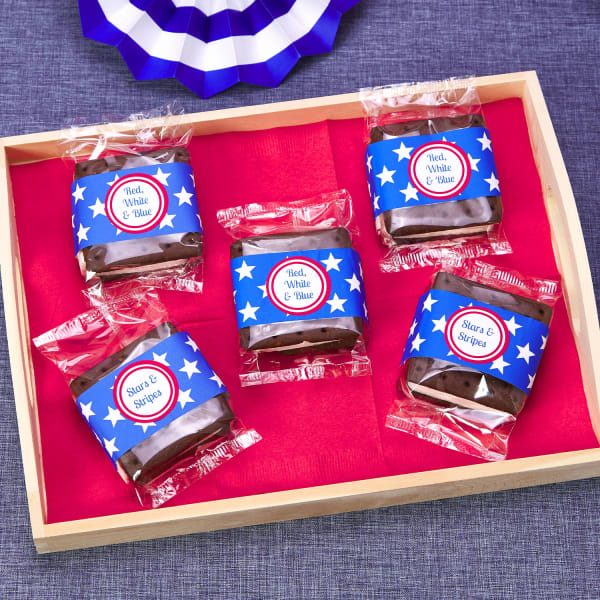 It's easy to add the stars and stripes with our round and wraparound label templates
Make dessert extra sweet with these star-spangled label designs. These bold patterns go perfectly with any snack and are a fantastic way to close out the festivities. Customize the text on the red and white striped label templates to truly make them your own.
Add some sparkle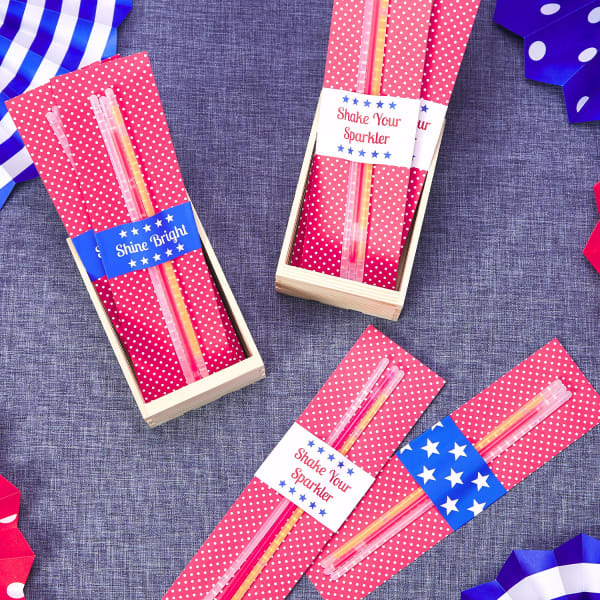 Set a shining example with cute phrases printed on wraparound labels
Does your city not allow fireworks? Glow sticks can work as an enjoyable and safer replacement. Add your own flair to these Fourth of July party favor designs with fun sayings or historic quotes to entertain your guests.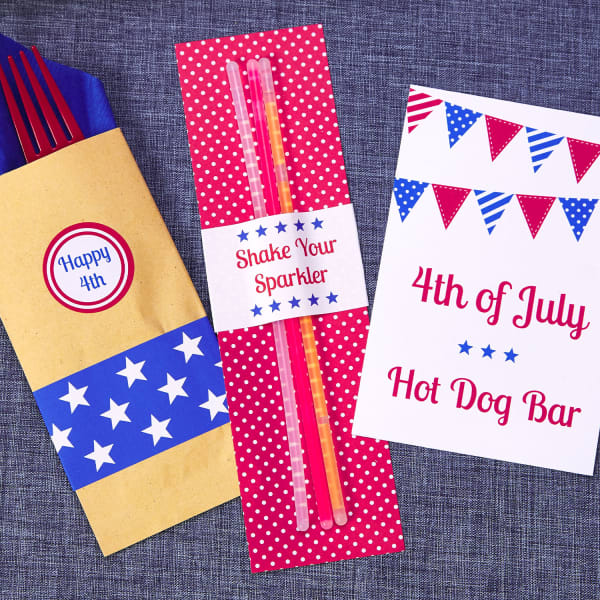 Don't feel like printing all of these yourself? Don't worry, our WePrint service can print all of these labels for you and ship them to your door. All you need to do is choose a product, customize a beautiful design and send it to our team to take care of the rest.
Products featured in this article:
Fourth of July Invitations
4.25″ x 5.5″ Matte White Postcards (8387)
Hot Dog Bag Labels
2″ Glossy Round Labels (22807)
Hot Dog Topping Labels
1.5″ Round Labels (8293)
Hot Dog Condiment Labels
2.5″ Glossy Round Labels (22830)
Cutlery Pouch, Personalized Dessert and Custom Glow Stick Labels
7-17/20″ x 1-3/4″ Wraparound Address Labels (22838)
Silver Foil Star Labels
2-3/8″ x 2-13/50″ Blank Star Labels