Avoid common shipping label mistakes and create more professional packages
In a remote working world, you may now be responsible for shipping business packages from your home. Without the resources provided when shipping from the office, it's pretty easy to stumble into shipping label fails that can cause your package to be delayed, or worse, lost.
If you've never shipped a package before, start with the basics on how to ship a package to get started. For help purchasing shipping postage from home, check out our helpful guide to buying postage online.
This article will help you identify common shipping label fails we've all encountered while working from home and learn how to avoid them. These solutions will help you ensure that your business packages arrive safely, on time and looking professional.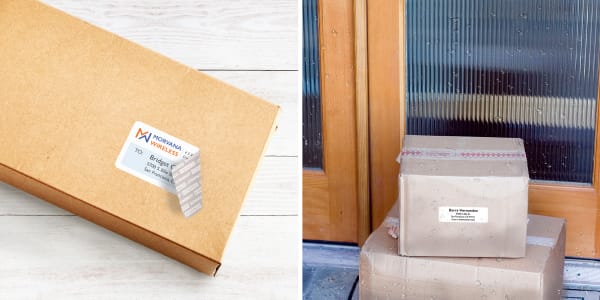 No peeling edges, no more fear of shipping in inclement weather. Ultrahold® strong permanent adhesive keeps shipping labels in place and waterproof film labels arrive smudge free.
Solutions for shipping labels that have peeling edges or fall off
It's easy to blame this one entirely on adhesives, but that's not always the root cause of shipping labels that won't stay on. Adhesive strength certainly plays a big part though, so it's a good place to start. Make sure you're using high quality shipping labels with strong permanent adhesives.
However, when shipping from home there's a few other things to look out for:
The packaging surface is not clean. Old boxes stored in garages or sheds, pet hair and lint are all common culprits. Solution: A quick wipe with a microfiber cloth will cover dust, pet hair and lint. Store boxes for reusing somewhere safe from dampness and/or oils and grease.
The surface is not even. Strong adhesives don't matter if they can't make contact with the package surface. Solution: Place shipping labels on the most prominent flat portion of the package so that label makes full contact. Avoid seams, box openings and wrinkles/folds on soft packaging.
The label is not meant for shipping. Some labels are designed to be easily removed and they're simply not meant to stick to surfaces permanently. Solution: Double check that you're using shipping labels with permanent adhesive and not removable labels.
The adhesive hasn't set. Repositionable shipping labels, are removable for a short time, then the adhesive sets and becomes permanent. You have to make sure you let them set until the adhesive becomes permanent before shipping your package.
How to prevent shipping labels from smudging and smearing
There are several factors that can contribute to smudged or smeared shipping labels. First things first, start with quality blank labels for shipping and mailing. Cheap generic labels are often manufactured and sold without consideration for different types of printers or how the labels will be used.
If you're already using quality shipping labels, here are the causes of smudging and smearing to look for:
Weather damage. Even if the skies are clear in your area, you never know what type of weather your package might encounter in route to its destination. Waterproof shipping labels are made from polyester film that's designed to withstand rain and snow.
Incompatible printers. Some shipping labels are specially engineered to work with both laser and inkjet printers, but many are designed to work with one or the other. If the ink on your shipping labels just never seems to dry after printing, there's a good chance the labels and printer don't match up.
Reprinting on custom-printed labels. Custom-printed labels often have a special top coat. Even if there is still blank area on your shipping labels after the first printing, the top coat may prevent ink from fully transferring on a reprint.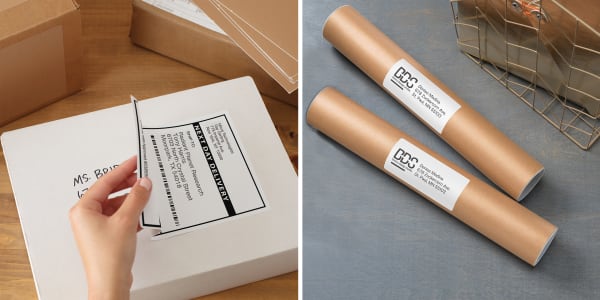 Barcode errors can cause delayed, or even missing, packages. If you're reusing packaging make sure you use a full coverage label like TrueBlock® and remember to avoid bending and/or wrapping barcodes.
How to avoid barcode scanning errors on shipping labels
When a barcode scanner shines light on a barcode, the light and dark parts of the barcode reflect light differently. The way the contrasting sections reflect light is what makes barcodes "readable" by machines (the barcode scanner).
These are a few common shipping label mishaps that can affect how light is reflected and lead to barcode scanning errors:
Using ink too close to your label color. Barcodes scanners require high-contrast to properly scan. Stick to bright white or neon shipping labels with black ink.
Bleed through from what's underneath. Reusing packaging is great for the environment and a great way to ship on a budget. However, when information from leftover labels bleed through, the light from a barcode scanner can reflect differently in those areas. Use shipping labels that completely block out everything underneath to keep reusing and reduce errors.
Wrinkles and creases. Wrinkles and creases on or near the barcode area of a shipping label distorts the information the scanner is trying to read. Place your shipping labels on the flattest surface of your package and avoid seams, box openings and wrinkles/folds on soft packaging.
Folding/bending/wrapping. Never fold or bend shipping labels on the edges of boxes and always place barcodes lengthwise on tube packaging. Bent, folded or wrapped barcodes cause the light from scanners to reflect in several directions, often away from the scanner entirely.
Always apply shipping labels to the most prominent flat surface. Never bend around a corner.
How to apply shipping labels perfectly every time
1) Choose the most prominent flat surface of the package (avoid seams, tape and openings)
2) Use a paper towel or cloth to remove pet hair, lint, dust or other debris from surface
3) Peel off shipping label backing and hold label by outer edges
4) Place the label on your package starting with one edge, roll the rest of the shipping label onto the package to avoid wrinkles
5) Firmly press down the shipping label from edge to edge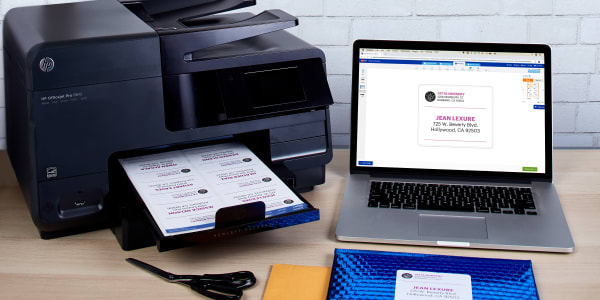 Printer's aren't perfect. Sure Feed™ grip strip technology guides label sheets smoothly through printers to prevent printer jams and skewing.
Solutions for skewed or cut off shipping label information when printing
Start with shipping labels optimized for printing at home. Shipping labels designed to work better on home and office printers help avoid common skewing and jamming problems when printing. If you still have issues printing here's what to be on the lookout for:
Printer settings. Did you know many home printers actually have label settings? And if they don't, the cardstock setting usually works very well. Printer settings that can help you print shipping labels are generally found in the "Properties" or "Preferences" tab in the print dialog.
If you need more help printing shipping labels, try our detailed step-by-step-instructions for choosing the best printer settings for labels.
Wrong size label. Sizes for shipping labels can vary between carriers/services. Use our quick guide to help you choose the right shipping label for your specific need, including UPS®, USPS®, Fedex®, Amazon®, Ebay®, Etsy®, Stamps.com® and more.
What to do if your home printer runs out of ink too fast
Consider a direct thermal label printer for printing shipping labels. They don't require ink, are optimized for printing high-contrast barcodes and are generally pretty easy to set up and use. Most direct thermal labels are pretty durable and come on 4 x 6 label rolls, which is a good size that covers most bases.
Get help printing. If you're printing shipping labels at huge volumes, it might be time to outsource to professional printing services for custom printed shipping labels.
Common myths that can cause shipping label fails
Myth: as long as the barcode is on my shipping label, it's fine. The barcode is very important, but that's not really how shipping labels work. There are several key pieces of information that get the package where it's going and help get it back to you if it can't be delivered for some reason.
Myth: printing on paper is fine, just cover it in clear tape. It can work, but it's risky. The glare from the tape can interfere with barcode scanning and delay your package. Not to mention, it looks messy and unprofessional. If you're worried about your package getting wet, it's better to just use a waterproof shipping label.
More resources for shipping business packages while working from home
If you find working from home requires quite a bit of shipping, it might be time to set up your own at-home shipping and mailing center. Learn how to streamline your mailing center with tips for setting up shipping and mailing supplies in a small office or home office.
Get your mailing FAQs answered and take your skills to the next level with secrets for mailing and shipping like a pro. If you get stuck, check out our dedicated mailing and shipping resource center for help tackling any and every mailing and shipping conundrum.