What labels do you need for FBA?
Other articles you might like:
Small businesses preparing to sell on Amazon need to ensure all of their shipments have the right labels. We've put together a handy guide of Amazon requirements to make sure you label your products correctly for Fulfillment by Amazon (FBA).
Once you decide what type of codes you need for your Amazon packaging, you can use the free barcode generator from Avery to quickly make and order your barcode labels.
FBA barcode labels
Amazon uses barcodes to streamline its order and shipping processes so you need to make sure you label your products correctly for Amazon.
Barcodes identify your products as well as your company as the Amazon seller to make sure you get credit for the sale. Every item you send to an Amazon fulfillment center requires a barcode label.
There are three types of barcodes that Amazon uses to track products:
Manufacturer barcodes (UPC, EAN, JAN, or ISBN)
Amazon barcodes (such as FNSKU)
Brand owner barcodes (Some products may require an additional Transparency authenticity code to help prevent counterfeits.
Note: Avery is an Amazon-approved provider of Transparency labels.
What to include on your FBA barcode labels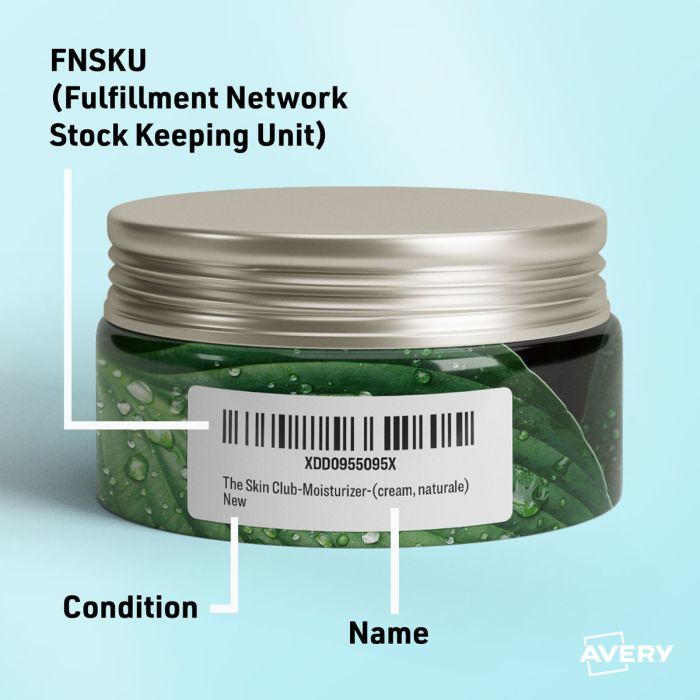 If you're printing your barcode labels yourself, you must include the following:
White space around the barcode and text of 1/4″ on the sides and 1/8″ on the top and bottom
ASIN or SKU
Product name
Item condition (new or used)
Amazon barcodes must be printed with black ink on matte white removable labels. The labels must measure between 1″ x 2″ and 2″ x 3″ (for example 1″ x 3″ or 2″ x 2″). Amazon recommends Avery 1″ x 2-5/8″ labels that are available by the sheet online and using a laser printer. You can also use a thermal printer for large jobs with our industrial direct thermal roll labels or our packaged thermal labels.
It's a good idea to test your labels periodically to make sure they are scanning correctly. This will help ensure you don't send items to Amazon that scan incorrectly and get rejected, costing you money.
Barcode label printing options
– Print them yourself using the tools in Amazon's Seller Central and blank printable labels or thermal labels.
– On eligible products, use the existing manufacturer's barcode.
– Use Amazon's label service which charges a fee to label the products for you.
– Order custom printed barcode labels.
Applying barcode labels
Don't just slap the FBA barcode label anywhere on your products. To ensure you label your products correctly for Amazon, you must make sure that the label covers the product's original barcode. For accurate scanning, place the FBA label on a smooth surface and not around corners, edges, or curves of the packaging.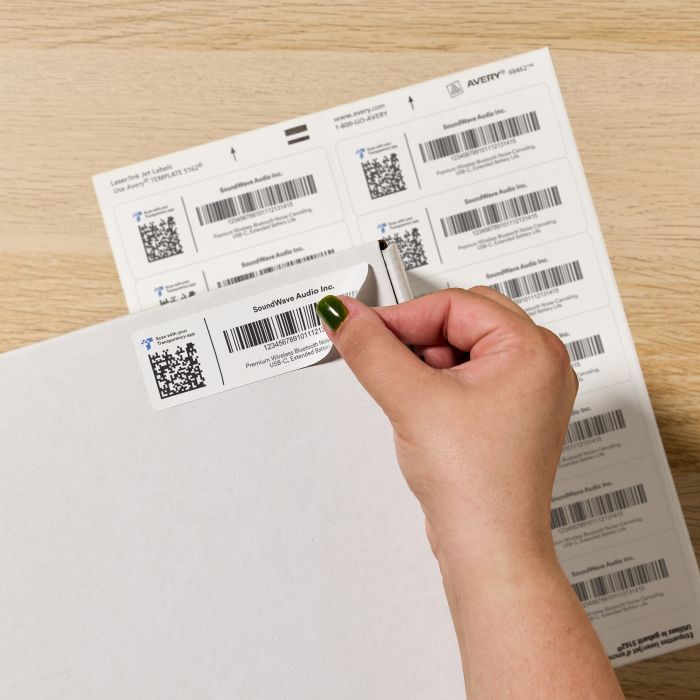 If your products require additional wrappings like poly bags or bubble wrap, apply the label to the outside where it is scannable without removing the outer packaging.
Products that are eligible for stickerless commingled inventory need to meet this requirement as well. You can label them with an Amazon item label if the barcode is not visible through the outer wrapping.
If you're just getting started with FBA labeling and need some extra guidance, watch this short helpful video from Amazon.
Do you need other labels on your shipments?
They're other labels you should consider for your shipments to keep your products safe, secure, and organized once they arrive in the Amazon fulfillment center.
After you decide what you'll be shipping to Amazon and determine the appropriate shipping method and carrier to use, it's time for packaging and labeling. While some of the following labels are optional they are recommended to make sure you label your products correctly for Amazon.
Ready to ship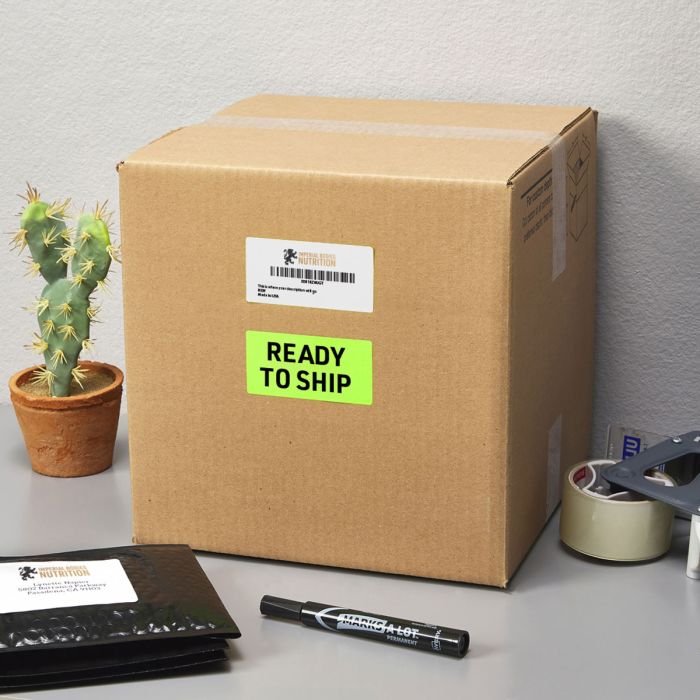 If your products are packaged and ready for your customers as is, and you don't want them opened in the warehouse, let the Amazon team know. Place a "Do Not Open" or "Ready to Ship" label on the package so your products aren't altered. Then make sure to put the unit in another box for shipping where you will apply your shipping label to Amazon.
Sold as a set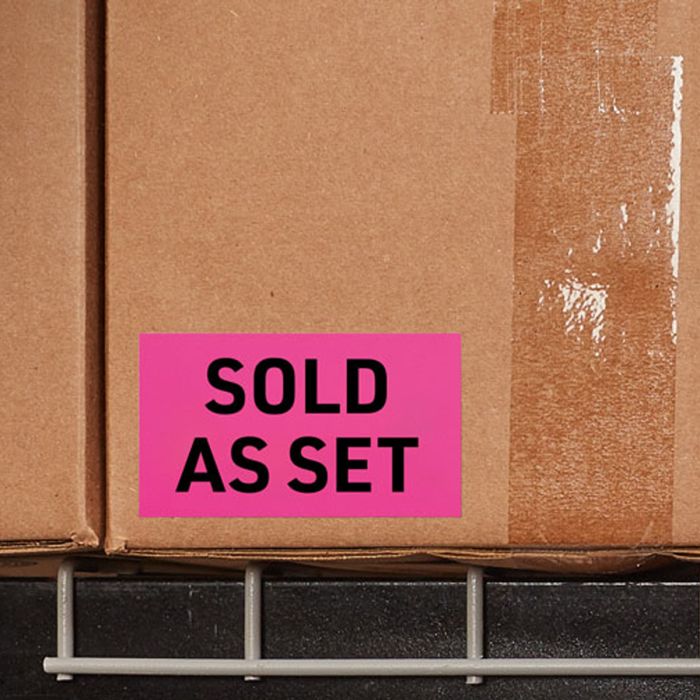 Items that need to be sold as one unit should be labeled with a "sold as set" sticker. This notifies the Amazon warehouse team that units go together and are not sold separately. Wrap the products together in a polybag, box, or shrinkwrap, and apply your label to the outside.
Polybag suffocation warning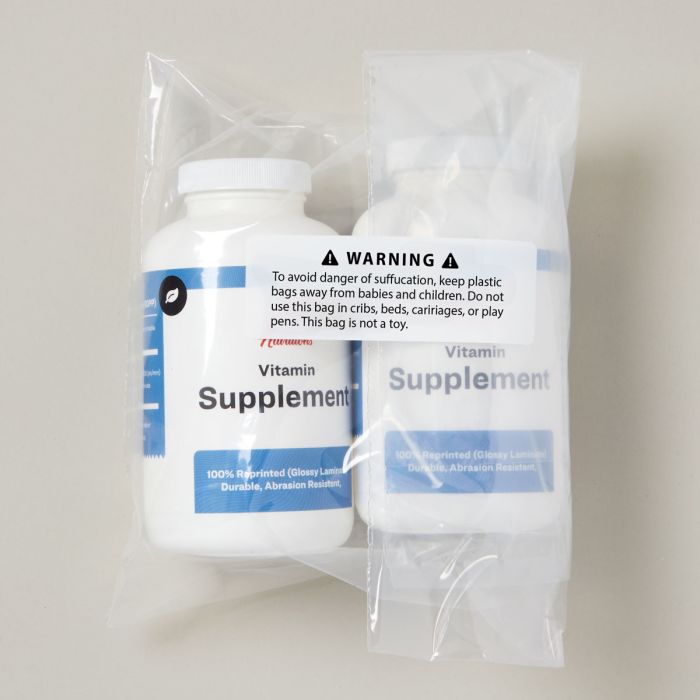 Polybags are often needed to protect items from being separated when sold as a set and to prevent leaks, spills, dust, and dirt from damaging products.
Bags that have an opening of more than five inches when laid flat, must have a suffocation warning label in legible font size affixed to a prominent location.
| | |
| --- | --- |
| Total bag L x W | Minimum label font size |
| 60 inches or more | 24 point |
| 40 to 59 inches | 18 point |
| 30 to 39 inches | 14 point |
| less than 29 inches | 10 point |
Expiration dates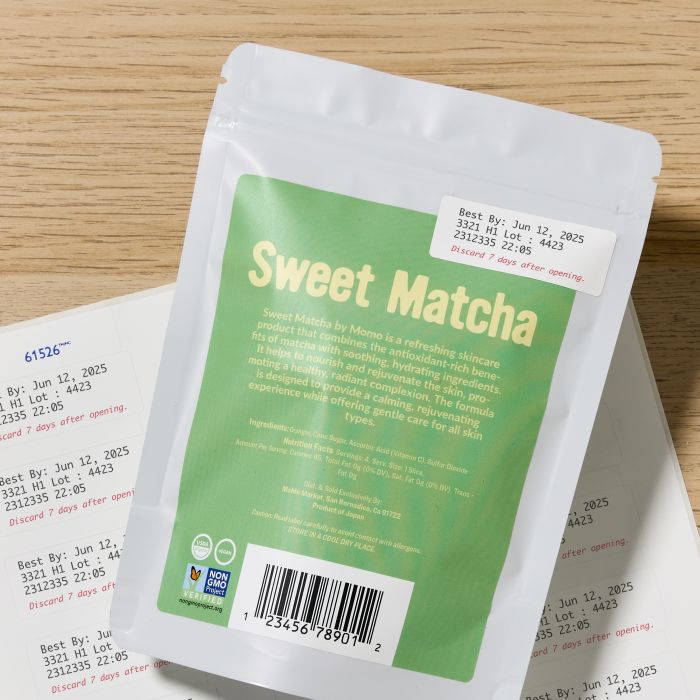 Amazon requires products that expire to include the expiration date on the master carton in 36-point or larger font, as well as on individual units. You must display the expiration dates in the MM-DD-YYYY or MM-YYYY format. If you use a different format, you must apply a label in the correct format over the original expiration date. For more information on expiration, date requirements read Amazon's expiration-dated FBA inventory.
How to order warning labels
It's easy to create and order all of the warning labels mentioned above. You can simply personalize and order custom printed labels in your choice of colors and with your specific message. Or try blank color paper labels that you can order by the sheet and print yourself. They come in a variety of bright colors that will make your messages stand out on all your packaging. Whatever option you choose, you can use the free templates from Avery to personalize your labels your way in minutes.
Amazon shipping label requirements
Once you have all your barcode labels and warning labels complete you must ensure your products arrive at an Amazon fulfillment center safely. So you need to follow the requirements below for your shipping labels.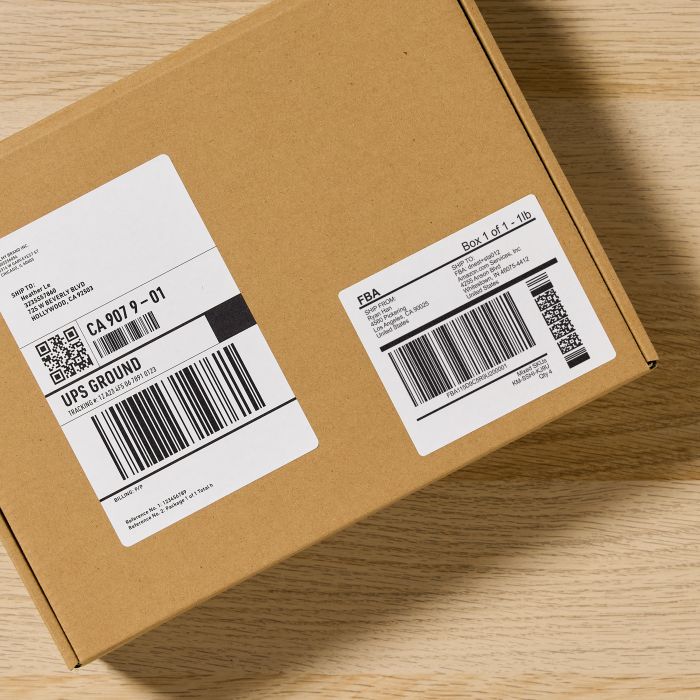 Small parcel deliveries are for products in individual boxes, so you need to label the shipping boxes individually for delivery. These are normally smaller shipments that you will send through DHL, UPS, FedEx, or local postal services. Truckload/full truckload shipments combine individual boxes on pallets for delivery.
Every box and pallet you ship to an Amazon fulfillment center must include a unique box ID and pallet label. Follow these Amazon guidelines for labeling your boxes:
Print your full set of labels. Each label is unique, so don't photocopy, reuse or modify labels for use on additional boxes.
Don't place labels on a seam or opening of the box.
Place both the FBA box ID label and your carrier label (UPS, FedEx, or other SPD carrier) on a flat surface of the box.
Both labels must be scannable and readable.
Every box in your shipment must have its own FBA box ID label printed from your Shipping Queue.
Each pallet you send needs four pallet labels, one on the top center of each side.
When shipping multiple case packs in a master carton, apply the FBA box ID label to the master carton. You don't need to apply FBA box ID labels to the case packs inside the master carton.
How to order Amazon shipping labels
Avery makes it easy to order your Amazon FBA shipping labels your way. You can order custom shipping labels that allow you to easily add your logo or branding. Easy to order online with fast turnaround and no setup fees.
No matter what option you choose, simply customize your labels using our free templates and order your professionally printed labels or print them yourself in minutes.
Do you need more help creating your Amazon FBA labels? Please call our friendly customer care team at (800) 462-8379.