What is remote onboarding and why is it important in 2020?
First impressions can have a lasting impact, and a new employee's first interactions with your company begin with onboarding. According to Forbes, employers lose 17% of new hires within the first 90 days due to weak onboarding. An effective onboarding program, on the other hand, increases retention by 50%.
Today's talent requires an effective onboarding program to successfully integrate them into the culture.
While your onsite onboarding procedures may already be perfected, a remote onboarding process might be something new. With working from home now becoming the new normal, a remote onboarding policy is crucial for any new employees joining your team remotely.
This article will take you through remote onboarding best practices when setting up online access and how to add personal touches along the way to create a stronger sense of belonging.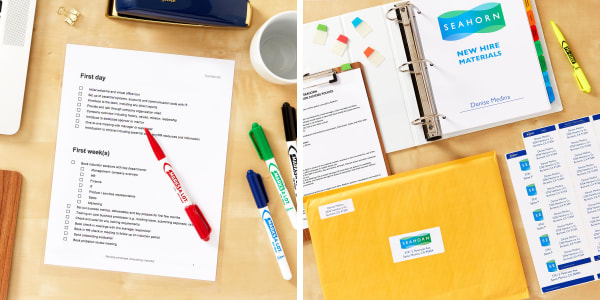 Keep yourself and your new hire organized. Use adhesive laminating sheets to create a reusable onboarding checklist to keep you on track, and send a high-quality binder full of relevant documents your new hire will need (Avery 73603, 79193).
Keep yourself organized with a remote worker checklist you can reuse
When executing any plan of action, it's best to stay organized. Creating a checklist with all your tasks laid out in order of implementation is a great place to start your remote onboarding plan. Think about what you do for your in-office onboarding process and work from there.
While many of the steps for the remote onboarding checklist will overlap, look for areas that need to be adjusted to accommodate a remote worker. Cover your checklist with a laminating sheet and use dry erase markers so you can reuse the checklist for future new hires.
Include everything you'll need to do to prepare. From the recruitment and interview stages, to sending out the offer and preparing for your new employees first few weeks on the job. Keep these goals in mind when creating your checklist:
Present and promote the company culture and teambuilding.
Encourage excitement and engagement.
Provide all the essential information your employee needs to start working confidently.
Help set up your employee to overcome the challenges that come with working remotely.
Organize & send out physical documents for remote onboarding ASAP
Once you have all the tasks laid out for your remote onboarding guide, gather all the physical documents you need to send your new employee. These can include the employee handbook, any literature on your company policies and procedures, and HR paperwork.
To stay organized, gather everything in a binder using customizable dividers for each section. If you have documents that need a signature, mark them with Ultra Tabs and use a highlighter to indicate where to sign. Use a shipping label to create an addressed stamped envelope to send back all signed documents.
Make online access a priority in your remote onboarding plan
Save time and frustration during your remote onboarding process by ensuring your new hire has all the hardware needed to start working remotely, including a laptop/PC, internet access, phone, etc. Have your IT department available to assist if needed.
Get your new employee online fast. Set up all necessary accounts and communication tools, and send the information they would need to navigate the following:
Company email
Team messaging tool
Video conference or webphone applications
Project management software
Cloud storage
HR and payroll systems
Discuss goals and deliverables in your remote onboarding plan
Once your new hire has been set up and assigned their first tasks, your remote onboarding plan should next focus on discussing the goals and deliverables that are expected.
Provide a list of their regular assignments and key projects, as well as clearly defined short-term and long-term goals and performance indicators. Encourage them to ask questions and add their own goals to help build their excitement.
Set 30-day, 90-day, 180-day, and one year goals to make sure you and your new employee are onboarding as expected and are keeping on track to reaching the milestones established.
Schedule regular check-in meetings to discuss the status of all projects, and provide guidance and training when needed. While you will want to avoid overwhelming your new employee with information overload, it's also important to ensure your remote worker doesn't feel ill-informed or neglected.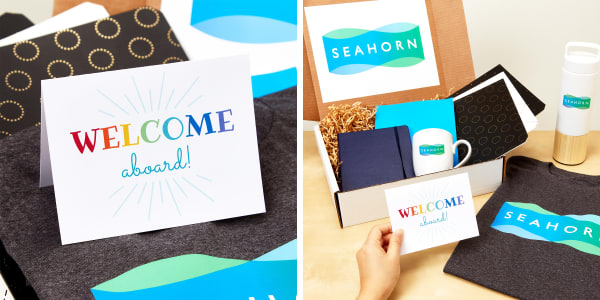 Appreciation gifts are a great way to make a new employee feel welcome. Send a personalized welcome notecard signed by the team as well as a box of company swag using Avery templates to customize with your company logo.
Show remote employees you're excited to have them on the team
If you aren't able to welcome your new employee face-to-face, send a welcome box as part of your remote onboarding procedure. A welcome gift is a great way to express how excited you are to have them as part of the team.
Create a t-shirt with your company's logo using fabric transfer sheets, and a custom logo decal they can stick anywhere. Provide some blank business cards for them to print out at home before their company issued ones arrive.
You might also consider having professional customized gift sets made for you. Whichever route you choose, include a signed notecard from the entire team and finish off the gift box with a custom label welcoming them to the company.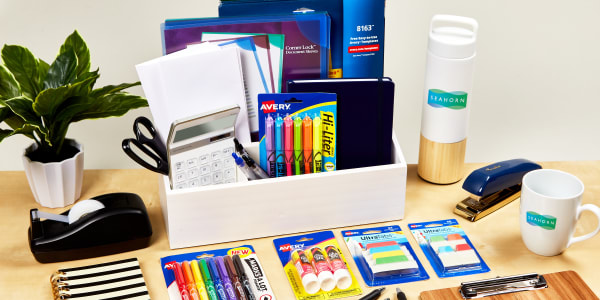 Make sure your new employee is all set to work from home. Send over a welcome package that includes a wide range of home office supplies like gel pens, labels, glue sticks, and document sleeves (Avery 49988, 00164, 72262).
Promote a fun and efficient home workspace for your remote employees
Helping your new employee set up their home workspace can make the remote onboarding process go smoothly and will show how much you care about their working environment.
Along with your welcome gift, send a work-from-home kit to get them started. Include everything they might need to take on their tasks at home.
Here are some ideas for office supplies you can include in the kit for your new employee:
Writing implements like pens, highlighters, and markers
A notebook or journal to jot down notes
A calculator so they have one handy if needed
File folders, file folder labels and an adjustable file rack to keep documents organized
Scissors, some tape, and a stapler to keep papers together
Blank labels for addressing envelopes and shipping packages that can be printed at home with laser and inkjet printers
Various Ultra Tabs for marking and cataloging their notebooks and documents
Don't forget introductions and team-building in your remote onboarding process
Team-building should be a top priority for any onboarding process because it helps build trust within the team and with the company. Since remote workers don't have the opportunity to mingle with their coworkers face-to-face, think of other ways they can interact with the team.
Start off with a video call to introduce the rest of the team. Going around the office for a virtual tour can also offer insight to your company's culture and bring your organization to life for them.
Consider implementing a buddy program, where the new employee can turn to a seasoned employee whenever they have questions about the company. Buddy programs have been shown to improve new employee satisfaction and boost productivity.
Socializing outside of working hours is also good for morale and the wellbeing of your employees. There are many remote team-building activities you can do virtually that will get the whole team involved and having fun together.
Create a sense of value for professional development and personal growth
Your remote onboarding plan should also include opportunities for your new employee to grow personally and professionally. A recent survey showed that 67% of remote workers want more work-related training. Consider offering access to online courses or a stipend for attending a class or seminar.
Focusing on your employees personal development skills can help maximize their potential, which will in turn benefit your company. Provide an individualized onboarding plan with video check-ins for each new employee that encourages their specific learning goals.
Review and improve your remote onboarding policy over time
Remember, onboarding mishaps can have a negative effect on how your new worker perceives your company, so continue to review and improve upon your remote onboarding process when needed. Get feedback from your recent hires on their onboarding experience, and take that into account.
Having a well-planned and organized remote onboarding policy will set up your new remote employees for success and help them feel connected to the company. Make sure your first impression is a good one.
For more ideas on onboarding new employees explore these resources:
Products Featured in This Article
Self-Adhesive Laminating Sheets, 9″ x 12″ (73603)
White Heavy-Duty Binder, 3″ (79193)
Dry-Erase Marks-A-Lot® Markers, Assorted Colors (24459)
Dividers with Printable Tab Labels (11419)
Mini repositionable Ultra Tabs®, Primary Colors (74760)
Highlighters, Assorted Neon Colors (23545)
TrueBlock® Shipping Labels 2″ x 4″ (5163/94207)
TrueBlock® Shipping Labels 5-1/2″ x 8-1/2″ (5126)
eGel® Retractable Pen, Black Ink (49988)
Glue Stic® Multipack (00164)
Corner Lock® Document Sleeves (72262)
Dark T-Shirt Transfer, 8-1/2″ x 11″ (3279)
DIY Decal Sheets, 8-1/2″ x 11″ (61512/94268)
Printable Business Cards, 2″ x 3-1/2″ (28877)
Two-Sided Note Cards, 4-1/4″ x 5-1/2″ (8315)
Printable File Folder Labels, 2/3″ x 3-7/16″ (5266/94210)
5-Slot Adjustable File Rack (73523)
Marks-A-Lot Permanent Markers, Assorted Colors (9231)
Address Labels, 1″ x 2-5/8″ (8160/94200)