Create a welcome kit that makes new employees feel like part of the team
While the onboarding process can last as long as 12 months, first impressions count for a lot. Personalized welcome kit ideas can help you make a great first impression with new employees and set them up for success.
An effective onboarding process should acclimate, engage and help retain new hires. The impression new employees take away after their first day plays a key role in successfully onboarding them.
It's important to note, that onboarding is not the same as orientation. Orientation covers basic paperwork and tasks for new employees, onboarding is about fully integrating them into the company culture.
In this article we've rounded up 8 awesome ideas to make a welcome kit that helps new employees feel like part of the team. Even on their first day.
Other articles and resources you might like: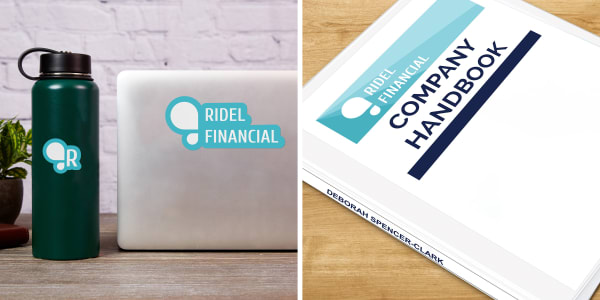 1) Logo vinyl stickers for laptops and water bottles
Vinyl logo stickers are a must-have item for onboarding welcome kits. Everyone loves stickers for adding to water bottles, laptops and other personal items.
During the onboarding process logo stickers help new hires engage by self-identifying themselves as part of the team. By sporting their new stickers employees show that they're proud to be part of the company.
Pro Tip: Logo stickers are also great for corporate events, handing out to clients and including as freebies in business mailing and shipping.
Ordering custom-printed die-cut vinyl stickers through our WePrint® service is super easy. You can order 1 to 10,000 custom vinyl stickers in minutes.
Upload your logo
Enter your sticker size
Pick matte or glossy vinyl
Choose quantity and add to cart
2) Onboarding binder for welcome kits
Orientation often comes with a lot of paperwork. Yes, it is important, but you don't want juggling a stack of paperwork to be the overwhelming impression that new employees get on their first day.
Durable view binders are perfect for storing orientation paperwork. Adding a customized binder to your onboarding welcome kit is something new employees can use right away, and down the road.
You can also add some helpful resources that help a new hire integrate with the team. For example, a list of cross-functional team members they should meet and suggested topics to discuss.
With such a list, new hires are encouraged to proactively seek out their new teammates and engage with their expertise. It's also a great cheat-sheet for remembering names after first-day introductions.
To customize a binder for your onboarding welcome kit:
Create an 8.5" by 11" cover sheet to slip in the binder's view front
Personalize the binder with the employee's name on the spine
Add helpful resources that help new hires to integrate themselves
Pro Tip: For creating customized binders, try printable binder spine inserts. Our free binder spine templates help you create designs that look polished and professional.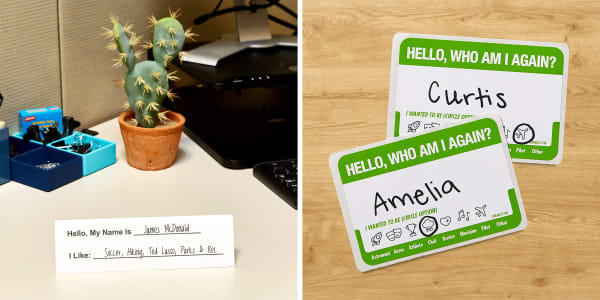 3) "Conversation-starter" desk tent card
Socializing can be hard on the first day of work. Give your team the opportunity to take the lead, rather than leaving all the pressure on new employees.
A "conversation-starter" tent card with a fun fact about the new person is inviting. It encourages employees to come up and chat and gives them something to talk about.
Here's how to create your own using 2-1/2″ x 8-1/2″ printable tent cards and our free Avery Design and Print Online software:
Click Start Designing
Choose a design or start from scratch
Preview, save and print
4) Fun adhesive name badge icebreakers
Icebreaker name badges are also great for encouraging conversation and socializing. Plus they're super easy and convenient. Just grab a pack and some permanent markers.
Hand them out to new employees, or even your whole team on days when you have a new person coming in.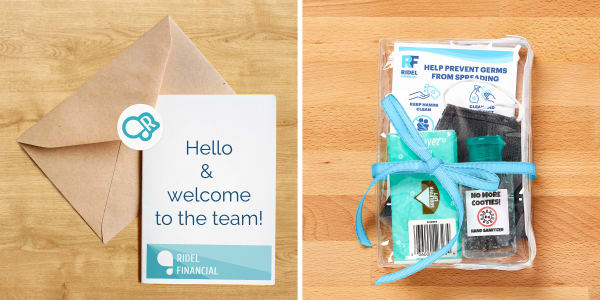 5) Branded greeting cards for onboarding
Create your own branded greeting cards that are blank inside. That leaves plenty of room to write a sincere, handwritten message to your new employee.
Printable greeting cards in various sizes and finishes are great for quickly creating a few cards at a time. For larger quantities and/or printing saturated colors and photos try custom printed cards.
Personalize free predesigned templates, or design from scratch with tools in Avery Design and Print Online. Check out this quick video to help you get started.
Subscribe to our YouTube channel for more Avery Design and Print Online tutorials, printing advice, and more.
Projects can be saved to your free Avery account and printed from any device. You can also share saved Avery template projects with the whole team via email.
6) Sanitizer and mini germ-free kits
Germ-free kits are always useful, and help keep the office healthy. Including them in your welcome kit for new employees is an awesome idea because it has two onboarding benefits:
Shows that your company culture prioritizes employee safety
Reinforces expectations that employees embrace germ-prevention practices
Add some flair to your germ-free kit with a branded safety tips card and customized hand sanitizer labels.
Square 1-1/2 by 1-1/2 inch labels are the perfect size for small hand sanitizer bottles. Or browse custom printed waterproof labels for more sizes and shapes.
Here are two fun designs for 1-1/2 inch square labels:
Create your own safety tip card using printable postcards and our free germ safety template. You can add your own logo to any of our predesigned templates by using the Add Image button.
Learn more about how to add and edit images in Avery Design and Print Online.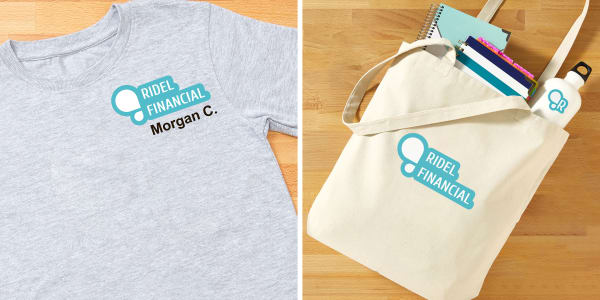 7) Create personalized company t-shirts
Company swag your new hire can wear with pride helps them fit in. Depending on the size of your company you may already have t-shirts that you can include in your onboarding kit.
If so, small fabric transfers are perfect for personalizing individual shirts with employee's names. Or you can quickly make your own company tees from scratch using larger fabric transfers.
Here is a quick guide to the best fabric transfers for personalizing or creating company tees:
2" x 3" rectangle fabric transfers for light or dark fabric
5" round fabric transfers for light or dark fabric
5" x 11" full sheet fabric transfers for light, dark or stretchable fabric
Learn more about fabric transfers and how to make your project a success.
8) Give welcome kits in a branded tote bag
Instead of using disposable packaging, use a branded tote bag for your welcome kit. Extra tote bags are always useful, especially for employees still in the process of onboarding and settling in.
Most common blank tote bags are made of light-colored canvas. Fabric transfers for light fabric are ideal for totes as they're designed to work best with white or light-colored 100% cotton and cotton/poly blends.
Help new employees fit with an awesome welcome kit
Add items to your welcome kit to help employees enjoy their first day. Custom vinyl logo stickers are quick and easy with our hassle-free printing service. A personalized a binder is perfect for first-day paperwork.
Encourage socializing with a "conversation starter" tent card and icebreaker name badges. Include welcome kit items that show employees that you care about them as people, not just workers.
A greeting card with a sincere handwritten message goes a long way to make new hires feel welcome. A germ-free kit communicates that employee safety is a priority.
Fabric transfers are great tools for personalizing and creating company swag. Personalized details in your welcome kit to help onboarding employees fit in and feel like part of the team.
What was your best experience the first day at a new job? Let us know in the comments and subscribe for more workplace tips and ideas.