Tips for setting up shipping and mailing supplies in a small office or home office
Even though a vast majority of communication now travels digitally, the office mailroom is still an integral machine in every large company.
However, if your office doesn't have a mailroom (or you find yourself needing to ship while working from home) a dedicated space for mailing and shipping can save you valuable time.
A counter or table stocked with the right supplies is all it takes to set up a quick mailing center. Here's how to get started streamlining your mailing center in the office, or at home.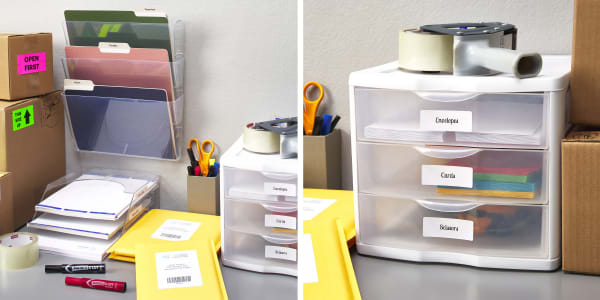 Start with basic storage for shipping and mailing supplies
Paper trays are great for organizing blank shipping labels, preprinted return address labels and any flat shipping inserts you may include with outgoing packages.Consider wall-mounted paper trays as well to help increase storage capacity by making use of vertical space.
Desktop drawers and desk organizers are ideal for organizing additional basic shipping and mailing supplies such as scissors, tapes, pens, regular postage stamps, etc.
Organize your mailing center storage for easy access
As with any workspace, clear communication goes a long way to keep things clean and organized. Printable labels make it easy to neatly mark drawers, shelves and tools to make sure everything has a place.
The same shipping and mailing labels you use for your packages will work just fine. Or you can get creative with some more expert label uses for organizing your mailing center.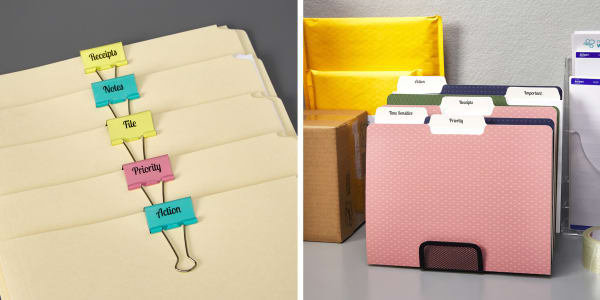 Expert label uses for organizing mailing schedules and more
Whether you're managing an office mailing center, or shipping and mailing from home, organizing your tasks helps you be more productive. Sorting, delivering and picking up mail at a set schedule creates good habits and reduces clutter.
Small clear labels the right size for binder clips are perfect for organizing just about any stack of papers or folders. Printable file folder labels are also a tried and true favorite for quickly and neatly organizing any filing system.
Bookmark mailing and shipping tasks in your personal planner with repositionable tabs. Especially if you're working from home and work-life lines start to blur, turning to your planner to keep your work shipping and mailing tasks can help you be more productive.
Mailing and shipping label essentials for your mailing center
Blank address and shipping labels are essential. Make sure to keep your mailing area stocked with address and return address labels, as well as various sizes of shipping labels for document mailers, padded envelopes and boxes.
Always double check that the labels you're stocking match the printer you're using. Using inkjet-compatible labels in laser printer (or vice versa) can cause ink to smudge and smear. Double checking can help you avoid one of the most common DIY shipping label fails.
Additional labels that can enhance your mailing center
Neon shipping labels are great for color-coding packages by department and/or displaying important messages that need to quickly be identified. Use free Avery shipping templates to create preprinted neon labels for common uses such as confidential, urgent or fragile items.
During certain seasons, and depending on where you're shipping, you never know what kind of weather your package might end up facing. Waterproof shipping labels are made from durable waterproof film (instead of paper) so you don't have to worry about rain or snow.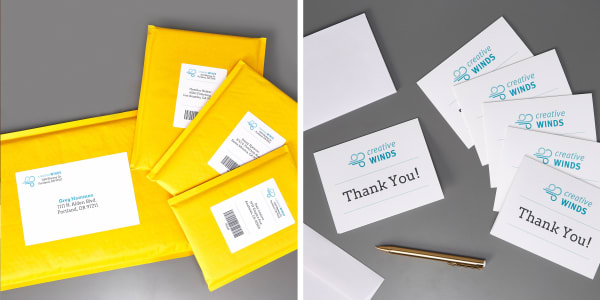 Keep it professional with branded shipping and mailing materials
The best way to create branded shipping and mailing labels that look professional is to use a predesigned Avery template and modify it with your company logo. Using Avery Design and Print Online, you can apply your logo to any label and save the project for easy reprinting anytime.
Writing out a thank you note takes a fraction of time but makes a big difference in how people relate with your business. Branded thank you cards help give your business more of a personality and gives you a chance to let people know that you appreciate them.
Use predesigned thank you cards you can customize to create branded cards. Print out stacks of these cards in your mailing center so that they're easy to add to packages, correspondence and business gifts.
More mailing and shipping resources
Once you've got the basics down check out our tips for mailing and shipping like a pro and get answers to the most-frequently asked questions about mailing and shipping.
Our dedicated mailing and shipping resource center is an excellent tool for getting detailed answers to more specific questions, employee training and learning expert tricks to boost your mailing speed.