Make waves on your next birthday with this gorgeous mermaid party. Our crew has everything covered, from eye-catching invitations to mermaid party food ideas to mermaid birthday party favors and more. Whether you're looking to plan out a whole party or need ways to spice up a party you have in mind, these breathtaking ideas are just what you need to catch people hook, line, and sinker.
More articles you might like:
Mermaid party invitations
Reel in your guests with these fetching mermaid-themed invitations. You can also personalize each label and card with your own text and images to make them even more unique. Pair these refreshing blue and purple designs with matching envelopes to complete the aquatic look.
Personalized cupcake toppers
No party under the sea or on land is complete without cake, and cupcakes are even better. There's no need to cut the cake when each piece is already the ideal size for small hands. Of course, every little mermaid deserves a personalized birthday cake, which is where DIY cupcake toppers come in. All you need are printable labels and lollipop sticks. Simply customize and print your labels, then stick them back to back with a lollipop stick in between.
"Fish food" tent cards

Fill bowls and jars with fish-shaped snacks like Goldfish® and Swedish Fish® to maintain an oceanic theme. For an edible centerpiece, try filling a clear container with blue candy and just a couple Goldfish snacks. It will look like they're swimming in water! You can also use sea salt caramels to create the sea floor or add a toy boat to the top to bob on the sweet waves.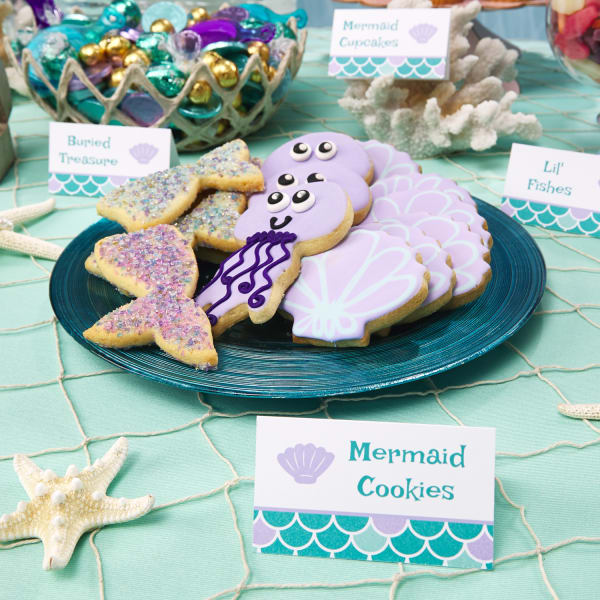 More ways to use the same template
Every party's better with cookies, and mermaid parties are no exception. Mermaid tails, jellyfish, and seashells make for the most scrumptious cookie shapes. If you're baking your own cookies from scratch, common cookie cutter shapes like stars and circles make excellent starfish and sand dollars. And don't forget to add in a healthy layer of blue and purple sugar crystals for that extra mermaid-y sparkle.
Create your own trove of buried treasure with chocolate coins and gold foil chocolates. Distribute prizes for mermaid party games by having kids take scoopfuls of goodies as a reward. This bowl of candy can also be a party game on its own by having kids take scoops with their eyes closed to look for tokens that can be redeemed for even bigger prizes.
Dress up water bottles
Every mermaid needs water, and so does every little kid. Make sure all of your little mermaids stay hydrated with their own water bottles. Themed water bottles are an easy way to sprinkle some birthday magic on a party necessity.
"Mermaid scales" party favors
Give your guests their very own magical bottles of mermaid scales using glass bottles filled with sequins and glitter. These sequins are great ways for kids to give their craft projects some extra shimmer and shine. But you can also glue the corks into the bottles so that they can be lovely display pieces.
Mermaid party goodie bags
Craft these adorable gift bags with just paper bags, string, and square labels. You can fill each bag with leftover candy from the party or you can fill them with seashells, jewelry, slap bracelets, hairbands, or more. Blank labels are perfect for this project because you can order them in a variety of shapes and even in custom sizes to fit any size bag.
Party favors fit for a mermaid
Hair ties are a lovely party favor that can be given out at either the beginning or end of the party. Handing hair ties out from the start can be a clever way to get your guests into a more aquatic mood. Complementary hair ties on all of your guests are also a cute way to have everyone match in photos.
Takeaway mermaid party bags
Between goodie bags, party favors, craft activities, and leftovers, your guests might have their fins full at the end of the party. A thoughtful hosting trick is to have themed takeaway bags set out for guests to gather up their goodies. To complete the mermaid theme, you can buy simple mermaid or ocean-themed gift bags and elevate them with gift tags that match your other décor and favors.
Are you ready to make a splash with your next party? For more fun party ideas, follow us on Instagram or check out our Pinterest page.