Celebrate your graduate with a big virtual party at home
Graduating high school or college is a huge milestone. Just because we're all practicing "stay home, stay safe" measures, doesn't mean you can't celebrate your graduate in a big way.
Go big with all the graduation party trimmings at home and take the celebration online to stay connected with friends and family. From helping grandma and grandpa set up video chat to crafty graduation party ideas, we're here to help you celebrate graduation 2020.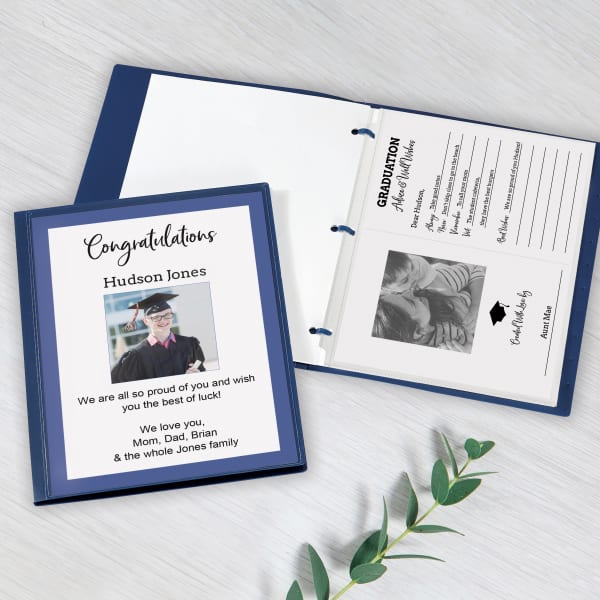 Gather graduation wishes and cards to keep your grad connected
Graduation is the beginning of a new journey and can be a little intimidating. Friends and family coming together as a community to share advice, wisdom and well-wishes lets your student know they have a support system.
When social distancing or a quarantined grad prevents physical gathering, cards with graduation wishes are a really special way to show support. Follow these steps to create a sentimental gift for your grad full of well-wishes from their community and support system.
Download our free graduation wishes PDF. Open in Adobe Reader, customize for your grad and save
Send customized PDF to family and friends to add their well-wishes and send back to you
Print out the personalized graduation wishes cards on printable greeting cards
Use sheet protectors with secure tops to hold the graduation cards
Gather them together in a high-quality report cover for a gift to keep your grad connected
Use graduation announcements and invitations to provide tech support
There are a lot of great video chat apps for groups when it comes to staying connected while social distancing. Whether you're sending digital graduation announcements or graduation invitations by mail, make sure everyone has the information they need to attend your virtual party.
In addition to which app you're using, the start and end time of your virtual graduation party and a schedule of activities, be sure to help guests that may not be tech-savvy. Include how to download the app, where to get it, whether they need an account and instructions for how to log onto the video chat.
One of our favorite ideas for virtual graduation party activities is pausing at 8:20pm (which translates to 20:20 in military time). It's the perfect time for a round of applause for the grad, a speech or the presentation of graduation gifts and a cake. Use your announcements and invitations to let guests know, so they don't miss the big moment.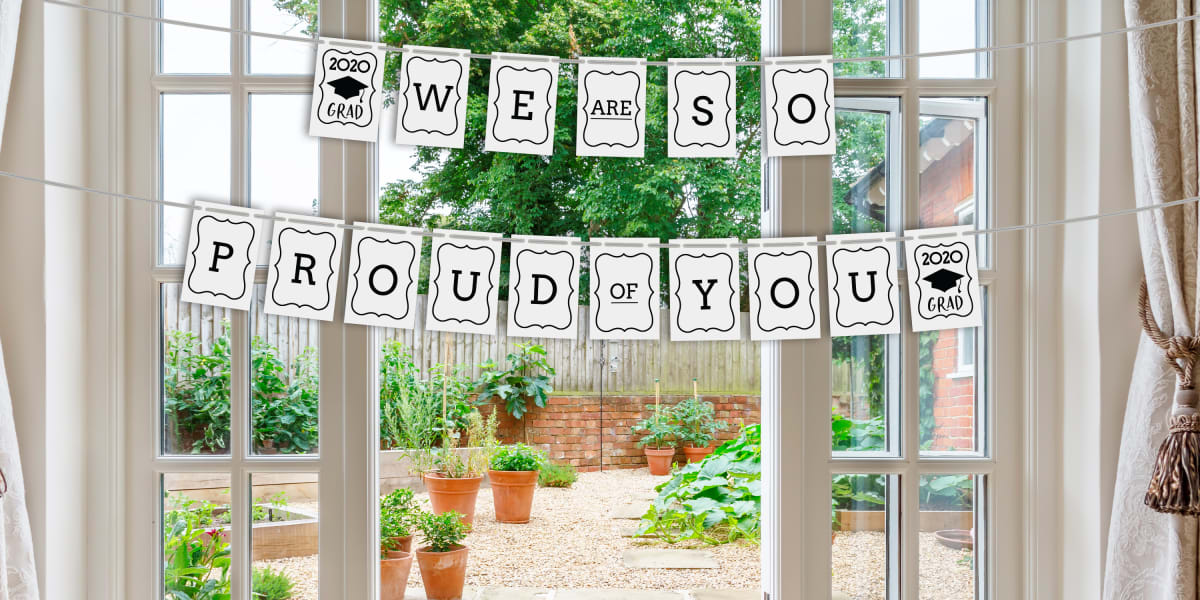 At-home graduation banners set the scene for your virtual party guests
Decorating the inside of your house makes any party feel more festive. Graduation banners are the perfect addition to an at-home party that's also hosted online. They make a great backdrop for graduation party video chats or to take one last "mommy and me" photo with your graduate.
DIY graduation banners are quick and easy to make using printable postcards, a hole punch and ribbon or string. Download our free graduation banner PDF, simply print on postcards, punch holes and string them together.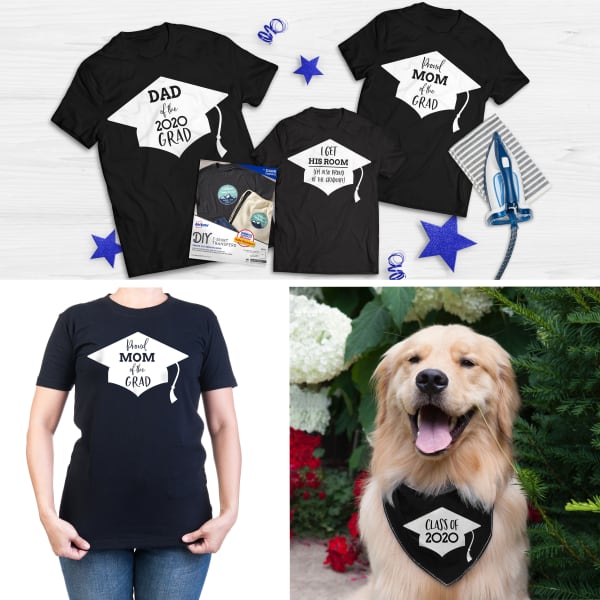 Deck out the whole family in matching 2020 graduation day gear
Make your own swag for the at-home graduation crew to wear on video chat. With easy-to-use printable fabric transfers it's easy to make t-shirts and for everyone in your house. Even family pets can get in on the action with a 2020 graduation bandanna.
Turn 100% cotton t-shirts and bandannas into custom graduation gear with our free graduation t-shirt templates for dark fabrics or light fabrics. Avery templates are fully customizable so you can personalize your projects and make them your own. You can add custom text, colors or even upload digital photos.

Brag about your 2020 grad with decorations outside your house
Let the whole neighborhood know you have a 2020 grad in the house by adding personalized decorations outdoors too. Use our free 2020 graduation banner templates for removable printable adhesive signs to create a custom garage door graduation banner.
Another fantastic addition to an at-home graduation is to create an actual "memory lane" on your lawn. Grab all those extra school photos you've been saving, slip them into super heavy-weight sheet protectors, attach them to garden stakes and stick them in your lawn progressing from first grade to graduation.
You can arrange your graduation memory lane down a walkway or across your lawn so that neighbors can check it out as they walk around the block. Complete your memory lane using the same steps and our 2020 graduation lawn sign template.
Turn your graduation party menu into a thoughtful and useful gift
Whether you're celebrating a college or high school graduation, your grad is getting ready to step out into the world on their own. If they're off college it's likely their first time having to regularly cook for themselves.
Cooking all your grads' favorite foods is a simple and sentimental graduation party idea that you can turn into a really useful graduation gift. One that will keep your high school graduate from eating ramen seven days a week. As you plan your party menu, save all those recipes and a few additional family favorites in recipe book they can take with them.
Use free Avery templates for printable recipe pages, a binder cover sheet and a binder spine insert to make sure your grad has all the info they need to cook their favorites. Pull it all together in a durable binder and protective sheets to protect the recipes from spills and splashes in the kitchen.
Get more graduation party ideas and themes
Looking for more graduation party ideas for your high school or college graduate? Check out our gallery of Avery templates for graduation to create custom invitations, party favors, graduation gifts and more.
This school year has been exceptionally unique. No matter what grade your child is completing, now more than ever, you deserve to celebrate and commemorate the last day of school. Whether it's a simple grade promotion or hitting a major milestone such as leaving elementary school behind, your family should be proud of accomplishing it together!
Check out our guide to celebrating the last day of school at home. You'll find templates for creating your own graduation certificates, Covid-19 worksheets to help process feelings in this historic time and much more.
Products Used in This Article
4-1/4″ x 5-1/2″ Postcards (8387)
Half-Fold Greeting Cards 5-1/2″ x 8-1/2 (8316)
Lay Flat Report Cover, Blue (47780)
Diamond Clear Sheet Protectors (76000)
8-1/2″ x 11″ Wall Decals (61516/94263)
8-1/2″ x 11″ Dark T-Shirt Transfers (3279)
1/2″ Durable View Binder (17002)