We share our best answers for "How do I organize my holiday items?"
While the holidays are the most wonderful time of the year, the cleanup afterward is not. However, if you take the time now to get organized, cleanup will be a lot easier! In this article, we're going to cover each tip in detail. Here is a summary of how to organize your holiday items:
Take reference photos for setup
Organize holiday items by type
Label & itemize holiday décor containers
Always wrap your lights!
Organize gift-wrapping items
Make your own Christmas card binder
"Keep, toss, donate" in the kitchen
1) Take reference photos for setup
Now, this may seem like a weird tip to have at the top of the list, but hear us out. One of the main reasons you should organize your holiday items is to make setup easier the following year. It's so much easier to recreate a setup that you love if you have a photo for reference.
You can take photos as you finish putting up decorations or before you take them down. Either way, make sure to get a good wide shot so you can see where everything goes. You may also want close-ups of any small details you want to remember. Save the photos in an album on your phone, or print them out and stick them in with your decorations.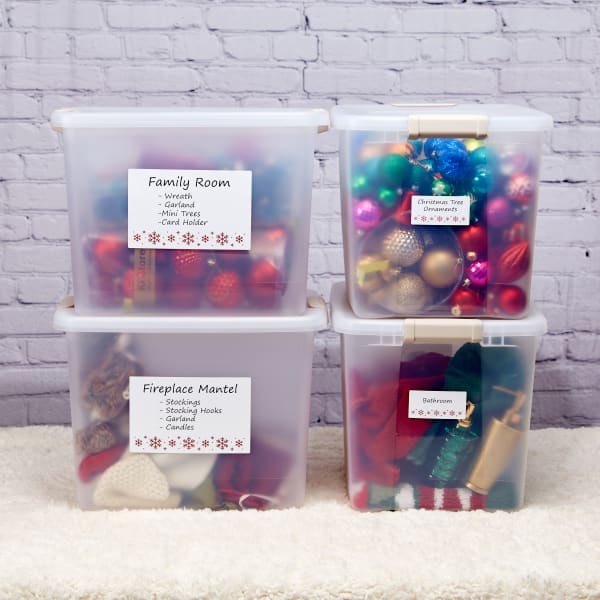 2) Organize holiday items by type
Start by sorting your holiday décor by type, matching like items with like items. For example, ornaments with ornaments, string lights all together, soft furnishings in one container, and so on. You can also take it a step further and group items by location. The living room, mantle, family room, front porch, and the like are all good starting points.
Of course, it can be very tempting to shove all of your holiday decorations into any boxes or bags you can find. Although this might seem like a good idea, there are three very good reasons to organize your holiday items before you put them away.
First and foremost, when you shove decorations into containers without regard you're more likely to damage them. On the other hand, sorting and storing your items neatly helps them last longer, so you don't have to waste money on new ones. Secondly, taking the time to organize your holiday items now will save you headaches later. No one wants to spend all their decorating time untangling garlands and string lights.
Lastly, organizing and packing your holiday items neatly will cut down on the space needed to store them. Remember that seasonal storage sits in your garage, closet, or shed year-round. Wouldn't it be nice to have some extra space?
3) Label & itemize holiday décor containers
Most likely, you are storing your tree ornaments, home décor, and other similar items in plastic bins. You may also have cardboard boxes or other types of containers. Regardless of the container you use, a label with itemized contents will make organizing, storing, and unpacking holiday items so much easier. When you have an itemized list of the containers' contents on the outside, you can see what's inside without needing to unstack, open, and dig through every box.
When it comes to labeling and itemizing your holiday décor containers, there are many ways to do it. "Quick and dirty" options include writing on masking tape or writing directly on cardboard boxes with permanent marker. However, neatly printed labels definitely have an advantage or two. They're easy to read, and you can even decorate them to make your storage more festive!
How to create custom holiday container labels
First things first, make sure you have the right labels for your printer. We wrote about printers and labels in-depth here, which included how to tell what kind of printer you have. However, the most important thing to remember is to always match the labels to your printer. Otherwise, your printer may damage the labels and/or the ink will never dry or "set," causing smears and smudges. For best results, always use laser-printable labels with laser printers and inkjet-printable labels with inkjet printers. The only exception is when labels are specifically marked as "laser/inkjet."
Next, you'll want to customize the labels for organizing your holiday items. You can easily do this online (for free) with Avery Design and Print Online (ADPO) software. Our cloud-based software has all standard editing tools you need to create and print your own labels, as well as cards and tags. We even have cute predesigned templates that you can customize with your own text, colors, graphics, and more. Click "Customize" for the template you like and it will open in ADPO. There you can design and print right away, save your design to print later, or share via email.
Free templates for labeling holiday containers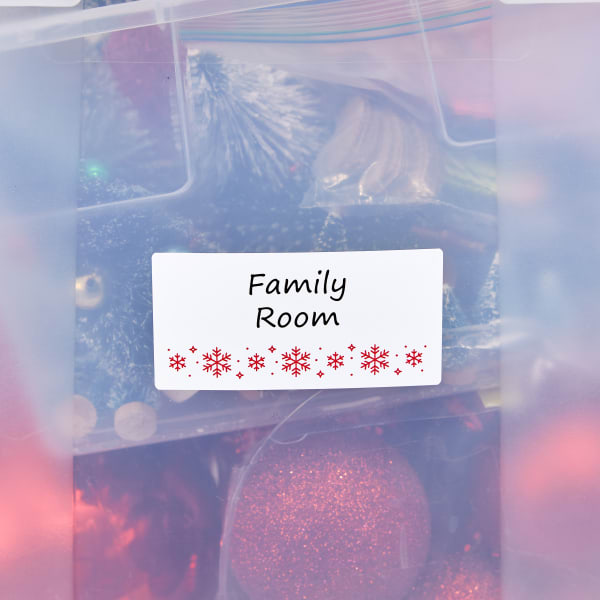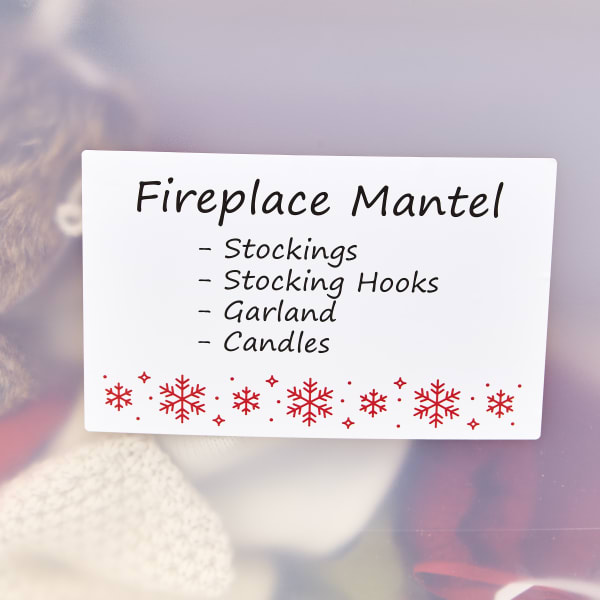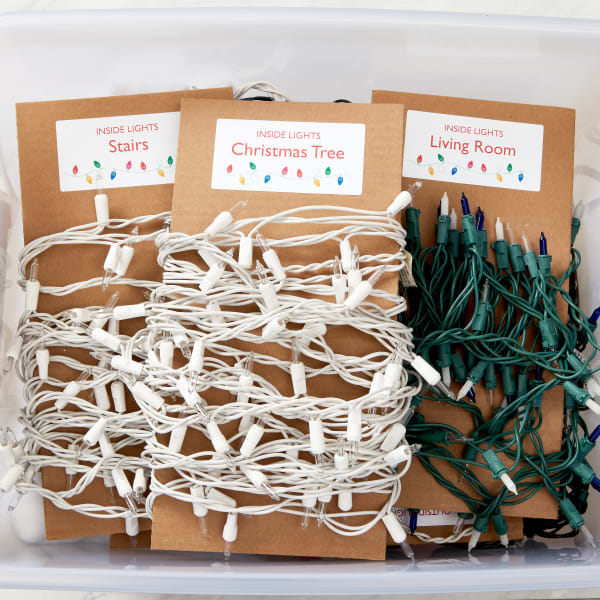 4) Wrap your holiday lights to organize them better
We've all had the experience of picking up a ball of tangled Christmas lights and not knowing where to start. In fact, string lights are one of the hardest holiday items to organize. Luckily, there is a simple solution, and all you need is cardboard. However, we've chosen to also use labels to identify our holiday lights based on where we hang them up. This is especially helpful for keeping inside and outside lights separate.
First, cut a piece of cardboard about six inches wide and 18 inches long. Box flaps work great because you only have to make one cut! Then, start at one end of the cardboard with the end of the lights that doesn't plug into the wall. Tuck in the end and wrap around leaving space at one end of the cardboard for your label. Continue wrapping until you have wrapped all the lights around the cardboard and the plug end is on the outside. This is important because next year you'll be able to plug in the lights and check for duds without unwinding the entire string.
Finish by tucking the plug in to hold the wrapped lights in place, or use a piece of masking tape to secure it. Customize your label and add it to the end of the cardboard. We loved matching using this cute holiday lights template to label our lights. Open the template below in ADPO by clicking "Customize."
Free holiday lights template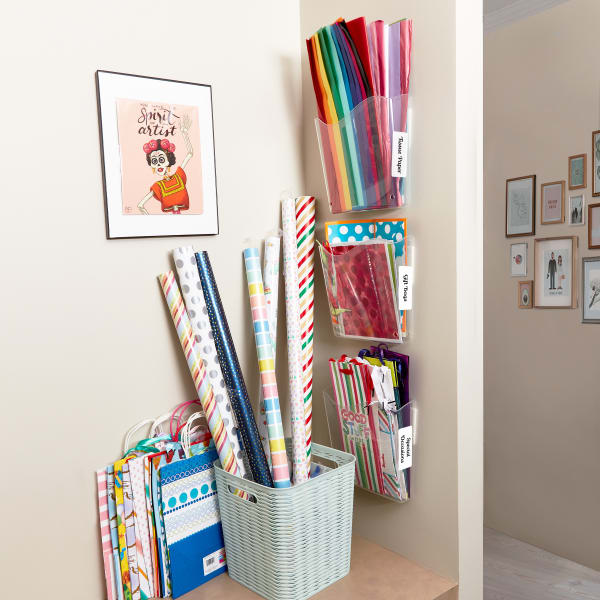 5) Organize holiday gift-wrapping items
When organizing holiday items, don't forget about wrapping paper! For one thing, it will be easier to see what supplies you already have so you don't buy duplicates. Another reason to organize gift wrapping supplies is so that the edges of paper goods won't get wrinkled or torn from being jostled around. In both cases, you'll end up saving money on gift-wrapping supplies next year.
Try to take advantage of the vertical space in your closet, behind a door, or in a corner to keep your wrapping paper upright but also out of the way. A few common supplies like wall file organizers and plastic bins work well for gift bags, tissue paper, bows, and rolls of gift wrap. Of course, if you have the space or wrap gifts often, you might even want to consider setting up a DIY gift-wrapping station, which we wrote about here.
Pro Tip: For labeling wall file organizers and other small containers, try shopping blank labels by shape. Once you choose a shape you can enter the size you need or order custom sizes for free!
6) Make your own Christmas card binder
While organizing string lights may be the most frustrating holiday item to organize, Christmas cards are definitely the most emotional. Christmas cards are beautiful time capsules that instantly bring us back to some of our warmest holiday memories. As such, they shouldn't just disappear into a storage bin.
Instead, create a Christmas card binder. Not only is it super easy, and there are several wonderful benefits. Firstly, it's the perfect way to safely archive Christmas cards while still allowing you to flip through them from time to time. Secondly, a binder is easy to store on a coffee table or a nearby shelf for whenever you need a good pick-me-up. Lastly, Christmas cards from past years are a sweet way to help small kids remember distant relatives.
All you need is a binder, photo sheet protectors and your Christmas cards in order to get started. We love this 3-inch view-front binder because you can insert a decorative binder cover and spine if you'd like. It's also plenty big enough to store several years' worth of cards. These sheet protectors are designed to hold 4″ x 6″ photos, and these ones for mixed format photos. Both sheet protectors are archival-safe (meaning they don't contain chemicals that damage print over time). The mixed format sheets are particularly good for organizing cards in different layouts.
7) "Keep, toss, donate" in the kitchen
Holiday goodies and gifted foods have a way of piling up during the festivities. Make sure to give your kitchen a once-over to clear up and organize your more perishable holiday items. Like any good organization project, you'll start by creating three bins or piles and sort items to "Keep," "Toss," and "Donate."
Toss out any stale or soon-to-be-gross holiday treats, of course. These might include popcorn and cookies that come in tins. As a bonus, once you clean out the tins you can use them to store extra holiday bakeware, molds, and cookie cutters. Tins are great for storing seasonal tools out of the way in the garage or shed until next year.
Next, gather up any unused holiday ingredients, like cans of pumpkin puree or cranberry sauce. If they won't last until next year, donate them to your local food bank, shelter, or church now so that they don't go to waste. Finally, you will only be left with fresh food and perishables to keep. However, once you've cleared away holiday food clutter, you might want to take a deep dive and organize your entire pantry, which we wrote about here. It will give you a fresh start for the new year and make sure you can find your holiday supplies easier next year.
Organize your holiday items now for decorating peace next year
Nothing can snap you out of the festive mood more than looking around and finding your home cluttered with holiday items. Fortunately, organizing your holiday items doesn't have to be overwhelming if you break it down into smaller, more manageable parts.
First, take reference photos of your holiday setup. This may not make anything easier right now, but consider it an investment in peaceful decorating next year. Second, organize your holiday items by type, matching like items with like items as you pack them away. Neatly storing things will save you money and headaches down the line.
Next, label your holiday containers with itemized lists. Next year you will be able to easily see what's inside without needing to unstack, open, and dig through every box. You can even use our free templates and software to create festive labels. Just as you separated all the different types of holiday items, separate and wrap your Christmas lights. Seriously, we cannot emphasize how much of a game changer this tip is!
After that, focus on gift-wrapping supplies. Use vertical storage to save space while making your supplies easy to see. That way, you don't buy duplicates, and paper goods don't get wrinkled and torn. Likewise, protect paper Christmas cards in a binder that you can flip through any time you need a pick-me-up or want to reminisce.
Finally, don't forget to tackle holiday items in the kitchen. That goes for festive foods, treats, and seasonal baking tools as well. Sort holiday kitchen items by "keep," "toss," or "donate" and follow through accordingly.
What is your favorite way to "reset" your home after the holidays? Is there one thing you swear by? Shout it out in the comments, or join the conversation on Facebook. Follow us on Instagram or check out our Pinterest page for more home organization inspiration.