When the munchies attack, deliciously decorated cupcakes are here save the day! Personalized cupcake toppers made with Avery round labels display the birthday kid's name or the name of each of the guests, and masked lollipops with capes made from Avery tags announce the birthday's kid's age. Just personalize labels and tags using free design templates on avery.com/print.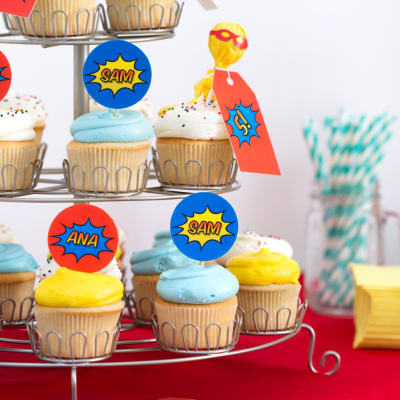 Step 1: Gather your supplies
Gather toothpicks, tape, tissue paper, ribbon or string, Avery Glossy White Round Labels (22817 or 22807), Avery Tags (22802 or 22812), markers (optional), Avery Address Labels (5161 – optional)
Step 2: Personalize cupcake toppers
For cupcake toppers, personalize this red round label template or blue round label template and print guests' names on Avery Round Labels (22807 or 22817). Print a set of two labels for each cupcake topper.
Step 3: Stick labels around toothpick
Adhere each set of labels back-to-back, placing a toothpick in between.
Step 4: Wrap lollipops
For the superhero toppers, wrap lollipop heads in tissue paper and twist at base of candy.
Step 5: Print and attach capes to lollipops
Starting with this tag template, add the birthday kid's age. Print on Avery Tags. Tie a tag to each lollipop with string or ribbon.
Step 6: Add masks to lollipops
Print out the masks for the lollipops on Avery Labels (5161), cut them out and stick them on.