Celebrate the whole year with fun templates for DIY baby onesies
We all know how delightful it is to see babies dressed in cute outfits, but did you know you can make them yourself? Avery makes it simple to create custom onesies with helpful tools, printable fabric transfers, and precious baby onesie templates.
Make sure your new bundle of joy is dressed to impress all year long with these fun Avery templates for baby onesies.
More tips to make your creative projects a success:
How to get started printing your own fabric transfers
To create your own DIY baby onesies, you'll need:
An inkjet printer
A smart device
Internet connection
A free Avery account
Printable fabric transfers
Before starting, it's important to match the right fabric transfer to the material you're working with to get the best results.
Quick guide to choosing a transfer based on fabric
Fabric
Color &
Stretch
Fiber
Content
Transfer
Product
Light

White

Minimal
Stretch
100% Cotton

Cotton blend
Light
Light

White

Stretchy
Synthetic

Synthetic blend
Stretchable
Black

Dark

Minimal
Stretch
100% Cotton

Cotton blend
Dark
Light

Dark

Minimal
Stretch
100% Cotton

Cotton blend
Glitter

Glow-in-the-Dark
Quickly find the right Avery fabric transfer for the onesie you're using.
The next step is to make sure that your smart device is connected to your inkjet printer and the internet. It's important to only use fabric transfers with inkjet printers as the heat from laser printers can melt the transfers!
Once that's settled, log in or create a free Avery account to use our Avery Design and Print Online (ADPO) software. ADPO allows you to edit, print, and save Avery templates at no cost. Not only is the software free, but there is nothing to download or install.
Finally, choose a baby onesie template to start designing and enjoy getting creative!
1) Cozy "Baby Bear" printable template
This "baby bear" onesie will have you snuggling up to your little one on those cold winter nights. And don't forget about the rest of the family! Our "papa bear" and "mama bear" templates are perfect for matching family pajamas.
2) Simply sweet candy heart onesie
Get ready for the sweetest treat this Valentine's Day. Candies and chocolates can't compare to seeing your little cutie pie in this adorable heart-themed onesie.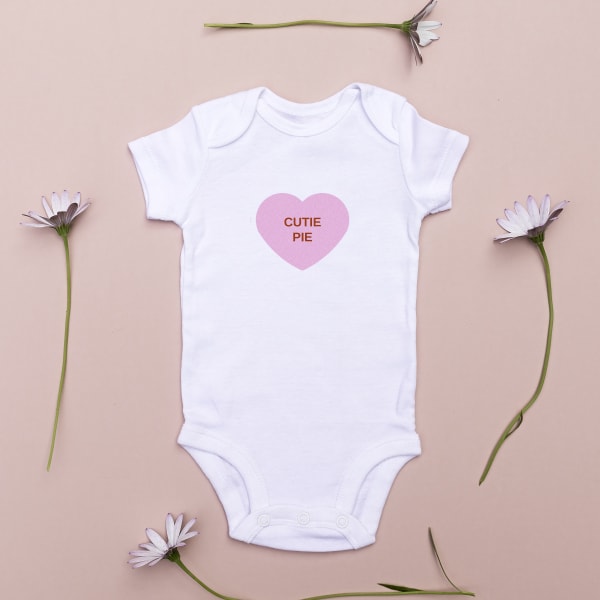 This template also works great with printable fabric sheets, which can be used to make decorative patches for clothes, quilts, bags, and more.
Order full sheet printable fabric transfers (3384)
3) "Lucky Charm" for St. Patrick's Day
Of course, you can't celebrate St. Paddy's Day without something green. This baby onesie template with a green shamrock works wonderfully while also letting you show off your greatest fortune: your little lucky charm.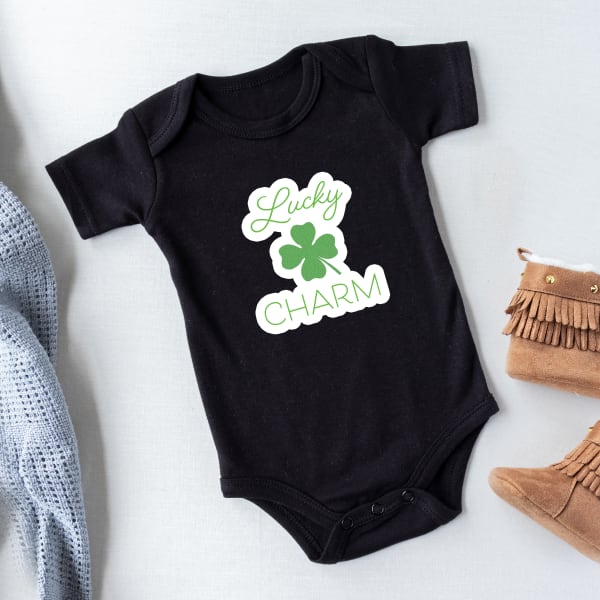 Dark fabric transfer sheets are made with a solid, opaque material so it's best to trim around the printed image or text for a clean finish.
Order full sheet dark fabric transfers (3279)
4) "Bee Positive" baby onesie template
Time for some positive vibes. The bright colors and inspiring message on this punny onesie are a lovely way to welcome the spring season.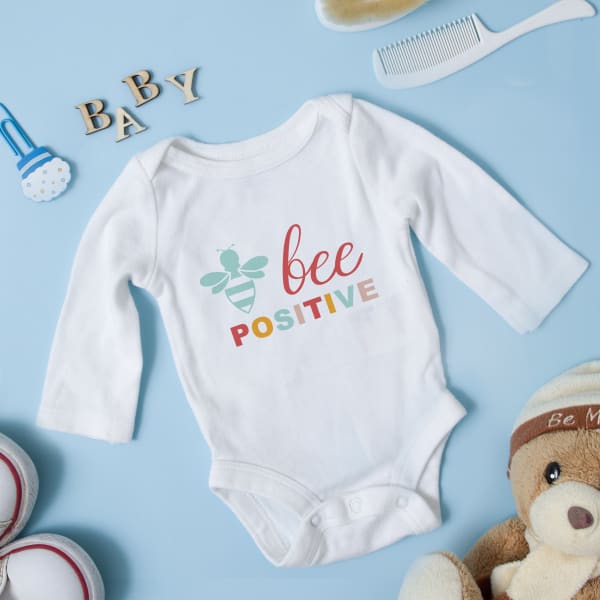 5) Baby onesie template for Mother's Day
Show off what your mama gave ya with the "I got it from my mama" printable template. This endearing onesie will be sure to put a smile on everyone's face, especially mom.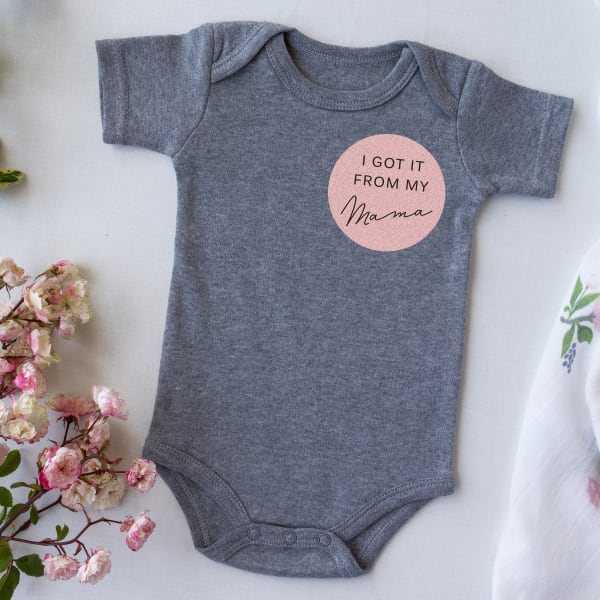 6) " Hello Summer" baby onesie template
These colorful summertime templates are fantastic for fun days in the sun. Choose one image for your onesie, like the "hello summer" text, or combine two or more for a unique design that's all your own.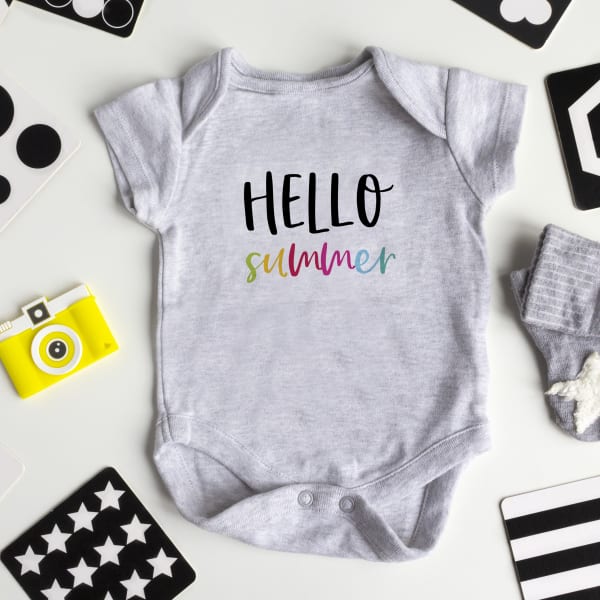 7) All-American DIY baby onesie design
What's the 4th of July without some red, white and blue? Have baby rock the patriotic color scheme with this scrumptious baby onesie template perfect for your backyard barbeque.
Want to change the text in this template? To edit, just click on the text box and replace the words with whatever message you want. You can also add another text box using the text tool on the navigation bar.
Order full sheet light fabric transfers (3271)
8) "Happy Camper" printable template
Ready to explore nature with your little camper? Then embrace the great outdoors with this adorable baby onesie template fantastic for a first camping trip or nature hike.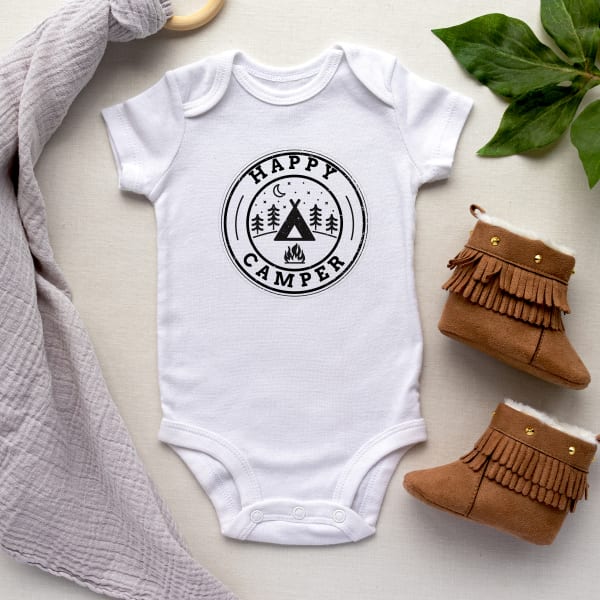 9) Out-of-this-world DIY template
It's never too early to start teaching the importance of curiosity, creativity, and determination. Encourage your little one to "Reach for the stars" with these exciting, space-themed designs.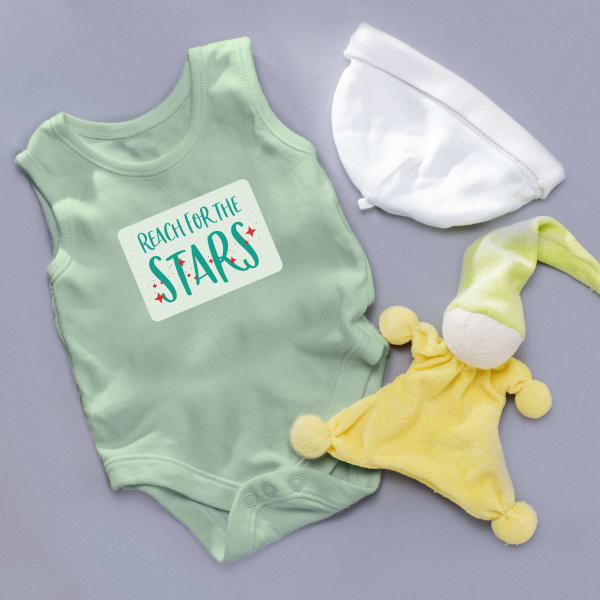 While you can add or edit the text in text boxes, text that is part of the image (like in this template) is not editable. You can, however, rearrange, resize, or change the color of any image.
Order full sheet dark fabric transfers (3279)
10) Glow-in-the-dark jack o'lantern face
Here's one DIY Halloween costume that's so cute it's scary! Pair this classic design with Avery glow-in-the-dark fabric transfers for an added element perfect for a night of trick-or-treating.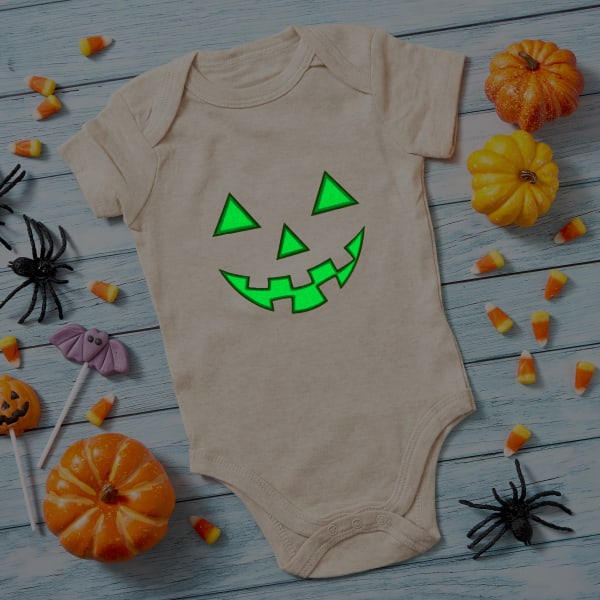 11) Gratitude baby onesie template for fall
We're in love with this adorable Thanksgiving onesie! After all, when you have family, friends, and cute little babies in your life, "there's always something to be thankful for."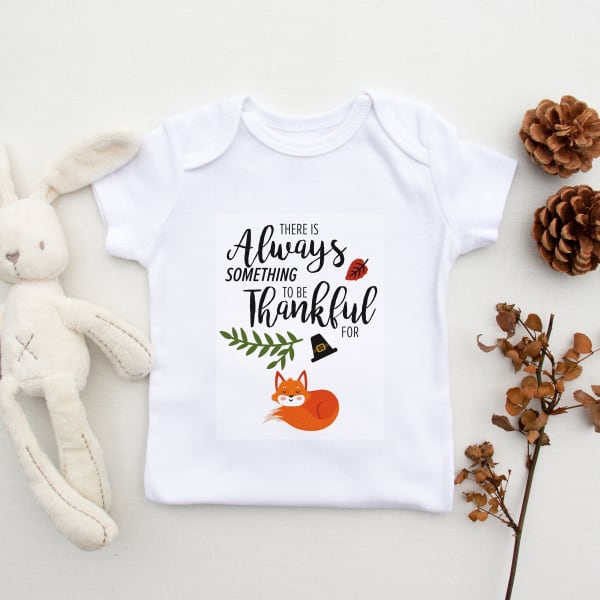 12) Holiday snowman baby onesie template
Get into the holiday spirit with this delightful snowman template printed on a glitter fabric transfer. You'll love how the shimmer and shine of these transfers give the design a beautiful festive touch.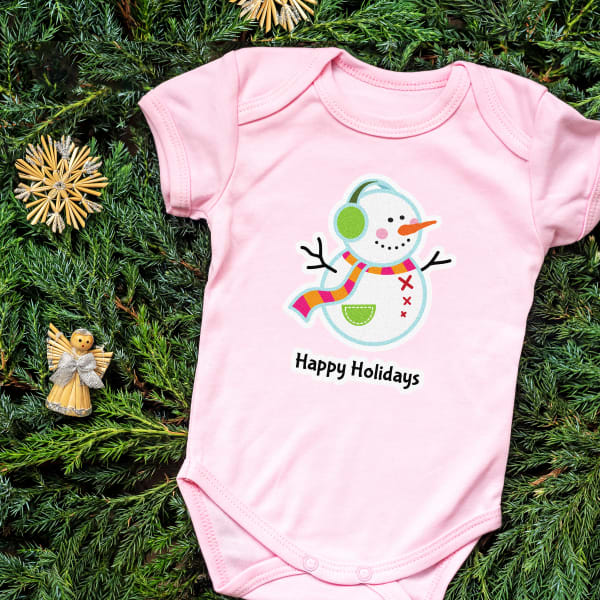 Looking for more snowman graphics? The Avery gallery has hundreds of holiday clip art and images, including other snowmen, you can use to create your own unique baby onesie template.
Order full sheet glitter fabric transfers (3241)
Personalize your DIY baby onesie projects with Avery
Whether you plan to make custom onesies for a loved one that's expecting or for your own little bundle of joy, we hope this article gives you the tools and inspiration you need to get started.
We're also here to help you every step of the way! Visit our dedicated page for helpful fabric transfer demos and detailed instructions. Or find answers to your fabric transfer questions in the Avery Help Center.
And of course, our expert Customer Care Team is always here to help. Give them a call at (800) 942-8379 or leave a comment with your question below.