Other articles you might like
Deciding on gifts for clients, customers and employees is always a difficult decision. As a business owner, trying to find the perfect present for corporate holiday gifts, referral thank-you gifts or just to celebrate an employee or company milestone takes some careful thought to please everyone. But that's where food gifts come in.
Food plays a huge part in building and sustaining relationships. So food gift baskets are a great way to build rapport with your clients by giving them something you can bond over. But if you're a small business with a small budget, ordering gourmet food gift baskets online can be expensive and impersonal. So we've put together some food gift ideas for 2021 that you can personalize and use as Christmas gifts for clients, employee gifts, or for that special vendor or customer that has helped grow your business.
Whether you choose to include products you sell in your baskets, make your own gifts with hand-selected items, or decide to splurge on premade food gift baskets online, you can't go wrong when you give the gift of food.
Pantry filler food gifts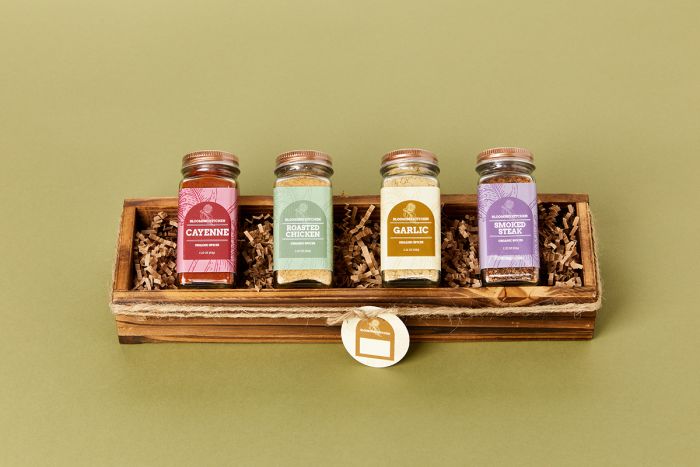 A great food gift is one that the recipient can put in the pantry and use for their meals throughout the year. Gift boxes filled with a collection of some of your favorite kitchen items are a fun way to treat your clients. You can give a variety of gourmet spices like those featured in our image above or create a basket with your favorite BBQ sauces or preserves. A gift basket of imported olive oils and flavored vinegar will also please most palates.
Remember, if you're giving this as a gift to a client who is likely to share it with co-workers at the office, choose items like hot sauces, assorted sea salts, or gourmet coffee toppings that can be set out on the counter for all to share.
Food gifts for grazing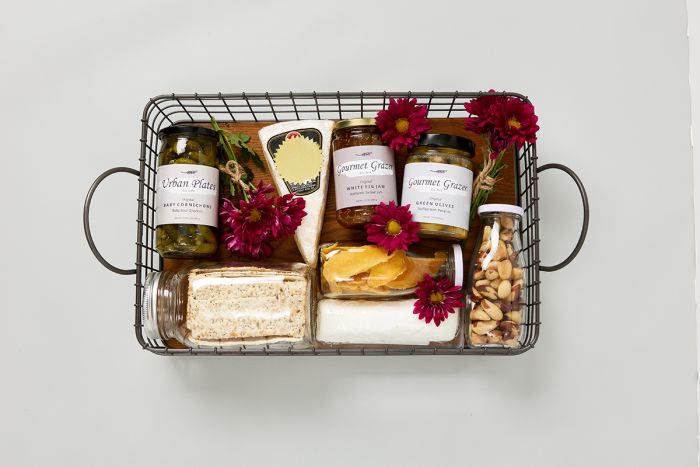 Charcuteries are one of the hottest trends out there and it's easy to do a similar grazing basket for a holiday food gift. A pretty wire basket filled with olives, mixed nuts, jams, crackers, and dried fruit and meats is a perfect gift for everyone. Unless you're putting this together and delivering it that day, you should skip any items that will spoil or melt, like fresh fruit and cheeses.
The best part about this gift is, if they're sharing it with co-workers or with family members at home, it's an easy gift to open and enjoy immediately. Try including a small cutting board, a cheese knife, or a kitchen towel with a funny saying for an extra fun touch. If you know the recipients enjoy wine, then it never hurts to include a small bottle of wine or bubbly.
Not into charcuteries? Then create a basket full of your favorite gourmet chocolates or potato chips. Think about all the things you and your coworkers and employees love and decide if you might be able to turn it into an awesome food gift.
Party in a bowl food gift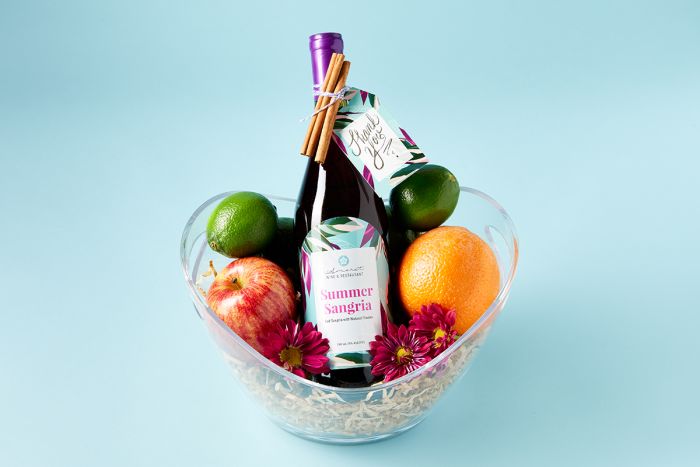 Want to kick it up a notch? If you know your clients well enough to know they enjoy a drink occasionally, then a party in a bowl is a fun way to go and sure to be remembered long after it's gone. It's also another easy gift to put together.
Choose a container like a punch bowl or clear beverage dispenser that you can tuck all the ingredients inside. Add an inexpensive bottle of wine, fruits, and other necessary spices, along with a printed recipe card so they can easily put the sangria together.
Not in the mood for sangria? You can use this same idea with your favorite cocktail, punch, or coffee drink. For example, for a coffee gift, include a bag of coffee, a small french press, a coffee mug, and some special sweeteners. Add a personal note of why the coffee drink has meaning to you and what makes it special.
Think outside the basket
Remember, you don't have to put everything in a wicker gift basket or cardboard box. Select a container that fits the theme of your basket. Also, make sure your container is the right size, you want your gift to look full or overflowing. It's a good idea to buy everything you want to give and then test out containers before making a big purchase.
If you can, pack your gifts in a container that is reusable so your client is sure to remember you every time they see them. Wooden boxes, wire storage baskets, punch bowls, colanders, and mixing bowls are all fun containers you can use for food gift baskets. Let your imagination run wild.
Obviously, if your gift basket or box is going to be mailed, it needs good packing. Make sure gifts are tucked securely in a filler like shredded paper or tissue paper, and then that your basket or box is sealed or covered tightly with a lid or cellophane and a ribbon.
If you're shipping your gifts, don't forget to make them stand out by dressing up the shipping boxes as well. You want your client to anticipate opening the gift to see what's inside.
Still looking for more gift ideas?
Take our food gift ideas for 2021 above and use your imagination to create the perfect gift basket for all your clients. Check out Inexpensive Holiday Gifts you can easily put together for corporate gifts, or see how to Turn Your Products Into Client Gifts for even more ideas.
Once you've decided on what to give and how to package it, you can easily personalize all of your gifts using Avery labels, cards, and tags. We offer a huge catalog of free templates and designs you can personalize with our free design software.
Simply pick the label or tag you want to personalize, find your favorite design (or upload your own) and customize it for free online. Then you can have your products custom printed by Avery WePrint, our professional printing service, or use our blank labels by the sheet or retail packs that you can print yourself.