Jump into spring with refreshing new ideas and designs
Spring is the perfect time of year to try out something new. Prepare for St. Patrick's Day, International Women's Day or simply give your supplies a botanical touch with free Avery templates for labels, decals, fabric transfers, tags and much more.
Whether you're starting with one of our designs or you want to start from scratch, our free online design software (Avery Design and Print Online) makes it easy to personalize almost anything.
Once you're happy with your design, you can print everything from home or we can even print everything for you. Our professional staff and precise printing machines will make sure your projects look perfect and ship them to your door.
For this article, we've hand-picked the 10 best Avery templates for spring. Get started now to bring some fresh air and creativity to your events, gifts, greeting cards and more.
More articles for more ideas: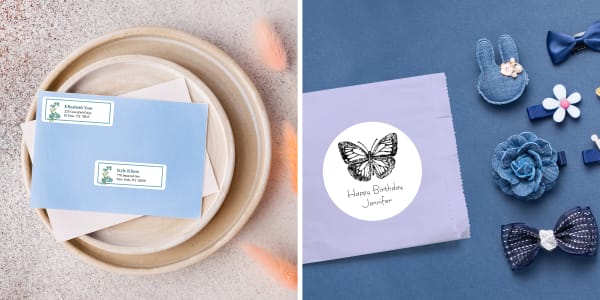 Add a natural touch to labels and cards with our floral Avery templates and butterfly designs.
Floral designs for cards and letters
Everyone loves flowers and there's no better time to bring out the best floral designs than spring. Choose from over 100 flower-themed Avery label templates for our address labels.
You can also find floral and nature-themed designs across all of our products. Our template finder lets you type in any Avery product number to find the matching template.
Set on a label size but need it on a different material? The Presta® template number will let you find matching templates and order by the sheet.
For example, you can search for Presta® 94200 to find our 1″ x 2-5/8″ labels as well as the templates.
Did you know? Many of the images used in our templates are also available in our Avery image gallery. You can open any of our templates in Design & Print Online and add images from the Avery Gallery or even import your own images.
Customize butterfly labels and templates
Add a little extra flutter to your life with our lovely butterfly label template. This design is on our versatile 2″ round labels that fit perfectly for a variety of projects.
Different materials can also enhance the look of your stickers by adding an extra shine or transparency. Once you find the right size and shape, you'll have the option to choose and compare materials.
Pro Tip: Once the template's open, you can use the Background Tool on the toolbar near the top to change the color of the design. For different patterns, the Shape Tool is also a great way to add extra color on each label.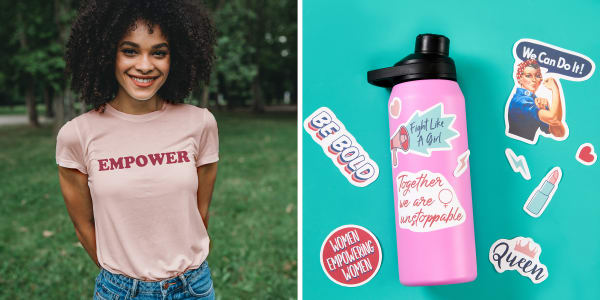 Wear your girl power with pride! Make your own empowering t-shirt designs and decals.
DIY tees for International Women's Day
Celebrate International Women's Day on March 8 with pride with your very own, custom-made t-shirt. Our "Empower" fabric transfer template includes three sets on one sheet so that you can create an entire set for yourself and friends.
Before you start, it's important to know that there are three types of Avery fabric transfers:
Light: Made with transparent material; design must be flipped.
Stretchable: Made for synthetic fabrics; design must be flipped.
Dark: Made with a solid, opaque material; design does not need to be flipped.
Find out more about how to print, trim and iron on our fabric transfers with our helpful demos and instructions.
Girl power decals for water bottles and laptops
Created by women for women, our girl power sticker template includes a variety of beautiful and powerful designs to help inspire you throughout the day.
Planning on showing off these designs on your laptop? Our DIY decals stick securely yet peel away cleanly and won't leave behind residue like regular stickers and labels.
If you have a die-cutting machine, our decals can also be trimmed out with Silhouette® and Cricut® cutting machines.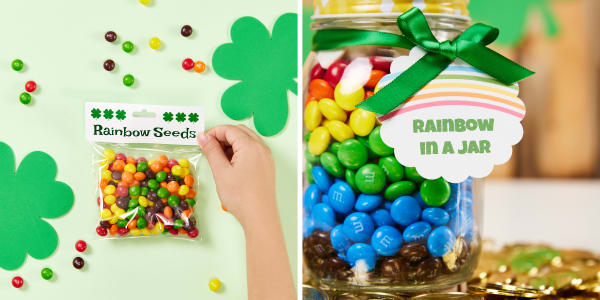 Create the perfect party favors for St. Paddy's Day with festive bag toppers and scalloped tag templates.
St. Patrick's Day rainbow seed goody bags
Share the wealth on St. Patrick's Day with these easy-to-make "Rainbow Seeds" gift bags template. Our printable bag toppers include self-closing bags and adhesive toppers. Just print, fill with candy and seal.
We also have a variety of St. Patrick's Day bag topper designs so that you can tailor your party favors for classrooms, parties and offices.
Rainbow in a jar St. Patrick's Day gift
Another simple but clever way to share colorful treats on St. Paddy's Day is with our fun "Rainbow in a Jar" gift. Pour in one layer of color at a time and top it off with a printable scalloped tag using one of our many St. Patrick's Day tag templates.
Our Edit One and Edit All features also make it easy to create tags for specific people or for a group. To learn more, you can read about our Edit One and Edit All features here.
Mason jars are also an amazing and versatile way to create gifts for other holidays and events. For more ideas for your jars, take a look at our articles on Christmas gifts in a jar and Valentine's Day jar gifts.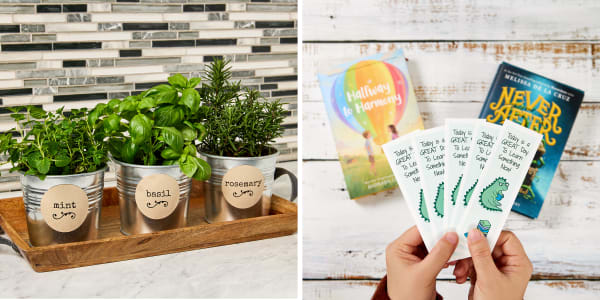 Organize your herb garden with printable kraft brown labels and create these adorable bookmarks with our dino-themed template.
Cute kraft brown labels for your herb garden
Whether your garden is in the backyard or on the windowsill, spring is when your plants can really shine. Keep track of your herbs at a glance with our earthy kraft brown labels that let you organize in style.
You can also order kraft brown labels by the sheet to find the exact label size and shape you need.
Pro Tip: All Avery templates can be applied to any product! You can find the template for these round labels here but on the last step, Preview & Print, use the "Apply Design to Another Template" button on the lower right-hand corner to apply it to another product. Easy!
Adorable dino bookmarks for World Reading Day
For all of the bookworms and lovers of literature, World Reading Day is on April 23. Celebrate the joy of reading by chatting about a new bestseller with friends or share your favorite storybook with your kids.
Add a unique touch to your book, or share your love of reading to others, with our precious dino-themed bookmark template for our printable tickets. Our tickets with tear-away stubs are a creative way to make your own bookmarks and can also be used for events, raffles, coupons and more.
Show your love for the environment with our earth template for tote bags and t-shirts.
Earth Day farmers market tote bag
Celebrate Earth Day and spread environmental awareness by taking an old tote bag and making it look new with our charming earth template for our light fabric transfers.
Light fabric transfers are transparent, which makes them a perfect fit for the Earth Day template which features intricate black outlines and empty space. Otherwise, with a dark fabric transfer, the entire design would need to be trimmed out.
Watch our helpful YouTube videos on how to use Avery Light Fabric Transfers to learn more. Subscribe to our channel to find more how-to videos for our software and other products as well.
"Every Day is Earth Day" DIY tee
Even our earth template itself can be reused and recycled. Avery templates can be customized in a variety of ways so that they can be applied to any product, including DIY t-shirts.
Add an inspirational message to our earth template to turn it into a perfect t-shirt design. Just open the template in Design & Print Online and use the tools in the Customize step to add your own flair.
You can find the option to add text and images on the left side of the Customize step. From there, you can make finer adjustments with different fonts, shapes, colors and more.
Spring forward with Avery templates
Whether you want to bring a little bit of nature into your party favors or prepare for St. Paddy's Day in a classroom, Avery templates make it easy to get a jump start on custom projects.
Print all of our products and templates at home or feel free to have us print your projects for you with our WePrint™ service. Our exact, industrial-grade printers will make sure that your designs look beautiful.
Follow us on Pinterest for more holiday ideas and fun crafting projects. You can also follow us on Instagram for more inspiration. Use #averyproducts to show us your custom designs and projects for spring!