Celebrate the new parents-to-be with a baby shower they'll always remember
If someone you know is expecting and you want to commemorate the occasion with an unforgettable celebration, there's no need to stress. Planning a baby shower doesn't have to be difficult.
Other resources you might like:
In fact, with the right tools and preparation, you can throw an amazing baby bash that all the guests, especially the guests-of-honor, will be sure to enjoy.
Avery products and our free Avery Design & Print Online (ADPO) software, for example, make it easy to create personalized details and party elements to make your celebration special.
Get started with these useful tips that will help make your baby shower planning simple and easy.
1) Pick a fun baby shower theme or color scheme
A good first step in planning a baby shower is to come up with a theme or color scheme to tie all the party elements together. This theme will be used on everything from invites and décor to favors and thank you tags.
Browse our gallery for adorable baby-themed templates or find inspiration online for other party themes that can be adapted to a baby shower. You can even draw from personal preferences, like the expecting mother's favorite book or hobby.
Whether you want to keep things traditional with pinks, blues, and cute rubber duckies, or prefer the boho-chic trend with more muted colors, don't be afraid to get creative.
2) Get your baby shower planning ideas organized
Now that you have your theme picked out, you can begin planning. A good place to start is with a baby shower planning checklist to keep track of all your tasks.
Make a to-do list or timeline laying out everything that needs to get done and when it should be completed. Include things like sending out invitations, deciding on a menu, and assembling favors.
You can even organize ideas or inspiration you find online by creating a Pinterest board. Pin images of cute baby shower décor and food tables or save links to sites with fun games and activities you can reference later.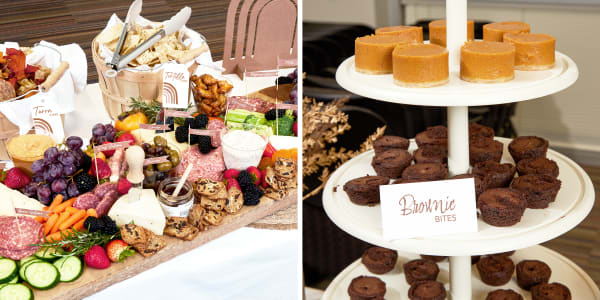 3) Plan a baby shower menu that's easy for guests to enjoy
When it comes to food, skip the seated meals and complex dishes and stick to small bites or simple finger foods. This allows your guests to mingle or participate in games and activities as they nibble.
A buffet-style table setting works best for easy access to a variety of food. Visual appeal is also important, so consider an appetizing charcuterie board or grazing table. And you can never go wrong with a yummy dessert table.
Don't forget to label each dish so guests know what they're eating. Write the names of food on toothpick flags or print customized Avery tags and place cards using your color scheme to accent your table.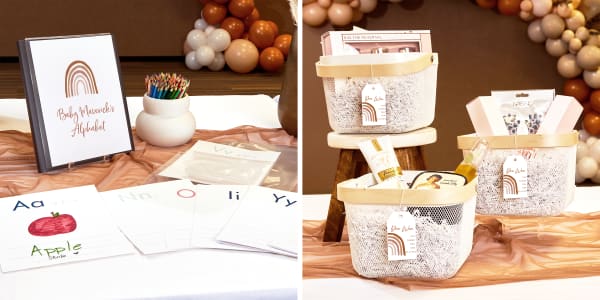 4) Entertain guests with fun baby shower games and activities
What's a baby shower without baby-themed games and activities? Avoid games that are boring or wasteful and go with entertaining, low-pressure activities that are also useful for the parents-to-be.
Here are some examples of fun and practical baby shower games and activities:
Alphabet book activity: Have guests create a custom alphabet book for the little one. All you need are sheets of paper with each letter of the alphabet on top, color pencils or markers, sheet protectors and a report cover to hold the book pages together.
Diaper thoughts activity: Provide markers for guests to write out words of wisdom, parenting advice or a funny message on the outside of a diaper for the new parents to read during those late night diaper changes.
Onesie decorating game: With the expecting parents out of the room, have guests decorate onesies with non-toxic fabric paint. When done, ask the parents to pick their first, second and third favorite. Winners get prizes, while the baby gets new custom outfits
As for game prizes, consider gifting winners with a cute basket of small goodies like a mini spa kit, a manicure set, or travel-sized fragrances. Create your own personalized gift tags to finish off the gift baskets and thank guests for playing.
5) Add personal touches throughout the baby shower
Baby showers are typically thrown by a family member, close friend, or co-worker. As a host, you want to keep the expecting parents in mind when planning a baby shower. What would they enjoy having at the celebration?
The aim is to surround the soon-to-be-parents with love and support in order to prepare for their new arrival. A good way to do this is by including some of their personal preferences.
Honor the parents-to-be by serving some favorite foods, using a favorite color in the color scheme, or adding a favorite flower to the décor. You can also use their baby pictures as decorations throughout the party.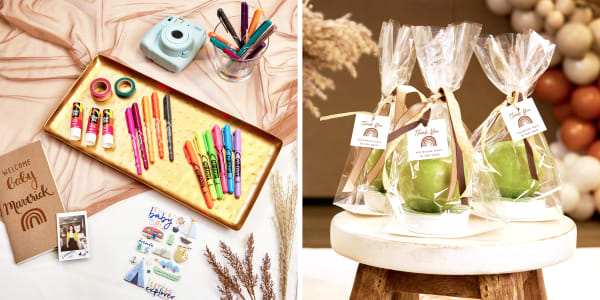 6) Shower the parents-to-be with memories and advice
Ensure the guests of honor have something to remember the special occasion by creating a guestbook for everyone to sign. Ask guests to share some helpful advice or motivating messages.
Set up a guestbook signing area with everything laid out and ready to go. Make sure to provide writing instruments like pens, markers, highlighters, and fun stickers to decorate the pages.
For extra fun, make it a photo guestbook by providing an instant camera for guests to take photos they can add to the book. Don't forget the extra camera batteries, film, glue sticks, tape, and a fun background or props.
7) Thank your guests with favors they'll love
Favors are a great way to thank guests for coming and celebrating the special day. Avoid giving out favors guests won't need or want and instead give them something they'll enjoy, like a tasty treat or useful tool.
No matter what you choose, don't forget to finish off each favor bag with a sincere thank you message. Personalize Avery square tags to match your theme then use ribbons in your color scheme to tie them on each favor and you're all set.
Don't stress over planning the perfect baby shower
The main objective of a baby shower is to help the soon-to-be-parents get ready for their new bundle of joy, so as long as the intention is there, your celebration is sure to be a success.
Hopefully, these useful tips make planning a baby shower easy. Just remember to have fun and enjoy this special occasion with the parents-to-be.
Visit our Instagram, Pinterest page, or blog for more inspiration and fun ideas for your baby shower or next celebration!
Do you have any good tips for planning a baby shower or party that you want to share? Let us know below!