Guarantee that your shipping labels are effective, secure, and make a solid first impression by making sure that you have the right label for the job. Focusing on the right material, adhesive, printer and size will ensure that your packages make it to their destinations and help avoid headaches along the way. Also, although shipping labels are designed for function first, there are subtle ways to make your labels stand out by paying attention to the right features.
Shipping label materials
Although durability might seem like an important trait to take into account when looking at different shipping label materials, the adhesive and printer type will actually do most of the work to make sure your labels stay put and stay legible. With the material, focus on any extra features you need to make your labels even more durable or stand out. For example, traits like opacity, water-resistance, and paper color will be crucial depending on your needs.
If your labels need to be placed over older labels or darker print then TrueBlock® labels will be optimal to make sure that your labels stay readable and nothing underneath the label shows through. If you want to reuse any old boxes, TrueBlock labels are perfect for completely covering previous labels to make those boxes look brand new. Or even if you print a shipping label to place on a new cardboard box, labels with TrueBlock technology keep the white background of the shipping label bright to make your print appear as sharply as possible.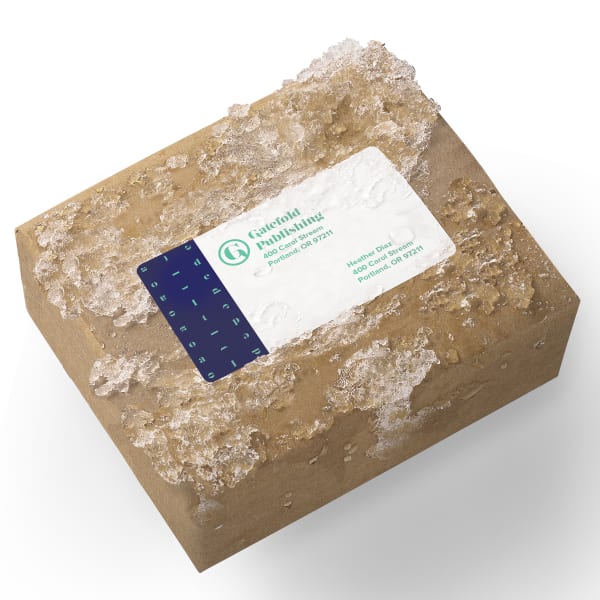 Most shipping labels can handle everyday wear and tear, but not all shipping labels can withstand rain and snow. WeatherProof™ labels provide enough protection to keep your labels resistant to water, scuffs, tears, and smudges. But make sure you're using a laser printer to keep your print from smearing. Unfortunately, even when the label itself is water-resistant, ink from an inkjet printer will still smudge when wet.
Warning labels on the package can be printed on neon labels for a more eye-catching look. High visibility neon labels can also be easily customized to add warnings that are specific to your business. However, the shipping label itself should still be printed on a white label to provide the best contrast and barcode readability. Use the free barcode generator from Avery to create your own barcodes.
Label adhesives
Shipping labels should always use permanent adhesive. Although removable labels might seem like they stick well enough, removable labels easily fall off during the sorting process and in transit. Avery Trueblock and WeatherProof shipping labels use Ultrahold® adhesive which works securely on paper envelopes, corrugated boxes, mailing tubes, bubble mailers, and Tyvek® mailers. Ultrahold adhesive also works with multiple other surfaces including glass, plastic, metal, and painted metal. Even when they're not used for shipping, these labels are great to have on hand.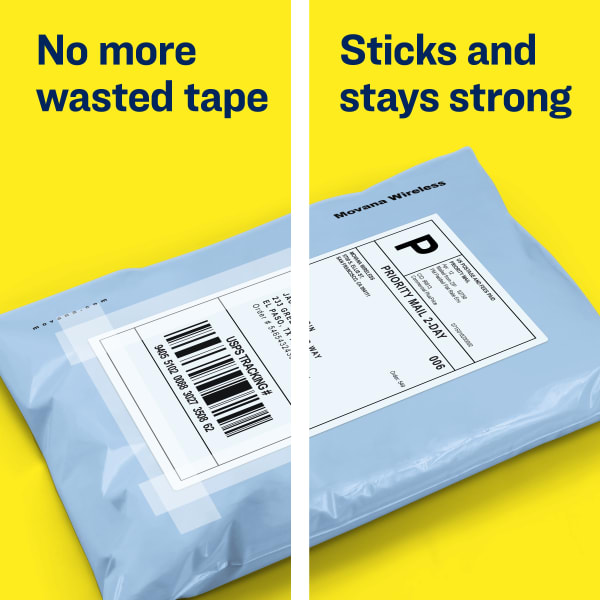 Although other shipping labels might need extra tape to stay put, Avery Ultrahold adhesive sticks and stays securely so you can save your tape for your boxes. You also avoid the risk of taping over a section of the barcode, potentially rendering it unscannable. Adhesive labels are a safer bet to make sure that all of your shipping information is evenly applied onto your package with more durable material so that your packages look professional and clean.
Compatible shipping label printers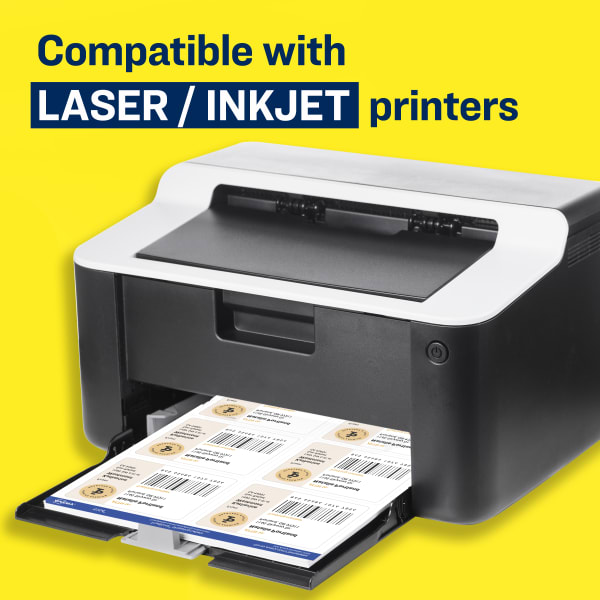 It's important to make sure that your printer is compatible to avoid smearing, jamming, and misalignment when printing shipping labels. There are two basic printer types to pay attention to when choosing a shipping label: Inkjet printers and laser printers. The front of the packaging for every Avery label will mention what type of printer the labels are compatible with or whether the labels can only be used for handwriting.
Inkjet printers are some of the most common printers but they also use a fully liquid-based ink that will easily smear when exposed to moisture. This is why almost all WeatherProof and water-resistant labels require a laser printer to keep the print from smudging. Laser printers use toner, a powder-based ink, which is securely thermally-bonded to sheets with a laser scanner.
You can also avoid misalignments and paper jams by using Avery labels with Sure Feed® technology. Labels with this feature include a blue strip of material at the top and bottom of each sheet that provides extra grip and improves alignment.
Shipping label sizes
Most shipping label templates that you can purchase and print online will fit within a 5-1/2″ x 8-1/2″ label (such as Avery label 5126). However, many carriers and marketplaces will have options that vary slightly making other labels a more efficient option. For example, eBay® shipping labels can be created on a single sheet where half of the page is the label and the other half is a receipt. In these cases, labels that include a shipping label on one half and paper on the other (Avery label 5127) will make more sense to avoid wasted labels.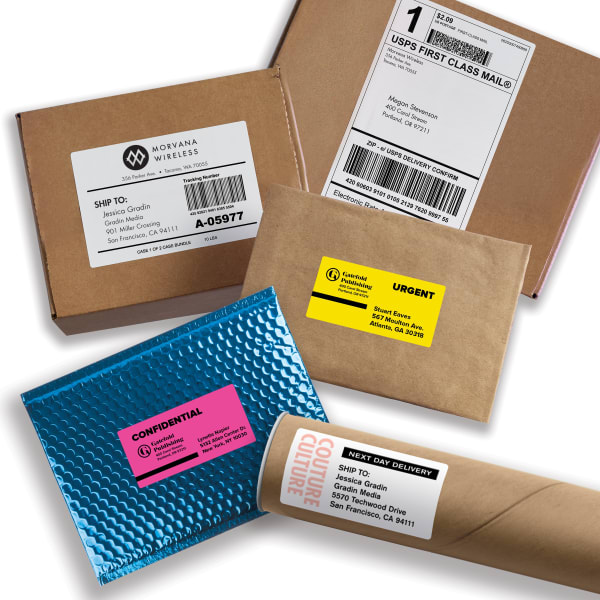 Popular carriers include FedEx®, UPS®, DHL®, and USPS® and each site will provide more extensive information on the exact dimensions and steps required. To make this process easier, we've organized a list of which Avery labels will work with each carrier and service.
There are also many third-party services that can help you print and ship your packages:
– SendPro®
– pbSmartPostage®
– Shippo®
– Ordoro®
– PayPal®
FedEx®, UPS®, DHL®, USPS®, SendPro®, pbSmartPostage®, Shippo®, ShipStation®, Shipworks®, Ordoro®, ShippingEasy®, Stamps.com® and PayPal® are registered trademarks of their respective owners.