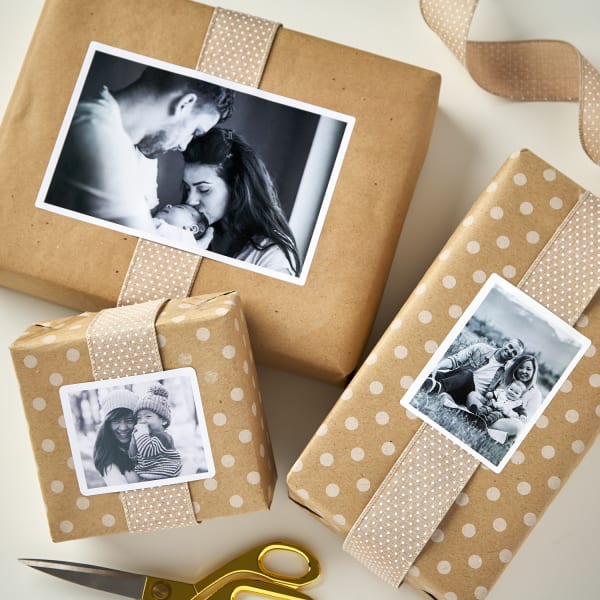 Add an extra sprinkle of festivity to your presents this holiday season with one of these nine unique gift wrapping ideas. Whether you're looking to add an extra flourish or need to start wrapping gifts from scratch, these quick wrapping ideas will help your gifts stand out under the tree.
1. Personalized Photo Labels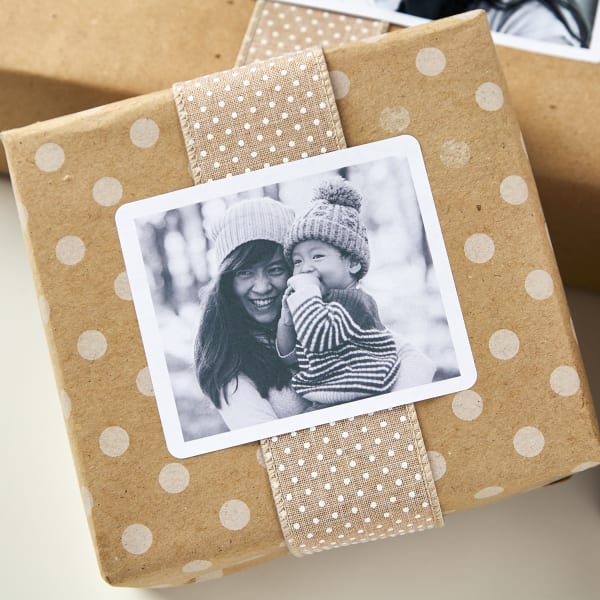 Print your photos onto blank rectangle labels (94215)
Labels with family photos are a thoughtful way to add a personalized touch to your gifts. Using photos from throughout the year will bring back fond memories during the unwrapping time. For younger children who are still learning how to read, a photo of their face can also be a clever way to help guide them to their presents.
2. Gift Tags with Family Photos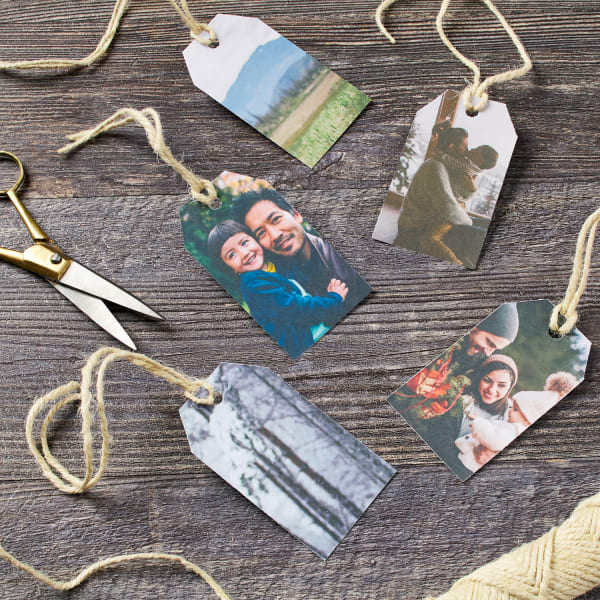 Customize print-to-the-edge designs on printable tags (22802)
Another unique gift wrapping idea for family photos is to print them onto print-to-the-edge tags. A little extra printing space is included around each tag to let your images fill the entire surface without leaving any empty white edges. This allows you to create bold, beautiful tags with borderless designs that will catch people's attention from across the room.
3. Crafty Metal Rim Gift Tags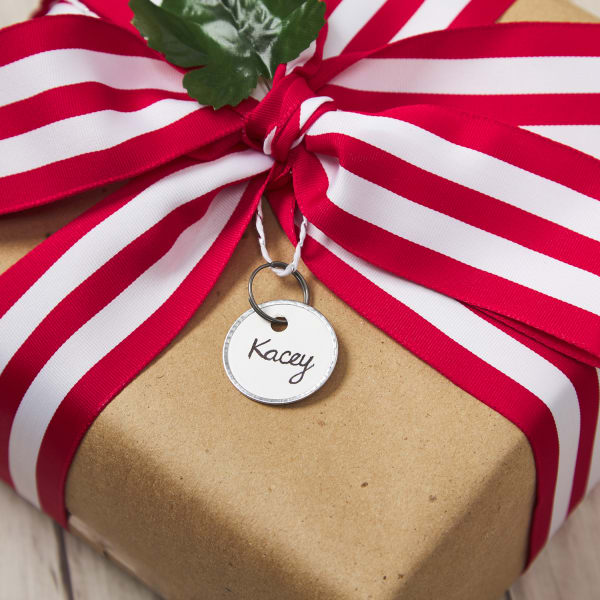 Use gift tags that stand out with Metal Rim Tags (11025)
Metal rim tags are a crafty and creative gift wrapping idea to bring some homemade charm to gifts. Key tags are perfect when preparing multiple gifts due to their durability, pre-attached rings and handwrite-friendly surfaces. Leftover tags are also useful all year round for ID tags, scrapbooking, party favors and more.
4. Stunning Metallic Starburst Labels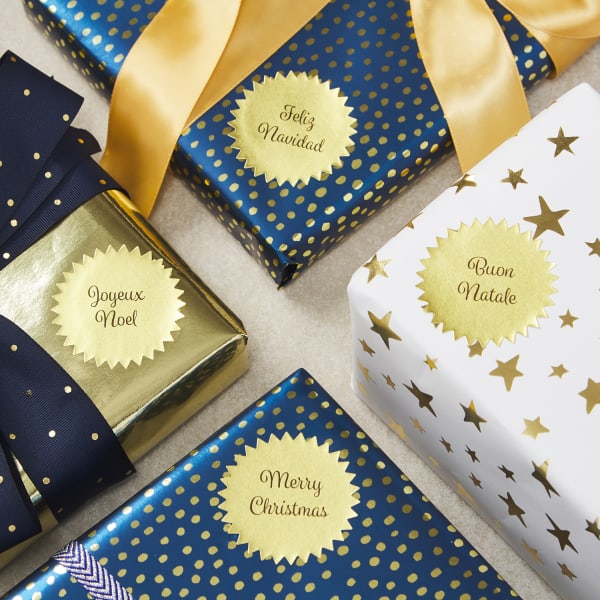 Make your gifts pop with metallic starbursts (94608)
Nothing draws the eye like the attractive shine of metallic gold labels on wrapping paper. Using a premium material like glossy or matte foil is a great way to instantly make a present feel more special. Take a look at our range of blank label materials to see which finishes will work best with your gifts.
Click here for the "Merry Christmas" starburst label template.
5. Classic and Versatile Holiday Gift Tags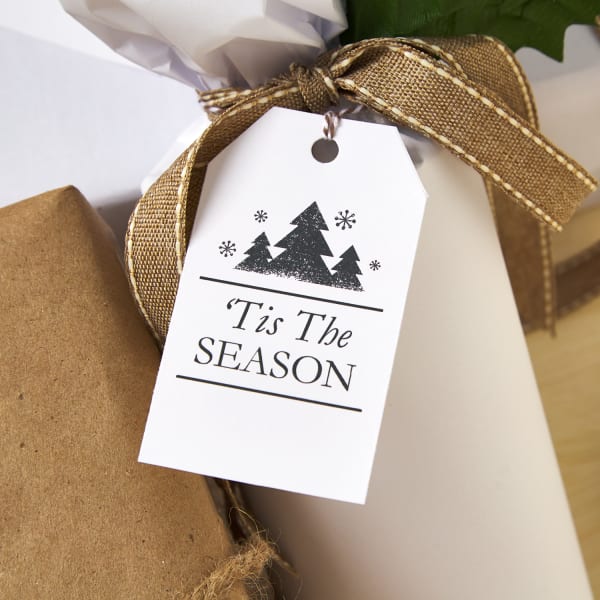 Use Design & Print to create personalized gift tags (22802)
Avery printable tags are incredibly versatile and a holiday must-have. Whether you use colorful wrapping paper or keep it simple with kraft paper, you can create the perfectly coordinated gift tag. Choose from any of the predesigned templates on Design & Print Online and customize the tag to create the perfect gift topper.
Click here for the "'Tis The Season" forest tag template.
6. Creative Decorative Labels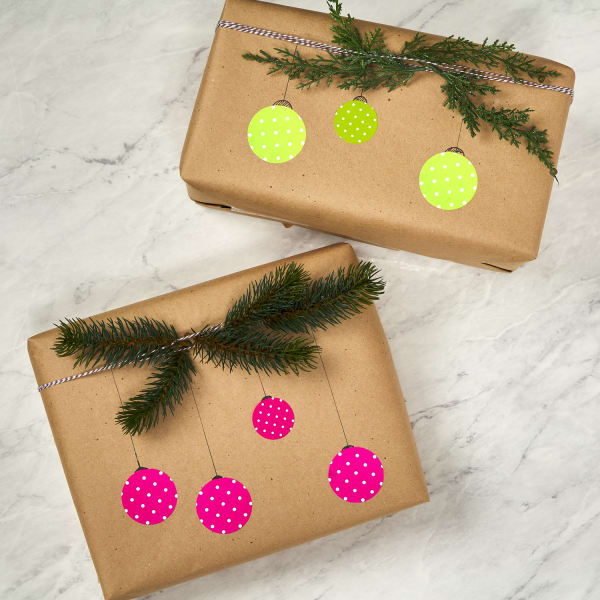 Craft ornament labels with 1-1/2″ and 2″ round labels (94506 and 94501)
Labels are great for gift tag stickers but they can also be used to decorate your gifts for those more crafty wrappers. For example, you can use round labels in varying sizes and patterns to create this clever pattern of Christmas ornaments for gift packaging.
Click here for the 1-1/2″ pink label template with polka dots.
Click here for the 1-1/2″ green label template with polka dots.
Click here for the 2″ pink label template with polka dots.
Click here for the 2″ green label template with polka dots.
7. Handcrafted DIY Wrapping Paper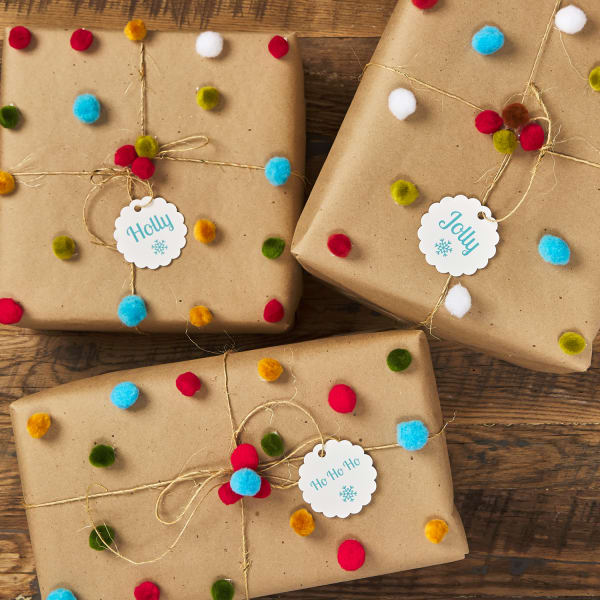 Add a dash of color with printable scallop tags (80511)
Feeling crafty? Try making your own custom wrapping paper with a glue gun, kraft paper, pom poms and more. This is a great crafting project for you and the kids. Top it all off with a unique gift tag like one of our tags with scalloped edges.
Click here for the blue snowflake tag template.
8. Match Labels and Gift Wrapping Paper for a Charming Set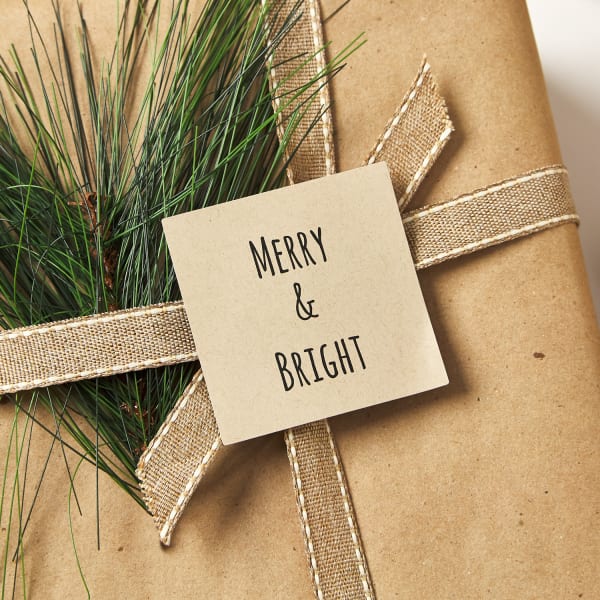 Leave a rustic touch by using the Amatic font and kraft brown square labels (94104)
Create cute, matching design schemes by pairing the right label or tag with your wrapping paper. Did you know Avery makes labels in multiple materials including kraft brown, metallic and neon? Order blank labels by the sheet to get just the right shape, quantity and material you need for all of your gifts.
Labels with a Modern Appeal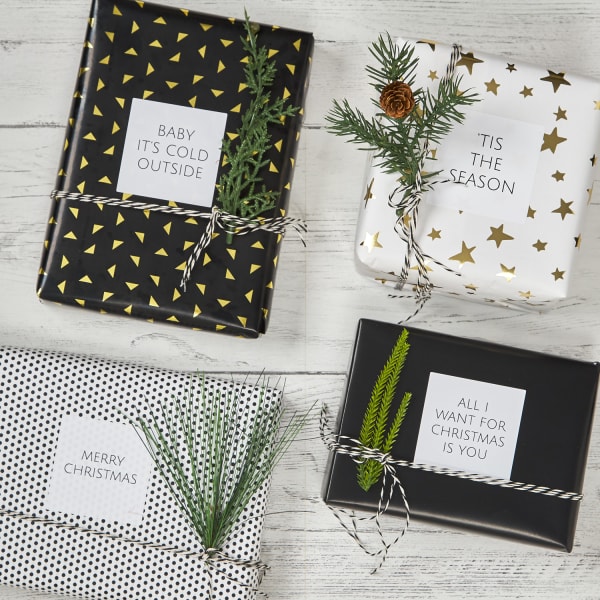 Create a sharp, modern look by using the Julius Sans One font and blank white labels (94101)
Fashion a striking and modern look by using the white space in labels to really make your text pop. With Design and Print just choose your ideal font, write your message and use the alignment tool to create your own modern gift labels. You can get creative with the messaging by using holiday song lyrics or keep it simple with traditional holiday greetings.
Need some extra help this holiday season? Our expert team can help you print your gift tags, shipping labels, party décor and more with our WePrint printing service. Just whip up your design and our team will make sure your projects are printed perfectly.
Products used in this article:
3-1/3″ x 4″ Shipping Labels (8164 / 94215)
2″ x 3-1/2″ Tags with Strings (22802)
1-1/4″ Key Tags with Split Rings (11025)
2-1/4″ Blank Starburst Labels (94608)
1-1/2″ Round Labels (8293 / 94506)
2″ Round Labels (22807 / 94501)
2-1/2″ Scallop Round Tags (80511)
2-1/2″ x 2-1/2″ Blank Square Labels (94104)
3″ x 3″ Blank Square Labels (94101)