How to declutter your home
A common pitfall that many make when organizing their home is to view it as a "one-and-done" project. However, you will be much more successful at conquering clutter if you make some basic changes that make it easier for you and your family to keep your home organized all the time. There are four things you can do right now to declutter your home and help keep it that way.
Declutter common areas with personal baskets
Stop reorganizing unused items—donate often
Set up a system for organizing paper clutter
Track your progress and stay motivated
In this article, we'll cover each of these steps in more detail, along with tips for how to get started right away.
More articles about getting organized at home that you might like:
What it means to "declutter" and why you should do it
All the little things crowding around your home, making it feel untidy, or even hindering you from relaxing or being productive, are clutter. In fact, clutter can even affect your health, according to this WebMD article. The term "declutter" simply means removing clutter from a specific area or room. In general, people declutter their homes in order to have a space that promotes focus and relaxation and is easy to clean.
How to personalize labels and tags for home storage
In general, we all want to declutter our homes for a more relaxing and productive space. However, if you're like us, you want it to look good too. Either way, you'll need to label storage so that your items are easy to find and easy to put away. Luckily, our free design tools and free templates make it easy to create and print your own labels and tags to match your home décor.
Let's start with Avery Design and Print Online (ADPO), which is our free online software. ADPO features all the standard design tools you'd expect for editing text, images, colors, and shapes. Additionally, you can upload your own images and designs as desired. Then you have our free, predesigned templates, which you can modify with the tools in ADPO.
Once you've chosen an Avery template, you'll see a blank design (for creating from scratch) and predesigned templates. You can also use the left-hand menu to browse by category, such as "Holidays" and "Animals & Nature."
How to find an Avery template
By far, the easiest way to find any Avery template is by entering the Avery product number on the finder page. Or, you can click the link on the product page on Avery.com. If you need help finding your product number, check out this article in our help center or give our friendly Customer Care experts a call.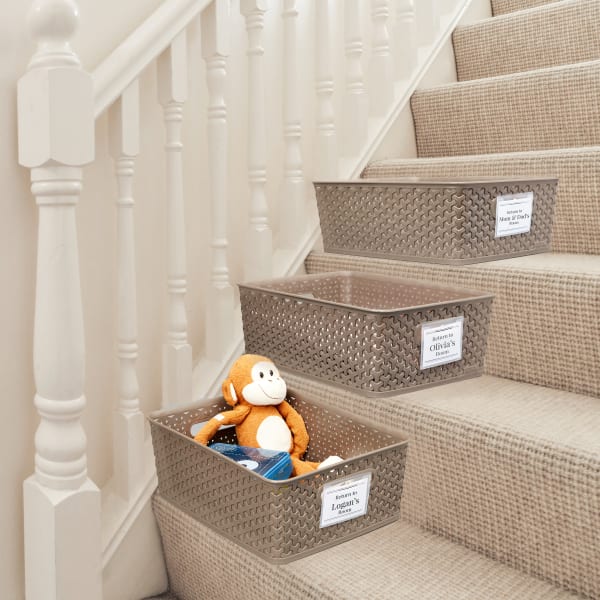 1) Declutter common areas with personal baskets
As we've already mentioned, decluttering your home is not a one-time project. Nor should it all fall on one person's shoulders! Instead, small steps in which everyone can lend a hand are more likely to help you declutter for good. For example, use personal baskets to deal with daily clutter in common areas of your home.
Basically, you assign a basket for each family member. At the end of the day, all personal clutter should be in the basket, which is then removed to bedrooms or other personal spaces for individuals to put away. In the morning, they bring their empty basket back. This creates a routine that is easy to maintain, has a specific goal, and commits to a time frame.
How to set up personal baskets for decluttering
The first step is to choose a location to create a "drop station," where the baskets will sit. If your home has stairs, that can be a great option. However, you can make your decluttering station pretty much anywhere. The most important thing to consider is that it's in a prominent location that's easy for everyone to reach and see.
Then you'll need baskets. There are so many options available that the combinations of style and size are virtually endless. Choose whatever size works best for the space you have and whichever style matches your home décor best. Once you have a location and baskets, label each basket with a family member's name. We're fans of printable clip badges like these ones, but hang tags that you can print on or just write on are great options too.
Of course, the goal is to have attractive baskets that match your décor, but the sooner you start the routine, the better. As a matter of fact, you can get started decluttering right now with very little preparation. As a temporary solution, grab cardboard boxes or whatever you have on hand, write names on them with permanent marker, and get started.
2) Stop reorganizing unused items—donate often
Digging through your closet, pantry, or garage to organize them once a year can be a huge undertaking. Not only is this process time-consuming and tedious, it can also lead to an endless cycle of organizing items that you will never use.
However, you can conquer clutter year-round by setting up donation baskets (more on that in a moment) to sort household items. This will help you declutter as you go about your daily business instead of having a huge, overwhelming project once a year.
Declutter things to donate, fix, or sell
Pantry items really only fall into the "toss" or "donate" categories. However, clothing and other household items can be more complicated. Not only will you most likely have items to donate, but also items that can be repaired or sold.
For instance, you might have unusable items that can be repaired. A bin labeled "fix" is where you can drop these items as you come across them in your daily life. If an item remains in the "fix" box too long, that's your sign that it's time to toss it for good. That way, you won't be constantly trying to find space to store broken things.
On the other hand, you might have perfectly usable items that you don't use. Often, these items can make you feel like you're "throwing away money" if you let them go. A "sell" box is the perfect way to sort these items so you can quickly and easily post them for sale. Gone are the days that you have to hang on to every little thing until your next yard sale. Nowadays, there are tons of places to sell used items online, from eBay to Poshmark—you can even sell on Facebook.
How to set up "donate," "fix," and "sell" bins
Like personal clutter baskets, the first thing to do is pick a location for your bins. Somewhere that is easy to get to and protected from the elements is ideal. This can be a closet inside your home, or maybe in a garage or shed near the door.
Next, label your bins "donate," "fix," and "sell." Once your bins are labeled and in place, items can be dropped in them at any time. As each bin is filled, act accordingly (i.e., drop off donations, throw out broken items, or post items for sale). When it comes time to do a deep spring cleaning, you'll be surprised at how much easier it will be to tackle your family's cleaning schedule.
Needless to say, "donate," "fix," and "sell" bins are for long-term daily sorting to declutter your home for good. To get started right now, simply grab any boxes, bags, or bins that you have on hand for your initial sorting. Mark them "keep," "toss," "donate," "fix," and "sell," then follow through on those instructions when you're done!
Best removable labels for storage bins
Durable organization & storage bin labels
Most trending labels for storage bins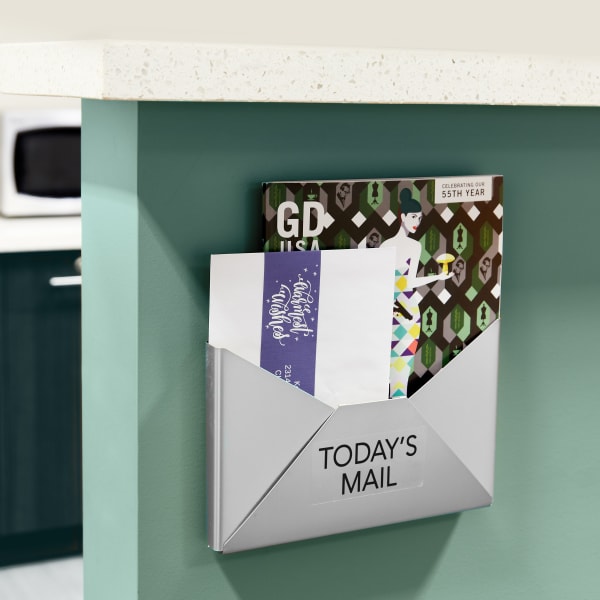 3) Set up a system for organizing mail
You might have noticed two main points that apply to every part of learning how to declutter your home. One, break down large projects into smaller, more manageable daily tasks. Two, get started right away. Even if your setup isn't perfect at first, you can always make it better for long-term decluttering.
These two points are especially true for mail. Mainly because it appears almost daily and turns into the dreaded "paper piles" faster than you think. Of course, your home office can also be ground zero for paper clutter. However, we've tackled taming home office paper clutter here, so this article will stick to mail clutter.
What to do with daily mail
First, create a place near the door where you can quickly drop the daily mail as you walk in. Next, pick a place to set up a mail-sorting station. It's important that you have a comfortable place to sit and sort mail so that it can be a task you look forward to instead of dreading. Each night, grab the daily mail from the drop area near the door and a glass of wine or mug of hot tea. Why not make sorting mail a relaxing "me moment" that's part of your evening routine?
How to set up a mail-sorting station
The basics you will need in the sorting area are a waste basket and paper trays or file folders for sorting the daily mail. A paper shredder is a super convenient addition, of course. What's more, if you have the space, items like stamps, a letter opener, and blank envelopes for return mail are also nice to have on hand.
Label your paper tray or file folders with the four simple categories: "priority," "bills," "to file," and "school memos" (if you have kids in school). Address labels work great for letter trays. Not only are they the perfect size, but they're also nice to have on hand for addressing envelopes as needed.
We actually have three favorites in terms of versatility. These are the classic matte white Avery 5160 (for laser printers), matte white 8160 (for inkjet printers), and matte clear address labels (8660). However, you can shop for blank labels by material when you shop by the sheet. By-the-sheet address labels in the same size as 5160 (1″ x 2-5/8″) come in a huge variety of materials, including waterproof film, colors, and brown Kraft paper.
Pro Tip: Clear acrylic home and desktop storage remains popular year after year, and clear address labels are the perfect pairing.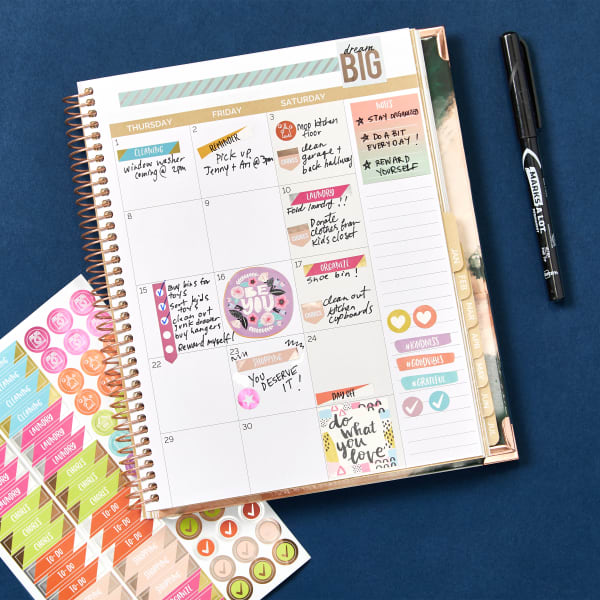 4) Track your progress and stay motivated
The reason that decluttering your home is an ongoing process rather than a one-time deal is because small daily tasks are easier to manage. However, the flip side of that is that you have to be able to visualize the benefits in the long term. In other words, you will need to stay focused and track your progress in order to stay motivated to keep going.
One way to stay focused and track progress is by using visual reminders like a planner (or bullet journal). Another way is by using a simple chore chart. However, we love using planners and bullet journals because they're great for goal planning and also a fun hobby. As it happens, we even wrote an article exploring how planners help you achieve goals.
How to track decluttering tasks in your planner
Planner stickers are one tool for tracking decluttering tasks in your planner or bullet journal. Fun ones, like this planner sticker variety pack for moms, are great for rewarding yourself and adding reminders. You can also print your own habit tracker stickers for marking off daily wins. Indeed, just click "Customize" to edit and print the habit tracker below.
Pro Tip: Avery 9231 ultra-fine permanent markers come in an assorted pack of eight vibrant colors. The tips are fine enough for writing small details, and the ink stays put on most label materials. 
Free, printable habit tracker sticker template
How to declutter your home: the essentials

You're more likely to be successful at removing clutter from your home if you make easy-to-manage daily changes to your routine. However, that doesn't mean you have to carefully craft the perfect system before you can even begin. You can start decluttering your home right now with four steps that also contribute to long-term success.
First, tackle clutter in common areas with personal baskets. Even on the first pass through, dividing the work among all family members makes it easier to accomplish. Long term, everyone learns to accept daily responsibility for their personal clutter. Next, stop reorganizing the same stuff you never use. Create "donate," "fix," and "sell" bins for dropping unused items as you come across them. Empty the bins as each is filled.
Similar to personal baskets, a mail station and a daily mail sorting routine prevent clutter buildup. Specifically, paper clutter is one of the most difficult kinds to deal with. Finally, track your progress to help you stay motivated. Whether you use a chore chart, planner, or bullet journal, visual reminders will help you stay focused.
What's your all-time favorite decluttering tip? Shout it out in the comments or show off your clutter-busting pics on Instagram using #averyproducts. You can also find more organization inspiration on our Pinterest page.