How to Apply Labels by Hand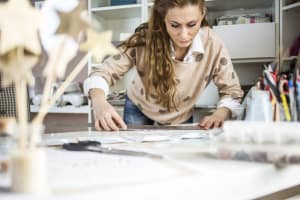 Preparing your surface
Make sure the surface that you're applying the label to is at room temperature to help the adhesive bond properly. The surface must also be dry and free of any residue like dust, oil, grease and oxidized materials.
Use isopropyl alcohol (rubbing alcohol) to thoroughly clean and dry the surface with a lint-free towel before applying your label. Also, keep the surface free of any moisture or liquid. Moisture creates a barrier between the adhesive and the surface, and it can reduce the power of the adhesive.
Aligning your labels
For flat surfaces, find the edge of your container and align your label with a corner. When applying custom labels to bottles or round containers, look for a seam that can help with alignment. Many containers also have a lip that can aid in alignment. Using a ruler or measuring tape and pencil or chalk is also a good alternative.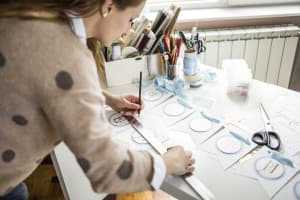 Applying your labels
To remove your label from the liner, peel the backing from one corner. This will allow you to easily peel the label from the liner. Once you've removed the backing, make sure and hold your label by the edges so you don't get dirt, dust or oil on the adhesive. Larger labels may have a slit in the liner so you can expose the adhesive little by little, which allows you to apply the label one section at a time for a smooth application.
When you're applying labels to bottles and jars, make sure to place the container on a surface that keeps it from moving such as your lap, an egg carton or in between books. Start by applying pressure on the center of the label and continue outward to one side and then the other, moving with the natural curve of the container. This helps prevent creases.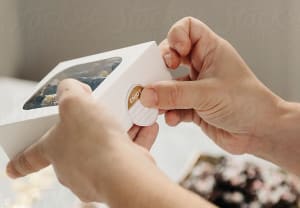 For flat surfaces, start applying your label at the edge and slowly roll it on the product to avoid wrinkles and creases. Once your label is flat, press it firmly from edge to edge to help rub out bubbles. Bubbling can occur when the label is not applied correctly, the application surface has defects or a heavy coating, or the label is wrong size for the container. A flexible, plastic card is a great way to smooth out any minor bubbles. Read How to Choose the Correct Size Label for a step-by-step measuring guide to get the proper fit.
After you've finished applying your labels, leave the products at room temperature for 24 hours to allow the adhesive to set.
* Flat rate shipping offer applies to economy shipping only. Free economy shipping offer applies to orders with a merchandise total of $50.00 or greater (after discounts, before shipping and tax). If another shipping method is selected, charges may apply. Offer applies only to Avery WePrint orders shipped to the United States and Puerto Rico. Offers subject to change.