eBook: Create Product Labels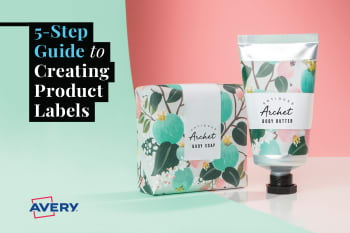 Free eBook
5-Step Guide to Creating Product Labels
Your product packaging is one of the first things a consumer sees, and your label has only seconds to capture their attention. From the type of label stock and finish you choose, to the logo design and information you feature on the label, find out how you can create a product label that makes a great impression fast.
Let your label do the talking
What goes on your product label? Here are four key elements you should include:
Product name
Brand name and/or logo
Special features or benefits
How-to-use directions and regulatory information
But that's just the start. In this guide, we'll share proven tips and tricks from makers, designers, and business owners who know what goes into creating an effective and exceptional product label.
Whether you're creating your own labels for the first time, or have the experience and want more ideas, you'll learn how to create labels that are not only impactful and informative, but can make your product irresistible.
Fill out the form on the right to get your free product labeling guide today!
Download Your Free Guide Now
Please fill out the form below to download our "5-Step Guide to Creating Product Labels"

*Indicates required field
* Flat rate shipping offer applies to economy shipping only. Free economy shipping offer applies to orders with a merchandise total of $50.00 or greater (after discounts, before shipping and tax). If another shipping method is selected, charges may apply. Offer applies only to Avery WePrint orders shipped to the United States and Puerto Rico. Offers subject to change.