It's a new year, so it's time to reorganize and refresh your candle supplies business and day-to-day life. It sounds cliché and sounds like a lot of time investment but the payoff can mean more revenue and growth opportunities for your candle business while saving time in the process.
What do you want to accomplish?
Write down what you want to accomplish with your candle business reorg and refresh. Make sure the goals are achievable so you don't get overwhelmed while also trying to run your candle business and your day-to-day life.
Once you have your list, make note of the easy vs. complex tasks and the must-haves vs. the nice-to-haves. Doing this can help you have a good balance and not be intimidated by a huge list of upcoming tasks. Start with the easy, must-have tasks and work your way down your list to the more complex, nice-to-have tasks.
Organizing your work space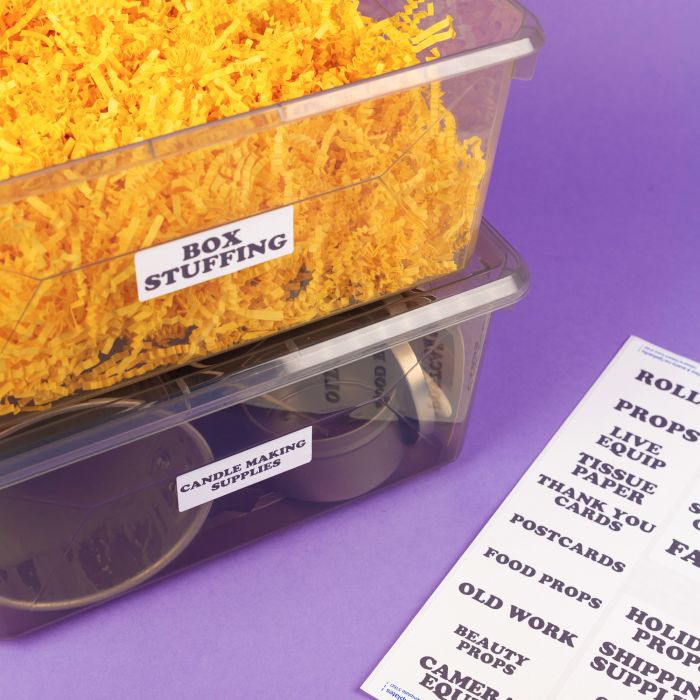 Do you find yourself constantly looking for your supplies? Organizing your workspace is the best place to start to help keep your business running smoothly and efficiently.
Keeping things like your raw materials and shipping supplies neatly organized and easily accessible is an important first step. Just like professional chefs keep their kitchens organized, map out your workflow and create separate workstations if possible. If space is tight, having things labeled and stored correctly will help save time and headaches.
Plastic storage boxes labeled on shelves or stacked on the floor are great for often-used supplies. This will help you or your team quickly identify candle supplies by category, size, shape, scents, or seasons. It will also save time pulling products or preparing them for shipping, whether you have a storefront or e-commerce store.
Easy-to-access supplies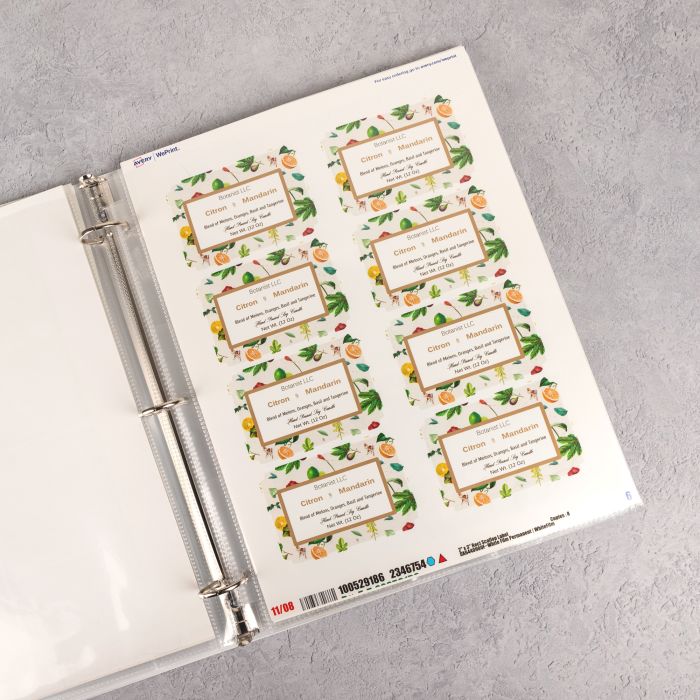 File folders are a great way to organize product labels, candle warning labels, and marketing cards by category or season.
If using file folders for your labels, make sure to keep the labels in the original packaging so they don't roll or bend when stored on their side. For roll labels, shelves, paper towel holders or towel racks are great space-saving storage ideas.
Binders with sheet protectors are also a great way to store all your different labels and promotional cards so you can easily find what you are looking for. Our inexpensive label organization hacks offer some great ideas as well.
Refresh your candle look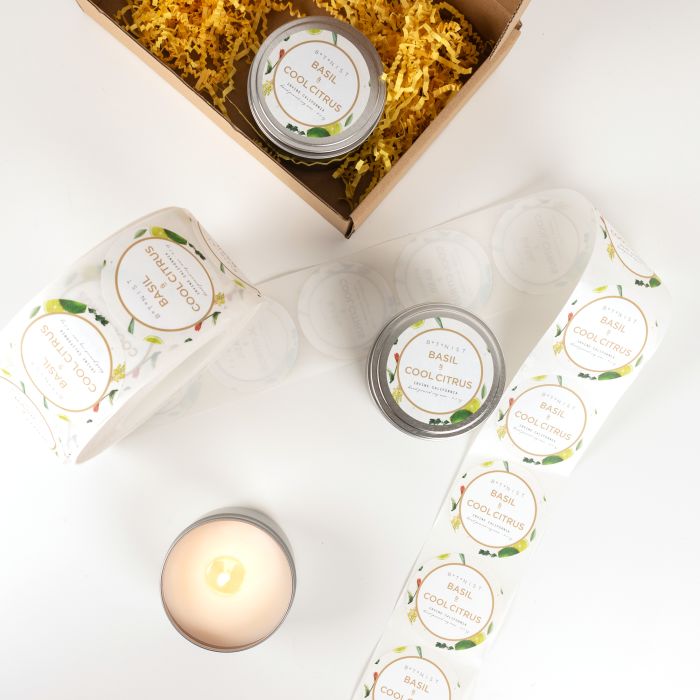 The new year is a good time to redo your label look with new trends, styles, and seasons that can make your candles stand out. This can seem like a daunting task, but small changes can lead to a more sleek new look and the big payoff, more eyes on your products, and more sales.
It's easy to redesign or make tweaks to your labels using the Avery design tool, where you can edit a saved design, customize a pre-designed template, or start from scratch with your own artwork. Check out The 5 Best Product Label Software Programs for more options.
Thank-you cards matter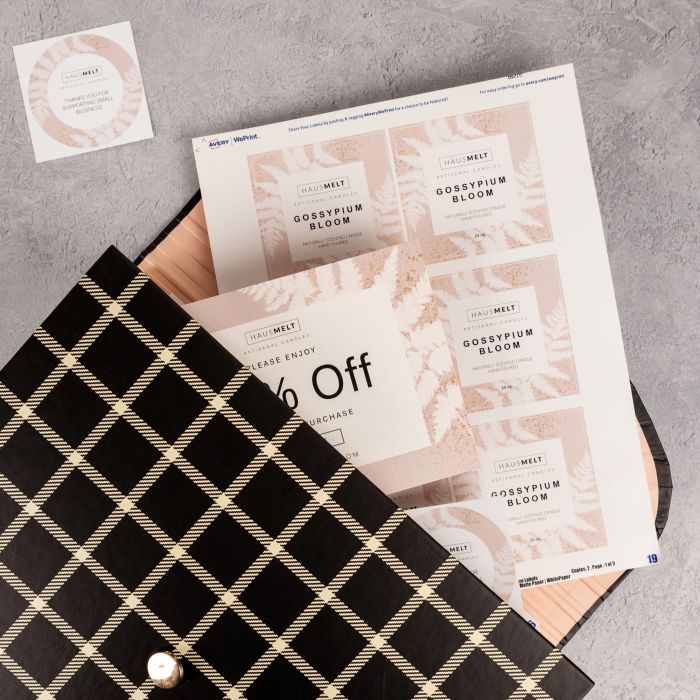 Thank-you cards are very popular for small businesses, as they can help create an immediate connection with customers. If you already do this, now is a good time to update your cards or messaging so regular customers don't get the same card every time, or you have a variety of cards for different situations.
Unless you personalize every thank-you card for each order, they might lose their value to customers if they get the same card every time. So switch things up by including a promotion for their next order, share the story of your brand, or feature all your social media accounts and encourage customers to follow for special contests and offers. All this can be done using the same postcard or changing them up by the theme or season or details you want to include.
Small changes, big difference
Want to make some simple updates to refresh your look? Try tweaking your product packaging, changing the color of your stuffing paper, adding a sticker inside shipments, or adding seasonal components to labels and shipments.
Changing your candle container is another great way to refresh your products and spark some new sales. Also, make sure to include a business card inside your product packaging. Or add a QR code with your contact information, website, social media accounts, or more details on the product itself.
Change is never easy but it can always lead to new ways to get better and smarter about your business. Even the smallest changes can help keep your customers engaged and wondering what's new.
All of the label and card ideas can be easily created using Avery and our free templates and design tools. And with Avery, you can either print your cards and labels yourself or let Avery WePrint custom print all your products for you.