Searching for the best Father's Day gift? Don't worry, we've organized some brilliant gift ideas for dad that you can easily make at home. Create a homemade gift from scratch or give your gifts some extra pop with one of our many free template designs. We have everything you need to make the perfect gift that will make his day.
More articles you might like: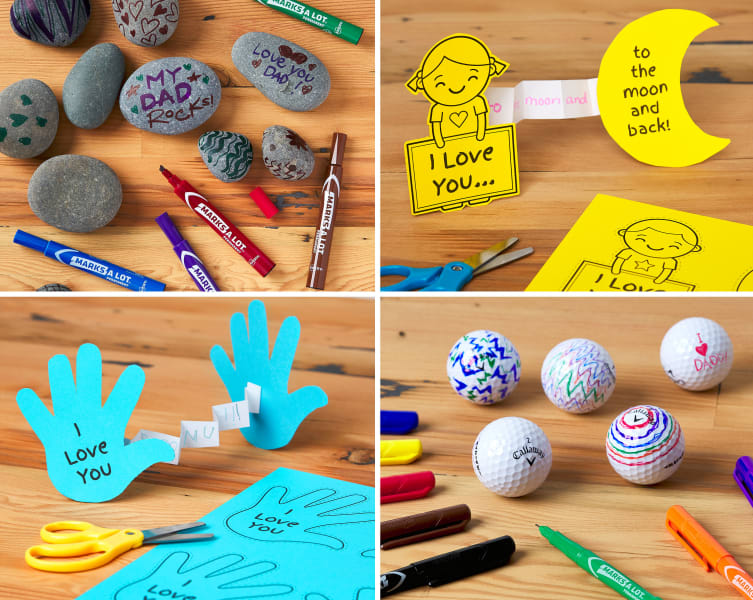 Marks A Lot® chisel tip markers
(24800),
ultra fine tip markers
(9231) and colorful
postcards
(35704) make for perfect crafting tools.
Handmade and Unique Gifts for Dad
Something handmade that comes from the heart is always in style every Father's Day. All your kids need are a few easy crafting supplies like markers and glue sticks to whip up gifts for dad that are sincere and truly unique. Also, these sentimental gifts are affordable and simple to make.
Use colorful card paper like our brightly colored postcards or construction paper to glue together expanding hands that unfold and reveal a touching message. We even have a few ideas to get you started with our predesigned "I love you…to the moon and back!" and handprint "I Love You" templates. You can also have your kids use Marks A Lot ultra fine tip markers to decorate golf balls, rocks and more to create personalized Father's Day gifts that really exercise their creativity.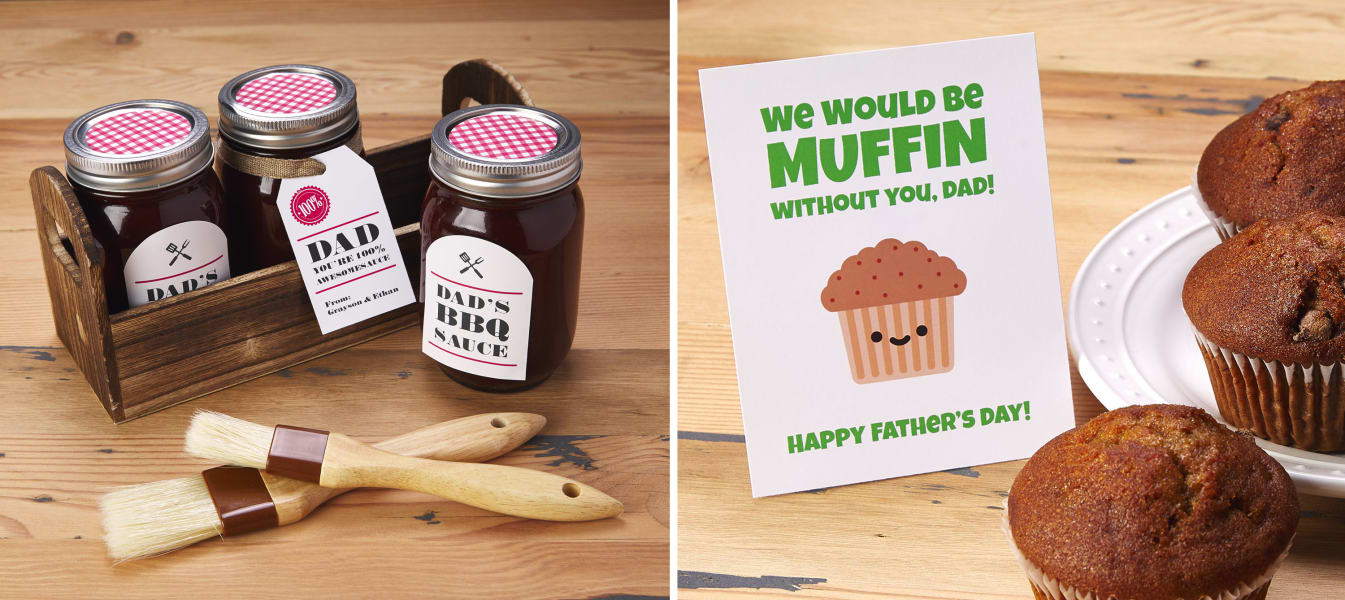 Make professional BBQ sauce jars with
arched labels
(22809),
hang tags
(22802) and
round labels
(22817).
Sweet Father's Day Gift Ideas
The fastest way to reach a dad's heart is through his stomach and a great way to show that you care is by gifting him some of his favorite snacks and treats. You and your kids can easily add some extra flavor to Father's Day gifts with customized labels, tags and cards that look professionally printed.
Start with one of our premade designs to make savory jars of barbecue sauce just for him or make his favorite candy extra sweet with a personalized message. A simple Father's Day card can also make a world of difference and pairs perfectly with a delicious plate of muffins or any other homemade snack.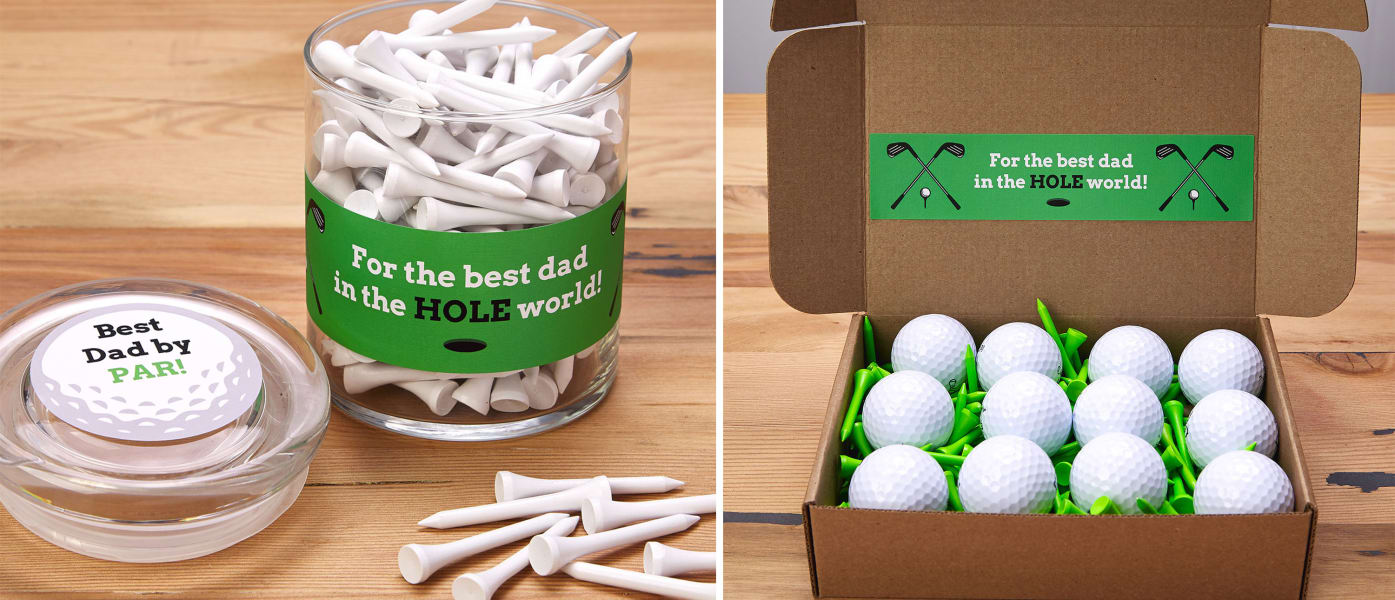 Make sure your dad has a ball with these
wraparound labels
(22838).
Add a Personal Touch to Any Father's Day Gift
While something handcrafted or homecooked is always nice, sometimes the right gift for him will only be something that money can buy. For example, does your dad love to spend time at the driving range? Pair some brand new golf balls with a sincere message or dad pun to really drive home how much you care. That extra effort is all it takes to turn a Father's Day present into a story he tells his friends for years.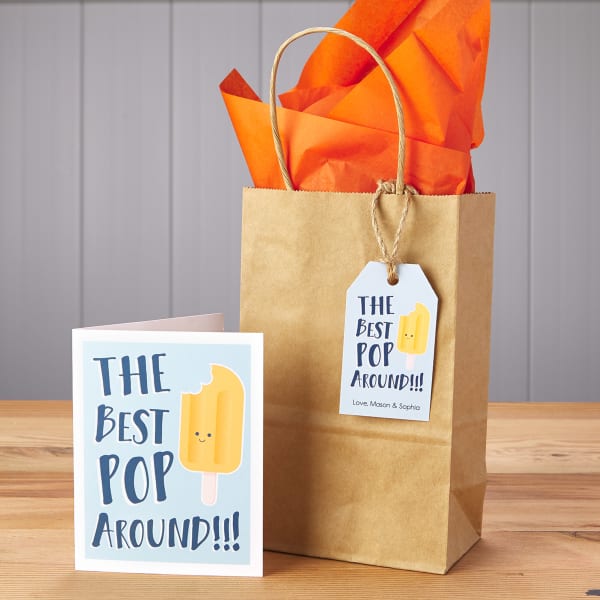 Freshen up gift bags with
hang tags
(22802) and
note cards
(8315).
If you already have an idea for the best Father's Day gift, printable greeting cards and hang tags are a fast and affordable way to take your present up a notch. Choose from one of our many Father's Day templates including all of the designs shown here. At the end of the page we've listed links to all of our Father's Day templates for each label and card used in this article.
If you want to make sure that your jar labels, gift tags and cards look their best you can also have us print your project for you through our WePrint printing service. Our expert team of printers will make sure that your labels and cards are printed at the highest quality with perfect alignment.