Enjoy free Avery templates for creating your own greeting cards
Designing your own greeting cards is fun to do and great for making friends and family feel special. When you're far away from loved ones, sending personalized greeting cards in the mail can help you feel more physically connected than emails and text messages can.
Reach across any distance to let someone special know that you're thinking of them. Whether you want to say "thank you," "happy birthday" or just "hello," it's easy to get started with this curated collection of cute Avery templates for greeting cards.
To start personalizing your own greeting card, simply click the Avery template you like and it will open perfectly formatted for 4-1/4″ x 5-1/2″ note cards in our free online design software (Avery Design and Print Online). When you're finished you can print on your home printer, or let us print your cards for you.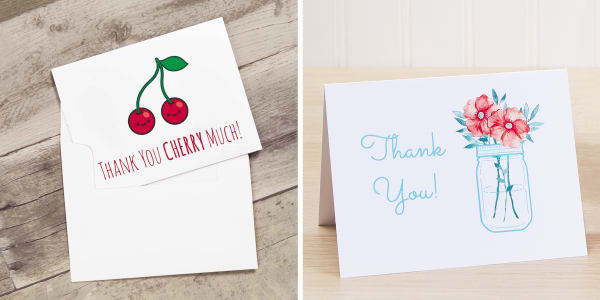 Fresh "Thank You" greeting cards for spring
Thank you cards are a lovely way to show your gratitude. Use one of our premade thank you designs and customize them to make them your own. With our free design tool you can customize any Avery template with your own colors, text, graphics and more.
Design Tip: If you like the template as-is, skip to adding your own personalized message inside your greeting card using the Inside button.
Thank You Cherry Much greeting card template
Mason Jar & Flowers greeting card template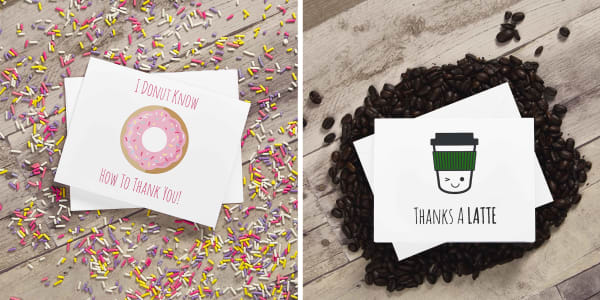 Sweet food-themed greeting cards that say "Thank You"
Everyone loves snacks! Trendy food themes are really fun to use on greeting cards for friends, family or even your kids' teachers. You can drop off a box of donuts with a donut-themed greeting card or pair a coffee-themed Avery template with a gift card for a coffee shop.
Sending gift cards with matching themed greeting cards is a fantastic way to show your appreciation if you can't be there in person.
I Donut Know How to Thank You greeting card template
Thanks a Latte greeting card template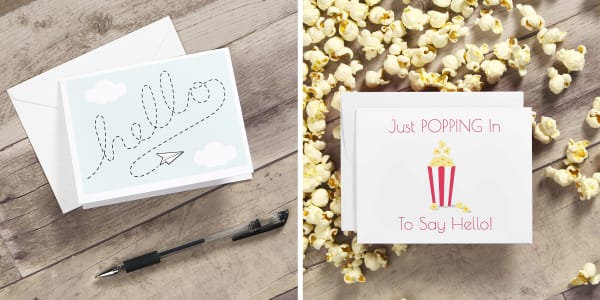 You had me at hello… with a cute greeting card
Sometimes you just want to say hello. Reach out to friends you haven't seen in a while with a cute greeting card that lets them know you're thinking of them. Using Avery templates, it only takes a few minutes to create your own greeting cards that are sure to make the recipient smile.
Design Tip: When you click on Add Image in the editor, you can add graphics and images from your own computer, social media or browse hundreds of free graphics in the Avery Gallery.
Paper Airplane Hello greeting card template
Just Popping In to Say Hello greeting card template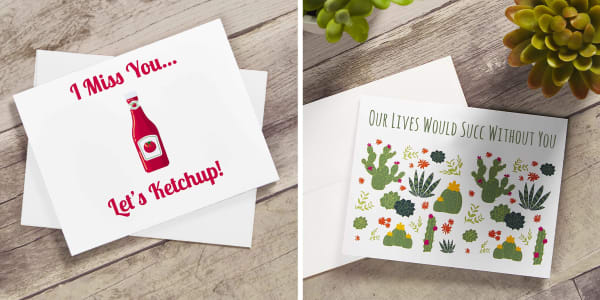 "Missing You" greeting cards for connecting with friends
Sometimes it can be hard to connect with friends you haven't talked to in a while. Whether you're far away, just moving in different circles or separated by social distancing, it's nice to know someone is missing you.
If you're missing your friends, try sending them one of these clever greeting cards to strike up a conversation. It's a fun way to reach out and also a great option if you can't figure out what to say in a text or email.
Design Tip: You can change the font style, size and color on most Avery templates by using the Text button on the left side of the editor screen.
I Miss You Let's Ketchup greeting card template
My Life Would Succ Without You greeting card template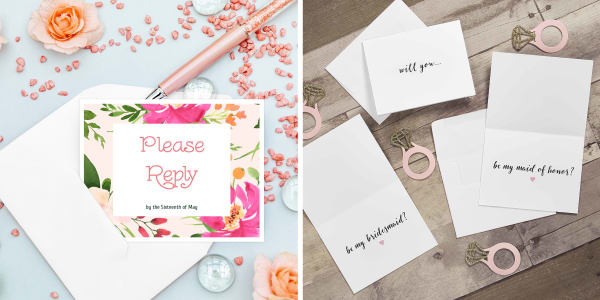 Greeting cards (and more) for wedding planning
Wedding planning has a lot of moving parts. Often very expensive moving parts. Anything you can do that makes your big day easier to plan (without sacrificing style) is a huge win. We have three amazing tips for elevating your wedding cards, because small details mean everything on your big day:
1) You can browse all the cards shown above plus every wedding and love themed card that fits this specific card size in one click. With 200+ free templates that you can personalize for your theme, there's something for everyone.
2) Use predesigned Avery templates for wedding cards of all kinds (including postcards). They're a totally free way to design wedding greeting cards that look like you hired a professional graphic designer. Once you've customized the design just the way you want it you can print right from your home printer.
3) Let us handle the printing for you. We make it hassle-free with low minimum requirements, no set up fees and most orders ready to ship in three business days. Our printing service makes it easy to design and order custom-printed matching greeting cards, tags and labels for your wedding.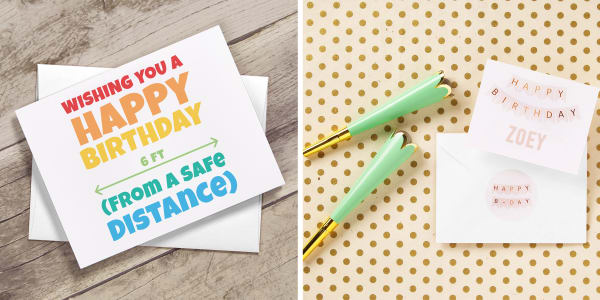 Send birthday wishes with fun greeting cards
Skip the last-minute drugstore dash for a birthday card. Printing your own greeting cards is fun and easy to do in just minutes. Our birthday template gallery is full of festive designs you can print as-is or modify to add a personal touch.
Personalized birthday cards are the perfect finishing touch to a thoughtful gift for a special person in your life. Show them you care with an elevated, themed birthday gift topped off with a personalized greeting card.
Design Tip: Check out more Avery template galleries in our Ideas section. You can search gallery results by cards, labels or tags to create a cohesive, themed gift.
Social Distanced Birthday greeting card template
Rose Quartz Pink Birthday Bunting greeting card template
Custom greeting cards for the holidays
Whether you're finished with your Christmas list in October, or tackling last-minute holiday cards just in time, printable greeting cards are the way to go. It's so easy to create stunning holiday cards using predesigned Avery templates that come in tons of different styles.
Our holiday greeting card templates (which includes all of those shown above) are super easy to personalize. For many templates, you simply drop in your holiday photo, personalize with your family name and you're done. It's an elevated look that's incredibly simple to achieve.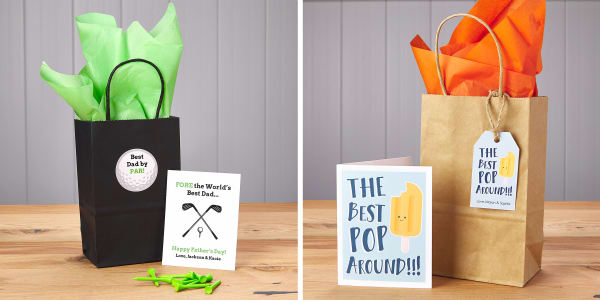 Cute greeting cards for Father's Day
When it comes to personalized gifting, Mother's Day ideas always get a lot of love, but it's important to celebrate Dad too! Create your own personalized greeting cards for Father's Day and pair them with matching gift tags and labels to create a theme for your Father's Day gift.
Advanced Design Tip: You can add any pre-designed Avery template to a completely different product with this expert-level hack: Open the template and immediately save the project to your Avery account. You can then apply that saved "project" to any other Avery product as long as you're logged in.
Fore the Worlds Best Dad greeting card template
Best Dad by Par label template
The Best Pop Around greeting card template
The Best Pop Around gift tag template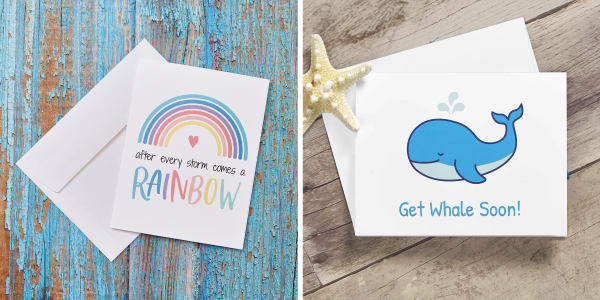 Send a get well soon greeting card and a smile
Greeting cards are a nice way to send someone well-wishes when they're under the weather. Sending a cheerful greeting card that makes them smile is even better. Get well soon cards can also be used for community engagement.
One way people volunteer from home is sending greeting cards to kids in the hospital or local convalescent homes. Try organizing your friends or co-workers with a "card drive." Avery templates make it easy for people to create personalized cards and print them out right from their desktop printer.
Or do a card drive at home and practice kindness together as a family. You can design and print your own greeting cards or have your kids get crafty and make cute handmade get well cards.
After Every Storm Comes a Rainbow greeting card template
Get Whale Soon greeting card template
Supplies and more resources to help you make greeting cards for any occasion
Making your own greeting cards is fun, great for your budget, and most importantly makes your friends and family feel special. Personalized greeting cards are something physical that loved ones can hold on to when you're far away.
Creating your own greeting cards is an activity the whole family can enjoy. From sending cards to Grandma and Grandpa to sending cards to friends while distance learning. Use predesigned Avery templates that you can make your own and stay connected with friends and family in a more personal way.
You can make any of the greeting cards featured in this article using our 4-1/4″ x 5-1/2″ matte white note cards.
4-1/4″ x 5-1/2″ note cards for inkjet printers (8315)
4-1/4″ x 5-1/2″ note cards for laser printers (5315)
Visit our greeting card page to view different blank greeting card styles and explore more greeting card projects and tutorials.