Help your kids send happy birthday wishes to friends and family and keep them entertained at home. Our birthday card crafts for kids include step-by-step instructions with pictures and a useful supply list with quick links for mom and dad.
Perfect birthday card craft ideas for kids ages 8 and up (or younger with a helper).
Supplies needed for these happy birthday card ideas
5-1/2″ x 8-1/2″ half-fold blank greeting cards (3378)
Colorful blank postcards, 4.25″ x 5.5 (35704)
Single sheet bright yellow 3/4″ heart shaped labels (94601)
Small assorted color foil star labels (6007)
3/4″ assorted color-coding stickers (5472)
Colorful printed paper or cardstock
Markers, crayons or colored pencils
Scissors
Ruler
Optional: a bowl or plate for tracing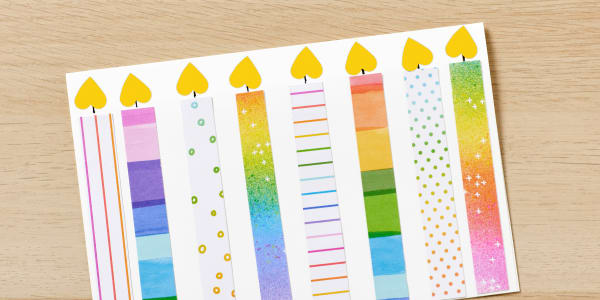 Get creative with ordinary shapes. For example, upside down heart labels make perfect candle flames!
Make a Wish Birthday Card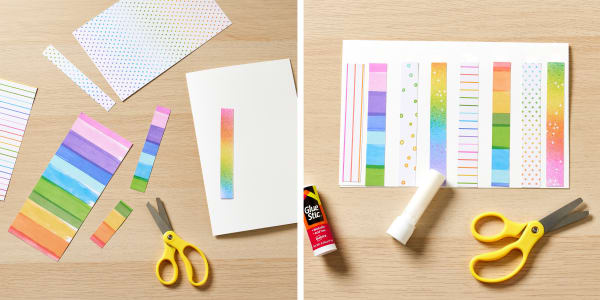 Step 1: Cut colorful printed paper or cardstock into strips about half an inch wide to make "candles" for your birthday card.
Step 2: Layout a blank half-fold greeting card horizontally (so that it opens upwards and is wider than it is tall). Use a glue stick to stick on your candles.
Tip: Glue down the candles so that they hang over the edge of the card just a little bit. Then trim along the edge of the card to get a perfectly clean edge.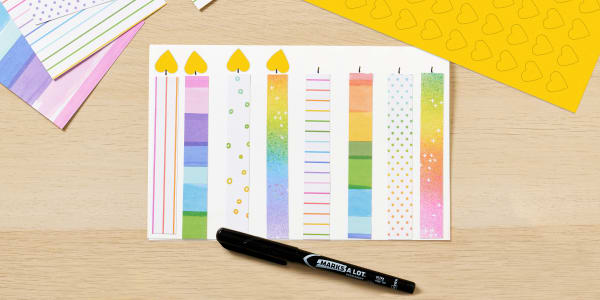 Step 3: Add the candle flames. Draw a small line under each heart as the "wick" of the candle. Turn gold or yellow heart labels upside down and stick one on at the top of each candle.
Step 4: Write special birthday wishes inside and decorate the inside of your birthday card with drawings or stickers as you like!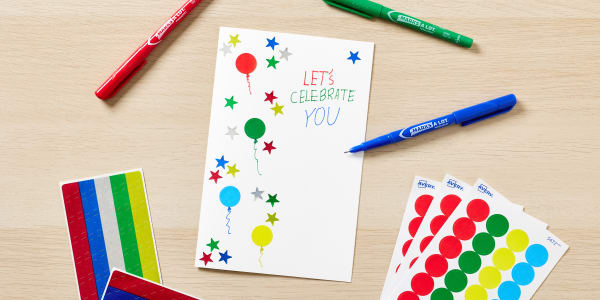 Turn ordinary color-coding stickers into festive balloons with a little bit of imagination.
Balloons & Stars Happy Birthday Card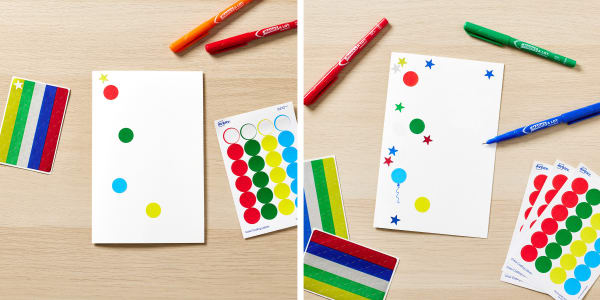 Step 1: Use 3/4″ color-coding stickers to create the round part of your birthday balloons.
Step 2: Underneath each sticker use a matching marker, colored pencil or crayon to add a triangle "tail" and string for each balloon.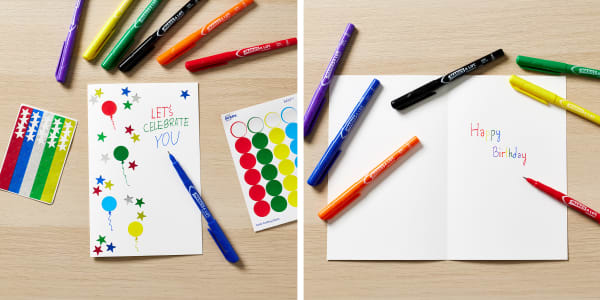 Step 3: Decorate with foil stars and write a happy birthday message.
Step 4: Add drawings and more birthday wishes inside your finished card.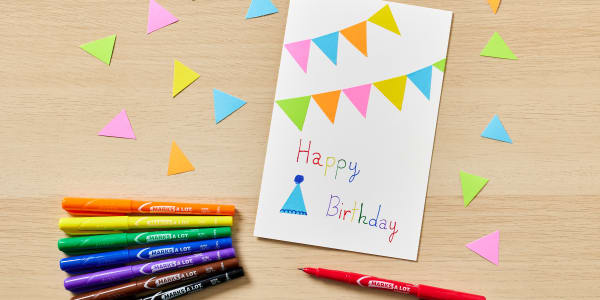 Decorate your homemade birthday cards with all the colors of the rainbow, and then some. A colorful rainbow of permanent markers and bright neon postcards are perfect
Festive Bunting Birthday Card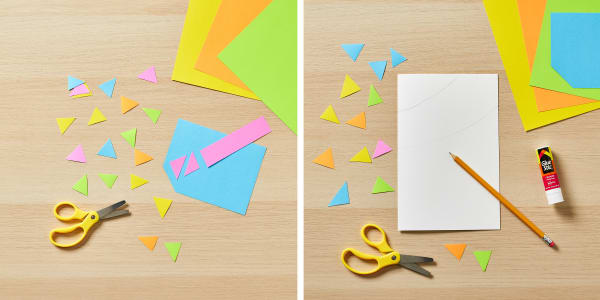 Step 1: Cut out 10-20 small triangles using colorful blank postcards. Try to make your birthday card triangles about 1″ high with equal sides if you can.
Step 2: Layout a blank half-fold greeting card vertically (so that it opens like a book and is taller than it is wide). Draw 2 curved lines on the top left corner of your birthday card to have "strings" for your bunting.
Tip: You can trace the edge of a bowl or plate to help you make more curved bunting "strings."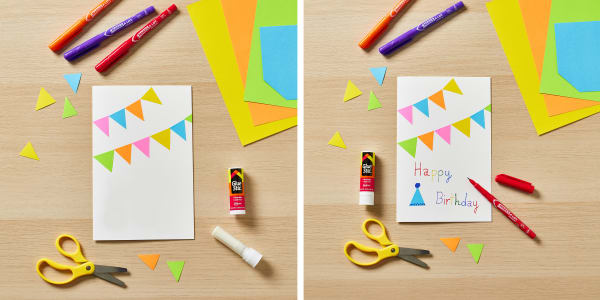 Step 3: Use your glue stick to stick on your triangles on the lines you just traced. Place them close together with the corners touching.
Tip: If some of your triangles come out shaped more like pizza slices, don't worry. Just put them on with the "pizza crust" side along the "strings."
Step 4: Write "Happy Birthday" on the front. Decorate the inside of your card with more birthday wishes if you'd like!
More happy birthday card ideas for all ages
Elementary age kids will have tons of fun creating their own handmade birthday cards using crafting supplies and their imagination. Older kids (and parents too) can unleash their creativity using our free online design software to create printable birthday cards.
Whether you're crafting handmade birthday cards or personalizing printable birthday cards, adding your own unique style makes it extra special. Browse a variety of blank card styles and discover more greeting card projects and tutorials for the whole family.
Did you make something awesome? Tag us on Instagram to show off your birthday card projects.