Entertain kids at home with card-making activities that send a smile
Parents are always on the lookout for enriching ways to entertain their kids. Even more so, when they're spending more time at home together. Card-making is an all-around winner, encouraging creativity, developing fine motor skills and helping to teach kindness.
Making greeting cards at home with your kids is more than just a boredom-busting activity (although it is that too!). Practicing kindness is incredibly beneficial for kids, and it can even give you a pretty great mood boost. Is anything more heartwarming than watching your kids be kind?
Not to mention, sending greeting cards is also a fantastic way to stay connected with loved ones. No devices necessary. There are many reasons to unplug the kids from technology once in a while, and it's awesome to have an answer to, "but Mom, what about my friends!?"
In this article you'll find ideas, resources and inspiration for making greeting cards for a variety of occasions. Plus some cool ideas on how to turn card-making into enriching activities for the whole family.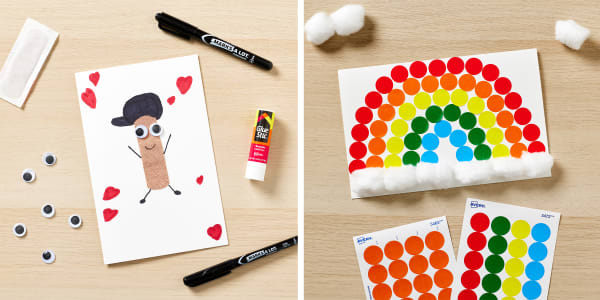 Use fun-for-kids greeting card projects to send smiles. Modeling kindness and gratitude is the best way to help kids learn those behaviors.
Turn card making into a family kindness activity
Caring for others, especially when they're not feeling well, is always an important lesson for kids. Making get well soon cards together is perfect for practicing kindness and caring as a family.
One way to use your get well soon cards is to make enough to store for future use. That way you'll have them on hand for any friends and family feeling under the weather. You can also make greeting cards to send to hospitalized kids or local convalescent homes.
Pro tip: Pick a cute and quick greeting card project that's easy to make in bulk so you have plenty to share.
Stay in touch with sweet thinking of you greeting cards
Using greeting cards to stay in touch has so many benefits for kids. It encourages putting down devices, makes connecting more personal during social distancing and teaches patience. There's no instant gratification in corresponding by mail, but it is super gratifying to get a fun piece of mail you can treasure.
"Thinking of you" greeting cards are also very versatile in terms of card-making activity for kids of all ages. You can have your kids send their greeting cards to friends, teachers, far-away relatives or Grandma and Grandpa just because. Grandparents will love getting them!
Encourage older kids to start a greeting card exchange with their friends for some unplugged connection. They can save the greeting cards in a decorated memory box or scrap book. Parenting bonus: now they can entertain themselves crafting a way to store the cards they get from friends.
Greeting cards to help your kids practice gratitude
Practicing gratitude has oodles of benefits everyone wants to give their kids, including positive effects on mental health. One of the best ways to teach your kids to practice gratitude is to model being thankful so that they have an example to follow.
Sending thank you cards is a very literal way to practice gratitude. Which is perfect for younger kids that might not be ready to grasp abstract gratitude exercises. Talk to them about how grateful you are for their teachers, or a nice gift someone sent them.
Together, make your own greeting cards that they write in to say thank you. Show them how you address the envelope and let them see you sending out the cards. You can also model gratitude and boost kids' self-esteem by giving them thank you cards.
Kids of any age will love finding a sweet little greeting card thanking them for various accomplishments. It can be anything from helping set the table or putting all their toys away to cleaning out their closet or helping take care of a younger sibling.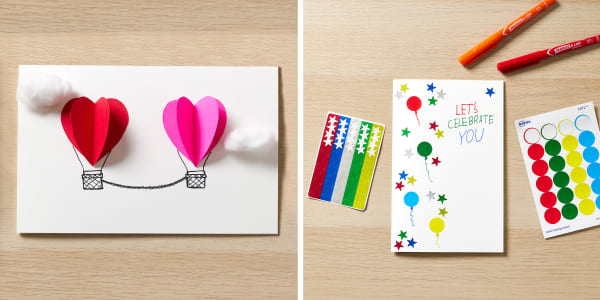 Encourage kids to send some love out into the world. Whether it's a special occasion, just because or uplifting your community.
Share the love with heartfelt homemade greeting cards
Cute heart-themed greeting cards are a natural fit for Valentine's Day, but they're also perfect for Mother's Day celebrations or sending to loved ones any time. It's so important to encourage kids to express their emotions and show love to the important people in their lives.
Whether you're making greeting cards to celebrate something specific, or just share the love, why not expand and send some love out into the world? Get together as a family for a card-making night and send them to your local senior home on Valentine's day.
Especially, during COVID quarantine, seniors can feel really lonely and isolated. Cheerful 3D Valentine greeting cards are an amazing way to reach out and send a smile.
Homemade birthday cards for kids to make
You can never have too many birthday cards on hand. Between friends, family, teachers and classmates it seems like it's always someone's birthday. Having a ready supply of greeting cards for any birthday that pops up is such a time saver.
Show your kids how to make DIY birthday cards and let them go to town. It's a fun card-making activity kids can do any time and entertain themselves for hours. Entertaining the kids so you can get some quiet time is priceless, but stocking up on a few basic card-making supplies is also cheaper than getting a ton of expensive store-bought birthday cards every month.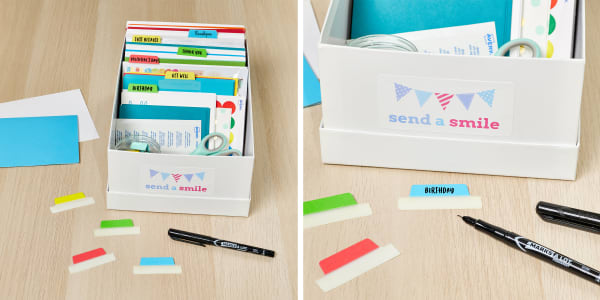 Be prepared with a simple, effective storage solution for your greeting cards so they're easy to find and don't add to paper clutter.
Design and print your own personalized greeting cards
Card-making doesn't always have to be a craft project. You can put a lot of love and creativity into designing your own greeting cards too. Avery Design and Print Online (ADPO) makes it easy to design cards from scratch or personalize existing free greeting card templates for every occasion.
Younger kids can help you pick out templates, colors and graphics. Older kids can have fun designing their own greeting cards in ADPO, adding their own photos and style. You can even turn any photo you like into a stunning holiday card in practically no time at all— great for those last minute holiday cards.
How to organize & store your handmade greeting cards
Start by sorting your greeting cards by occasion. Add them to a storage box in groups and use tabs to indicate the occasion or season. Finish off the box with a label and you're done.
Greeting card storage project supplies:
Storage box
Colorful repositionable margin tabs (74768)
Ultra-fine tip black permanent markers (09230)
Make greeting cards with your kids and send a smile
Entertaining the kids, encouraging creativity, teaching kindness and staying connected while social distancing… all without a smartphone or tablet? Making greeting cards with your kids ticks all the wish list boxes.
Card-making is a fun activity that's easy to use for keeping the kids entertained on Saturday afternoons. The kids love it and family and friends get to receive cheerful little works of art. When done mindfully and with purpose it can also be an enriching activity the whole family can enjoy.
Get started now with a variety of blank greeting card styles and more greeting card projects and tutorials.