Encourage your kids to send a little love out into the world, and get an afternoon of peace while the kids dig into the crafting supplies. DIY 3D Valentine cards are a unique twist on cards for kids to make at home and share with relatives and friends.
Our DIY 3D Valentine card ideas for kids for 8-12 year olds, or younger kids with an older "helper," include easy-to-follow instructions with pictures. We've included beginner, intermediate and advanced projects so there's something for every kid, and a handy supply list with quick links for mom or dad.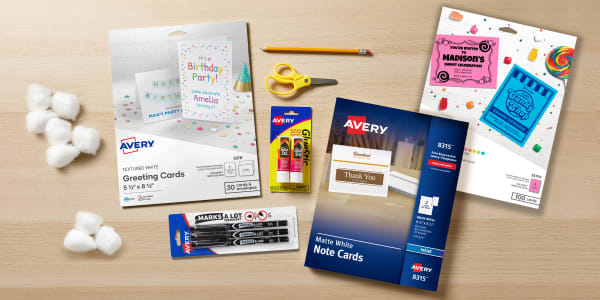 Supplies for DIY 3D Valentine cards
5-1/2″ x 8-1/2″ half-fold blank greeting cards (3378)
4-1/4″ x 5-1/2″ blank matte white note cards (8315)
Colorful Astrobrights® postcards, 4.25″ x 5.5 (35704)
Markers, crayons or colored pencils
Squeezable school glue
Scissors
Cotton balls
Optional for advanced project:
Beads, rhinestones, string or ribbon
Flashlight
Construction paper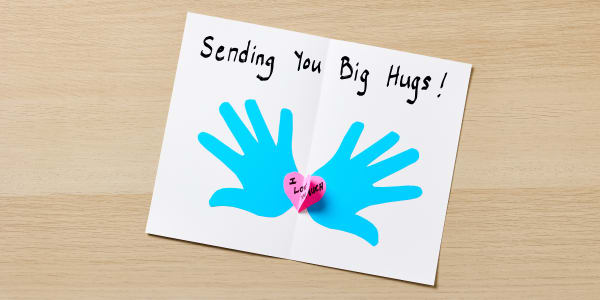 Using thick postcards or other colorful cardstock will make your 3D Valentine card elements stand up better.
"Heart in Your Hands" 3D Valentine card (beginner)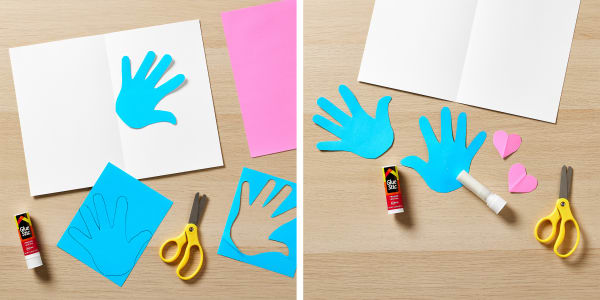 Step 1: Trace one hand on a colorful postcard (or other cardstock) and cut out. Repeat for your other hand.
Step 2: Fold a colorful postcard in half. Draw or trace 2-3 hearts on the fold and cut out.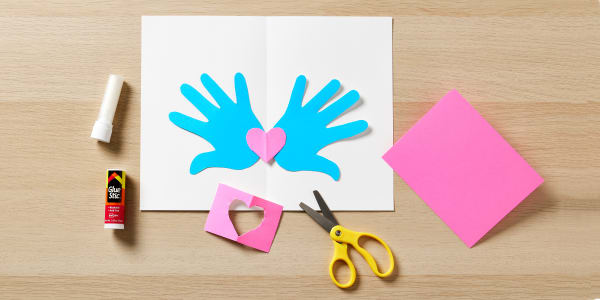 Step 3: Line up your paper hands along the fold of a blank half-fold greeting card. Thumbs facing out. Use your glue stick to glue them down.
Step 4: Glue one heart flat on the page where your paper hands meet.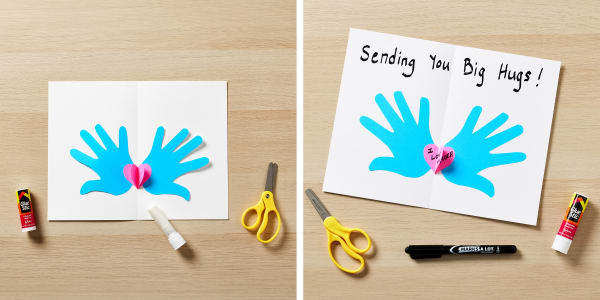 Step 5: Glue your remaining hearts together like a book. Think of the fold as the "spine." To do this, apply a line of glue down the center fold of a heart. Place another heart on top, lining up the folds. Repeat for all the hearts you cut out.
If your hand drawn hearts are different sizes go in order from biggest to smallest, with the biggest on the bottom.
Step 6: Set a timer and let glue dry for one hour. Then use markers, crayons or colored pencils to write messages on each "page" of your hearts"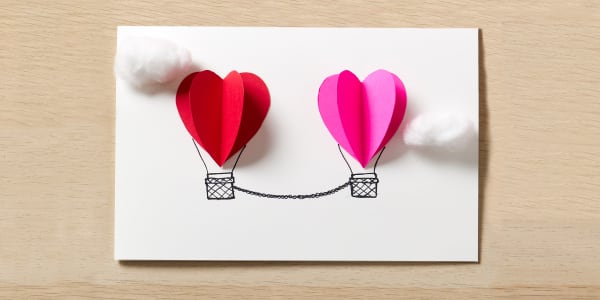 Compliment sweet "heart air" balloons with simple cotton ball clouds.
"Heart-Air Balloon" 3D Valentine card (intermediate)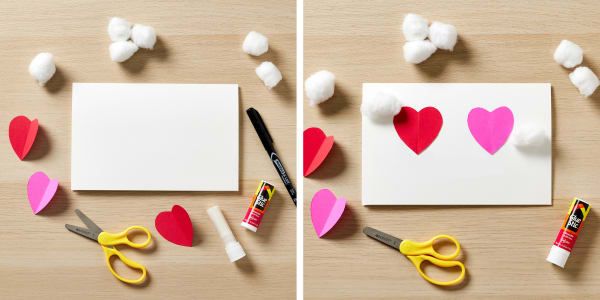 Step 1: Fold a bright postcard and trace heart 2 heart shapes on the fold. Cut out hearts. Repeat using the same color or a different one as shown here.
Step 2: Use a glue stick to glue down 2 hearts on your blank note card (these will be the base of your hot air balloons). Add a couple cotton balls for clouds.
Step 3: Apply a line of school glue down the center of a folded heart and place on top of the flat heart already glued to your card. Line up the two hearts using the fold. Repeat for second heart balloon.
Step 4: Draw baskets for your "heart air" balloons and a rope to connect them. You can also get creative and use yarn or string to connect the baskets.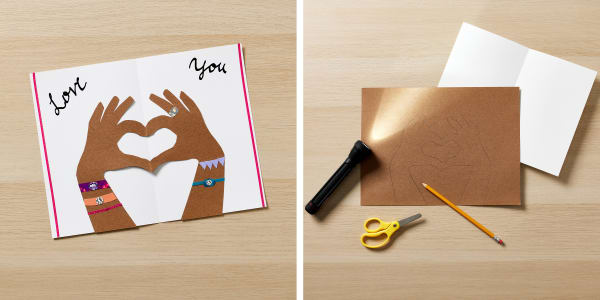 Encourage your kids to get creative with whatever they can find in the craft box
3) #hearthands 3D Valentine card (advanced)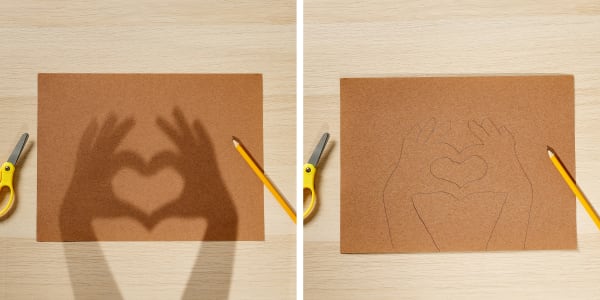 Step 1: Get someone to help you make a silhouette of "heart hands" using their hands and a flashlight.
Step 2: Trace the shadow on construction paper and cut it out.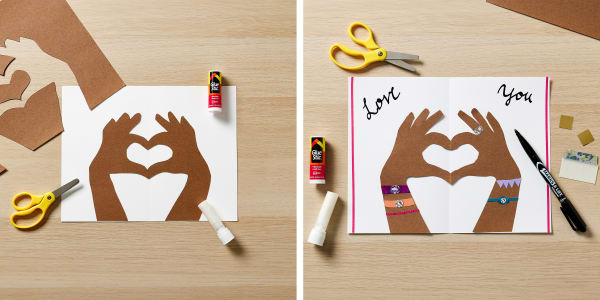 Step 3: Use a glue stick to stick the "heart hands" cut out inside a half-fold greeting card. Line up the heart on the fold.
Step 4: Get creative and use school glue to add 3D "jewelry" with beads, string or ribbon. (Optional: cut out paper "jewelry" and use a glue stick to add it to the hands for a flat card.)
Step 5: Add your own message Valentine's Day message.
More crafts to love, for Valentine's Day and beyond!
Get inspired with DIY Valentine's Day ideas for the whole family. Or browse blank cards and discover more greeting card projects and tutorials.
Did you make something awesome? Tag us on Instagram to show off your Valentine's Day projects.