Help your kids practice kindness and caring, while keeping them entertained at home. This adorable get well soon card is so quick and easy to do that your kids can make them by the dozen. Have them make a whole box full to keep on hand for any time family and friends need well wishes.
Or better yet, turn the kids crafting time into a family kindness activity. You can send cards to hospitalized children, or a local convalescent home to brighten someone's day that may really need it.
Here's everything you need to make this super cute get well soon card, including easy-to-follow instructions, step-by-step pictures and a clickable supply list for mom or dad.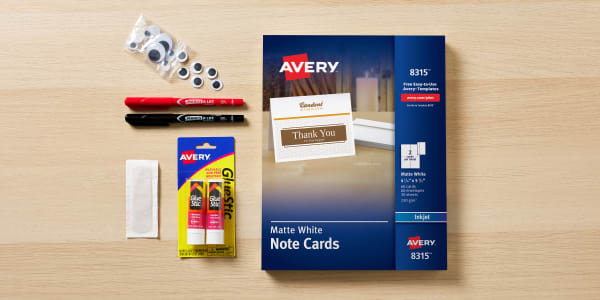 Get well soon card supply list
4-1/4″ x 5-1/2″ blank matte white note cards (8315)
Color markers, crayons or colored pencils
Adhesive bandage
Sticky googly eyes
Optional: regular googly eyes + glue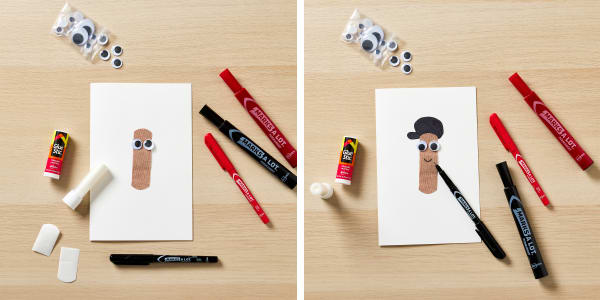 Step 1: Start your get well card with a bandage
Layout a blank notecard vertically so that your get well soon card will open like a book. Stick an adhesive bandage right in the middle of your notecard.
Step 2: Add googly eyes to bring it life
Stick on 2 adhesive googly eyes near the top of the bandage to show where the "face" will be. Or you can use glue stick or school glue to stick on regular googly eyes.
Step 3: Add personality to your get well card
Use a permanent marker to draw on a smile just below the googly eyes. Give your bandage person hair or accessories to add personality.
Pro Tip: Make sure you use permanent marker when drawing on adhesive bandages because regular markers won't work as well.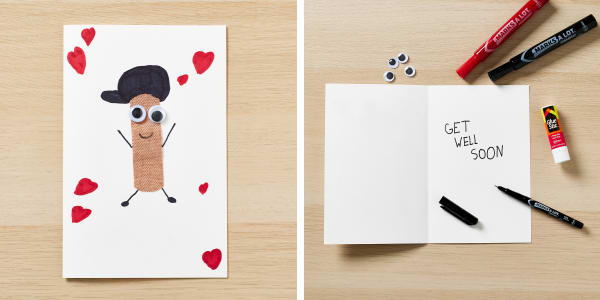 Step 4: Add arms and legs
Use a marker, crayon or colored pencil to draw arms and legs for your bandage person. Simple stick arms and legs will do, but feel free to get creative!
Step 5: Decorate your get well soon card
Use markers, colored pencils or crayons to decorate your get will soon card with whatever you like best. You can create a background for your bandage person or just draw fun things like hearts, stars and other fun shapes.
Don't forget to write a get well soon message inside!
More ways to show you care
Making get well soon cards, thank you cards and other card-making activities are a great way to teach kids kindness and caring. Read more about making greeting cards at home with your kids. Or browse a wide variety of blank cards and discover more greeting card projects and tutorials.
Did you make something awesome? Tag us on Instagram to show off your greeting card projects.