Tips for a more efficient kitchen
Whether you own a small corner bakery, a large 100-seat restaurant, a commercial kitchen for catering or you're working from a home kitchen, the majority of your investment is tied to your equipment. To make the most of your investment, we've put together some simple kitchen organization ideas to help you save space and work more efficiently. Whether you have a small commercial kitchen layout, a huge industrial kitchen or you're just a home chef looking to get organized, these ideas will work for everyone.
Map it out
The most important thing for kitchen efficiency is to eliminate unnecessary steps. Sketch out your kitchen on paper first. No matter what size kitchen you have, you want it to flow in a logical order. Even if you aren't serving customers out of a storefront and you're just trying to organize a small home-based business, think like a restaurant and plan your workflow.
Organize your kitchen to flow from storage to prep to the line (where it's cooked or baked) to the pass (where it's ready to go). If you map out your kitchen in a logical route, things will move in a smooth, consistent pattern.
Create separate workstations
No matter how big or small, designating certain work areas for specific tasks is very important for your kitchen organization. If you do a lot of baking, for example, you should have an area with a wooden surface for rolling out dough and working with flour and pastry but a separate area for prepping and mixing messy or sticky fillings and toppings.
The same could be said for a full-service restaurant. Keep your salad station away from your grill, and your baked goods away from where you butcher meats. Not only does this help prevent cross-contamination but it also helps the kitchen run more efficiently.
Obviously, if your space is limited you have to get creative. Use rolling racks or folding tables that can be moved or stored when not in use. Or do all your baking in the morning and then flip that workstation for another task later in the day.
Some basic workstations you should consider having:
Prepping/Baking
This is where your prep work gets done like rolling out dough. If you're limited on space, this can also double as a prep station for chopping and mixing food items. But keeping multiuse areas thoroughly clean is extremely important to avoid contamination. Store frequently used items like spices, flours, and sugars on wall-mounted shelves or wire racks. Label everything clearly and legibly to avoid mistakes when cooking or baking. Keep knives on magnetic strips to save space, and stack mixing bowls and cutting boards on open shelves for easy access.
Cooking/Grilling
This is generally the hottest and messiest area in a kitchen. Keep items like stoves, ovens, grills, and fryers in this zone and always keep your equipment clean. Dirt, grease, and oil can cause damaging buildup to ventilation and refrigeration. Clean your stoves and fryers every day and do a thorough cleaning at the end of each week. Hang skillets and pots and pans from hooks within arm's reach to save space. A magnetic knife bar is great in this area as well, so you don't have to leave something on the stove to go find a knife.
Refrigeration
Ideally, this should be a decent distance from your cooking area to keep temperatures regulated and grease buildup away. Whether you have a standalone refrigerator and freezer or a walk-in refrigerator, grease buildup can do tremendous damage to ventilation, leading to expensive maintenance costs. Inside your fridge, keep all product labels visible and facing the front for quick access. Add names and expiration dates to homemade products and always have the oldest products in the front so they get used first.
Takeout/Retail Products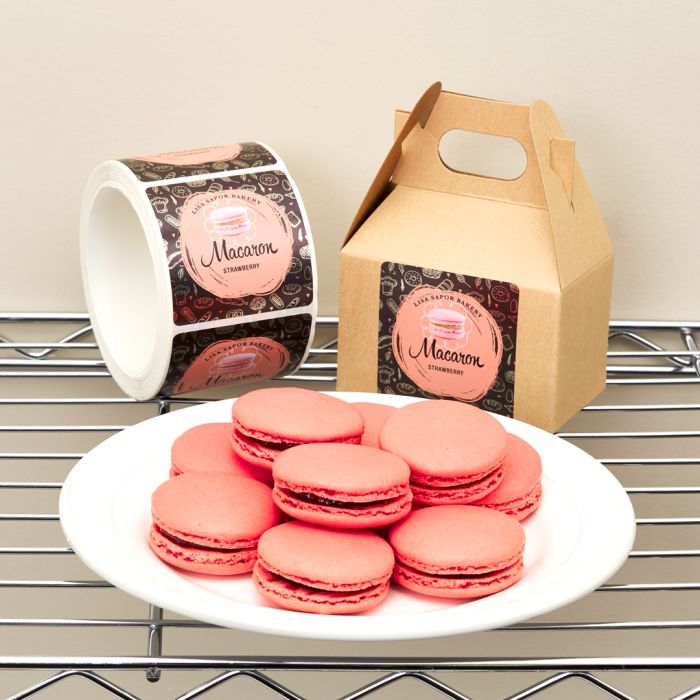 Keep a clean, dry area for packing up to-go items or retail products. This will prevent boxes, bags, packaging materials, and product labels from getting wet or damaged.
Your product labels, tamper-proof labels, and branding stickers should remain in their original plastic packaging until ready for use. Once open, store them on nearby shelves for easy application but away from heat and moisture.
Check out these inexpensive label organization hacks for more ideas on storing your labels and product packaging.
Cleaning
Create a designated area for dirty dishes and utensils, as well as a separate area for those that are drying or clean. Keep a trash can next to the dirty dish area for scraping waste. This is also a great location where wall-mounted shelving can help hold things like dish soaps, detergent, sponges, steel wool, and small supplies. Make sure you also have an area to store mops, buckets, towels, and cleaning supplies that aren't near food prep areas.
Think outside the cabinet
There are a variety of shelving options and storage racks available at places like webstaurantstore.com. To keep things organized and efficient in your professional kitchen, avoid walk-in pantries or storage cabinets with doors and drawers that have to be opened and closed constantly. It wastes time, requires more cleaning, and can cause injuries when left ajar or when slammed in a rush.
Wall-mounted shelving is a great space saver and perfect for small unbreakable items. Plus, with a few S hooks, you can hang small kitchen tools from wall shelves. But don't put the shelves so high that team members can't reach what they need.
Also, try using open shelving like stainless steel racks that can help keep products visible and quickly accessible. They're easy to keep clean and they can also be moved around if needed and accessed from both sides when placed in rows.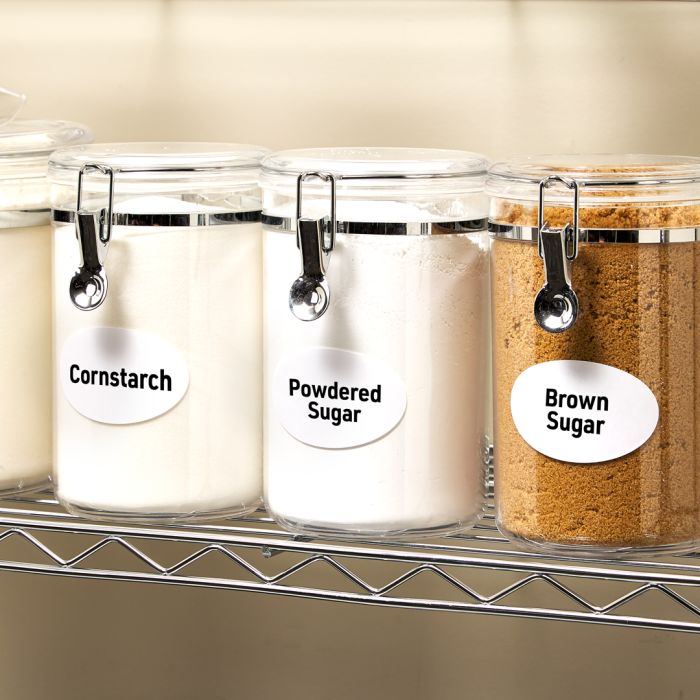 Stainless racks make ideal storage units for large stock pots and mixing bowls that don't fit in small work areas. For even larger items like stand mixers, slow cookers, or portable fryers, look into popup under-counter shelving as a possible solution or small tables or pedestals that can be placed in a corner.
No matter what style of shelving or cabinetry you end up choosing, organize your space by placing specific items or families of items together.
For instance, put all your fresh non-refrigerated items in one place and your canned products in another. If you use a lot of canned products, can racks are an inexpensive investment and can prevent potential injuries from stacked cans getting bumped or knocked over.
Hang up tools, pots & pans
Pegboards and towel racks are great ways to save space in tight areas. You can buy specialty utensil racks but a towel bar and a few S hooks work just as well. Hanging up items also saves time for workers. No more digging in drawers to find a spatula or measuring spoon. And in a pinch, it's a great way to let items airdry.
Hang tools like whisks, tongs, measuring cups, strainers, small saucepans, and lids from pegboards or towel hooks. Overhead hanging pot racks work great near stoves, where cooks can reach up and grab what they need without leaving their area. Just make sure you pay attention to heights and make everything reachable for everyone.
Protect customers & employees with labels & signs
Nothing is more important in the food and beverage business than keeping products labeled correctly. Everything from ingredients to cleaning products should have a proper label that is always visible. Serving the wrong product or a contaminated or spoiled item to a customer can be detrimental to your business, especially if someone gets sick.
Avery printable labels are great for frequently used items or products that change often. They are sold by the sheet online or in retail packs that you can print yourself on-demand.
Avery water and oil-resistant film labels are perfect for bulk items that are stored in secondary containers, such as flour and sugar. Or try the removable labels for seasonal products or ingredients. If you make your own items be sure to add made-on dates as well as product identifying labels. And if you use handwritten labels, write legibly so everyone can read them.
Use waterproof film labels with your contact information if you cater or your kitchen equipment is sometimes used offsite. This will help identify your items and ensure they get returned to your kitchen if left behind at an event.
Safety & informational signs
Make sure to use proper signage where necessary to protect and provide information to employees and customers. From warning signs about allergies or swinging doors to reminders to employees to wash hands or turn off lights, you need signs to protect workers and guests from injuries, and yourself from lawsuits.
If you use something like Avery Surface Safe® Signs, you can apply signs to items like painted walls, stainless steel doors, and glass windows, then remove them cleanly with no damage to walls or paint.
You can create your own personalized signs to fit your specific needs or choose from a selection of pre-designed signs. Then order custom printed signs or blank kitchen signs that you can personalize and print yourself. The most important thing is to keep your employees and customers safe while providing quality products in a fast and efficient manner.
If you need help finding the right label for your kitchen organization project, let us know in the comments below or call us at (800) 942-8379.
Have your own great kitchen organization tips or ideas? Tell our readers all about it below.
Keep up to date on all the latest helpful ideas for your business by subscribing above.