Create personalized wedding cards with Avery products and free tools
Your big day should be magical, and you deserve to have personalized wedding cards that match your vision. However, the "Wedding Markup" is real and the costs of a wedding graphic designer and custom-printing services for weddings quickly add up.
The good news is that wedding cards are one of the easiest things you can customize yourself. All you need are printable Avery cards, a laser or inkjet printer, and a smart device connected to your printer and the internet. From there, we've got you covered with free tools for designing your own custom wedding cards.
Additionally, it's worth mentioning that we can even print your wedding invitations, save-the-date cards, and thank-you notecards for you! There are no markups for wedding projects, no "file processing" fees, or minimum order quantities. And, Avery WePrint® orders ship in as few as three business days.
That being said, this article will focus on tips for printing wedding cards yourself using standard desktop printers.
Other resources for planning your wedding:
Skip the wedding mark up and design it yourself
All you need to get started designing your own wedding cards is a free Avery account and a computer, laptop, or smart device with an internet connection. Our free Avery Design and Print Online (ADPO) software allows you to create your own designs from scratch as well as edit, print, and save Avery templates at no cost. Not only is the software free, but there is nothing to download or install.
Even better, we have 200+ stunning professionally-designed Avery templates for wedding cards that you can customize in ADPO. To put it another way, predesigned Avery templates are a free way to design wedding cards that look like you hired a professional graphic designer.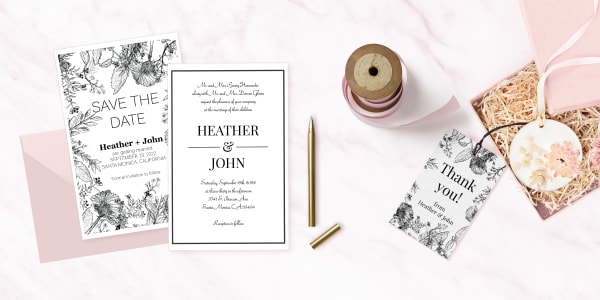 1) Check printer compatibility with printable cards
First things first, it's important to make sure you have the right printable cards for your printer. There are many reasons to use the correct printer for the cards that you're printing on, but there are two important things to keep in mind.
For one thing, laser printers use heat to set the ink and can destroy or melt inkjet printable cards that are not meant to withstand heat. On the other hand, inkjet printers apply wet ink without heat. However, laser-printable products aren't meant to "absorb" ink that way, so the ink never really "sets" or dries.
To sum up, using the wrong product with the wrong printer will end badly with either destroyed wedding cards or wet ink that smudges and smears. It's crucial to make sure that the printable cards you buy match the printer you have at home.
If you're not sure what kind of printer you have, this article can help you figure out if you have a laser or inkjet printer. Of course, you can also call our excellent Customer Care Team as well— they're always happy to help.
2) Use products designed for better printing
Regular home desktop printers aren't always perfect, and that's not something you want to deal with when printing wedding cards. Indeed, we designed Avery cards with Sure Feed® technology to avoid such problems.
Sure Feed technology helps sheets of labels and cards move more smoothly through printers. You can spot it on your Avery products by the special "grip" strip. Cards with Sure Feed technology print with fewer misalignments and paper jams, which translates to less wasted product and less frustration!
3) Find the right template for printable products
Next, make sure that you're using the right product and template for your wedding cards. First and foremost, Avery templates are designed specifically for genuine Avery products. Secondly, we recommend using your Avery product number to match the template to the product.
The easiest place to find your Avery product number is right on the front of the package. If you don't have the package, but you purchased your printable cards from avery.com, you can view your order history by clicking the icon for your Avery account, then choosing "Orders".
For more in-depth help, check out these alternative ways to find an Avery product number. Or just give us a call at (800) 942-8379 to speak with one of our awesome Customer Care team members.
4) Fine-tune and double-check your printer settings
Start by checking that the driver and firmware for your printer are up to date. Next, check that the page size matches the size of the Avery sheet that you're printing (most of our products are 8.5" x 11").
If you're printing your wedding cards from a PDF file, make sure that the "Fit to Page" box is unchecked. Lastly, choose the cardstock setting on your printer for Avery card and tag products. If your printer doesn't have a cardstock setting, the heavyweight or premium setting will do.
You can find even more detailed information about printer settings here.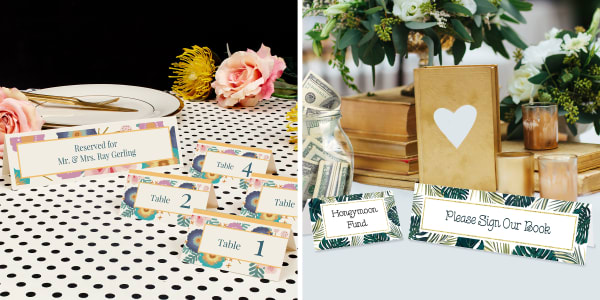 5) Carefully review PDF files of your wedding cards
When you click Preview & Print while designing in ADPO, you will see a simple preview of your entire sheet of cards. This is NOT what your printed product will look like. In the preview screen you will see two printing options on the right: Print it Yourself and Let Us Print For You (custom printing with Avery WePrint).
When you click Print It Yourself, advanced printing options and a button to Get PDF to Print will appear. Click the Get PDF to Print button, then click Open PDF. Carefully review the PDF file as that shows exactly how your wedding cards will print.
6) Learn how to print from the browser you're using
In general, to print your wedding cards you will open the PDF and then click a print button. If you're already very comfortable printing PDFs from your current browser, it should be fairly intuitive for you.
Otherwise, use this detailed how-to video for printing Avery products to get step-by-step printing instructions for different browsers.
7) Test your wedding cards on plain paper first
Before printing on your cards, print a test sheet on plain cardstock or plain paper. Plain paper can work in a pinch, but we recommend using cardstock so that you can test the cardstock, heavyweight or premium setting on your printer.
Using a test sheet will help you determine which direction to feed your Avery cards into your printer. It's also an opportunity to check your wedding card design and alignment.
8) Shift wedding card designs for better alignment
Is your printer shifting the design a consistent amount? If so, you can shift the whole wedding card design over in ADPO to improve the alignment. Click the Make a Printer Adjustment button in ADPO to open the Printer Adjustment window. This tool will allow you to nudge your whole design left, right, up, and down.
After you've adjusted a design, it's always a good idea to do another test on a plain piece of paper or cardstock. Check out more detailed instructions for making printer adjustments here.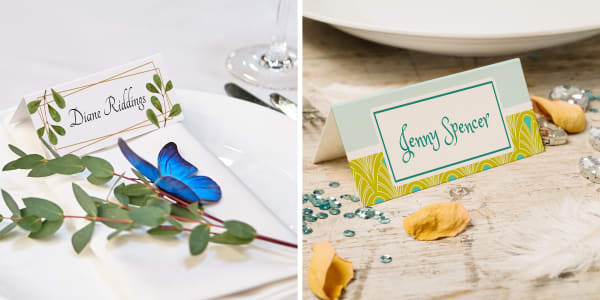 9) Help your printer feed sheets easier
Paper jams and misalignments often happen as the parts that feed sheets through printers wear down over time. There are two ways you can try to help your printer along when working on your wedding cards. One way is to try feeding one card sheet at a time through the manual feed tray. Another way is to place your card sheets on top of a small stack of regular paper in the feed tray.
10) Take advantage of resources for DIY projects
The Avery Help Center has a ton of resources for making your DIY projects a success. Start browsing by popular topics such as template support or product support. Or, skip to the most popular questions sent to our Customer Care Team.
Once you choose a topic, the Help Center resources are fully searchable to help you find exactly the information that you need. And of course, you can always live chat or call our Customer Care Team for specific help with your wedding cards.
11) Know when to ask for help from the professionals
Last, but not least, you can always have us print your wedding cards for you. Printing yourself is awesome for most projects, but sometimes you just need a little extra help. Our WePrint custom-printing service is the ideal solution for finicky home printers, printing several hundred cards at a time, and/or creating designs with a lot of saturated colors.
If you haven't started designing yet, start with the WePrint custom-printed cards page to choose the product you'd like to have printed. If you have a printer disaster after your design is already finished and personalized, you have two options.
Simply open your wedding cards project, go to Preview & Print, then click the Let Us Print For You button. If the product is not available in WePrint, you can move saved designs to a new product using these detailed instructions.
Print beautiful wedding cards with Avery products and free tools
No one wants to be a victim of the dreaded "Wedding Markup." Wedding cards are one thing you can definitely take care of yourself. Especially with Avery printable cards and our free design tools because they make it easy to create right from your desktop.
Want more? Follow us on Instagram and check out our Wedding Ideas board on Pinterest for DIY wedding inspiration. Be sure to show off your wedding projects using #averyproducts!