Make sure your team realizes just how much you appreciate them this holiday season with one of these thoughtful gifts. We've organized a few easy and affordable DIY coworker and employee gifts to get you started but you can use these free holiday templates with any other coworker gift ideas you have in mind.
Gifts for Coworkers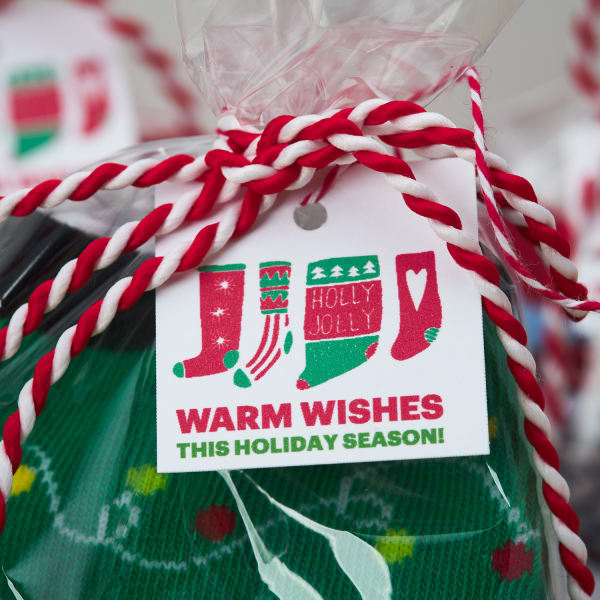 Dress up sock gifts with a printable tag (22849)
Holiday socks and stockings are classic gifts for the season and can make for very funny gifts for coworkers with the right design. Socks are also great since one size fits most and extras are always appreciated.
Click here for the holiday stocking tag template.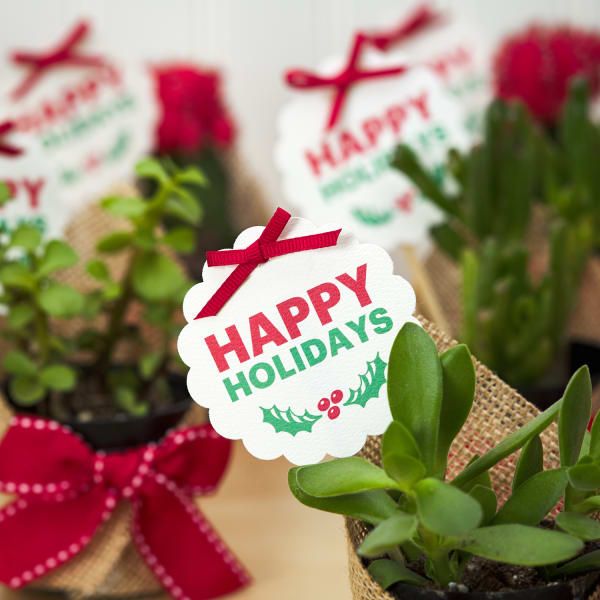 Spice up plants with scallop tags (80503)
A cute little succulent or other potted plant adds a pleasant breath of fresh air to any desk. We can all use a little extra green in our lives, especially during the winter, and these little plants make for excellent and inexpensive gifts for coworkers.
Click here for the "Happy Holidays" tag template.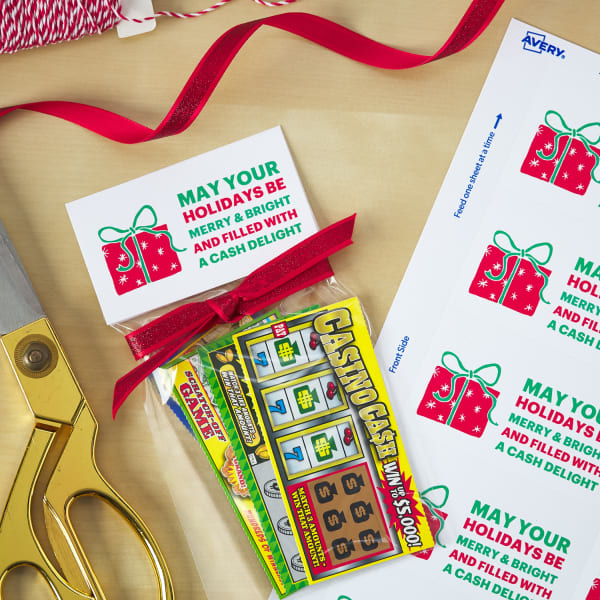 Create easy bag toppers with business cards (28878)
Everybody needs a little extra luck. Lottery scratchers are fun prizes that gives your coworkers a chance at retiring a little faster. Design & Print Online also makes it easy to create multiple sheets of the same tags and cards at once with our "Edit All" tool.
Click here for the "Cash Delight" card template.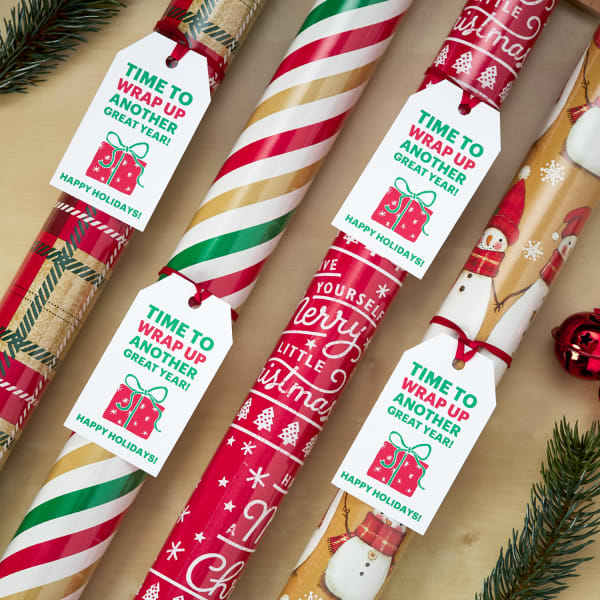 Tie up your gifts with printable tags (22802)
What better way to wrap up the year than with some extra holiday supplies? Just print out a charming message and some ribbon to complete the look for a lovely and useful gift.
Click here for the "Wrap Up" tag template.
Gifts for Employees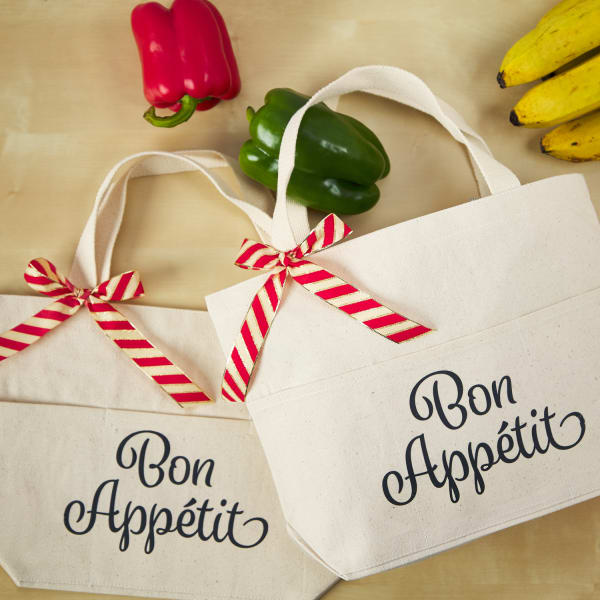 Create a custom-printed look with fabric transfers (8938)
The best gifts for employees are the ones that are useful rather than just unique and will help make their holidays easier. For example, give your employees a hand with their shopping with a brand new tote bag and a gift card to a local grocery store. Fabric transfers are perfect for applying a design to canvas bags, shirts, aprons and more.
Click here for the "Bon Appetit" tote bag transfer template.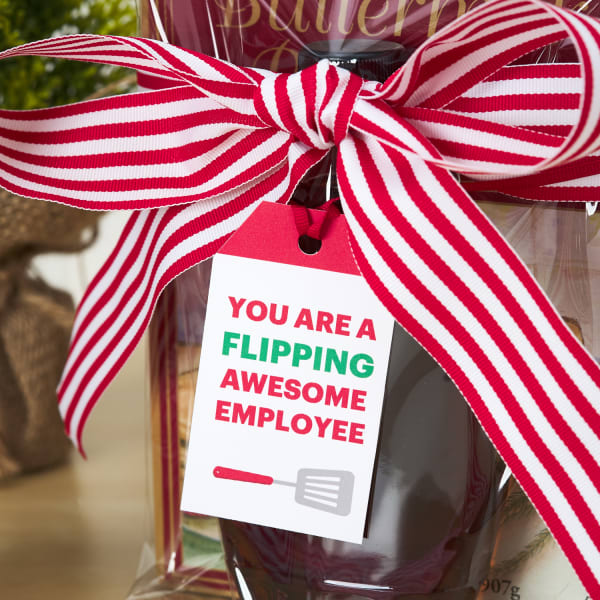 Everyone will flip for these pancake kits and custom tags (22802)
Another thing to keep in mind when creating gift ideas for employees is how this can also be a good opportunity for them to get to know you. Do you have an old family recipe for pancakes or cookies? Create your own gift baskets with the ingredients and instructions. Take a look at our article on DIY Christmas gift ideas if you would like to learn more about creating kits.
Click here for the "Flipping Awesome Employee" tag template.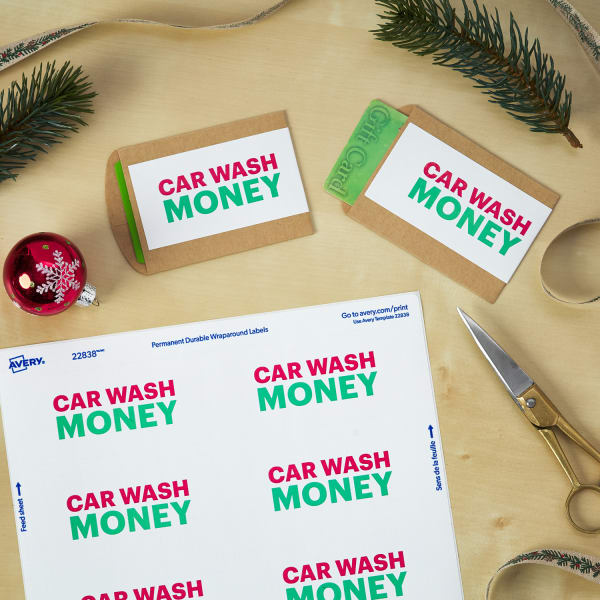 Give gift cards a good wrap with wraparound labels (22838)
Gift cards can be a fantastic gift but handing over a plain gift card can feel a little impersonal. The right presentation will make all of the difference and can make any gift feel more special. Make sure the gift cards you choose will help their budget (such as gift cards for gas stations, lunch spots or car washes) and put some extra effort into the card sleeve to make it pop.
Click here for the "Car Wash Money" label template.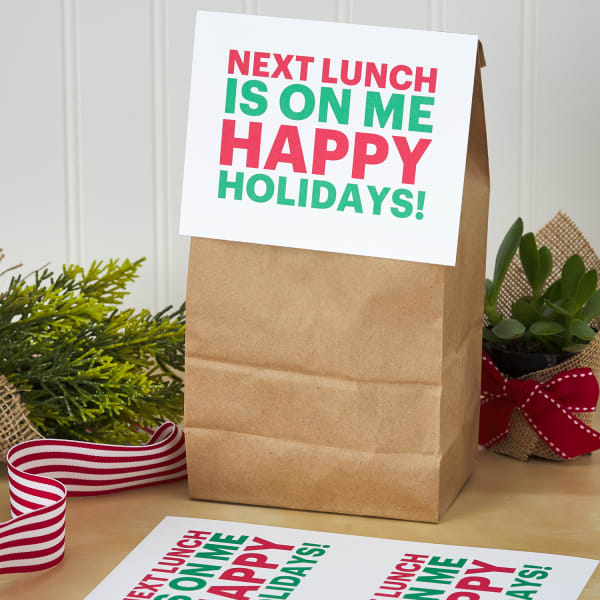 Bundle lunch bags with notes using postcards (8387)
Are you gifting a gift card for a lunch spot or restaurant? Try bagging it in a lunch bag with your own note. A little creativity always goes a long way to show that you care and is a part of making sure that you are giving the best Christmas gifts for employees.
Click here for the red and green text postcard template.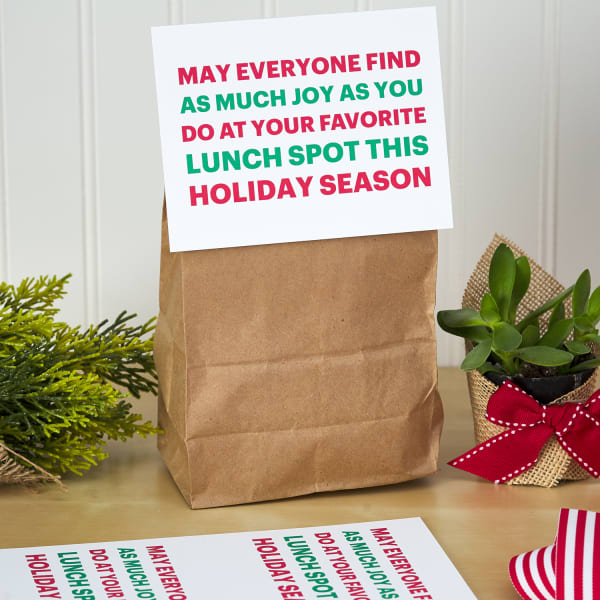 Do you have a lot of gifts to give? Then you might want to try our WePrint printing service to have our team print your projects for you. Avoid the trouble of printing it yourself and let our expert team of printers make sure your holidays look perfect.
Products used in this article:
1-1/2″ x 1-1/2″ Square Printable Tags (22849)
2-1/2″ Round Scallop Tags (80503)
2″ x 3-1/2″ Clean Edge® Business Cards (28878)
2″ x 3-1/2″ Printable Tags (22802)
8-1/2″ x 11″ Light Fabric Transfers (8938)
7-17/20″ x 1-3/4″ Waterproof Wraparound Labels (22838)
4-1/4″ x 5-1/2″ Postcards (8387)