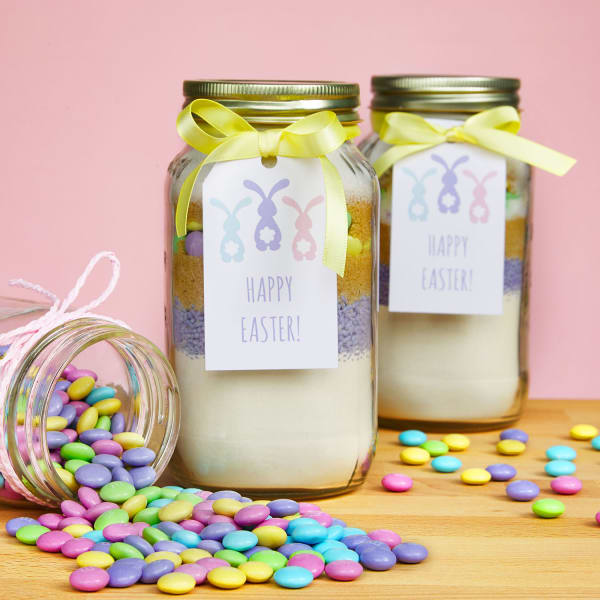 Make your Easter even more perfect this year with these creative gift ideas. Our clever team of eggheads have created a vibrant assortment of gifts, decorations and designs that add just the dash of color you were looking for. Whether you're organizing an egg hunt, hosting an Easter brunch or handing out gifts at the office, these personalized treats are going to crack people up.
Hoppy Easter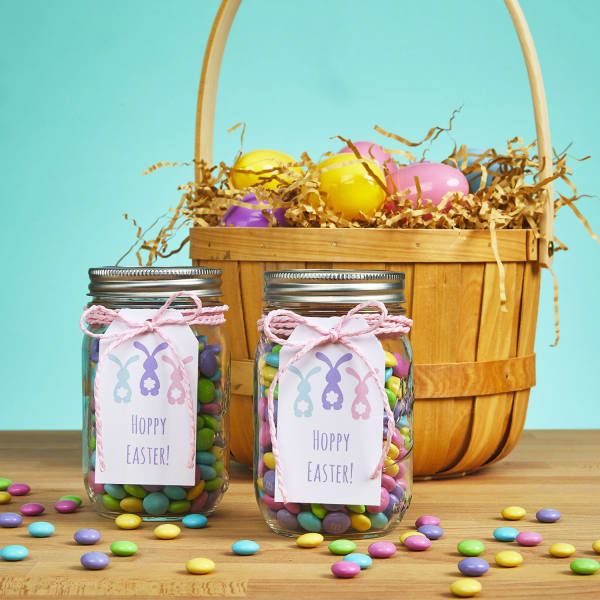 Add a bunny joke with these string tags (22802)
Both girls and boys will jump for joy for these mason jars filled with candy. Top off this bright assortment of sweets with a colorful bow and one of our printable tags to make delightful favors. You can also create personalized tags in Avery Design & Print with your own jokes and unapologetically eggscellent puns.
Click here for the "Hoppy Easter" tag template.
Treats for my Peeps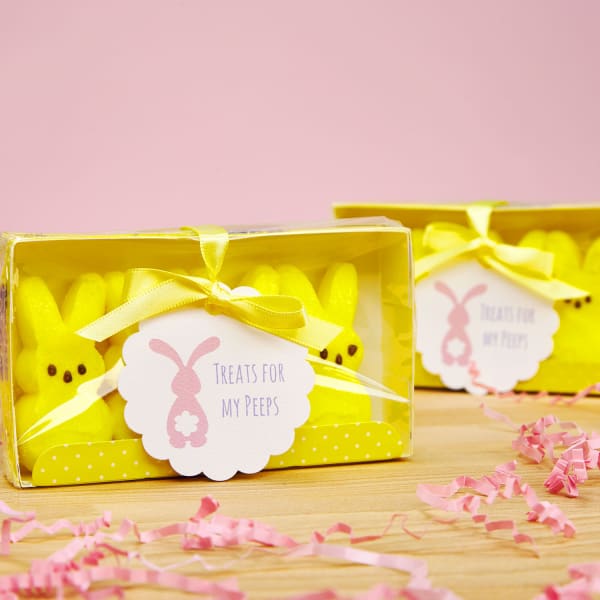 Complete this sweet package with a ribbon and one of our scalloped round tags (80511)

Hand out these adorable packs of Peeps to your children's classmates or to Sunday school students. A simple ribbon and a personalized message is all it takes to create a gift that lets everyone know that you care.
Click here for the "Treats for my Peeps" tag template.
A Succulent Gift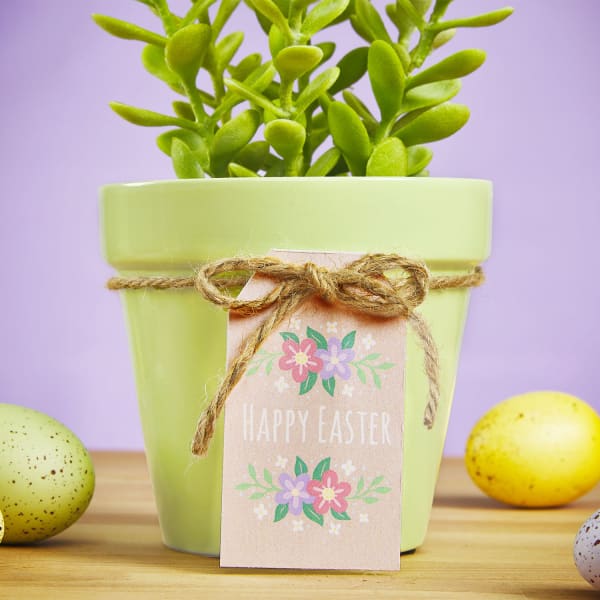 Give the gift that keeps on growing with these potted plants and printable tags (22802)

While also famous for colorful eggs and chocolate rabbits, Easter is also a celebration of spring. A gift of a succulent or a flower is a beautiful reminder of the most flourishing time of the year. This is the perfect Easter gift to add some life to the office or the home.
Click here for the "Happy Easter" tag template.
The Classic Easter Basket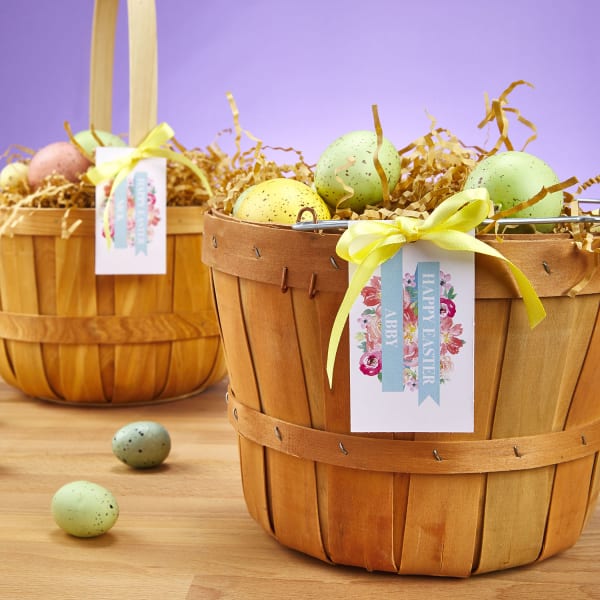 Give each basket a personal touch with tags made from business cards (8869)

Help the Easter bunny deliver the right baskets by creating individualized tags in Design & Print Online. Our design software includes a mail merge tool that makes it easy to import a list of names and automatically create unique tags in seconds.
Click here for the "Happy Easter" name template.
Easter Bags for the Modern Age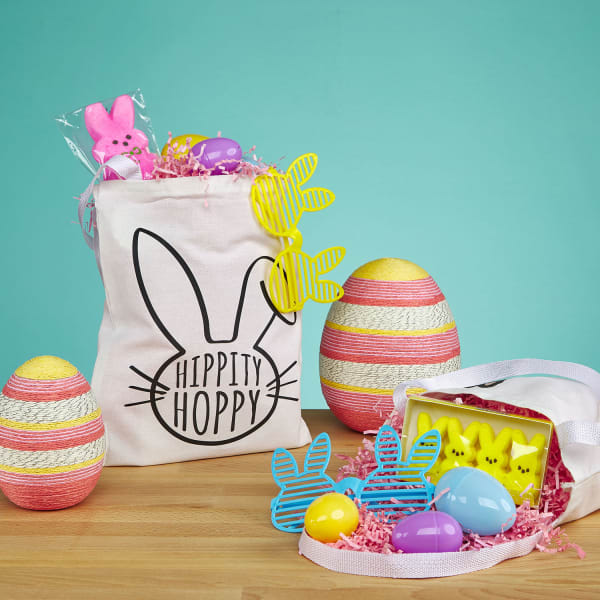 Light fabric transfers (3271) are perfect for making custom bags that look premade

Although the classic Easter basket will always have its charm, there's also a case to be made for more modern takes as well. Our fabric transfers make it easy to take a canvas shopping bag and create something completely new.
Click here for the "Hippity Hoppy" fabric transfer template.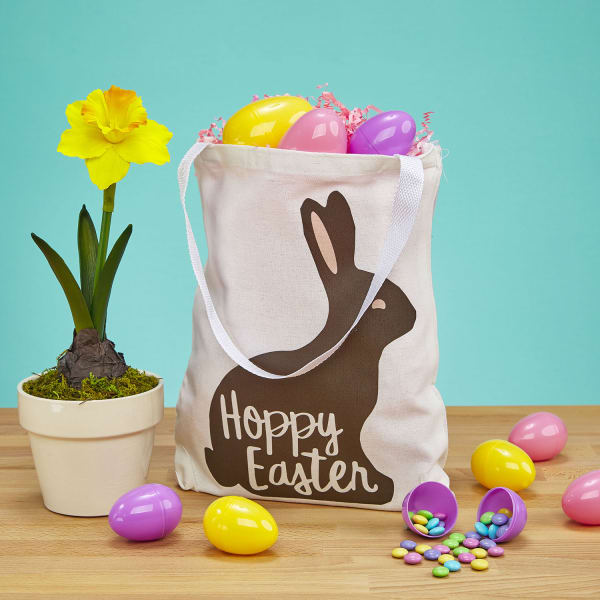 If you want to learn more about fabric transfers, please visit our fabric transfer help page for more information. From there you will find everything you need from demo videos, instructions, products, designs and more. Whether you're using one of our premade designs or one of your own brilliant ideas, Avery is dedicated to making it easy for your vision to come to life.
Click here for the "Hoppy Easter" fabric transfer template.
Products featured in this article:
"Hoppy Easter" Tag
Printable Tags (22802)
"Treats for my Peeps" Tag
Scalloped Tags (80511)
"Happy Easter" Plant Tag
Printable Tags (22802)
Easter Basket Rectangle Tag
Business CArds (8869)
Easter Canvas Bag Transfer
Light Fabric Transfer (3271)