Holding a destination wedding? Are any of your guests flying in from out of town? Then these wedding welcome bags are exactly what they'll need to get over their jet lag and get ready to celebrate your special day. These wedding favors are a great way to welcome your guests when they check in at the hotel and get them excited for the wedding festivities.
More articles you might like:
Think "outside the bag," so to speak
Start things off on a positive note with these welcome boxes personalized with square labels. A personalized note is a great way to thank your guests for coming and welcome them.
Share his & hers favorites
Help your guests get back on their feet after a long flight with some of your favorite snacks. These His and Her snack boxes are a cute way to supply some treats while also giving guests a taste of the bride and groom's personalities.
Pair snacks into perfect couples
Add more snacks to the welcome basket with everyone's favorite combo of sweet and salty treats. You can recreate this concept with our free templates, and you can mix and match caramels, pretzels, chocolates, and more.
Make DIY mint favors
Apart from snacks, travel necessities make for great welcome bags and wedding favors as well. Your guests will definitely appreciate the chance to freshen their breath after coming back from the airport. Lip balm, lotion, and sunscreen also make for fantastic self-care products that will improve their stay.
Help guests stay hydrated
It's easy to forget just how important it is to stay properly hydrated. Unfortunately, we're not able to survive on coffee and champagne alone. Our wraparound address labels are the perfect size for making your own custom water bottle labels that look professionally printed.
Pro Tip: Not sure if you need water-resistant or waterproof labels? Watch this quick video to learn the difference.
Share the day's itinerary
The last thing you'll want on your big day is your phone buzzing with confused guests asking where they should be. Make sure your guests know the full schedule with this customizable wedding timeline template. Our design software makes it easy to tailor this beautiful design to fit your theme.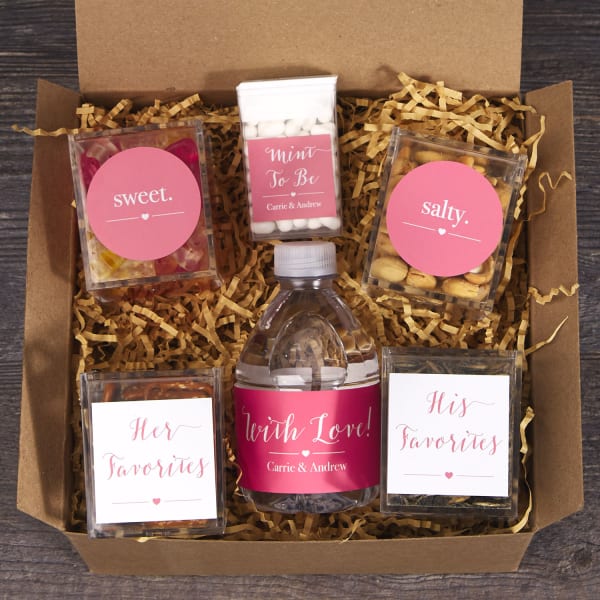 Add your own personal touch
The beauty of making these welcome bags yourself is that you can customize them to be precisely what you want. Our free printable designs are flexible, so you can adjust every detail to be just right. Change the colors, font, text, images, and more using our free software, Avery Design & Print Online (ADPO). ADPO makes it easy to design a wedding theme that is uniquely you.
What would you love to see in a wedding bag, if you were the guest? Share your thoughts in the comments. You can also find more inspiration on our Pinterest board for weddings and share your projects with us on Instagram using #averyproducts.