Send business letters and packages more effectively and efficiently
Whether you're handling mailing and shipping at the office or at home, there's always a few tips and tricks to help you do it better. Especially when you're doing it for business. Of course, there's also a few common questions that regularly pop up too. So we're sharing tips and answering FAQs that will will help you send letters and packages more effectively and efficiently.
More mailing and shipping resources: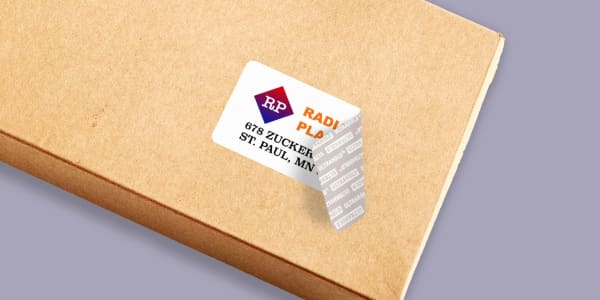 1) Choose the right label materials and/or features
The type of label you use can make all the difference when it comes to doing your own professional mailing and shipping. Some types of labels help your letters and packages stand out from the crowd. While others actually make it easier for mail carriers to get them get where they're going.
For instance, premium materials like clear film, gold foil, and Kraft brown paper make a unique impression. Likewise, address labels in different shapes such as round, oval or square can be quite eye-catching.
On the other hand, some label materials and features can help you avoid common shipping label fails. Labels with Ultrahold® adhesive and waterproof labels are especially helpful for creating your own shipping labels. Waterproof film is ideal for packages that might travel during wet weather. Meanwhile, all Avery labels with Ultrahold are designed to stick and stay better than basic labels. That means you don't have to worry about edges peeling or missing shipping labels.
2) Look for "shortcut" features for bulk shipping and mailing
Some types of labels aren't exclusively designed to stand up to shipping and mailing conditions or only be eye-catching. We've actually designed some types of labels specifically to help you mail and ship faster. For example, Avery labels with Easy Peel® or Sure Feed® technology, as well as our shipping labels with paper receipts.
How does Easy Peel work? Labels with the Easy Peel feature lets you fold back the sheet to expose the edges of each label for faster peeling. This is a must-have if you're creating your own personal assembly line and mailing in large quantities.
What is Sure Feed technology? Labels with Sure Feed technology feature a proprietary "grip" strip that helps printer rollers feed the labels through your printer better. This helps reduce misalignments, paper jams, and wasted labels.
Why use labels with receipts? Shipping labels that feature paper receipts are used to automatically print out your proof of shipping the same time as you print your label.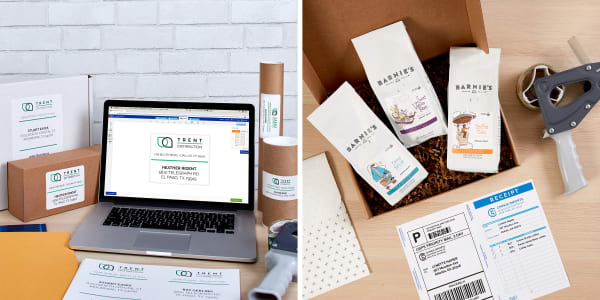 3) Use free software for more professional-looking labels
Amplify your brand with a professional look by creating your own unique shipping and mailing labels. For example, company address labels with a custom logo. Luckily, our free online design software, Avery Design & Print Online (ADPO), makes it easy.
All you need to start designing your own custom labels is a computer or smart device, an internet connection, and a free Avery account. We have thousands of free predesigned label templates you can customize using free tools in ADPO. Change colors and text, add your own images and logos and so much more.
4) Save and share label designs for quick and cohesive branding
Create and save designs in ADPO, then save time by applying cohesive shipping and mailing branding to future projects. Because once you save a project to your free account you can login and print it from any smart device connected to a printer. Yes, even your smart phone. You can also share saved projects via email. As if that weren't enough, you can also apply your saved designs to any Avery product.
5) Save time and stop filling in labels by hand
Another thing you can do with ADPO is autofill your address labels. If you've ever had to handwrite addresses or type them out individually, you know exactly how time consuming that is.
The Mail Merge tool in ADPO is an amazing tool that lets you create multiple different labels in an instant by using a pre-populated spreadsheet. Just upload the sheet to our program and all of your names, addresses, and more are added to your labels automatically.
6) Stock up on basic tools for DIY mailing and shipping
Packing tape & dispenser. You will need durable packing tape to assemble and close shipping boxes. A dispenser is crucial for placing tape quickly and correctly.
Scale & measuring tape. Every shipping service will require weight and dimension measurements when ordering shipping labels online. A scale that measures to the ounce and a measuring tape is helpful to prevent online postage services from overcharging you for postage.
Printer & compatible labels. Most people use inkjet or laser printers they already have access to when printing mailing and shipping labels. That is totally fine. In fact, what type of printer you get is not necessarily as important as making sure you have the right labels to use with it. In other words only use laser printable labels with laser printers and vice versa.
Another option is to choose printable labels that we've specially designed to work with both laser and inkjet printers.
7) Set up a mailing station wherever you're working from
Creating a dedicated mailing & shipping station can really help optimize your workflow whether you're working from home or in the office. We wrote this article on how to set up a streamlined mailing & shipping station that provides some great tips to get started.
In a nutshell, set up and label storage containers for commonly used items first. That way there's "a place for everything and everything in it's place." Then stock it with essential supplies such as the basic tools listed above.
9) Reuse boxes and packing materials for shipping packages
Additionally, plan for space in your shipping and mailing station for storing old boxes and packing materials. For example, packing filler like bubble wrap, packing peanuts, and packing paper. All of these supplies are reusable and can help you cut down on shipping costs.
Of course, set aside any materials that are damaged or soiled for recycling. However, don't toss boxes or mailers just because they have writing or old labels on them. Our labels with TrueBlock® technology have a unique gray backing on the adhesive side that blocks anything from showing through.
Indeed, permanent marker, barcodes, images, and dark graphics are all things that TrueBlock technology completely covers. So save those boxes and save some money!
10) Be precise when applying shipping labels to packages
Place your shipping label on the largest, flattest and most visible surface of your package. First and foremost, this is to make sure that the barcode is readable by the barcode scanners that mailing and shipping services use. Never place a barcode label on a seam, bend it around the edge of a box, or wrap it around a mailing tube. Bends, bumps and curves can keep a scanner from reading the entire barcode.
Frequently asked questions about mailing and shipping
Q: Can I print shipping labels on regular paper?
A: While you can print postage on regular paper and tape it onto shipping boxes, we don't recommend it. Firstly, tape just doesn't stick as well as labels designed to permanently stick to a variety of surfaces. Secondly, barcode scanners may also have trouble reading barcodes through tape.
Q: Can I print shipping labels in color?
A: Barcodes work because scanners "read" the differences in light reflected from dark and light color. The higher the contrast, the more accurate the scanner will be. Since it's safer to provide the highest contrast possible, we recommend black ink on white material. Or, black ink on neon or pastel colors.
On the contrary, you can definitely print shipping labels with logos, images and other designs in color. As long as your color elements don't overlap with addresses, barcodes and other important sections you're good to go.
Q: Who sells mailing stamps?
A: USPS® and other major delivery services offer ways to order labels on their sites. However, third party options such as Stamps.com®, eBay, SendPro® and pbSmartPostage® are great resources as well.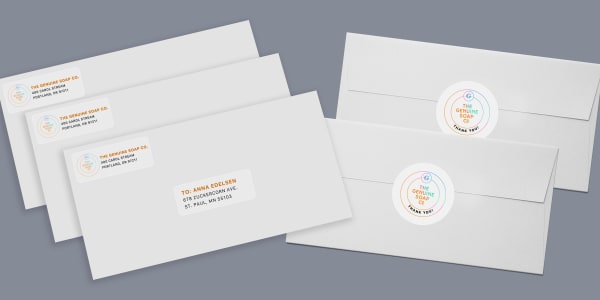 Q: How do I address a letter?
A: The United States Postal Service (USPS) requires only a destination address to send mail. However, you should also include a return address as a courtesy and so that the post office knows where to return the letter if it isn't deliverable.
The format for both the destination and return address are the same:
First & Last Name
Street Address (Apartment, if applicable)
City, State, Zip Code
Q: Where do mailing addresses go on the envelope?
A: Start with the flat side of the envelope facing you with the widest edge on the bottom. Place the return address (your address) in the upper left corner of the envelope. Place the recipient's address in the middle of the envelope.
You can add an envelope seal on the opposite side of the envelope (where it closes). However, this is only for style and completely optional.
Q: Can I print mailing labels from Microsoft Excel®?
A: Yes! Excel spreadsheets are perfect for using the Mail Merge feature in Avery Design & Print Online. For more information, you can take a look at our article on how to use Mail Merge.
Q: How do I ship a package?
A: The short answer is that you pack your item then either take it to the post office to ship it, or buy postage online and ship yourself. If you ship yourself you will need to weigh and measure the package and then buy and print postage online. For more help, check out our in-depth article that provides more details on how to mail a package.
Q: What is "snail mail?"
A: "Snail mail" refers to traditional, physical mail delivered through a postal system. It's usually used in opposition to "email" (electronic mail).
Tips for DIY business mailing and shipping
To sum up, it's important to start with the right type of labels when you are handling mailing and shipping yourself. Indeed, special label features can often save you time, especially for bulk projects.
Then, consider address and shipping label design. Our free Avery Design & Print Online (ADPO) software comes with tons of free tools and templates to help you achieve a professional look. ADPO also helps you save time with saving and sharing tools as well as the Mail Merge autofill tool.
Next, stock up on basic supplies for mailing and shipping, then set up a mailing station wherever you're working from. Plan for space in your mailing station for reusable boxes and packing materials. Finally, make sure that you're placing shipping labels correctly and get help on frequently asked mailing and shipping questions.
Do you have a shipping and mailing question or tip? Share with us in the comments or join our conversation on LinkedIn and Facebook.