Avery teams up with Flush for the ultimate packaging partnership
Great packaging elevates your brand and reflects the time and effort you put into perfecting your product. So when choosing packaging for your products, it should be a value-add, not a wasted cost. You don't want to ruin the first impression of your product with a plain, generic box stuffed with packing filler. That's why Avery is excited to announce its partnership with Flush Packaging, a company dedicated to helping small businesses save money, time, and breakage with durable, purpose-built custom packaging products.
Flush listens to their clients' needs and then designs ultra-durable packaging that keeps shipping costs to a minimum and creates a one-of-a-kind unboxing experience for customers. And when combined with Avery Labels, you can add the perfect finishing touches to your packaging. Flush is an official partner of CandleScience, a company Avery is proud to partner with as well.
Flush packaging is 100% recyclable, plastic-free, and sustainably sourced. Manufactured in California, the packaging is engineered to handle the rigors of shipping without needing bubble wrap, packing peanuts, or other shipping boxes.
We talked to founder and Certified Packaging Professional (CPP) Heeva Asefvaziri and Managing Partner and CFO Randy Baudendistel, to learn more about Flush Packaging and the company's passion for helping small businesses.
How Flush Packaging began
Flush Packaging started in an apartment in Ventura, California, in 2019. The idea was born out of a desire to make high-quality custom packaging accessible to even the smallest of small businesses.
After studying Industrial Technology and Packaging at California Polytechnic State University San Luis Obispo, Asefvaziri spent over a decade designing durable, custom packaging for numerous Fortune 500 companies. Seeing the high costs that prevented small businesses in the U.S. from accessing the same custom packaging big companies had access to, he started Flush Packaging to fill that need. Every detail of a Flush box is engineered with the small business owner and ecommerce shipping in mind.
How does Flush create packaging for its customers?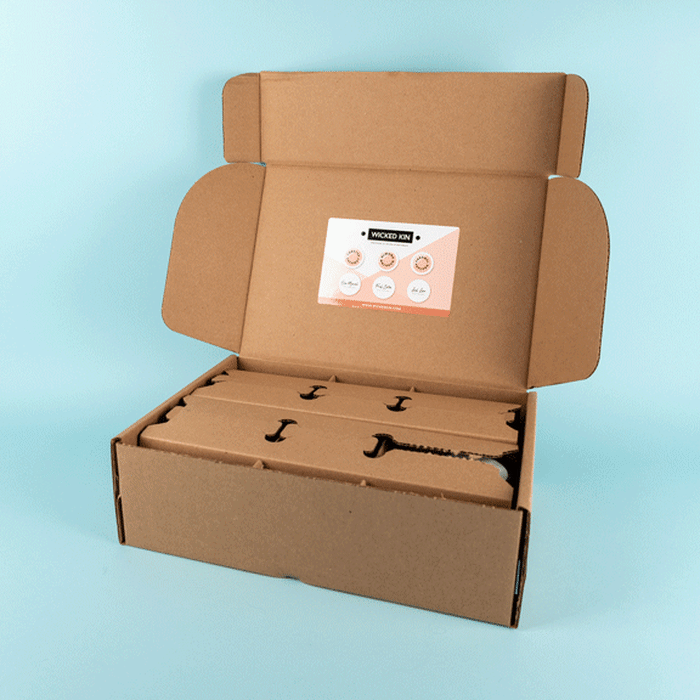 Flush offers custom box projects that are in line with the values and designs of all our products. First and foremost is durability. We make sure the packaging can withstand even abnormally heavy abuse and their insert designs are robust so filler material isn't needed, creating a unique unboxing experience and aesthetic.
To get precise measurements and to create appealing packaging, we have clients send us a sample of each container they want packaged, preferably final products with their contents, as well as any other items to be included in their packaging. When we create packaging designs, the tolerances go down to a 32nd of an inch so it's important our designers have the exact product container to verify the fit is perfect.
Once we have the samples, it takes a few days to come up with the initial packaging concept. We send the customer 3D renderings of what the boxes will look like along with all the dimensions, specs, estimated shipping weights, and a hard quote on the project.
If the client likes the design, Flush will make physical samples for them to test and try out. Once everything is approved, we move into production. From sample approval to the end of production it is typically around two to three weeks for the first order. Reorders are much quicker and take only about a week.
How do you lower customer costs?
We look closely at the final weight of the package and the shipping thresholds for UPS, FedEx, and USPS. We want to get the box as small as possible so it ships as cheaply as possible without sacrificing durability. If we can shave a few ounces from the design, it can drop down an entire shipping tier and save on costs per shipment.
We also don't charge any design fees – just a one-time setup charge and a simple price per unit that gets less expensive with higher volumes along with an order minimum and shipping. Pricing and minimums are very dependent on the project. Most custom projects have minimums starting as low as 1,000 units per design/configuration.
The most important factor though, is that our customers love their boxes. So, we work with clients throughout the entire design process to make sure it fits the exact needs of their business.
What are the company's best sellers?
Currently, the majority of the Flush product catalog and customer base is within the candle-making and home goods market. Within that market, the top three sellers are:
2 oz Candle Tin 6-Pack Shipping Box™
Straight Sided Tumbler Shipping Box™
9 oz Straight Sided Glass Jar Shipping Box™
Our priority for 2024 is expanding our food and beverage segment. The top three sellers currently in that category are:
9 oz Straight Sided Glass Jar 3-Pack Shipping Box™
16 oz (Pint) Ball Regular Mouth Mason Jar 12-Pack Shipping Box™
16 oz (Pint) Economy Round Glass Jar 12-Pack Shipping Box™
What are your plans going forward?
Everything at Flush starts and ends with the customer in mind. Expanding our collection to include more vessels across a range of distributors and industries is a priority. With more than 33 million small business owners across the country, we want to make sure brands have the right packaging for their business to keep shipping costs and breakage as low as possible.
With tens of thousands of unique vessel types and sizes used by millions of businesses in the U.S. alone, this should keep Flush busy for the foreseeable future.
What are your biggest hurdles?
Like most ecommerce businesses, rising shipping costs are a constant challenge for us. Boxes by nature are large and bulky and carry higher shipping costs than many other smaller products. Flush is constantly working to find ways to decrease costs for customers while expanding value.
Whether it's negotiating better shipping rates with multiple carriers, offering quantities that pack and ship more efficiently, or optimizing the specs of the Flush box, our goal is to reduce costs for small businesses. Shipping costs are high enough as they are. They are never a profit center for our business, so reducing them is a battle we're happy to fight alongside our customers.
How can businesses benefit from using Flush?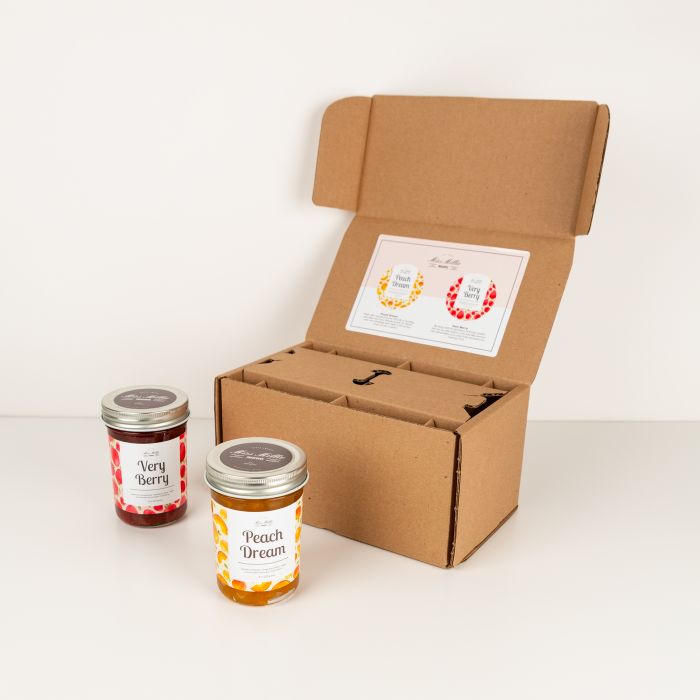 Flush works with businesses of any size, whether you're shipping 10 units a month or 10,000. We do all the homework so that you don't have to worry about your packaging. From real-world ship and drop testing, analyzing shipping cost tiers for FedEx, UPS, and USPS, to eliminating the need for plastic and other fillers like bubble wrap; all of our products are optimized to be durable, cost-effective, and create a great unboxing experience.
If a business is operating off their kitchen table, they can order packaging in as few as 10 units. Then they can ship safely by just adding a small piece of tape and a shipping label. No bags of packing peanuts or rolls of bubble wrap are needed. We promise your customers will thank you as well. If the business is larger with a team of warehouse associates, we will work to understand their unique pain points. And we find ways to decrease fulfillment time, reduce shipping costs, and eliminate breakage.
Regardless of the size of the business, Flush has only one goal – to make sure customers love their packaging.
If you have any questions or need any information about Flush Custom Packaging you can reach out to them at info@flushpackaging.com.
Once you've got your pretty new packaging for all of your products, make sure and check out the selection of printable and professionally printed labels from Avery to add the final touches. Our labels a great for product branding, packaging and shipping. You can also order beautiful, custom printed cards, tags and tickets to round out your marketing needs.